Our trip to Colombia begins with an early 5:30am four wheel drive capable taxi pickup at the hostel. After about an hour of driving we're in Kuna territory on roads so steep that even the powerful trucks we're in must build significant momentum before attempting each one. A minor accident on the top of one of these steep hills provides a chance to stretch our legs.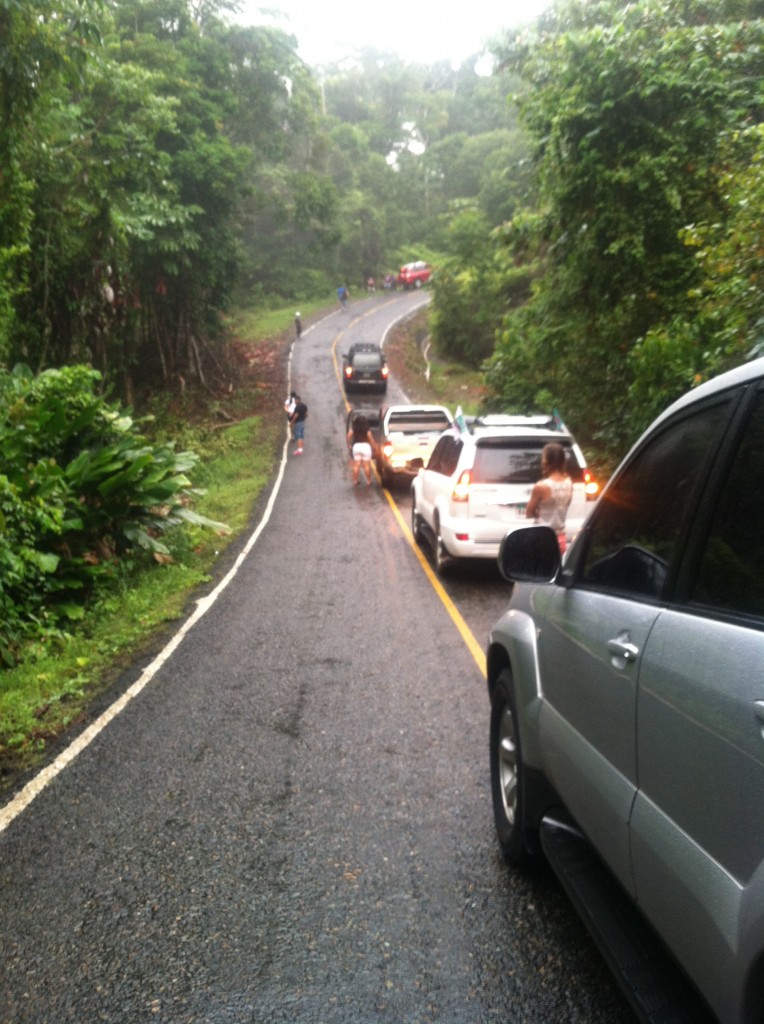 Next thing you know we're in a launch on a brown, jungly river with a couple of Kuna ferrying us and our belongings out to our waiting sailboat, the Independence.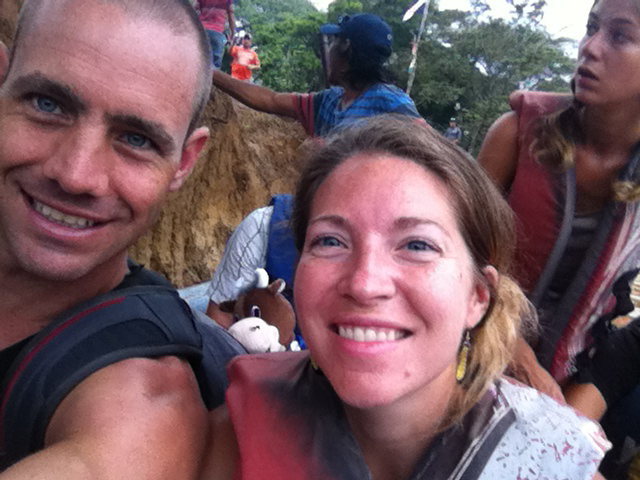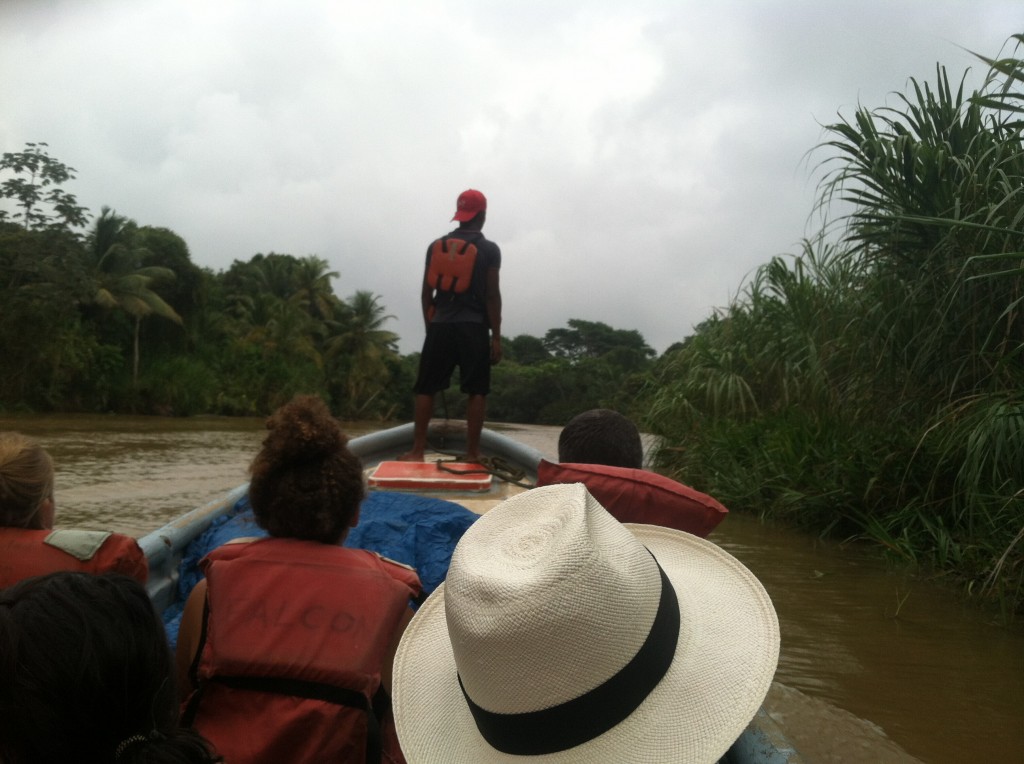 We board the Independence and already the scenery is impressive. The San Blas Islands are a collection of 378 islands making up an archipelago off the north coast of the Isthmus of Panama. 49 of the islands are inhabited by the indigenous Kuna. The islands are so small and filled with little huts that they look like little floating towns out of a movie. They seem to be just waiting for a wave of only a few feet in height to hit the reset button.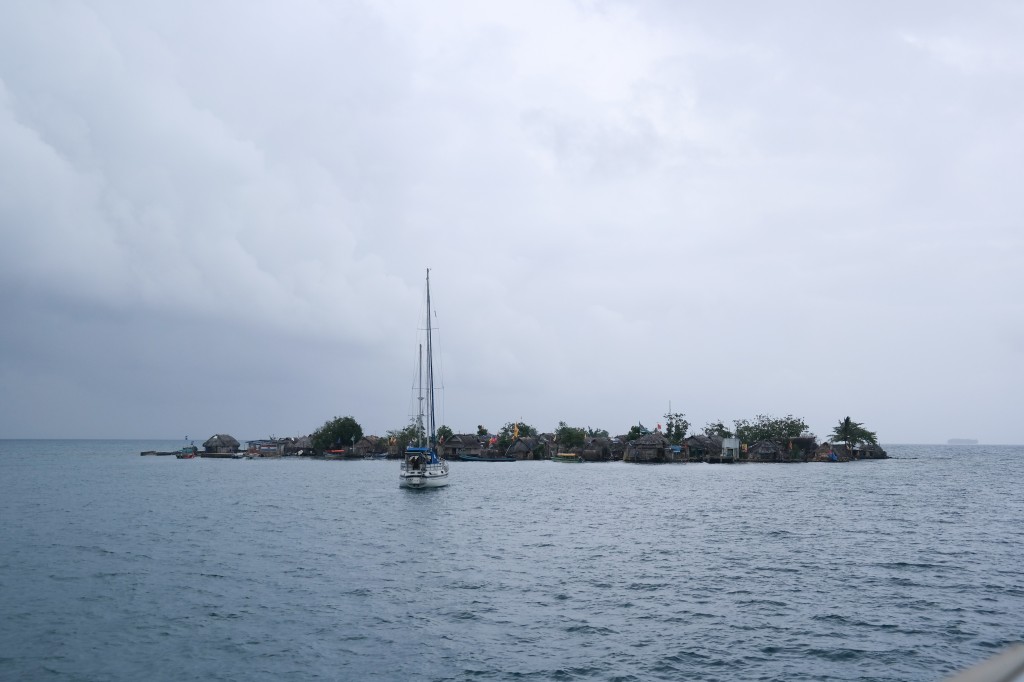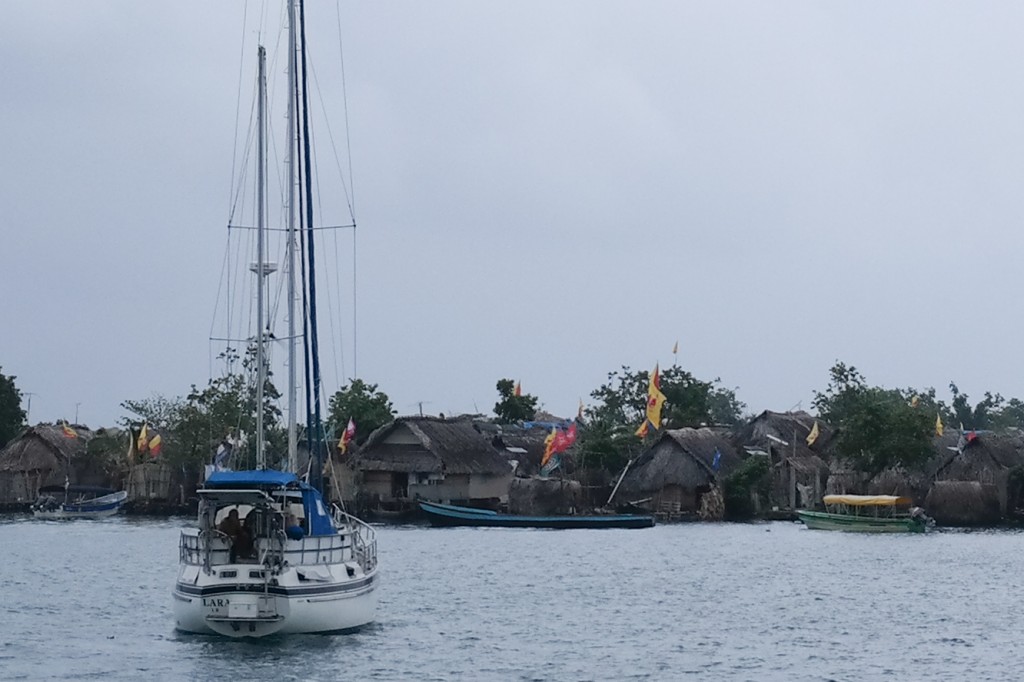 The Independence is one of the larger boats offering a tour of the San Blas before heading over open water for the coast of Colombia. This means more space to move around, hopefully not so rough a ride, and also, more people. We were over booked with 26 passengers on our aged old boat. It reeked of character, much like our crusty Russian captain whom wasted no time giving a hilarious speech covering interesting topics including the fact that while we'll see several shipwrecks along the way he feels bad for any reef his giant boat might accidentally encounter. He also immediately begins tempting me to jump off the small platform atop the mast which appeared to be about 15 meters or so (simply by mentioning that it is possible of course). And with that, he fires up the engine, immediately takes control of the wheel… with his foot, and we're off. Islands are scattered everywhere in the distance.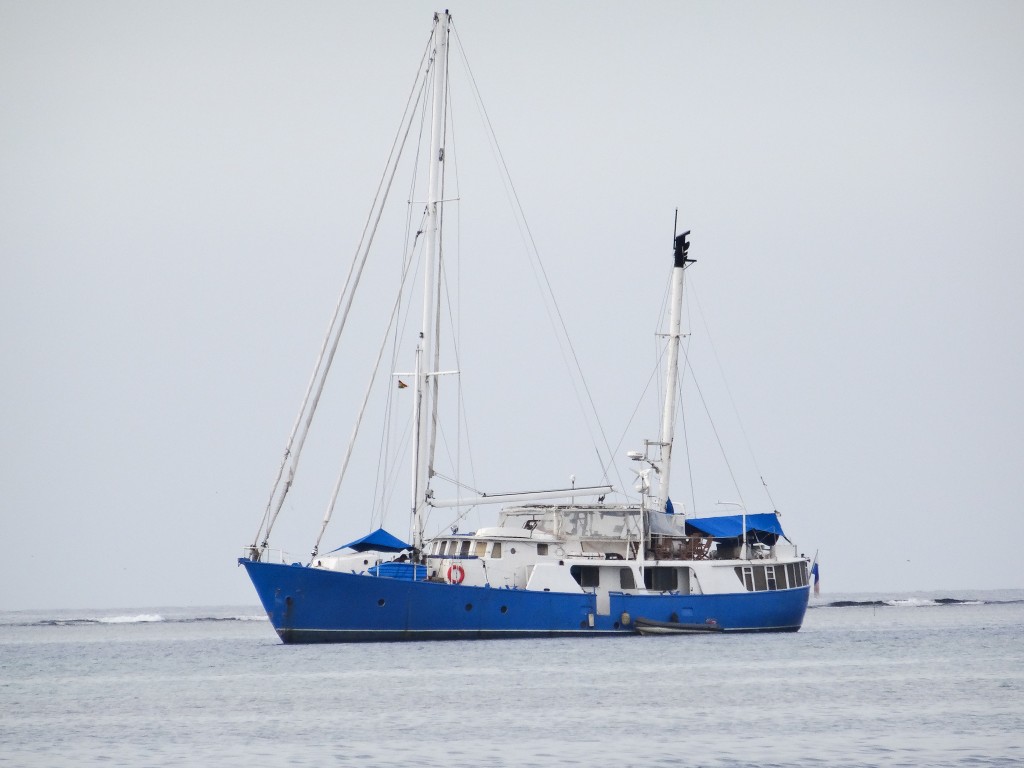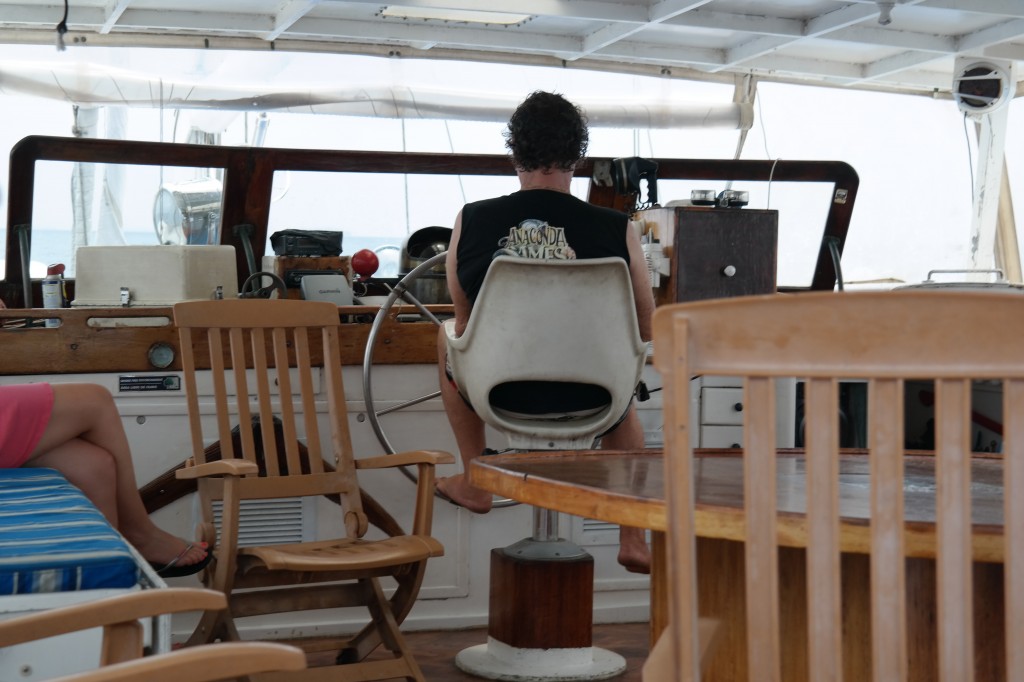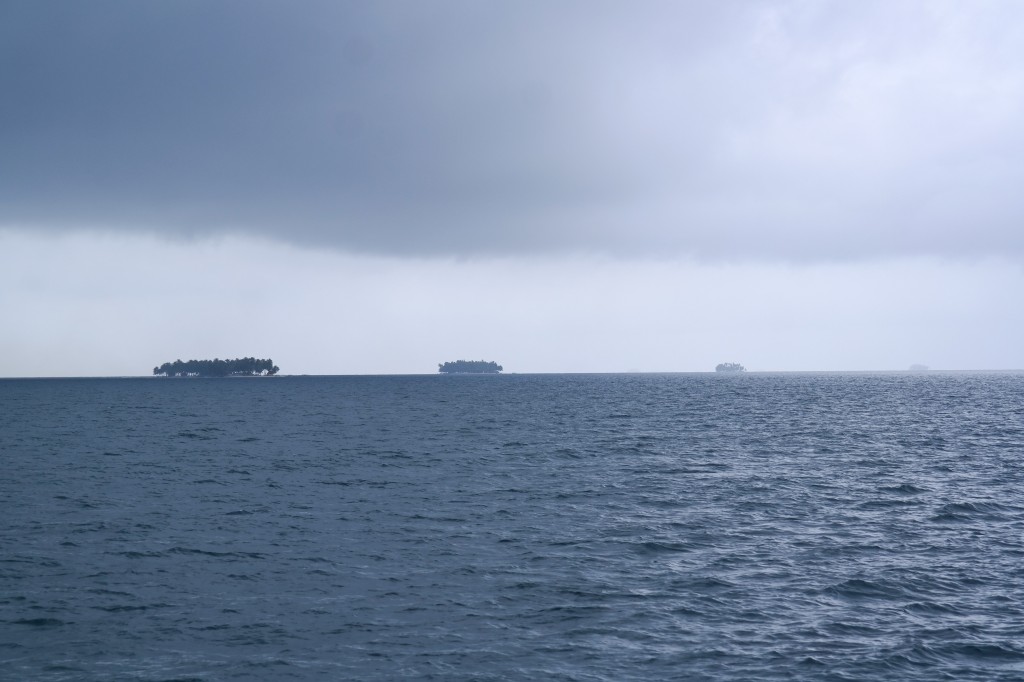 We travel slowly for about an hour and arrive at, you guessed it, a small island. The Kuna pick us up in a launch and we spend the evening playing volleyball and having a proper fish fry.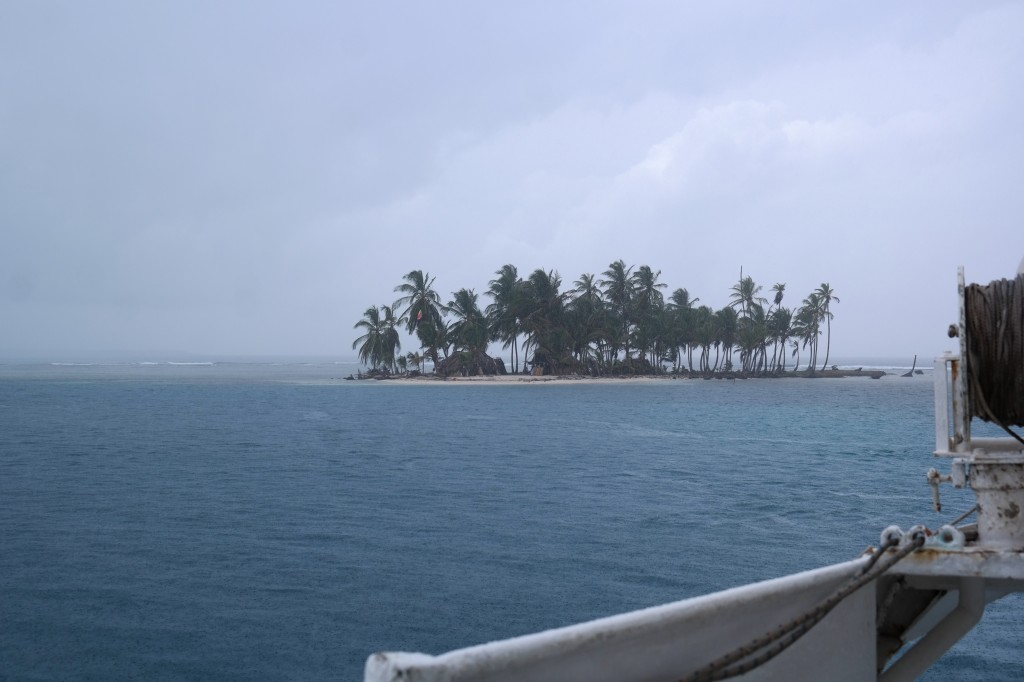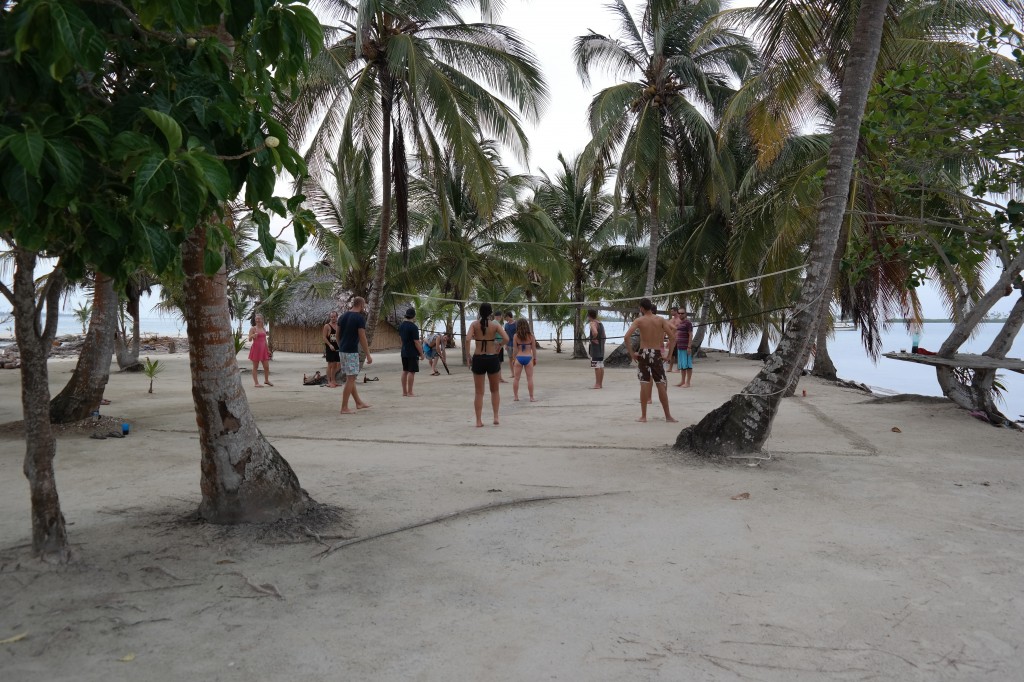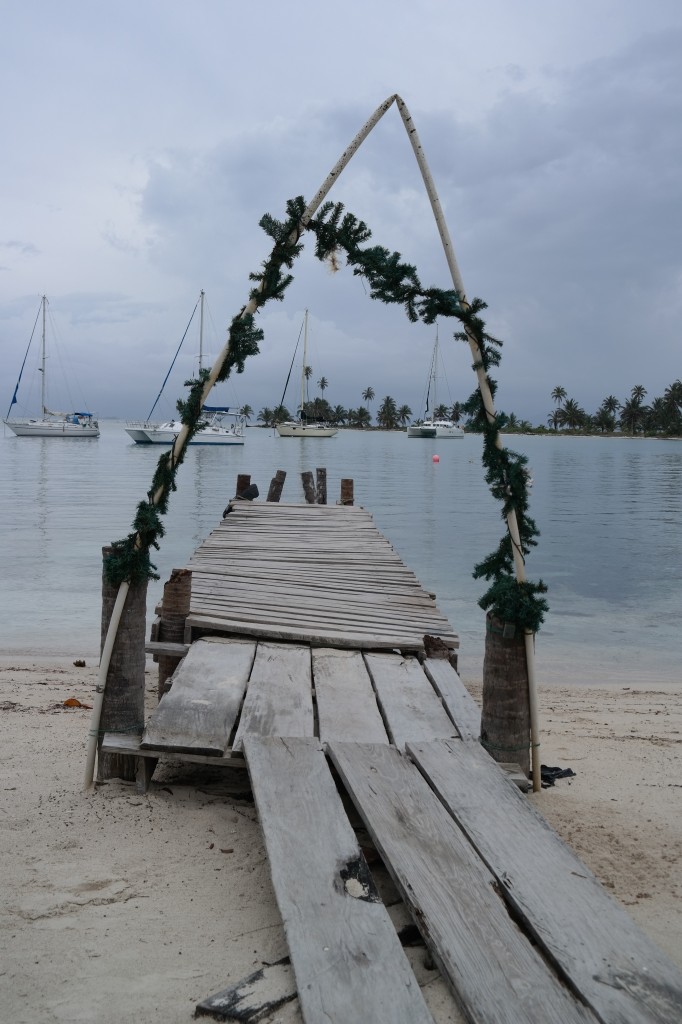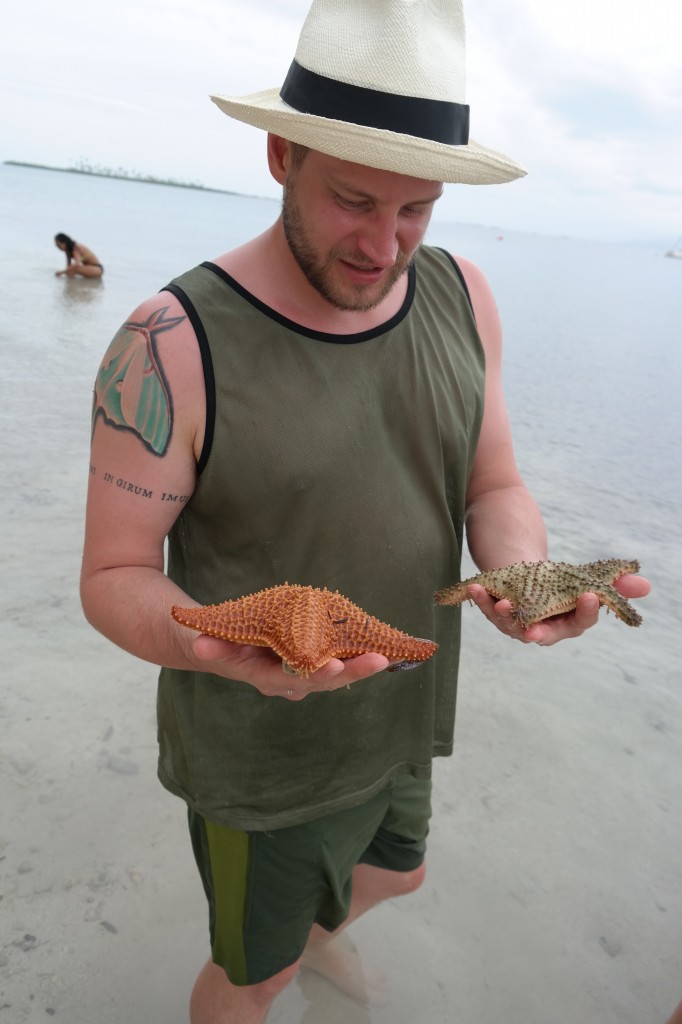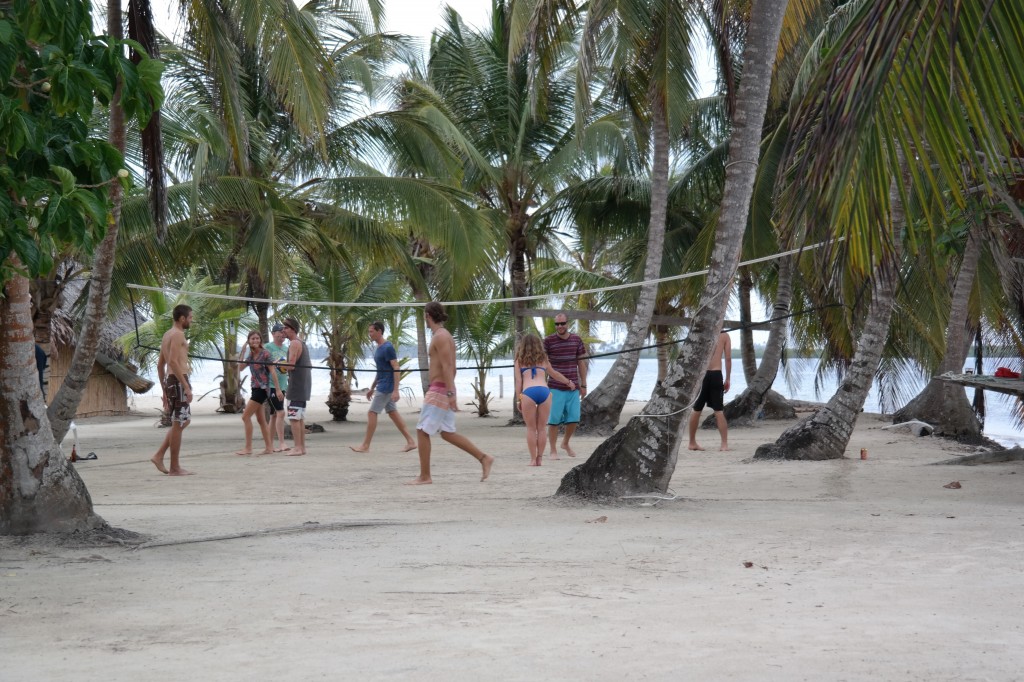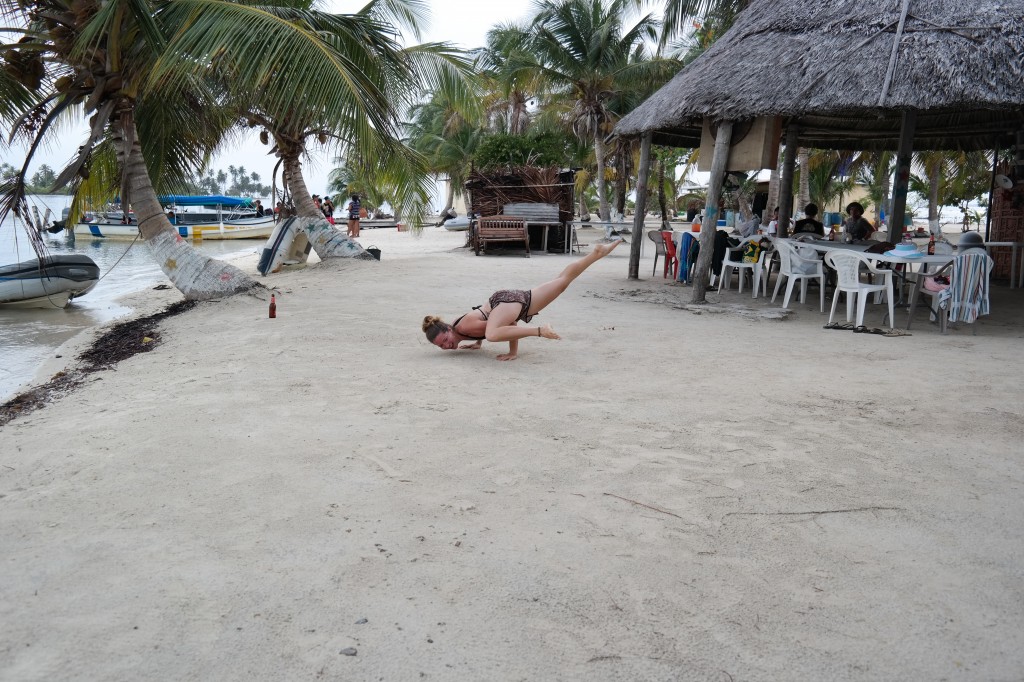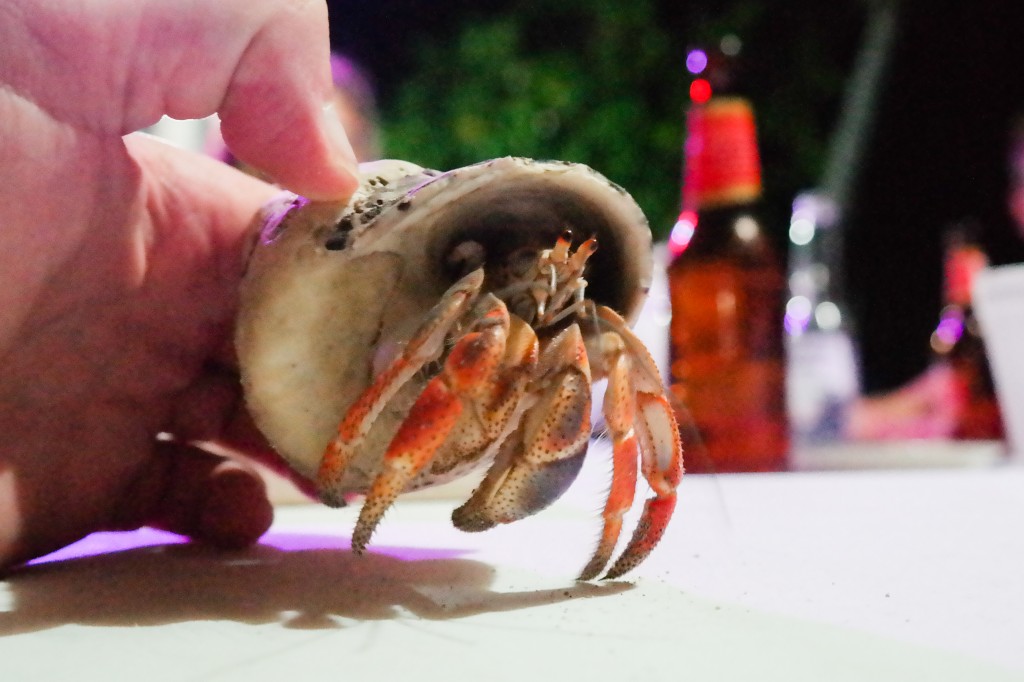 The next day we move to an even tinier spot. If you had to imagine that picturesque, tiny, one palm tree anomaly in the middle of the sea, well, this is certainly it. In the distance we can see a large boat perched permanently on a reef. Niccole and I both snorkeled for our first time. I wish I had an underwater camera. I can't even begin to explain the amazingness we witnessed floating around those reefs. Perfectly clear blue water, the whitest sand we'd ever laid eyes on… simply stunning. We even stumbled across a sunken boat. I assume it had a treasure chest in it. Niccole and I both mentioned to each other that this little paradise may be the most significant highlight of the trip for us thus far! It was that epic.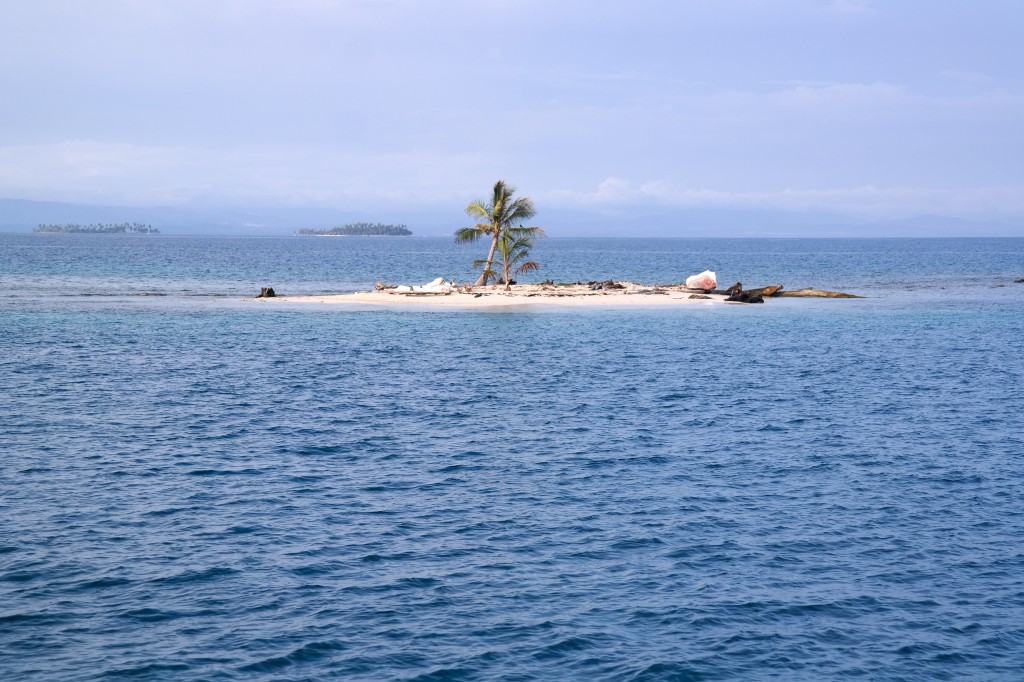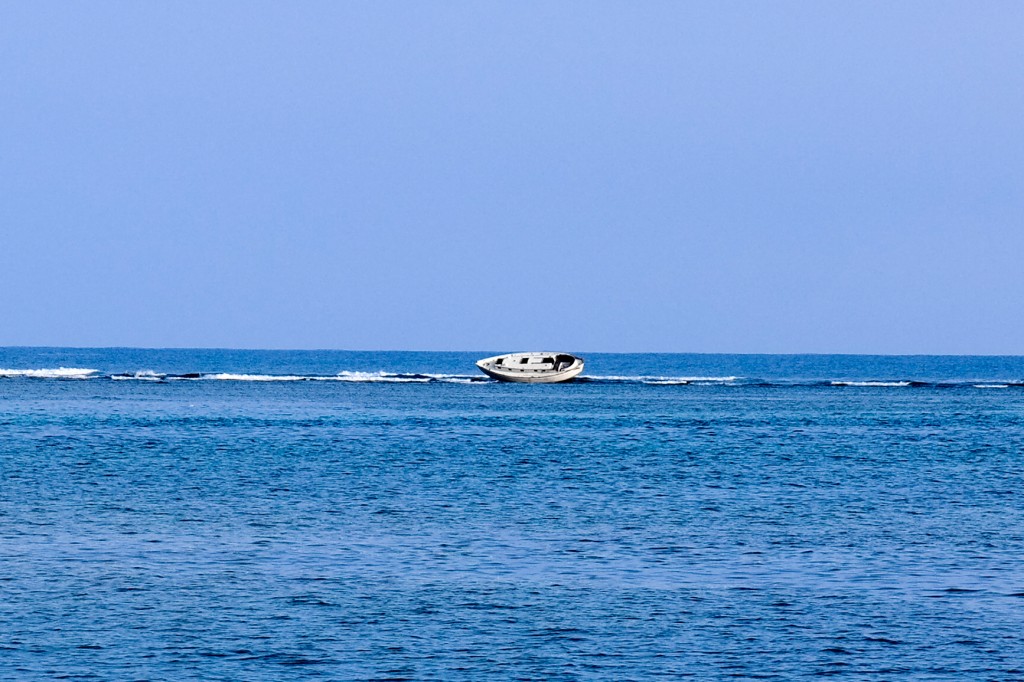 In the heat of the day I handed my camera off to Shitty Jesus, one of the many hilarious people we met on board (whose nickname amused me greatly), and proceeded to climb to the perch on the top of the mast! It was mid-day and I felt like a space huck was just what the doctor ordered.
Not long after the mast huck we motored off in search of the next tiny island. Colin and I took some shots of us on the auxiliary wheel while the captain drove the boat. I pulled out my best footwork.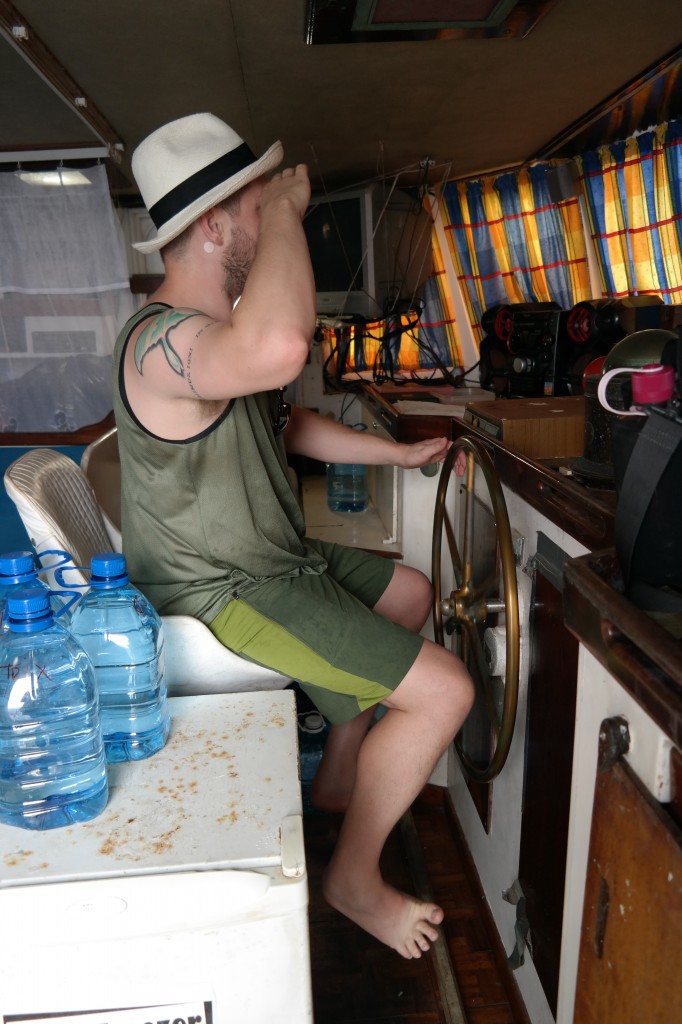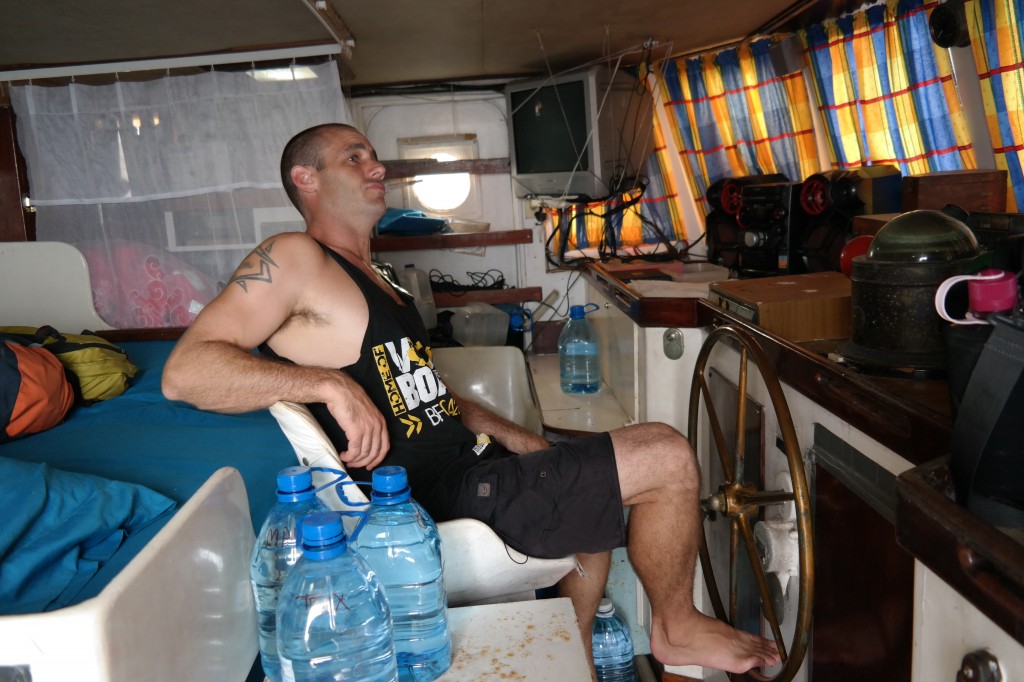 I wonder if this is what the captain's face looked like when we hit the reef navigating between two islands.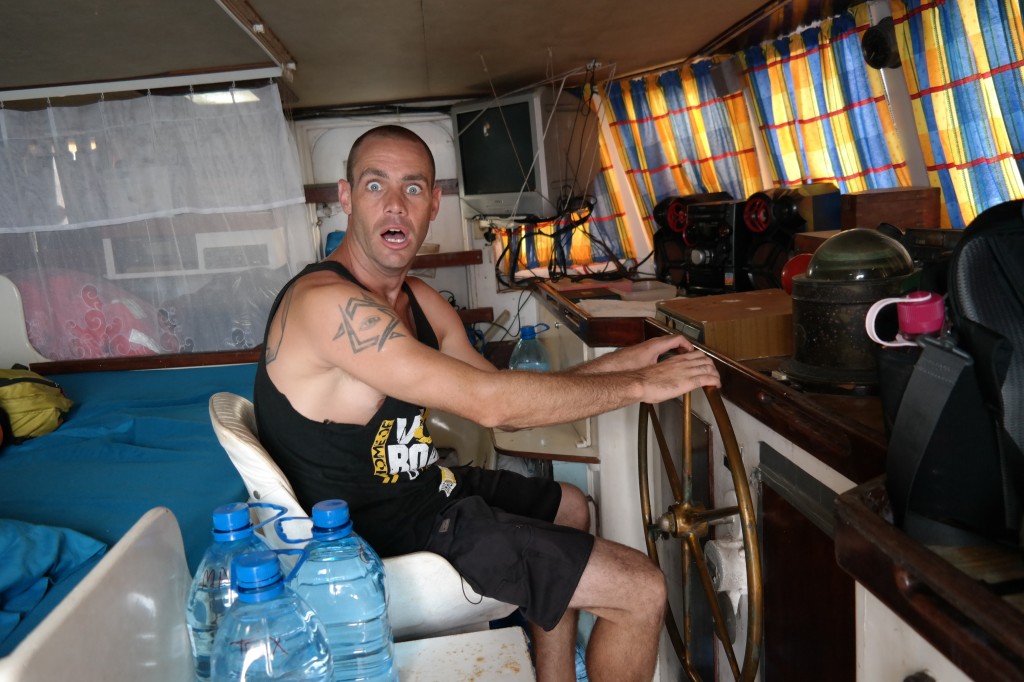 I don't really know what his face looked like, but really, I'm not kidding – he hit a reef! All I could think of was his apparently prophetic joke when we boarded. So next thing you know he orders everyone to jump in the ocean in hopes it will make the boat lighter. Yeah right, we were really stuck on it. Most people swam for the nearest island. Some people began swimming rum off the boat to the refugees. I stayed onboard and shot some video. Perhaps I'll make a little short with it eventually. It took several hours before a combination of taking the anchor a ways out, dropping it, and using it as a winch in the front; a group of enthusiastic Kuna with a launch pulling on us in the rear; and actually raising the sail so even the wind could assist in the middle would free us from our little predicament. There were a lot of cheers from the castaways on the island, and a lot of jokes about the captain floating around that evening. We finally motored into our spot (led by a pod of dolphins no less), had another great meal, and even a huge fire on the beach.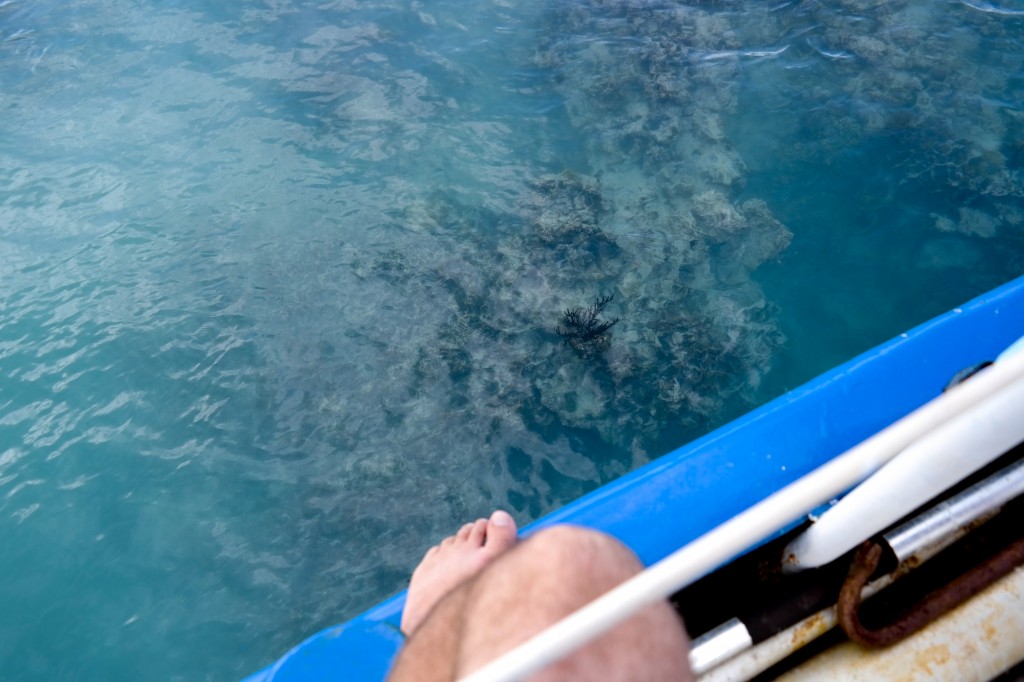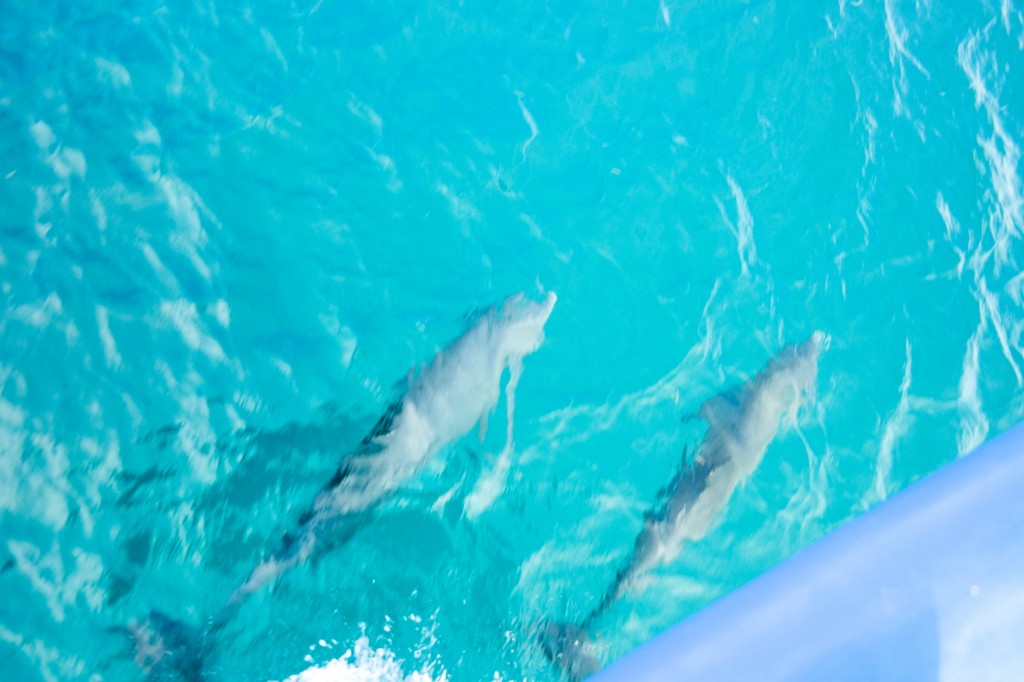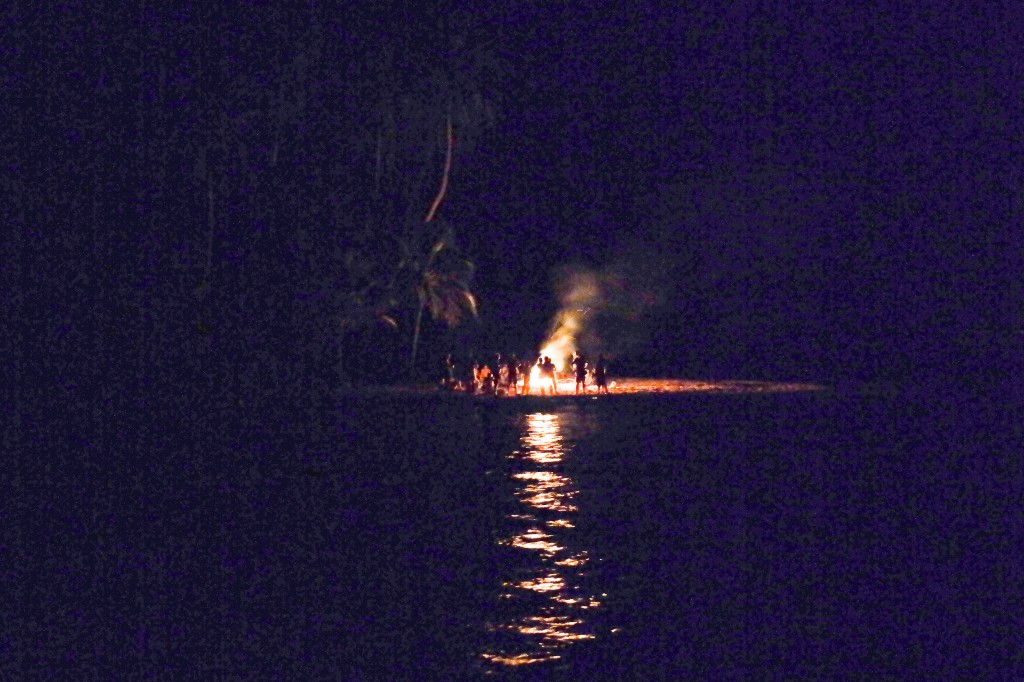 That night we watched luminescent looking Spotted Eagle Rays actually come flying out of the water right off the side of the boat. It was magical. Then as if it couldn't get any cooler, the next day Niccole, Colin and I were snorkeling on the opposite side of the island and came face to face with one. We swam with it along an entire kelp bed for several minutes – only a few feet away at times. It's moments like that that I'll surely remember forever.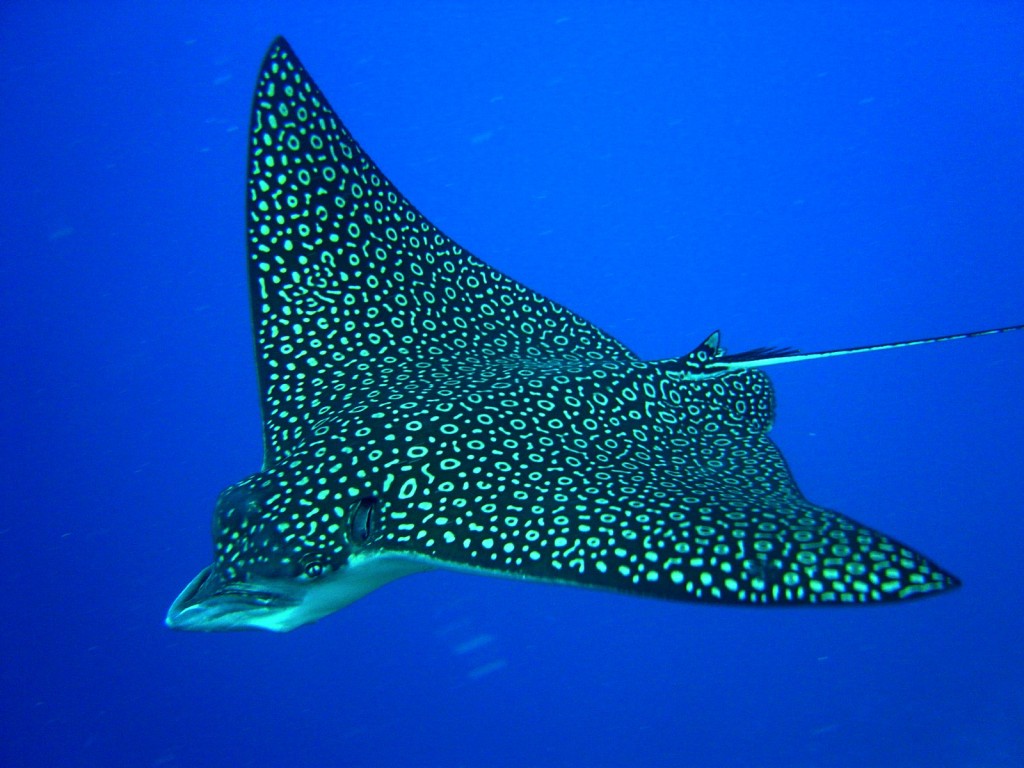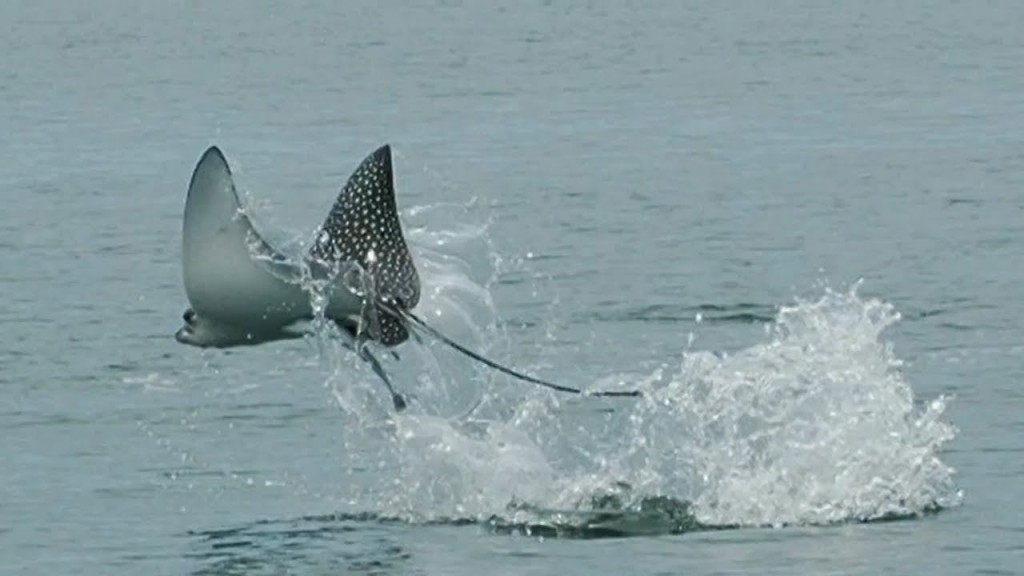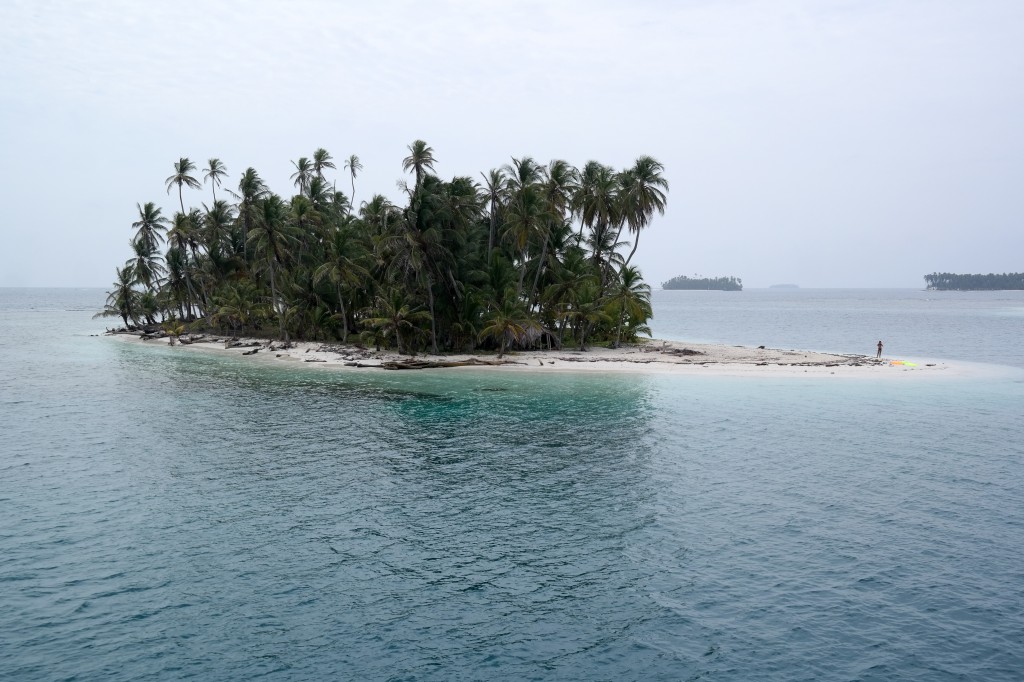 More flips off the boat, rum, cards, good people, and the freshest lobster dinner I think I've ever had (delivered by the locals) capped off our final day in the islands before we set out for open water around midnight.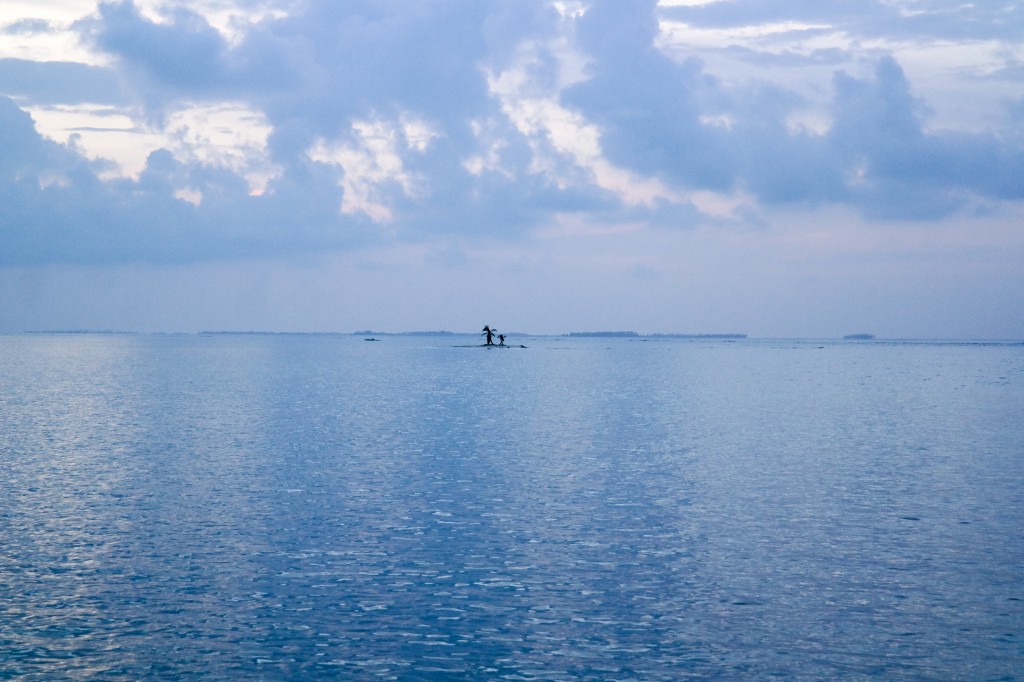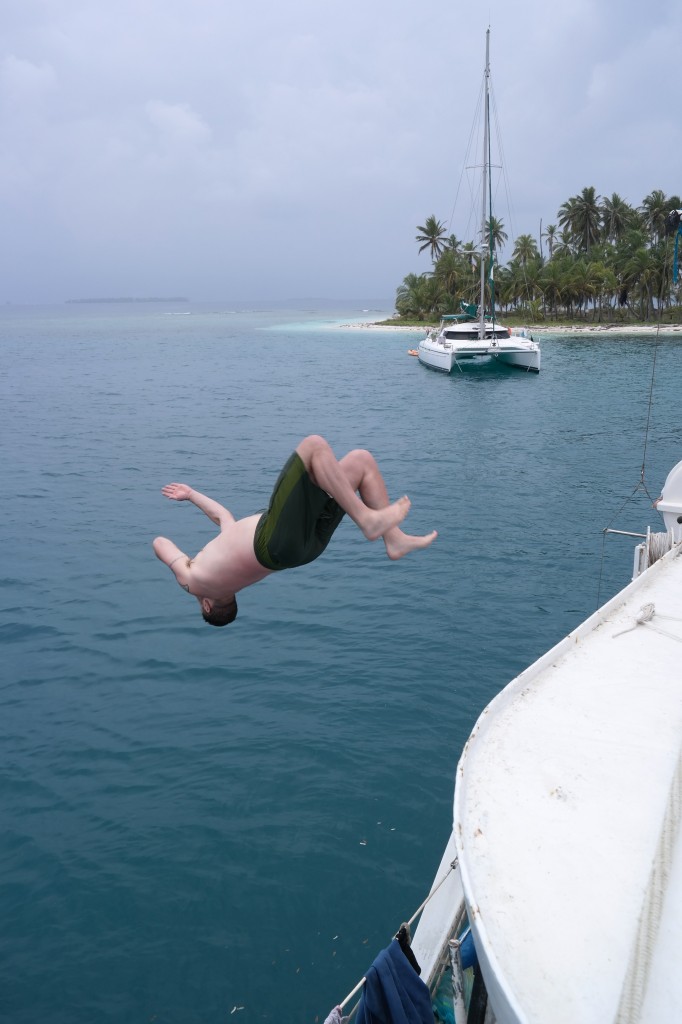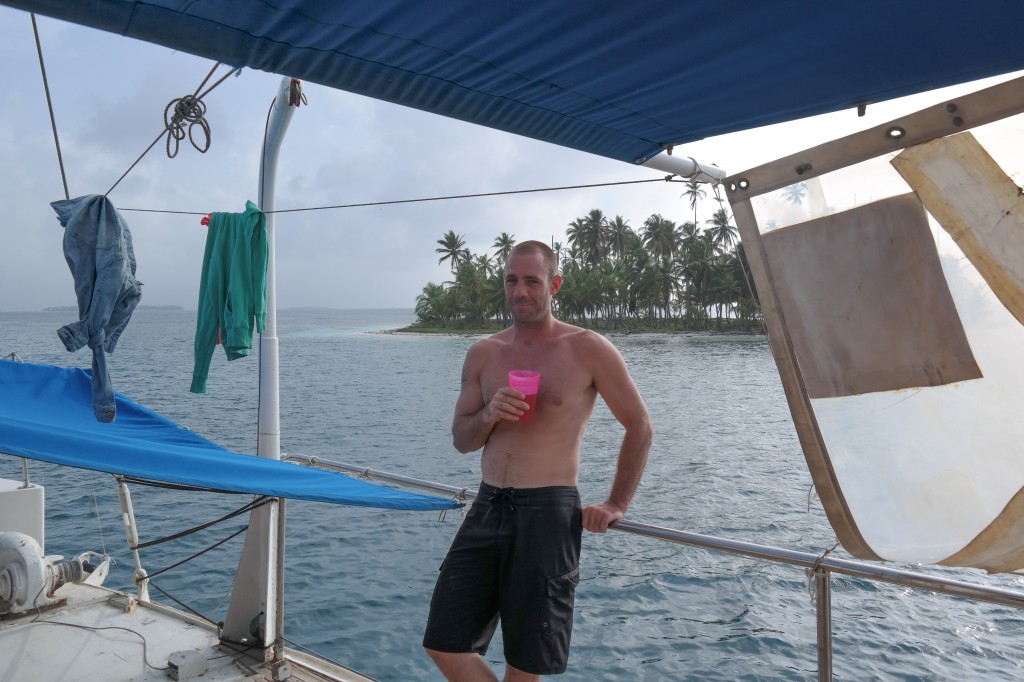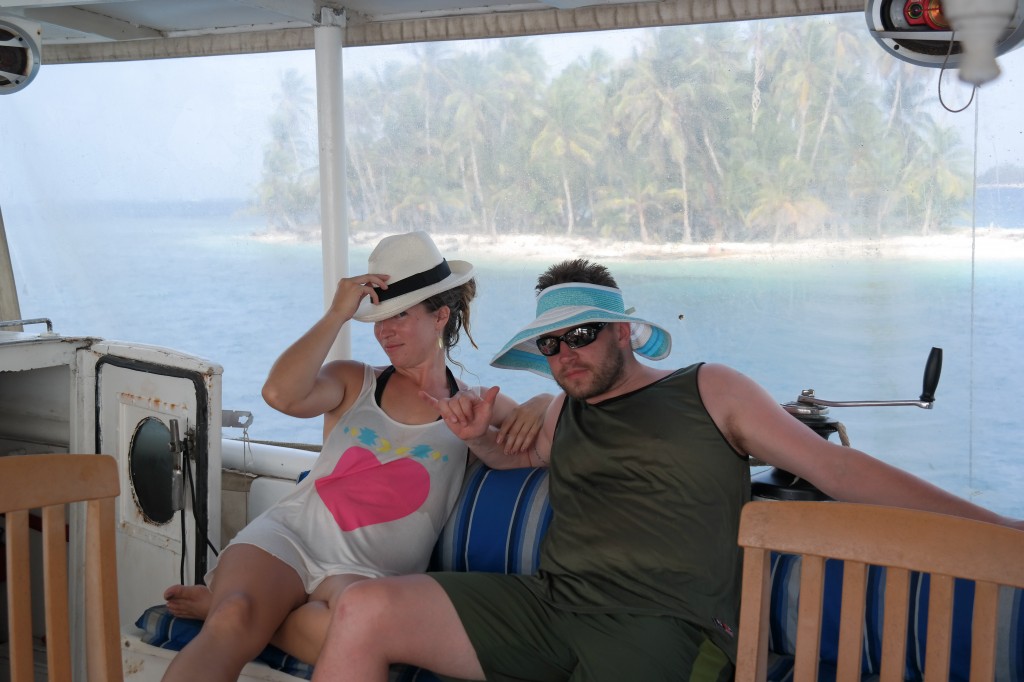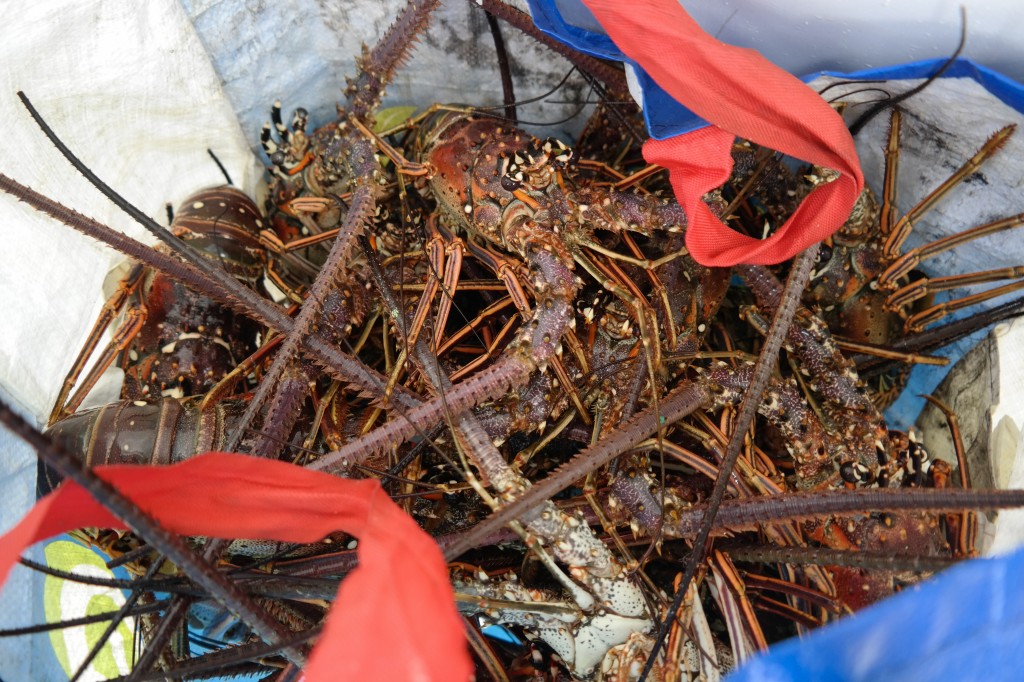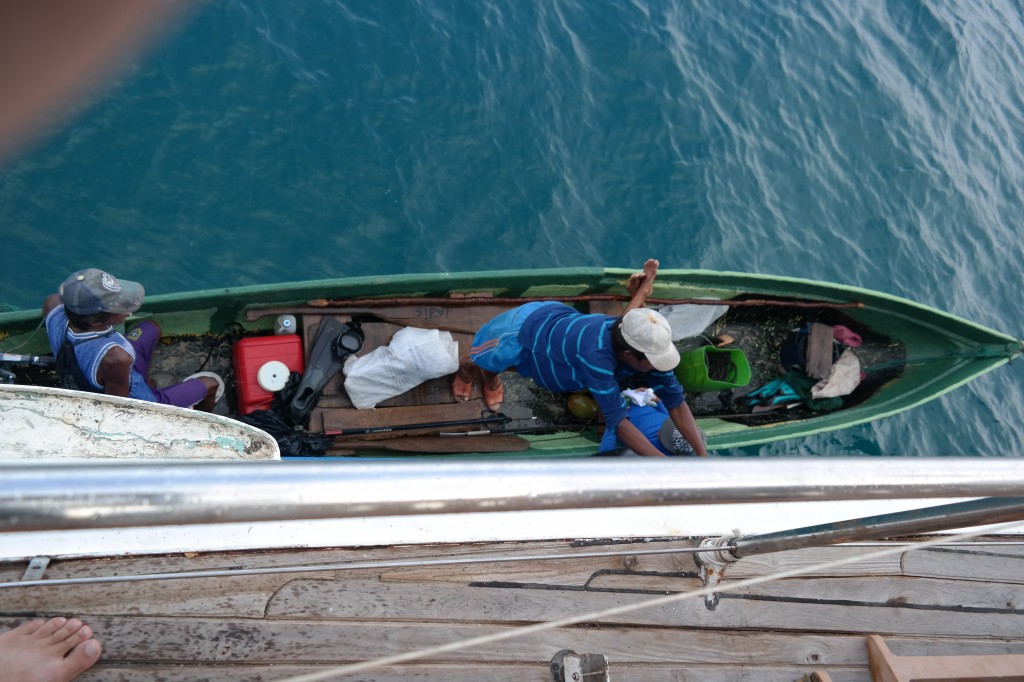 The next 30 hours or so were pretty rough on most. A combination of sea sickness pills and, despite the size of the boat, a consistent stomach churning rocking made for a quiet day among the passengers. Niccole was pretty much knocked out till we landed in Cartagena – by design, knowing she doesn't fare well with sea sickness. After a rough morning myself I adjusted and hung out with the minority on the deck a bit. The captain stopped the boat a little over half way and we went for a mid ocean swim. It was surreal. Kind of creepy actually. Ocean as far as the eyes can see. Large swell picking us up along with the boat. Such a surrounding dark, deep blue. You can't help but wonder what's swimming around in the depths below. The night greeted us with a dark red sunset that seemed as if it belonged to the sea.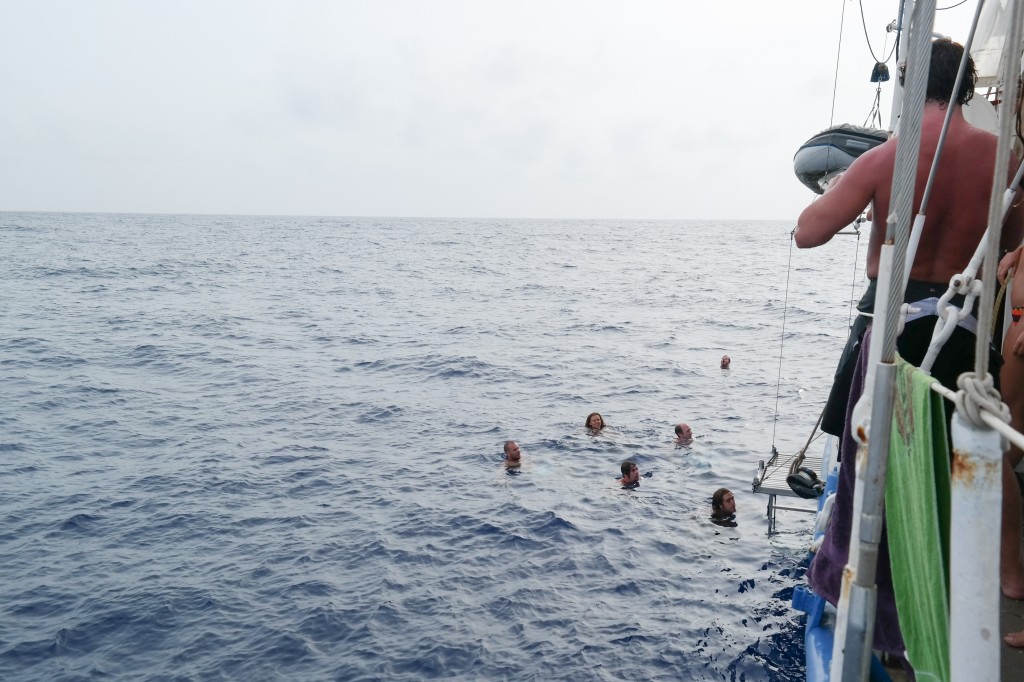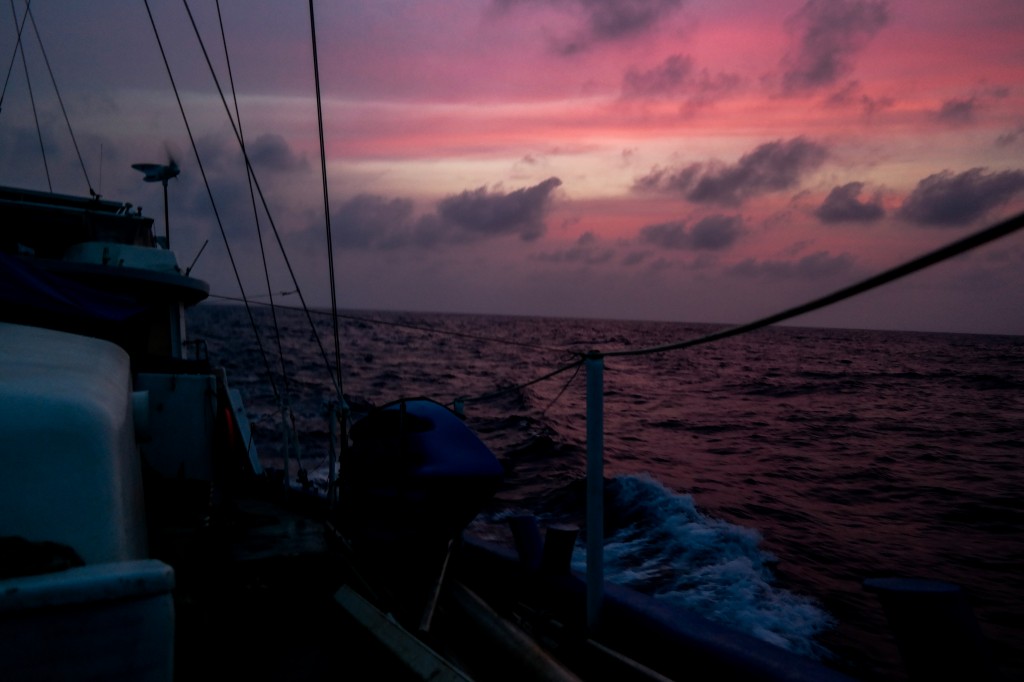 Another quite night on the ocean found us in the port at Cartagena several hours before sunrise. We checked out the skyline of our first city on a new continent. The bustling container docks were just off the other side of the boat.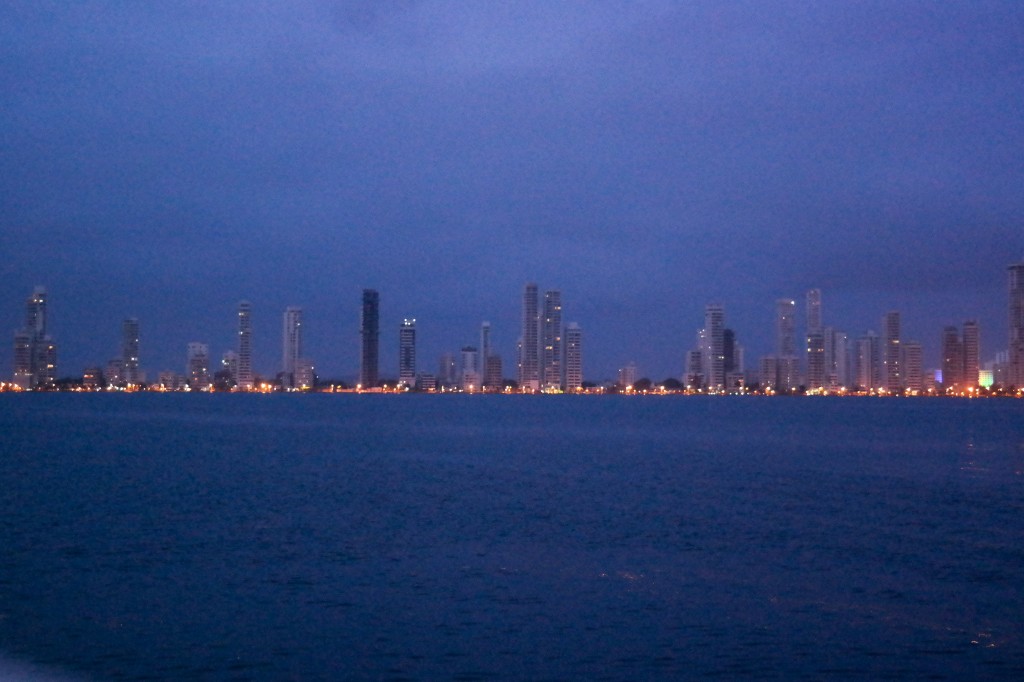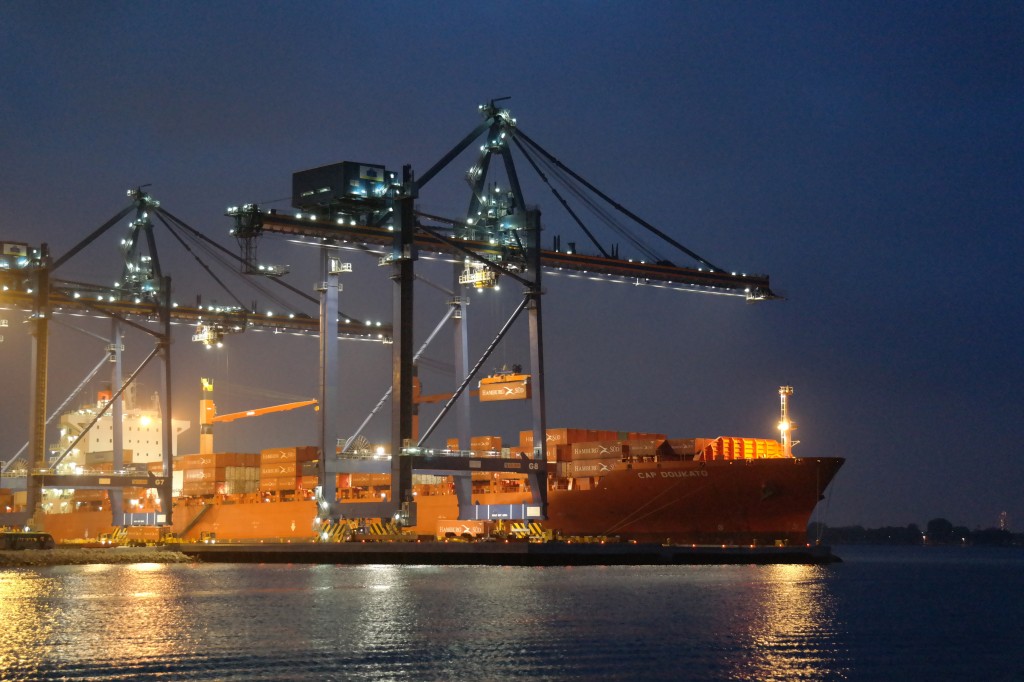 After pitching and rolling for so long we were all pretty stoked to get off the boat. We breezed through customs and said goodbye to Colin who had a plane to catch in only a few hours. Thanks for flying down and joining us buddy, what a great time!
And after a much needed shower and air conditioned sleep, we began wrapping our heads around our arrival on a new continent and the looming second half of this amazing, amazing trip!
(Views: 2194)