We'll cover this in two sections. The first section is information about the planning and coordination process that I wish we could have read somewhere prior to diving into it for ourselves. The second section will cover the process and paperwork – though this is covered in a lot of other blogs, much of the information out there is several years or more old and the processes and port specifics have changed a bit. This information reflects shipping as of April, 2014.
Planning & Shipping
First off, if you're planning to sail the San Blas to meet your vehicle on the other side (which we highly recommend), then your planning begins a month or more in advance. Better get on the ball in Costa Rica or lay up in Boquette or you'll be in Panama City for a long time.
The trick to the planning is that you'll have three things to coordinate. 1) A sailboat, 2) A Shipping Partner, and 3) The actual container.  The sailboat is important. Read up, talk to people, and decide what you are looking for. Do you want a big party boat with lots of people, or a small boat that doesn't,  or something in between? Once you figure that out, check the schedules online or contact a booking agent like Mamallena's Hostel and figure out when a boat that you'd like will be leaving. Then schedule your shipping around that. Sailing with your shipping partner is definitely not a bad thing either!
If you go through an agent, which seemed like a good deal to us, make sure you get a schedule from them in advance and that it coincides with your sailing. We used Tea & Amy and shipped out of the Manzillo port in Colon. Our inspection was on Monday (with Tuesday on standby in case anything went wrong), and we put the van in the container on Wednesday (with Thursday in case anything went wrong), and then we jumped on our sailboat early Friday morning. Our sailboat got in the same day as our container, though there is a little leeway to be had there. I really don't think an agent is necessary on the other side – my container partner and I both got our vehicles out at the same time as a different couple that shipped with us out of Panama who paid for and used an agent on the Columbian side. Be ready to take some cabs between your hostel/hotel and the two main places stamping and paper issuing happen (the DIAN office and the port) and make sure you have all of the necessary documentation and paperwork with you as well as a pair of pants and shoes for the port when you sail – you will not be getting anything out of your vehicle until it is back in your possession on the other side!
We had read in some blogs to take all of your electronics with you because of the temps in the container. I thought this advice suspect, did some research, and determined that this is not necessary. Anything you want to leave in the vehicle will be fine. It will get hot, but not hotter than electronics can handle. The only exception to that would be batteries. They will not perform as well after being exposed to high temps, but even that isn't a huge deal for the short amount of time they'll be in the box. We took a camera and an iPad with us leaving everything else on board – no issues. This is all assuming that they'll be safe which bring us to our next subject…
Many of the agents and big shipping companies ship from the Manzillo port now. They DO NOT allow you to put your vehicle in the container. This means handing over your keys to the people at the port… which gives them ample time to look around for things to steal. Not as bad as RORO, but not ideal either. Our largest gear container cannot be accessed from within the vehicle and can only be removed via the back doors which we chained shut and padlocked. That kept all of our climbing gear and items we couldn't fit in our lock box safe. They didn't take any of our loose kitchen stuff, etc, but we did leave a crappy pair of binoculars on the dash and they were gone when we pulled it out of the container on the Columbian side.
We learned after the process from our friends at SouthToNowhere that there is a second port with agents in Colon that allow you to drive in and lock the container yourself. Sounds pretty ideal and likely the best way to go.
Lastly, hostels book up quickly in Cartagena. It is wise to reserve a room/beds before you leave on your sailboat. We stayed at Mamallena's on both sides. They were awesome, especially on the Panama side letting us park in front and actually sleep in the vehicles at a discount till we containered them. Because our shipping partners were in on it and we had been at the Panama hostel for a bit as well as sailing through them, they gave us a great deal on a private room on the Columbian side – and trust me, you'll went a nice shower and some A/C after the sailboat!
Paperwork
Panama Side
We found using an agent helpful. We also heard that the main shipping companies will not deal with individuals but cannot verify if that is true as we didn't bother to find out. If you use an agent the process will go something like this:
Day #1: Monday
Doing this step on Monday gives you more time to fix anything with your paperwork that might need fixing in order to still get your van shipped the same week. Also, inspections do not happen if it rains.
Inspection by police. Our agent had us meet at the Balboa Yaught club with other shippers. She then had us follow her to the place of inspection (this was a super sketchy area of town and our agent also warned us). Inspections only happen 9am and 10am Mon-Fri. Engine must be cold for inspection so open hood upon arrival.  You will need originals and one copy of the following for inspection: 

Driver's passport, vehicle title, Panama permit, Panama Insurance

. There is a place to make copies right across the street from inspection place but they do cost $0.25 a copy. The guy who inspected our car only verified the VIN but I have read many blogs where people are turned away for other issues with their paperwork. We gave our copies to the inspector and he kept them. We were told to go home and return across the highway later.
Return to inspection place – the next office is on the other side of the 6 lane highway. You turn over your passport or driver's license to security at the gate in exchange for a visitor ID. Once inside, ask for the Permission Certificate Office, you will not find it on your own. Also, you do not need your car for this step, so taking a $3 taxi split between shipping partners is ideal. This office opens up at 2:30 and closes at 5. Get there at 2:30. Wear pants and closed toe shoes or you will not be allowed entry. Only the vehicle owner is needed.
The office will issue a Police Permission Certificate. They will need original and 1 copy:

Driver's passport, vehicle title, Panama vehicle permit, Panama Insurance

. Definitely double check that everything is correct once you are issued your Permission Cert – our shipping partner had several errors on his including someone else's passport number!
For the next step you will need 3 packets with the following information:

Driver's passport, vehicle title, Panama vehicle permit, Panama Insurance, Police Permission Certificate

.
Our agent received and took care of the Bill of Lading
Day #2: Wednesday
I would do this on Wednesday if you have a choice so if anything again goes wrong you still have Thursday to fix things.
Meet with your agent. Drive to Colon.
Go to Aduana's. Our agent added the Bill of Lading (she also had copies of this) to our packets. To reiterate, for packets you will need 3 copies:

Driver's passport, vehicle title, Panama vehicle permit, Panama Insurance, Police Permission Certificate

.
Customs will enter information into a computer and stamp the driver's passport so that you can leave the country without the car. Customs will keep one of the packets and give back 2 packets. They will stamp and sign all 3 packets.
Then you and the agent will go to a building with numerous windows. Our agent took the paperwork and got the necessary stamp at an unlabeled window.
Port fee: $64, paid at another window with a receipt that you need to keep. Agent then gave us one of the copies of packet for our reference.
Drive vehicles into an inspection/parking area. Only drivers are allowed in here with agent. They will inspect the vehicle and then have a drug dog go through it. You are no longer allowed to drive your own car into the container if you ship through this port, so we had to hand over the keys. Remove anything on the dash or front that is within easy access. They don't have a lot of time to go through your stuff we were told, but they did take some handy binoculars that we left on our dash. We had locked everything of significant value in the back.
Pay agent: $990
Take taxi home. All of this was completed before 2pm! Our agent was really on top of everything and I highly recommend her. This was Amy, Tea's daughter. Taxi ride home was $65-85 split between however many people who took the taxi.
Cartagena Side
There are basically two places you need to go, the port and the DIAN office.
Start at the port, go to your shipping company's window/office and get your new bill of lading for the Columbian port.
Take that document to the DIAN offices. They'll give you a form that you'll need to make three copies of (I made one extra thankfully…). You'll also need up to three copies of your passport (and the page in it with your Panama stamps), bill of lading, and title. This office is supposed to schedule a DIAN inspector to arrive at the port the next morning and inspect the vehicle when it comes out of the container. We filled the form out and double checked with them that it was correct, but would later find out that we didn't put the port address on it (which is doesn't ask for anywhere) and so they never sent it to the port. (Fortunately, and luckily, we bumped into the inspector at the port the next morning and had our own copy of the form. She was able to use our copy temporarily until she returned to the DIAN office to make an official one. Lucky us.)
You arrive the next morning when the port opens at 7:30a, meet the DIAN inspector, and go get your vehicle out of the container. You drive it out, they check the VIN, and you park it next to the container and leave it for now.
You now take a cab back to the DIAN office where you will get a form signed by the inspector and her boss (which is why you have to cab it back to the DIAN). With this from you can now go back to the port and get the vehicle released.
Make a copy of the DIAN form. Take this to the port's main office with copies of your title, passport, and bill of lading. They will produce a bill with your port fees. Ours were $180 which we were told about in advance by our agent.
Take bill to the payment window, pay, and get receipt.
Take receipt back to the window that issued the bill, they will now give you the release paper.
Take bill of lading, DIAN document, release paper, title, and passport back to where you parked the van. A port official will process everything, sign you out in a book, and send you on your way. At the vehicle exit you'll have to show the paperwork again.
Congratulations, you have your rig back!
Don't forget to swing by one of the many SOAT offices and purchase the mandatory Columbian auto insurance. You have a lot of checkpoints in store and you won't be getting through them or a police stop without it. The easiest way to find a SOAT that issues insurance for autos is to ask or take a cab.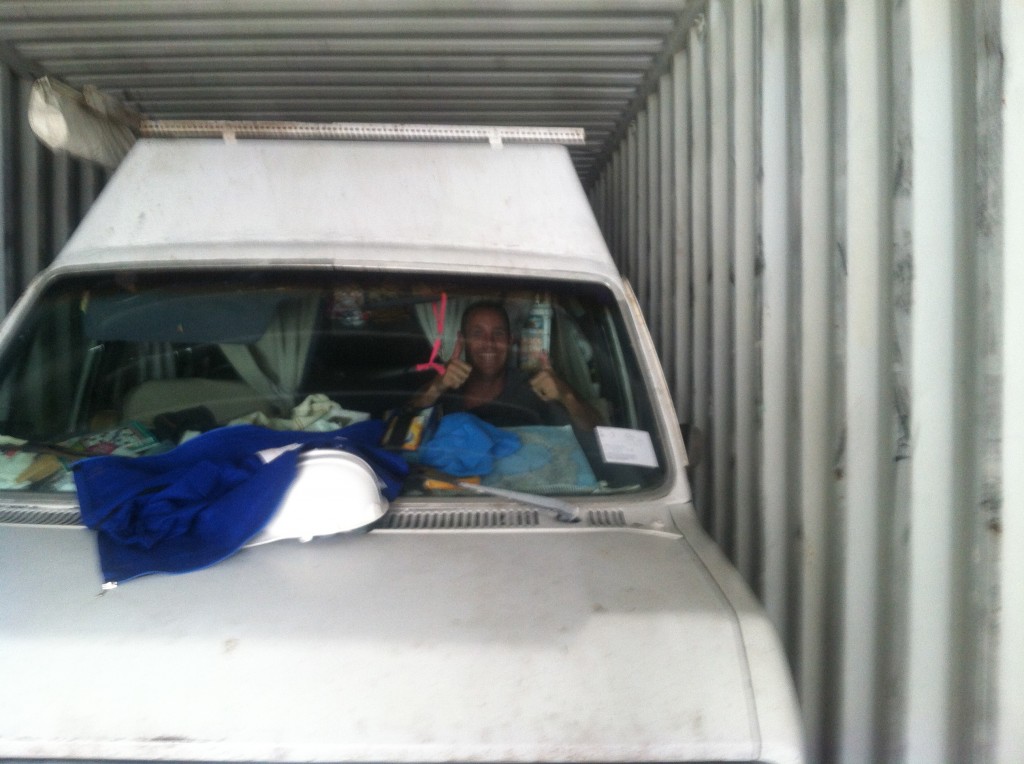 (Views: 960)