Well, quite a lot has happened since we last posted. We have transformed from American climbing dirt bags to Baja surf bums. Christmas has passed as well as the New Year and our first border crossing! We're in it now, that much is for sure. Let's see if I can get the blog up to speed from this blazing fast ~400 kbps connection! After we left Vegas we went to Joshua Tree for some climbing and visited Niccole's brother Kyle and his wife Chantelle. Kyle is stationed at the 29 Palms Marine Base right outside of Joshua Tree so we spent about a week or so out there in the desert climbing and hanging out with them on the Marine base.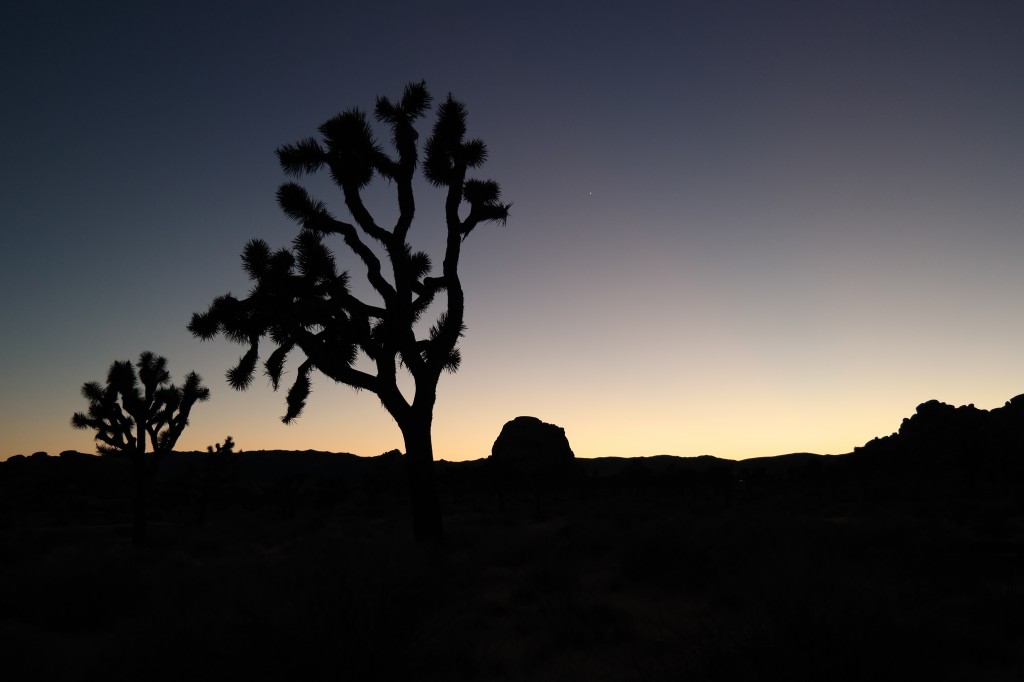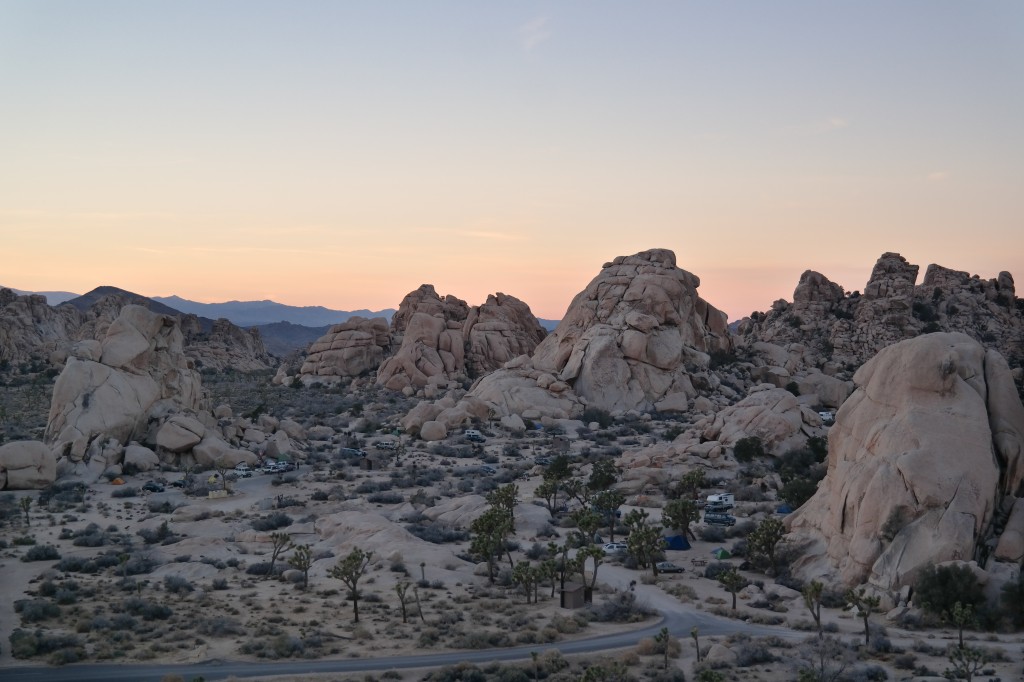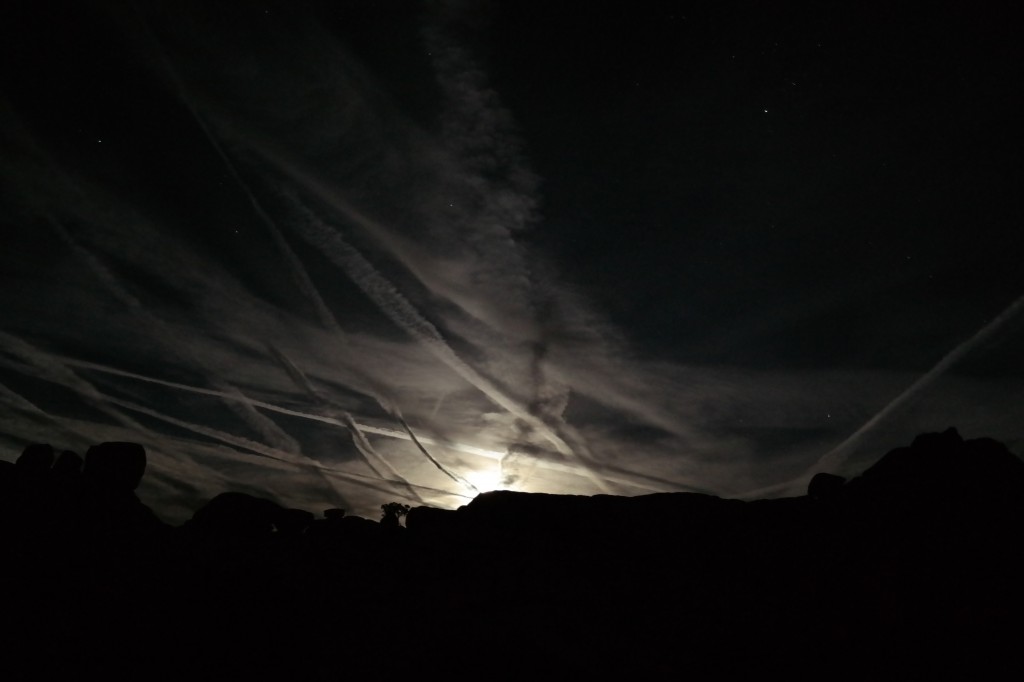 It was good times for sure and we zoomed off to San Diego just in time to spend Christmas on Pacific Beach, but not before stopping in Escondido at the insanely amazing Stone Brewery. I have never seen a more proper beer garden. It was probably a quarter mile of beautiful winding stone paths, heating lamps, and little chairs and tables strung out along a little river. Amazing beer to say the least.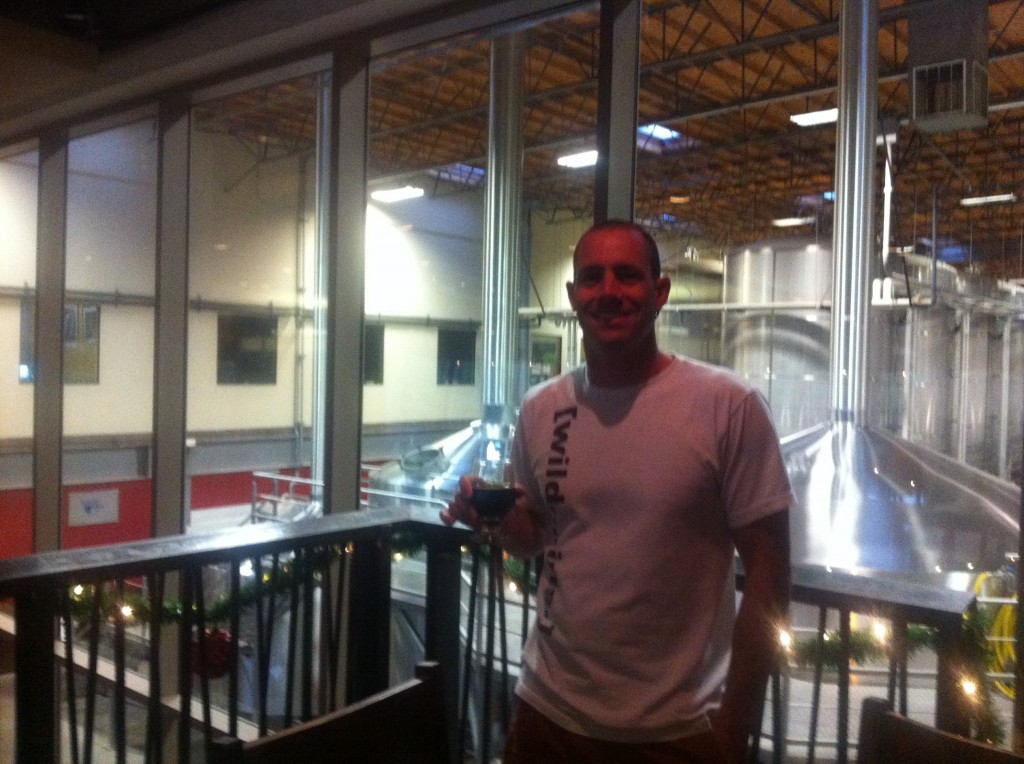 After a very unique beach front Christmas we made our way around Pacific Beach purchasing surf gear in preparation for the Baja. We even took our new gear out for a spin learning immediately how Body Glove came up with its name. An interesting piece of apparel which you quickly learn is both customary and unavoidable to christen… there's an inside joke about fighting crime in a rubber suit here, but I'll leave it up to your cyber prowess to learn more if you're out of the loop.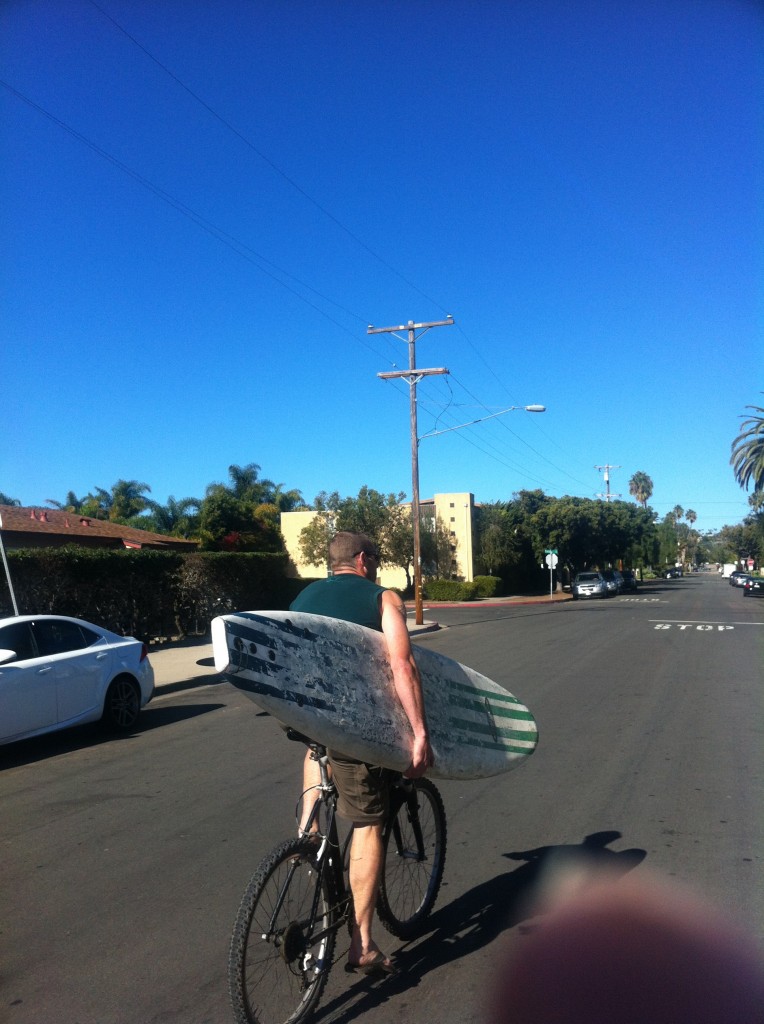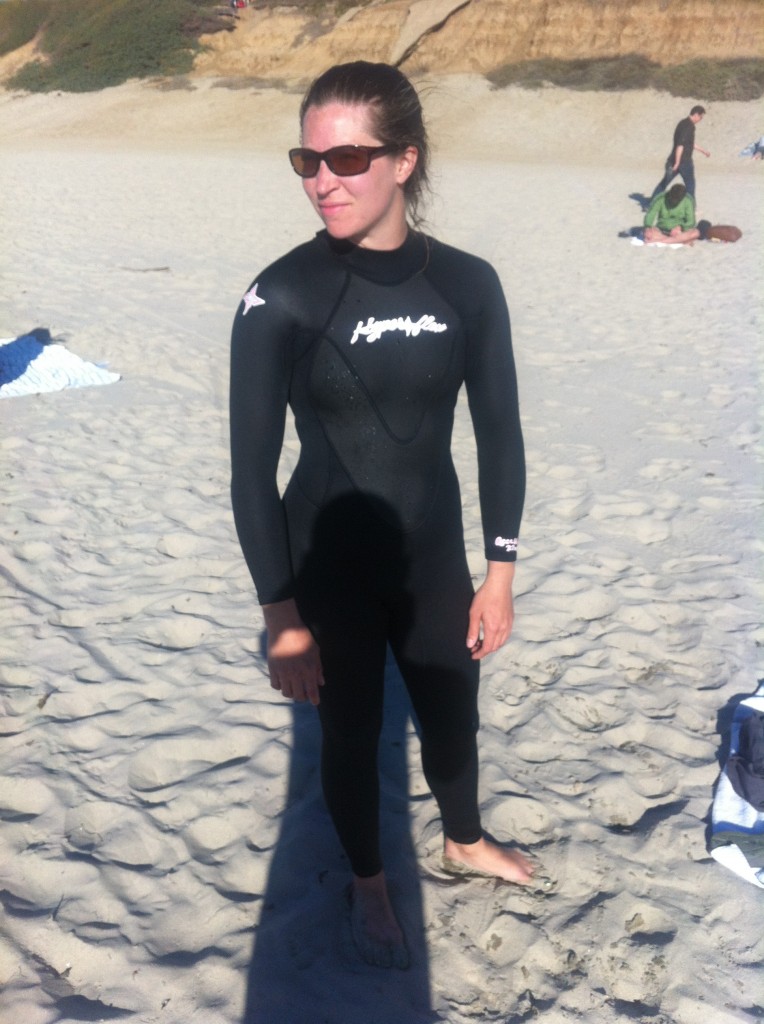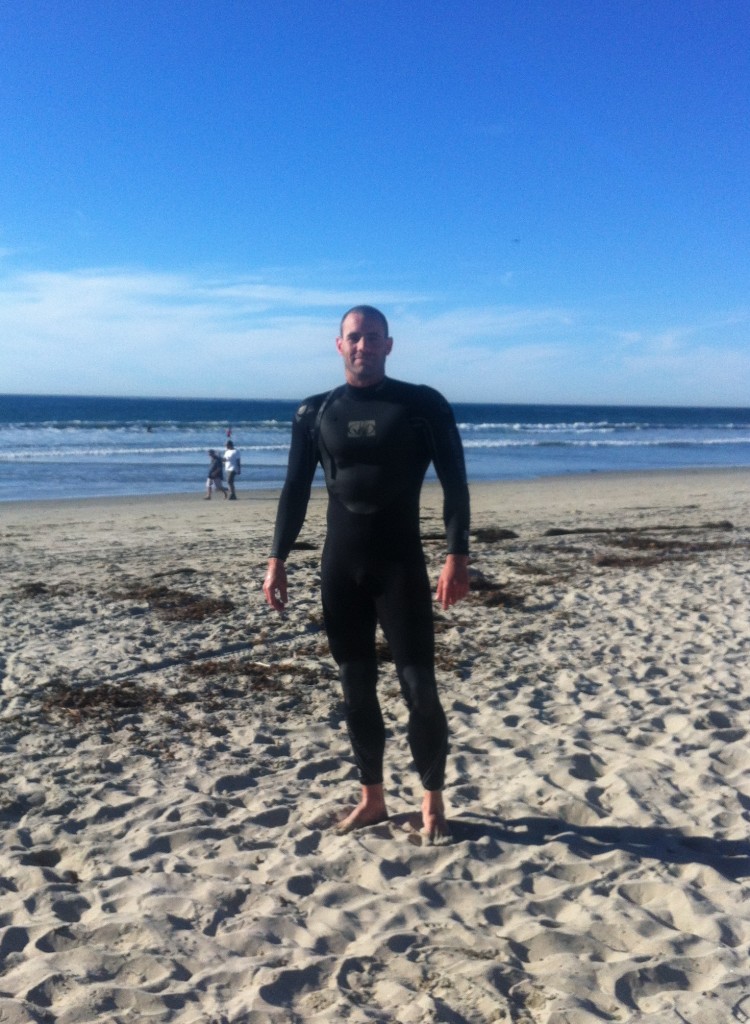 I can sum up surfing so far in a handful of words: The Pacific Ocean is freezing and surfing, hard enough to learn as is, is very much conditions based – more so even than snowboarding. I digress. It's time to cross the border!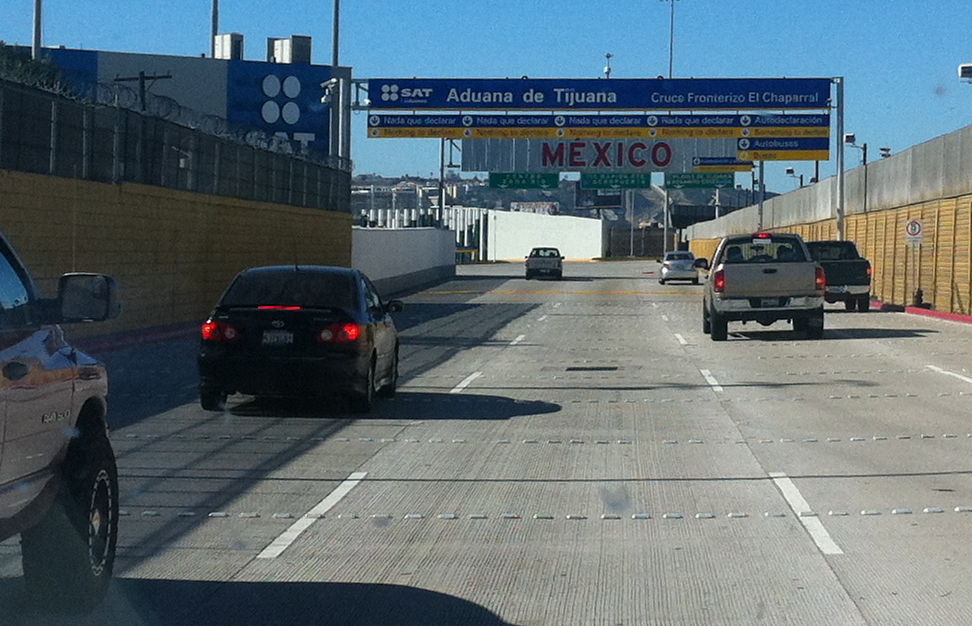 And with that, instantaneously I realize that my Spanish is abysmally poor (thankfully Niccole's is quite a bit better) and that I cannot communicate with anyone! It's that 'oh shit' moment combined with being completely in a different world that made for a somewhat stressful and exhilarating, true beginning to the trip. It didn't stop us from stopping in Tijuana and eating street meat though!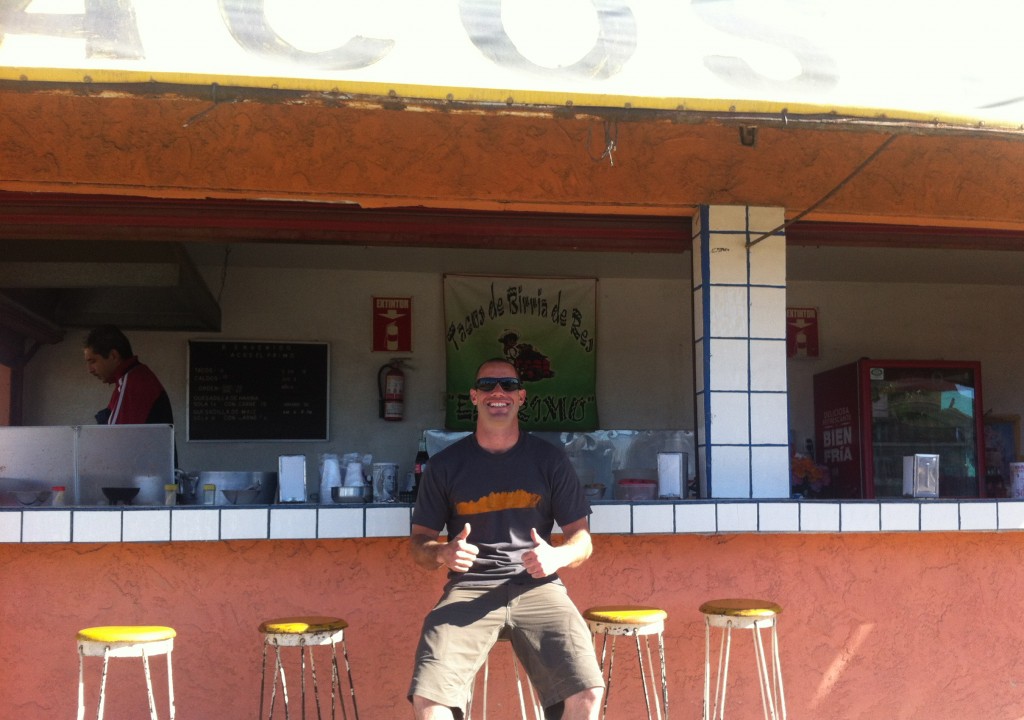 My excitement over finally having a permanent Mexican food diet helps propel us forward to Ensenada.. that and the absolute certainty that we need to be out of the Northern most part of the border before dark.  Like a lot of Northern Baja, Ensenada is littered with trash and not worth sticking around for unless you knew to stop at the surf break before hitting the main town (doh!). A good place to look at in the rear view mirror though!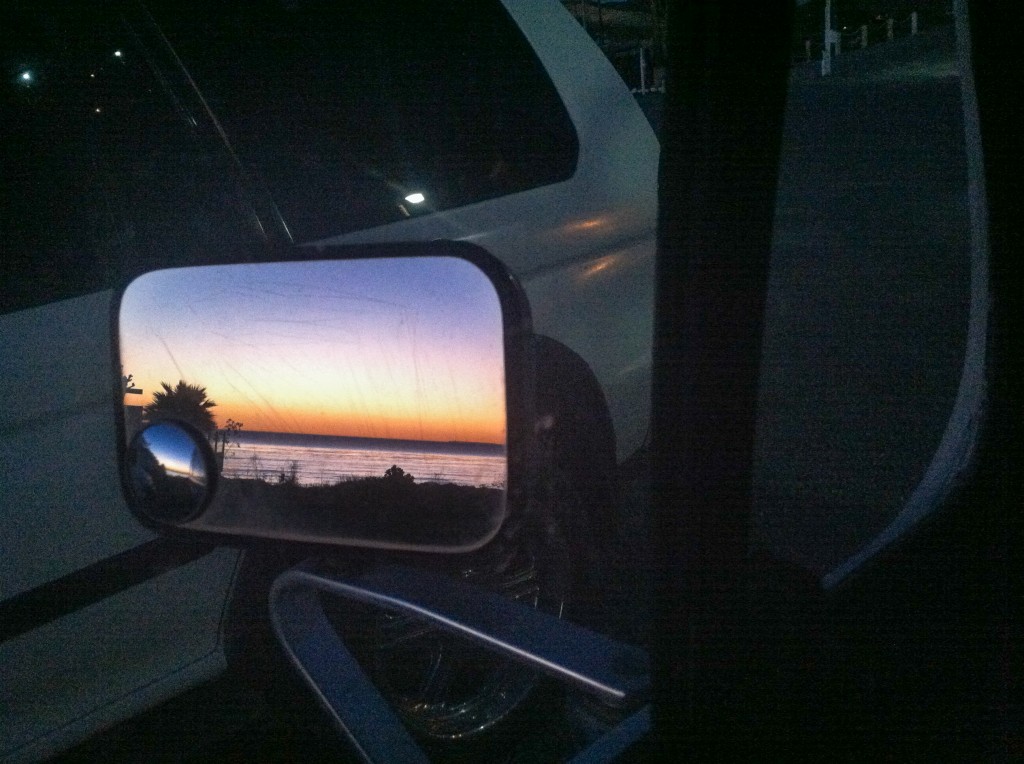 We wardrive a side street and download a Baja surf guide before heading out of town. I've always wanted to do that. Must be the IT nerd in me. I've bootlegged a lot of wifi in my lifetime, but never searched for it in a van. The modern Zero Cool and Acid Burn head off to Punta Santo Tomas in search of good waves and a proper New Year's Celebration…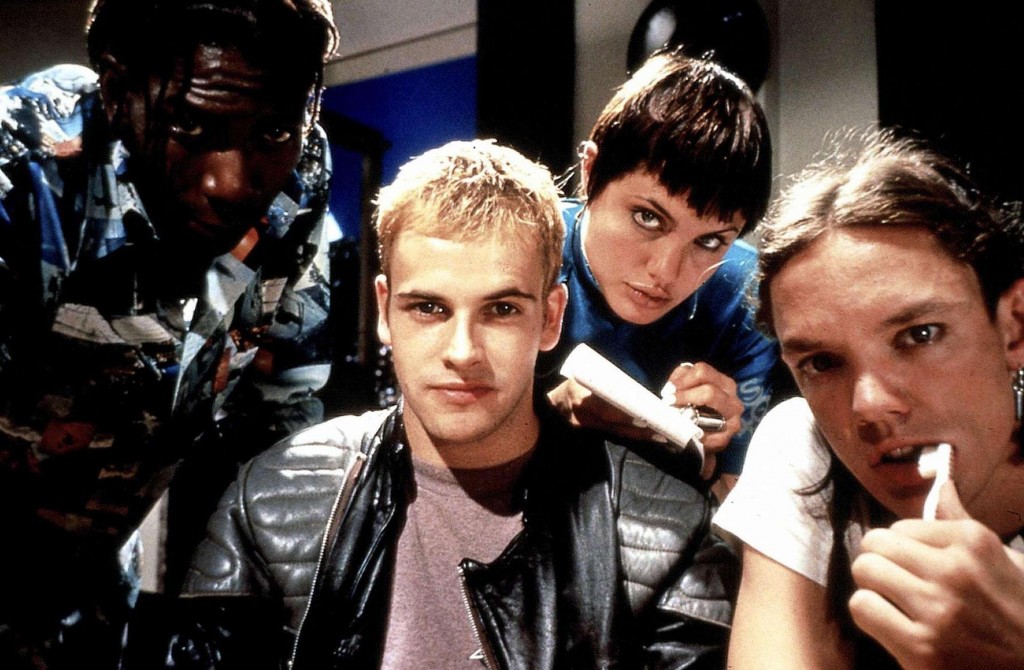 I always thought it wasn't safe to drive at night in Mexico for criminal and corrupt policia issues, and while that's true as well, I think the most important reason not to drive at night in Mexico is that it's insanely dangerous in its own right – and this is coming from someone who jumps off bridges for fun. Seriously. Between unsigned topes (massive speed bumps) that appear on a road that was 80 kph moments before, cattle milling around on the road, lanes so narrow that they don't quite fit the semis that make up at least half the traffic, broke down vehicles (some burning), and numerous other hazards, it is dangerous enough simply to drive a squirrely van during the day. Testament to this fact are the memorials you'll pass every kilometer or two of someone less lucky. We saw a sign that we interpreted (correctly I might add) to read: Don't Leave Stones On The Pavement. It turns out it is common if one breaks down to moves stones and other obstacles into the road to create a make shift detour. Apparently not everyone removes them when they are back on their way! So if you were planning on heading down to the Baja to do some night driving, my advice is that you try something less dangerous, like base jumping or chainsaw juggling. Having lost our Highway 1 virginity, we take the first major right hand turn after Ensenada and drive a dirt road that makes me wonder if I'll rattle the van to pieces before we even make it to the mainland. We only lost the last foot of our exhaust pipe, something I expected and was anticipating. No biggie. It's cosmetic. After getting further and further into the farm country, passing numerous shanties, farm workers, and fields of brussels sprouts and artichokes we begin to wonder how far exactly off the beaten path we are getting ourselves. Being about as green as Gringos can be we certainly have some minor trepidation as we arrive at the point where we see what appears to be the free camping the surf guide recommended. Then, low and behold, an RV comes plugging along behind us! Hooray! Other people! We instantly feel safer. It's amazing how other people can make you feel better when you're feeling isolated. Meet Jim and Janet from Canada.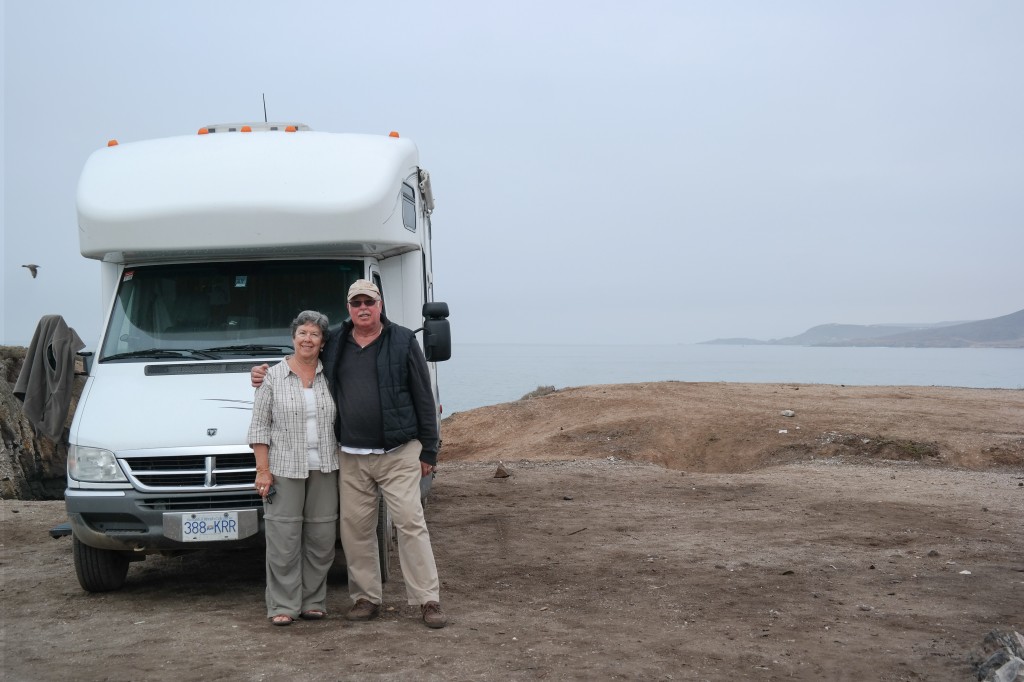 We spent New Years drinking, eating, and chatting in their cozy RV and would end up camping with them, and later, having thought we had parted ways, bumping into them again and again at various spots. Great people and a pleasure to hang with. Having traveled the Baja several times they were a great source of information and helped us remove just a touch of the green from our Mexican gills. There wasn't any surfing to be had with the smallish waves crashing a foot from shore so having relaxed and enjoyed our first true beach camping on the Baja we moved along with our new friends to Erendira where we met some other surfers, had some nice fires, and I finally got some waves – not good ones, but good enough to get to learning. I almost got stood up on the board after about 15-20 minutes and had a blast. Can't wait for some warmer water and quality waves! Meanwhile, the Sea Lines were chatty and provided great entertainment for us oceanic noobs!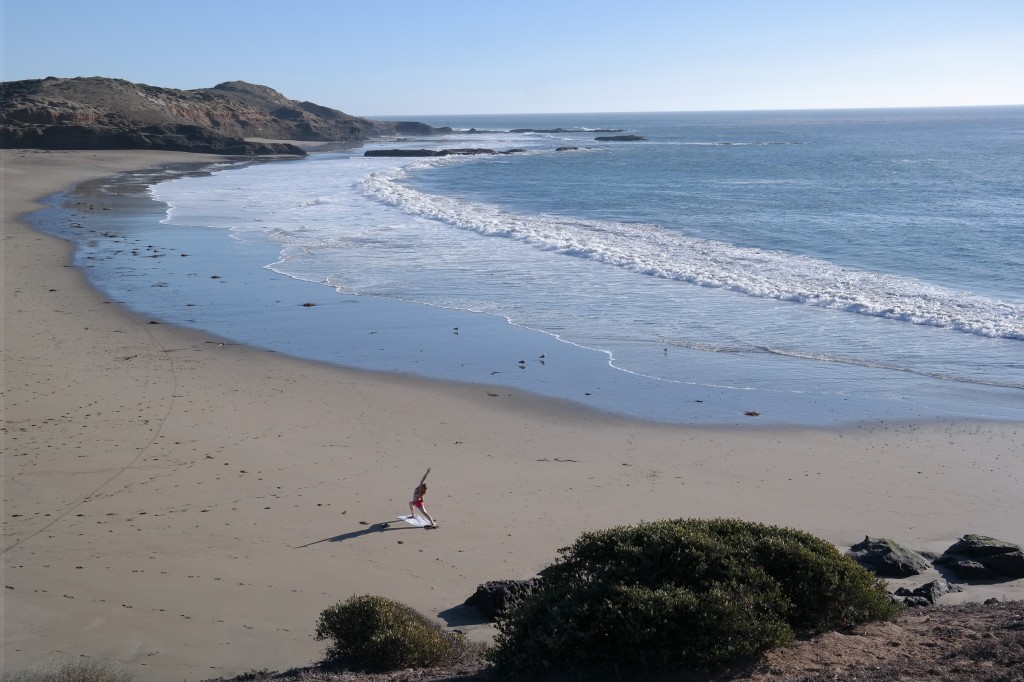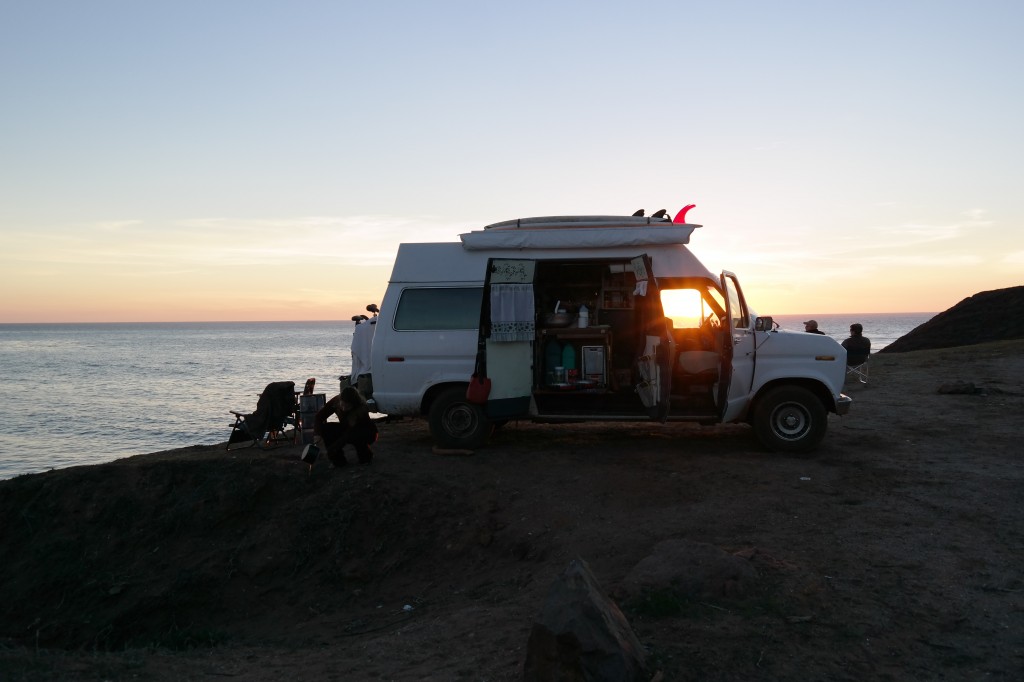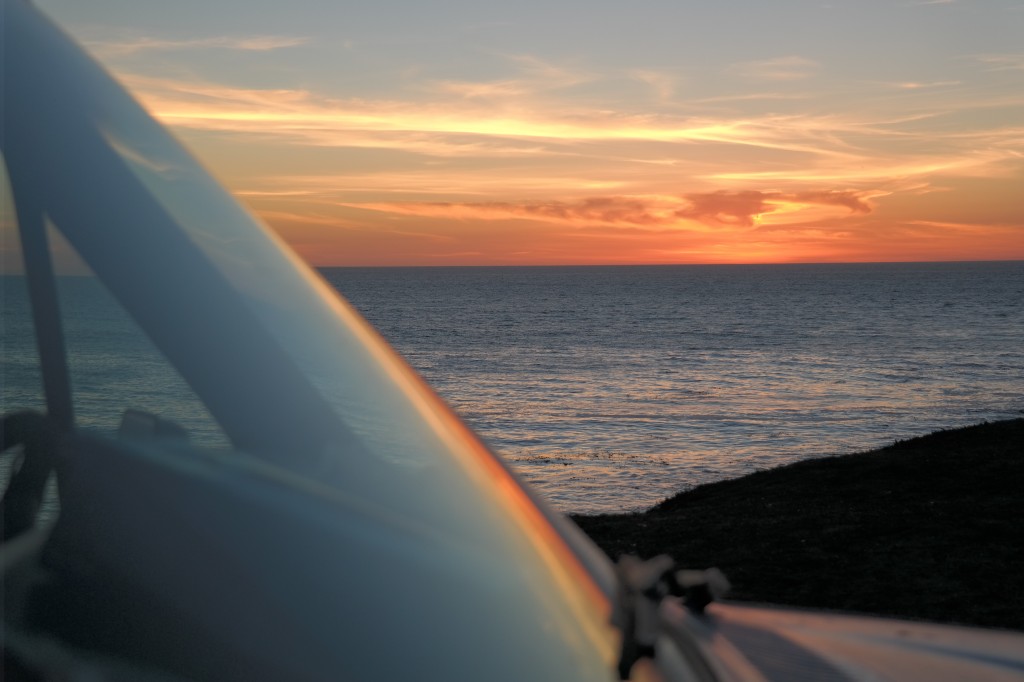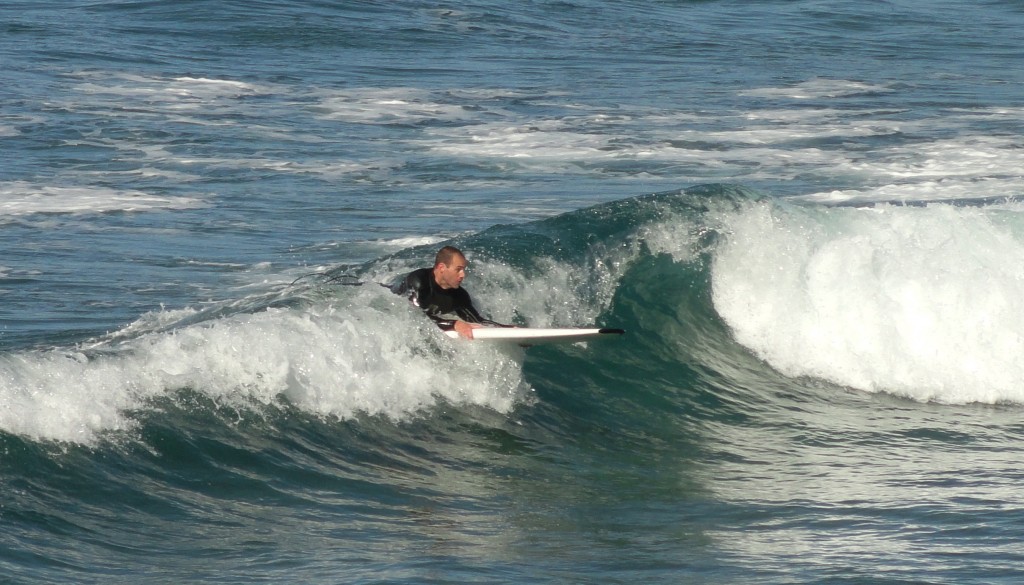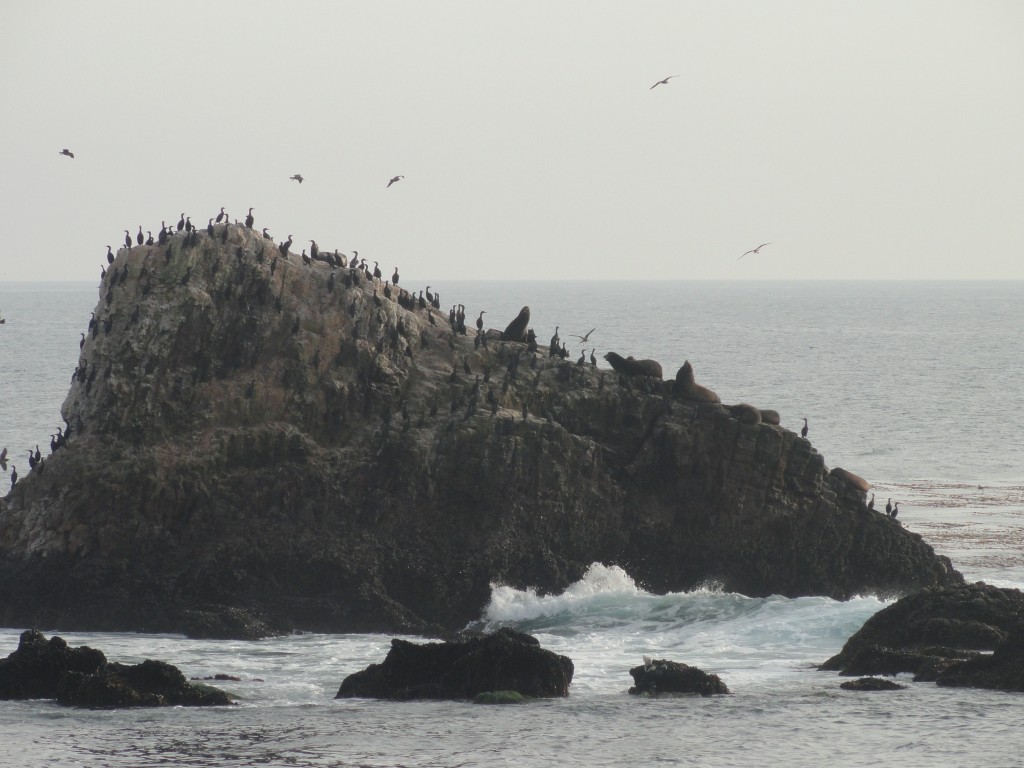 Onward we go towards Punta Santa Rosalillita after shuffling down a long section of Highway 1 deplete with gas stations… or at least what you would normally consider a gas station.
Great huevos rancheros next door (thanks for the tip Sarah!). I learned an important Spanish lesson too: apparently tango dos huevos rancheros por favor means one plate with two eggs! Imagine my surprise when we only got one meal. Lesson learned. Touche Spanish.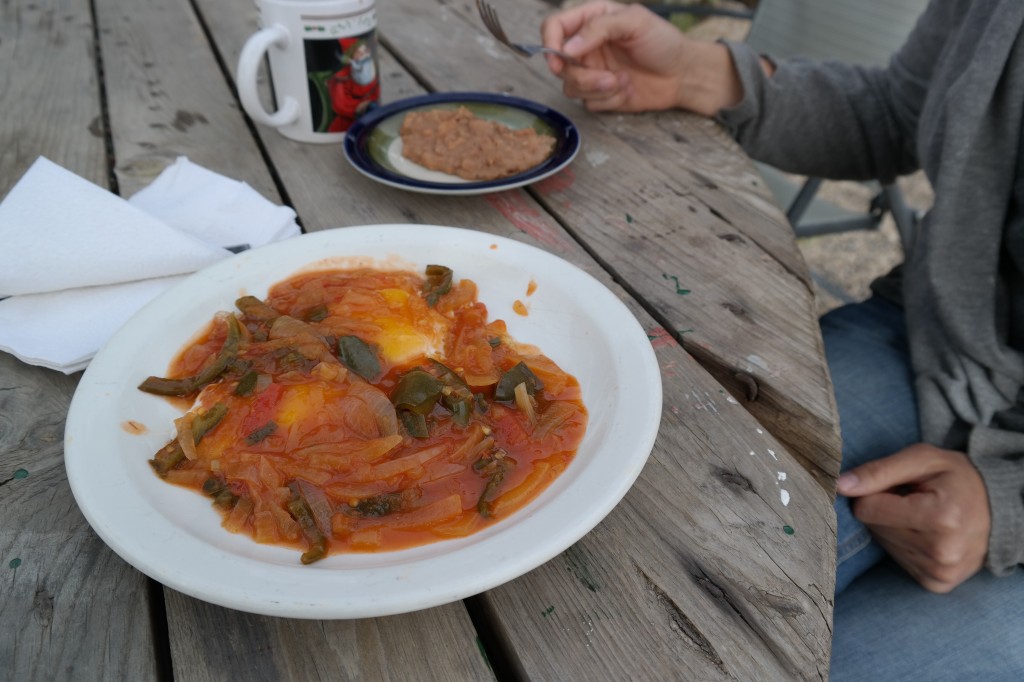 The swell at Punta Santa Rosalillita was less than meager. But, down a dirt track about 15-20 kilometers is The Wall – a famous surf spot. The breaks will probably be too big for us to even handle! We head that way with some fellow surfers we met along the way, Andrew and Cassi. The dirt track jumps on the beach for just a brief section. I follow without even thinking. Instantaneously we know we're screwed. If we stop we're surely doomed so I floor it in hopes of making it through. Epic fail. Deep, deep sand.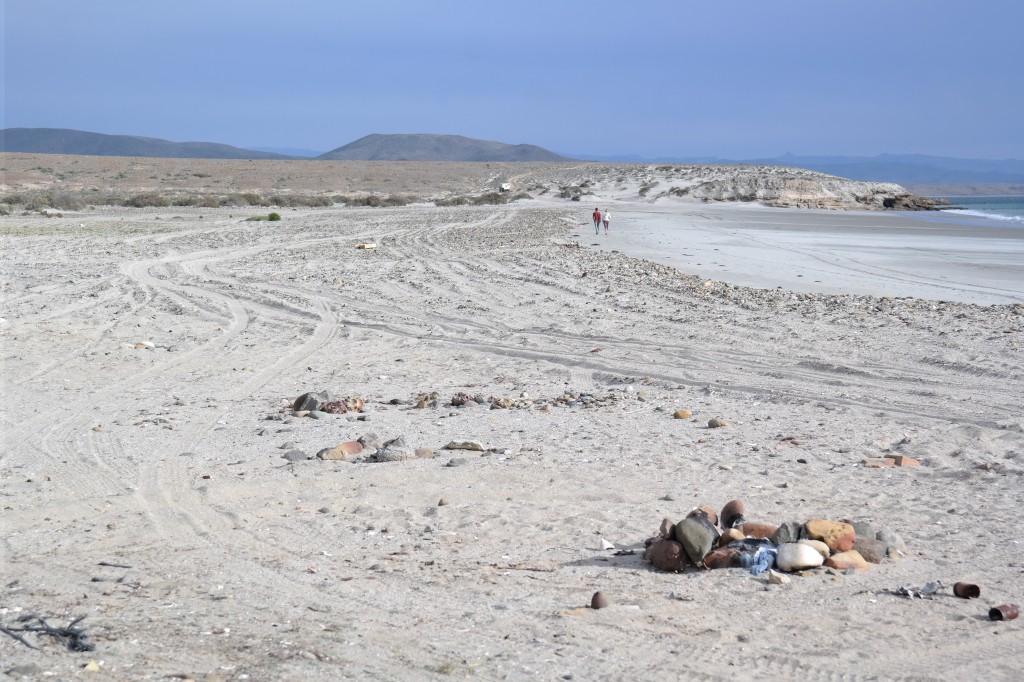 We're stacking rocks up and futilely attempting to resolve this ourselves when a nice Mexican gentleman comes along with a 4 wheel pickup truck and pulls us out effortlessly. Really glad I picked up that tow strap in Vegas. Lesson learned: no more beaches, even for a short distance. We abandon our hopes of reaching The Wall. Our fellow surfers decide their rear wheel drive rig isn't up to it either and we camp right where we are at the beach. An epic sunset follows.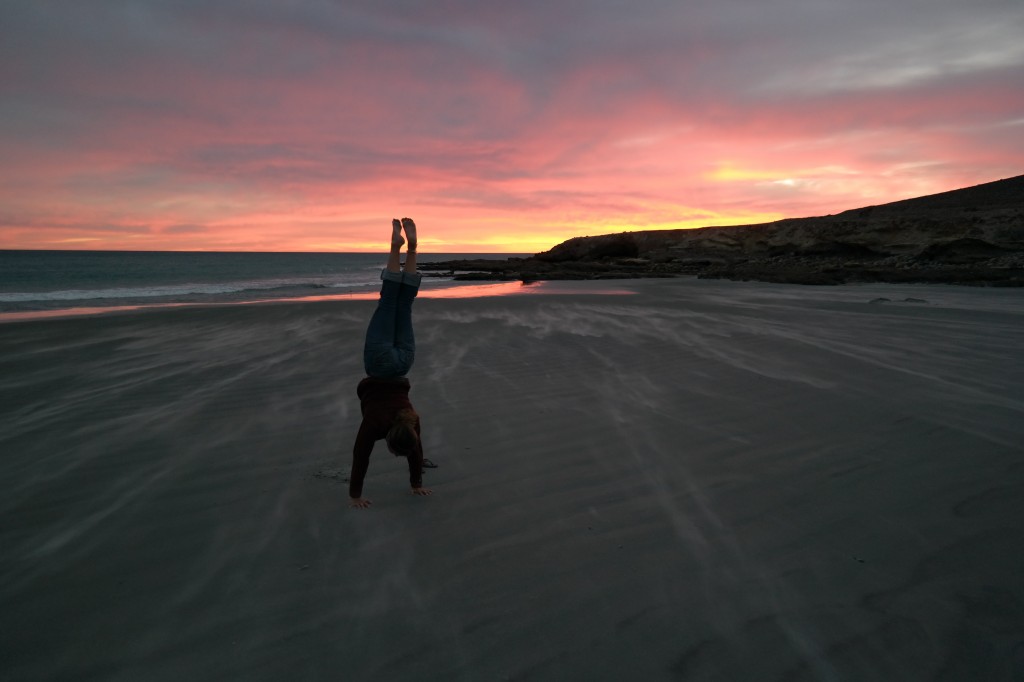 More soon… and hopefully more frequently. We've been camping a lot and finding a decent Internet connection up North for an adequate length of time was difficult. Adios from the Baja!
(Views: 1532)