Having escaped the sand trap and bailed on our plans for The Wall we head for the Baja Sur, the Southern half of the Peninsula. After another military checkpoint (nothing makes us feel safer than 16 year olds with machine guns by the way) we come upon a gigantic Mexican flag, a military base, and an official crossing into the Baja Sur. Here we are stopped and asked if we have any produce or plants on board. We say no despite the Christmas Tree in plain sight by the dash, pay the 20 pesos to have the bottom of our van sprayed with something, and we're on our way.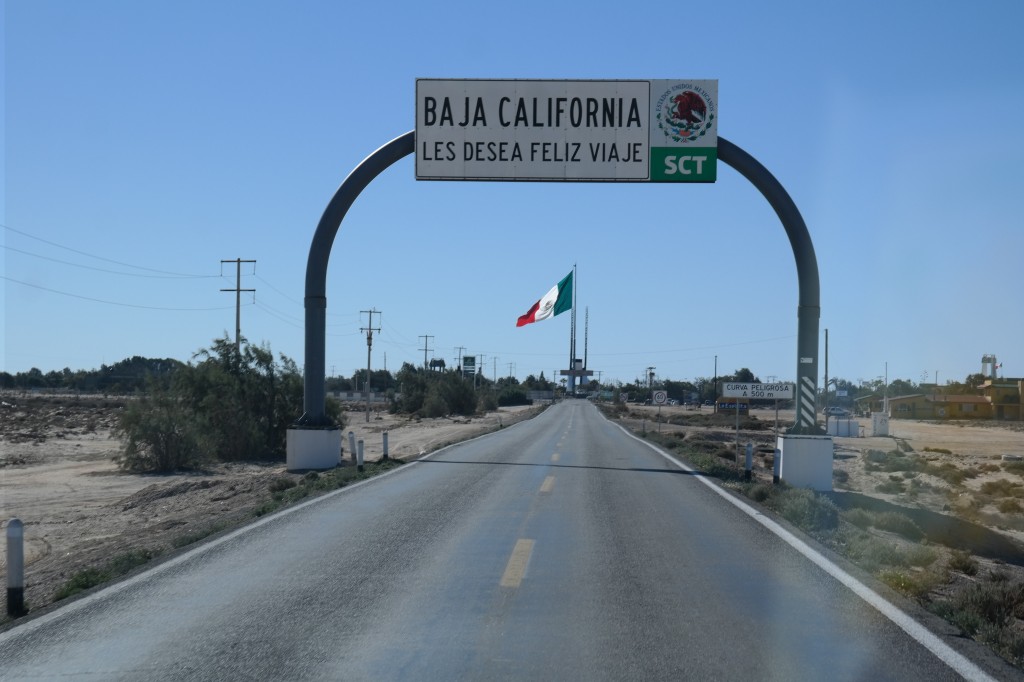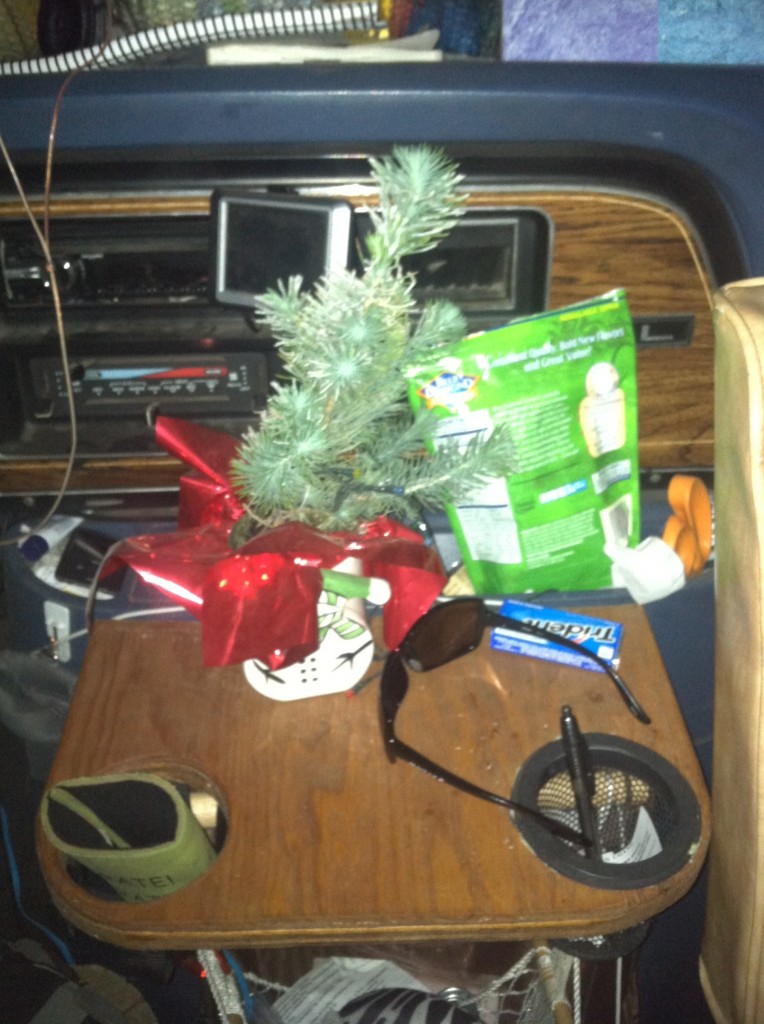 We stopped in Guerrero Negro for supplies and made our way towards Scammon's Lagoon where we heard about great, cheap camping as well as the potential for whale watching which should be in season. Apparently you drive through federal land on which they mine salt flats. We find that they're digging a hole in the road or something so the workers direct us out onto the actual salt flat which was surprisingly bumpy due to the crystalline clumps of salt interspersed throughout it.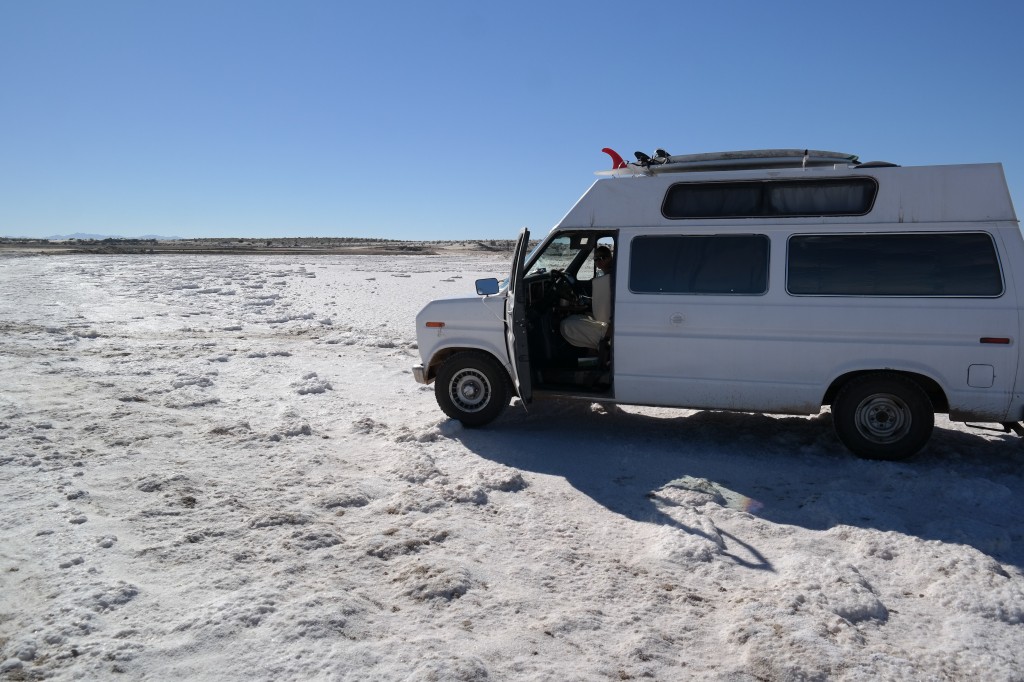 The moment we pull into the Ojo De Liebres conservation area we can see dozens of whales spouting out in the distance of the lagoon which gets us very excited for our whale watching prospects. It's expensive, but $1100 pesos (about $90 American dollars) later we're in a small boat and heading out into the lagoon. What happens next I still find hard to believe. The captain seems to be coordinating with another boat via radio and we're slowing down and pulling up along side an enormous mother grey whale and her 3 month old baby. "Hey their little guy" is certainly a joke as the baby is larger than our entire boat. Suddenly, we can see the monstrous mother whale pass directly under our boat – so close in fact that we wonder if we might be taking a dip in the lagoon if she gets the itch to surface! She seems to be pushing and directing her baby towards us. We're giddy with excitement. Next thing you know, with an eerily human like curiosity, the baby whale is pretty much playing with us. It rubs up against the boat, shows us its flippers, floats up sideways to look us literally right in the eye, and even comes up head first clearly enjoying the heavy petting everyone is giving it! It was so unbelievably awesome the only word that comes to mind that does it justice is magical. Besides the pics (of which I shot too many to count), there is some video below that makes me beyond stoked that I got this fancy new camera!!! Enjoy, and if you ever, ever get the chance to experience this, definitely shell out the money and cross your fingers that you'll get as lucky as we did. More about the fascinating journey these amazing creatures make from the Bering Straight to Scammon's Lagoon here.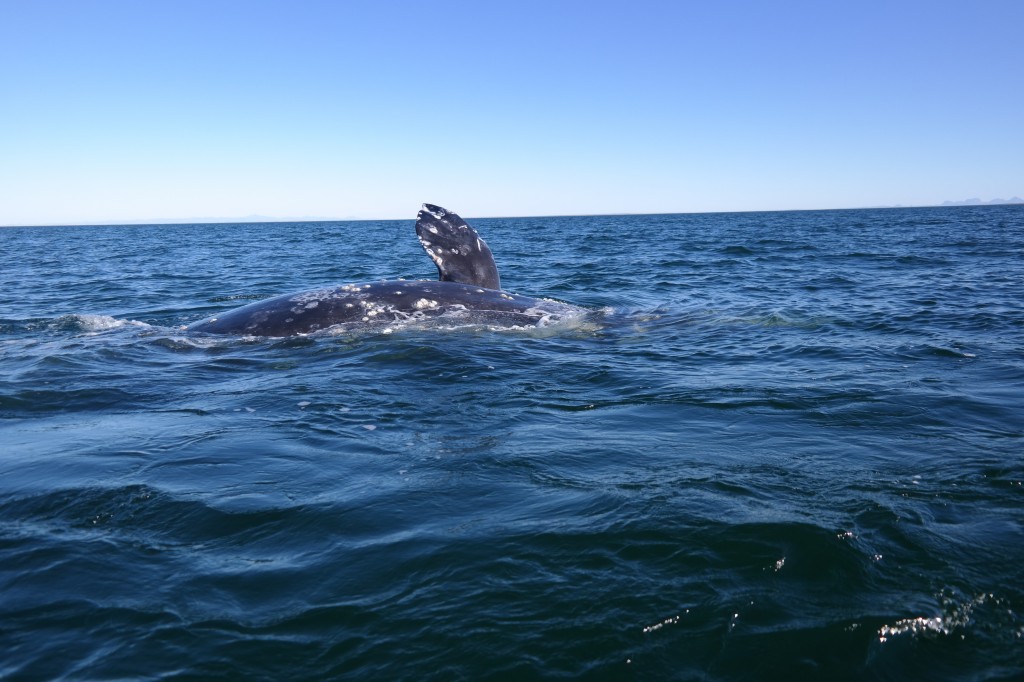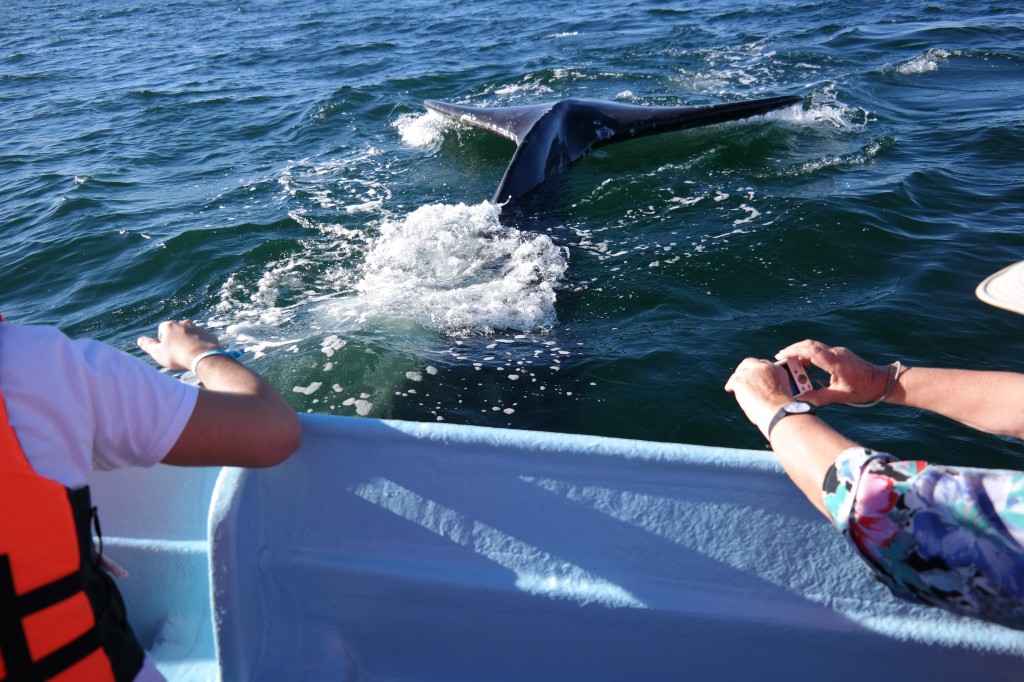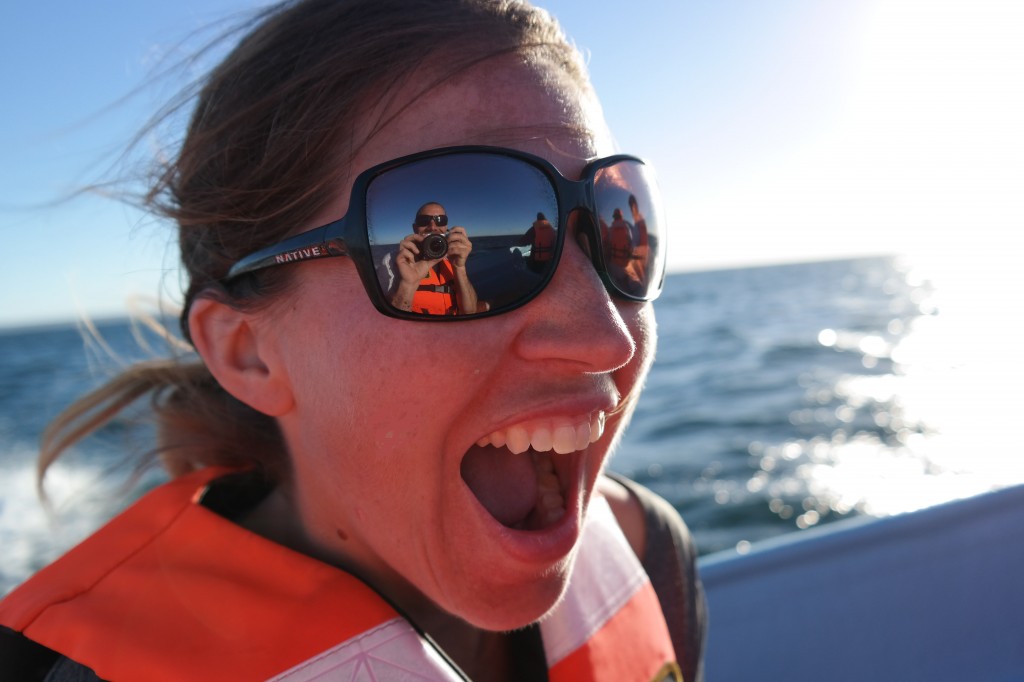 Having gotten about as full value an experience as we imagine is possible we head out the next morning and drive to Mulege stopping first in Santa Rosalia for yet another incredibly amazing and inexpensive lunch of tacos and ceviche. Branching out a bit we eat several things we gringos aren't "supposed to" including crushed ice (in amazingly good margaritas) and lettuce on the tacos. All is well and we're dabbling quite a bit more in the markets and roadside stands as well. What will happen will happen and really, we'd be missing a big part of the experience if we didn't. Turns out we both have pretty strong stomachs – props to our flora and its new inhabitants!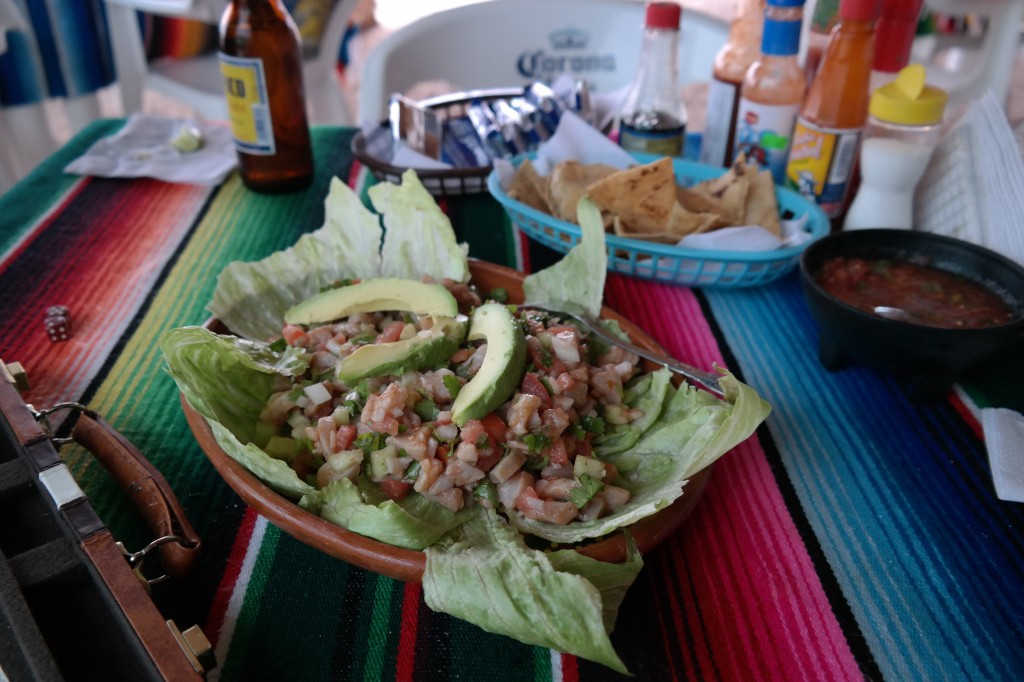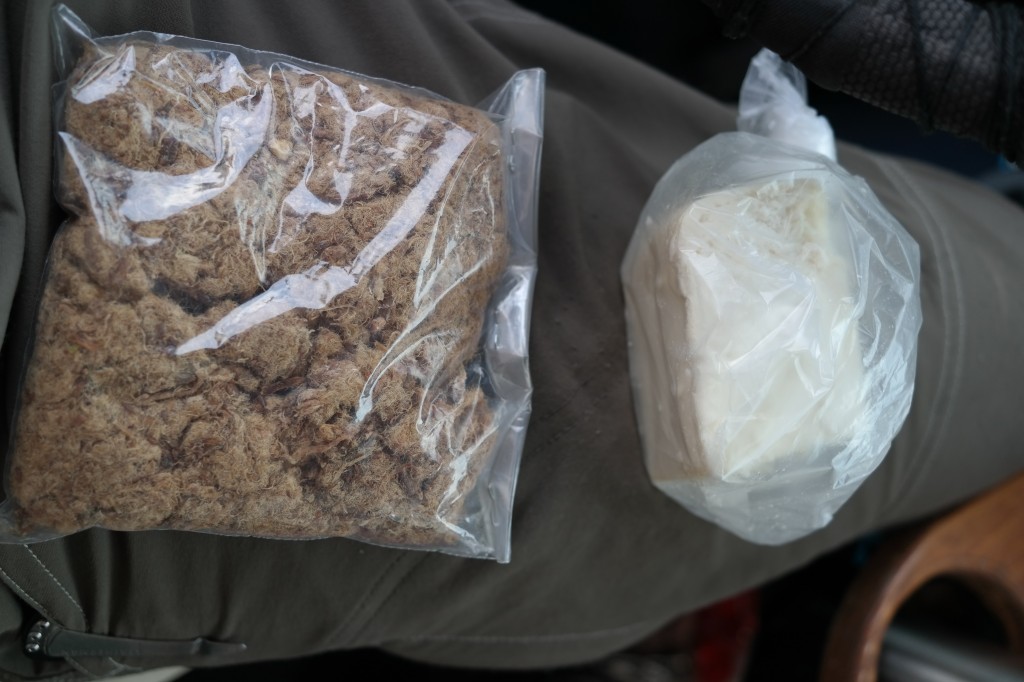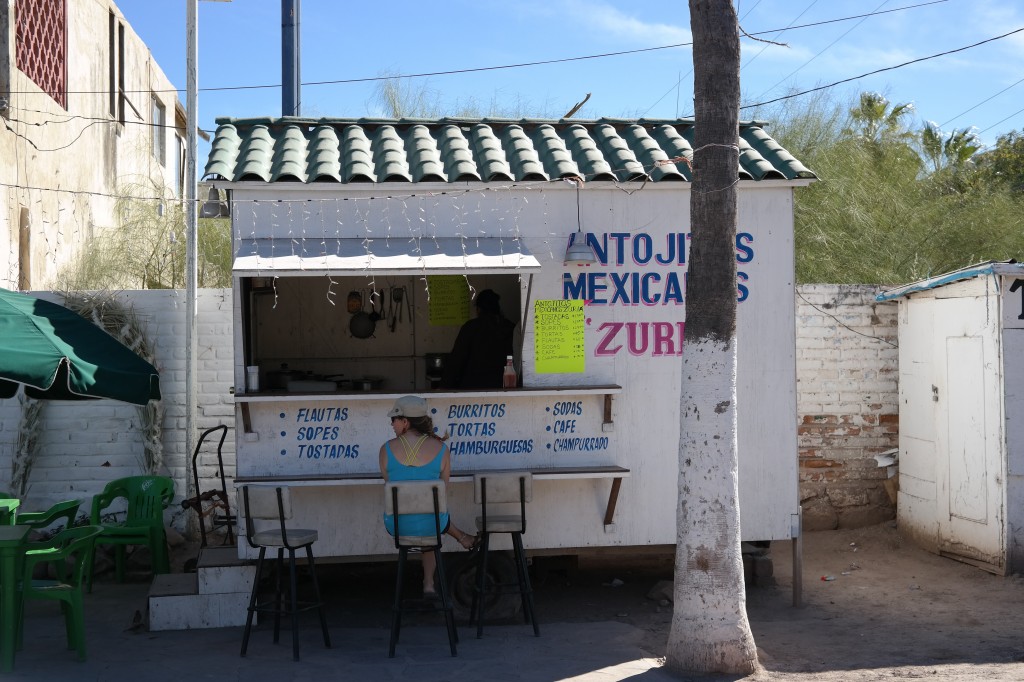 Mulege is a really pretty, quaint city with by far the largest river we've seen draining out to the rocky beached Sea of Cortez. We see a sign near the beach for an RV Park with hot showers, wifi, and electric hook ups. It turns out to be more like an oasis than an RV park. Shady palms, oranges you can pick right off the trees, little sinks to do dishes at, and wifi that reaches the van!!! Not too shabby for ten bucks! We stayed two days and ended up bumping into Jim and Janet yet again whom we played Mexican Train with on our final night.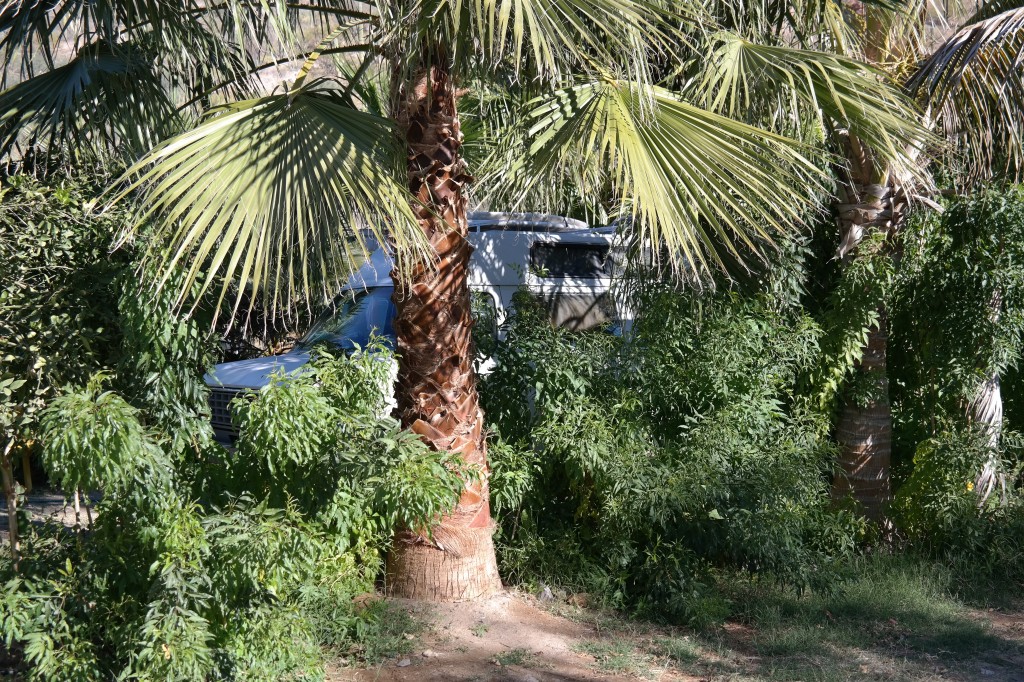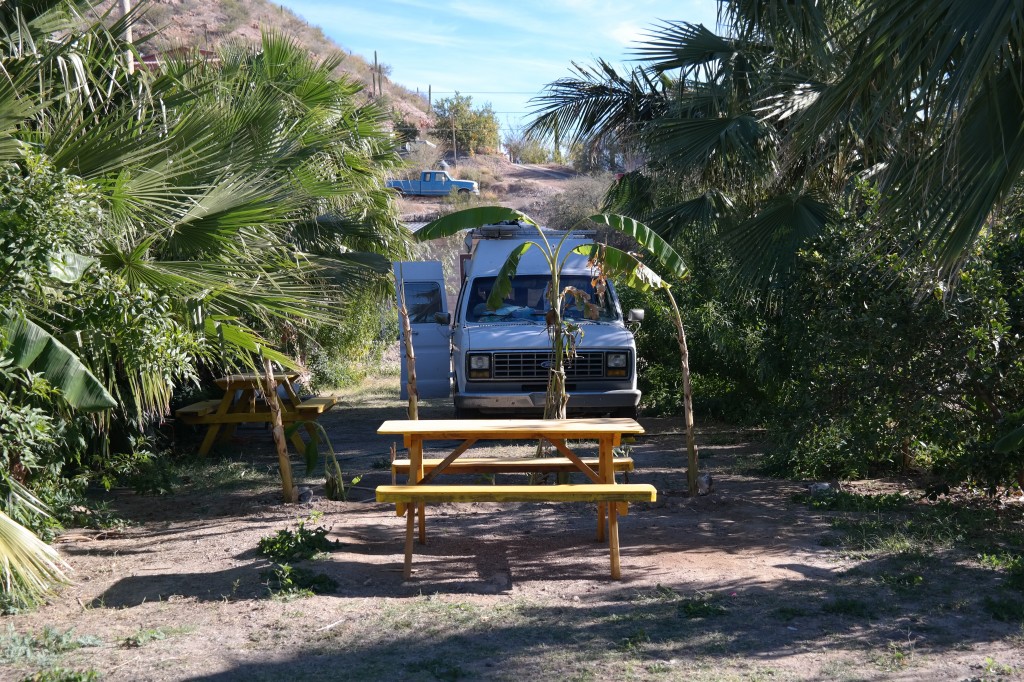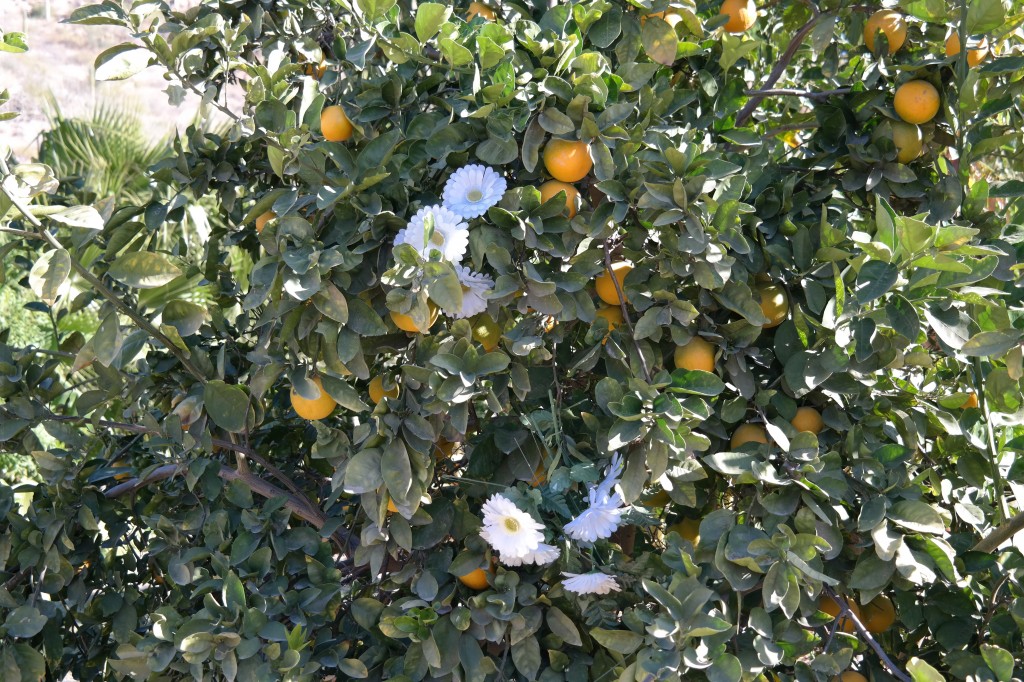 The RV oasis was quite pleasant and walking around the city was a blast. More excellent tacos and great little markets and shops.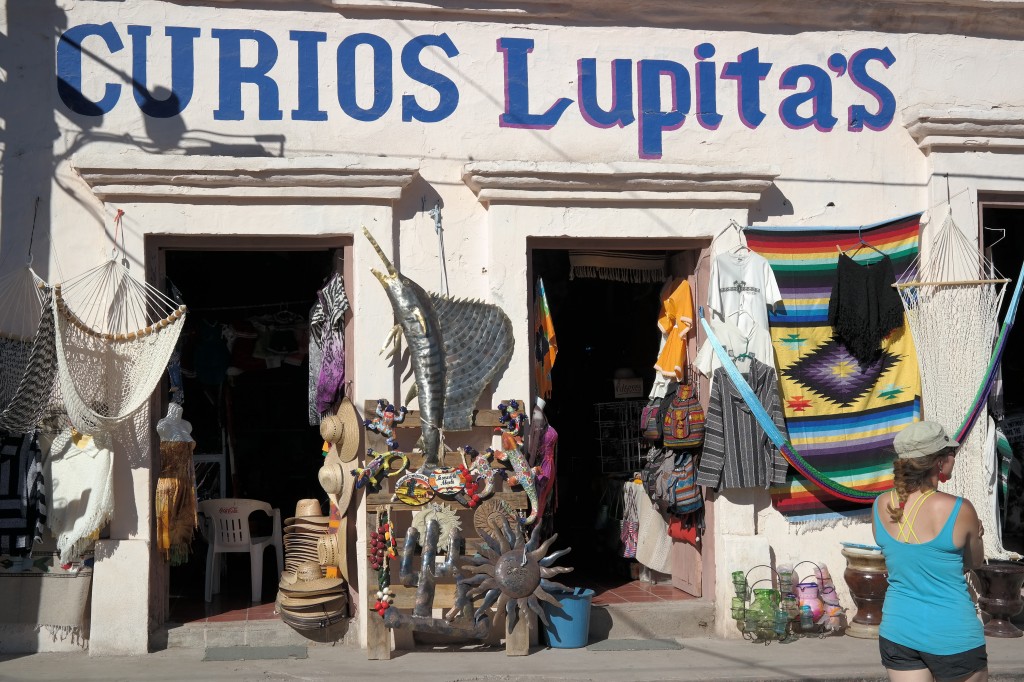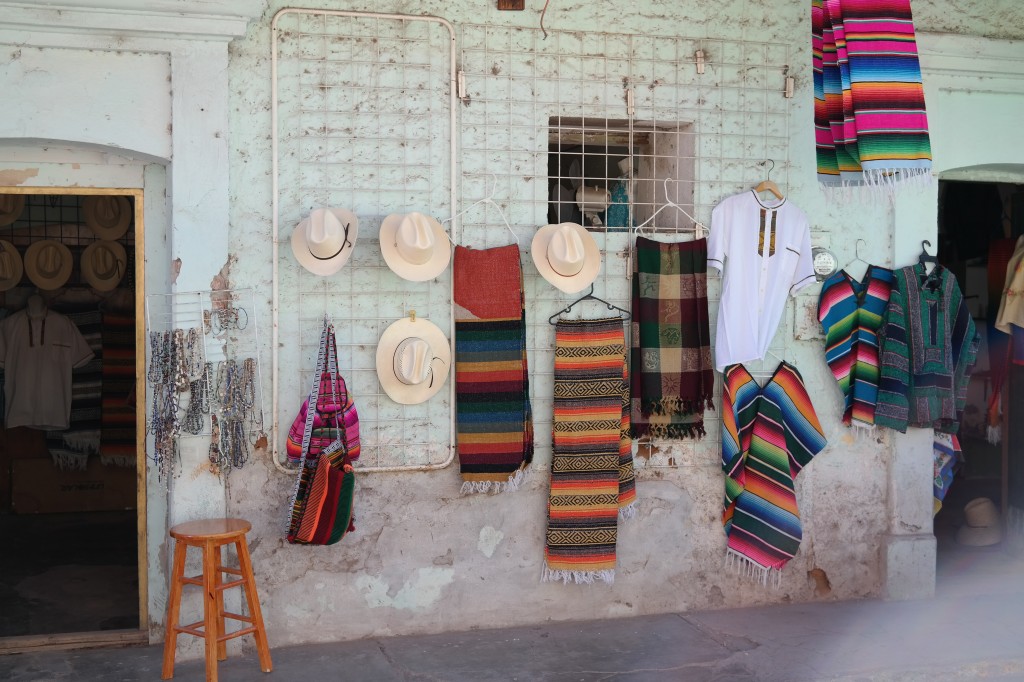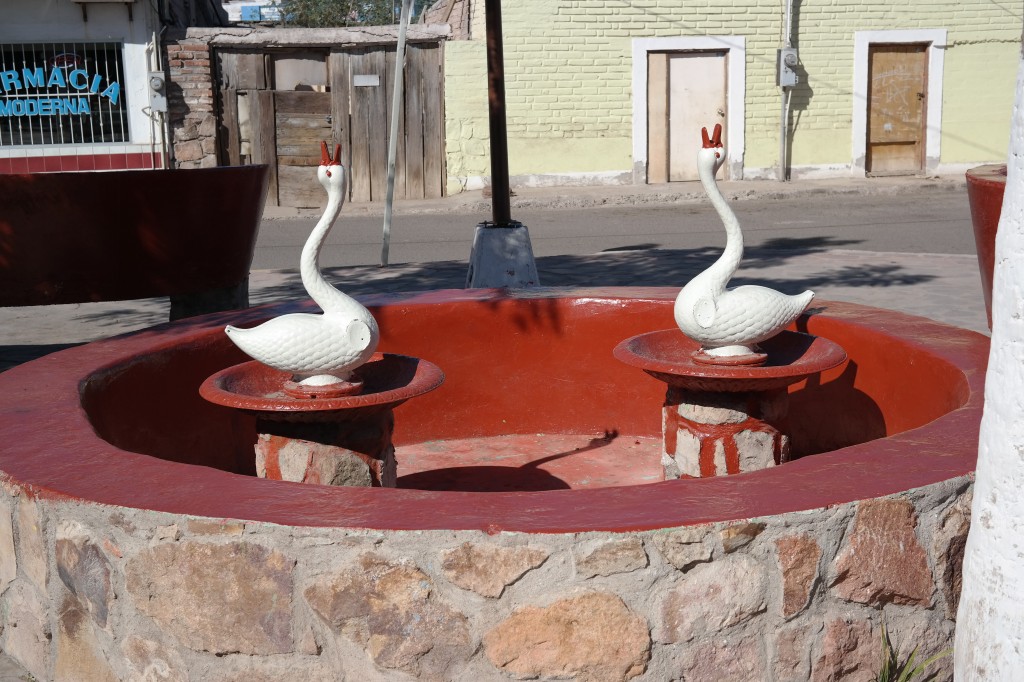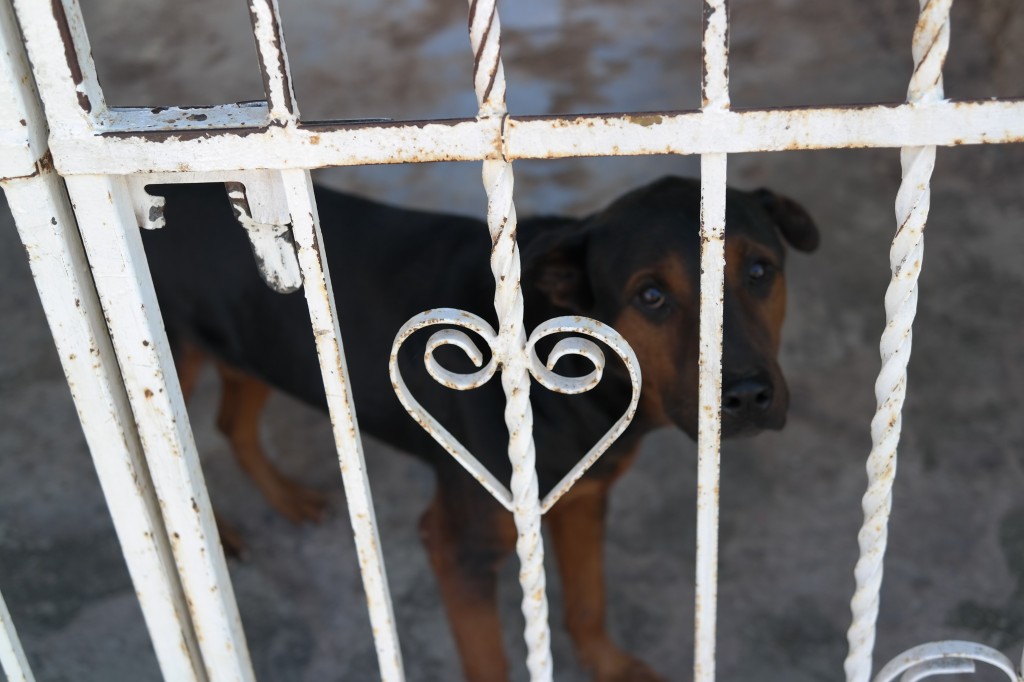 We manage to break ourselves free from the fun town and the Internet access and head down the road a few kilometers to The Bahia Concepcion and camp right on the beach at Playa Santispac!

No sooner than we leave all traces of Internet and cell behind do we notice a Google Voice voicemail/email message that must have arrived to Niccole's iPad just as we pulled out of the RV park in Mulege. Google doesn't do the best job of translating voicemails to text so its contents were a bit cryptic but clear enough that we got the gist. Apparently Niccole's grandparents had been called and informed that we were in a Mexican prison for drug trafficking or some such nonsense and we, of course, needed quite a bit of money to get out. Apparently its a common scam whereby they attempt to extort our friends and family back in the states by sifting through various online social media and blogs (like this one) to learn we're traveling. We were able to get in touch with Niccole's family a day later to find that the call came from Canada and that they too knew it was a scam. So, please take note that we are not in prison should you get word that we are and also that we're not so much into the whole drug trafficking thing! Thanks for checking in on us though Tim, hopefully you weren't too alarmed before hearing from us.
Before leaving the Bahia Concepcion we had more great food and met lots of great people, one of whom loaned us his kayaks for a bit! It was a blast!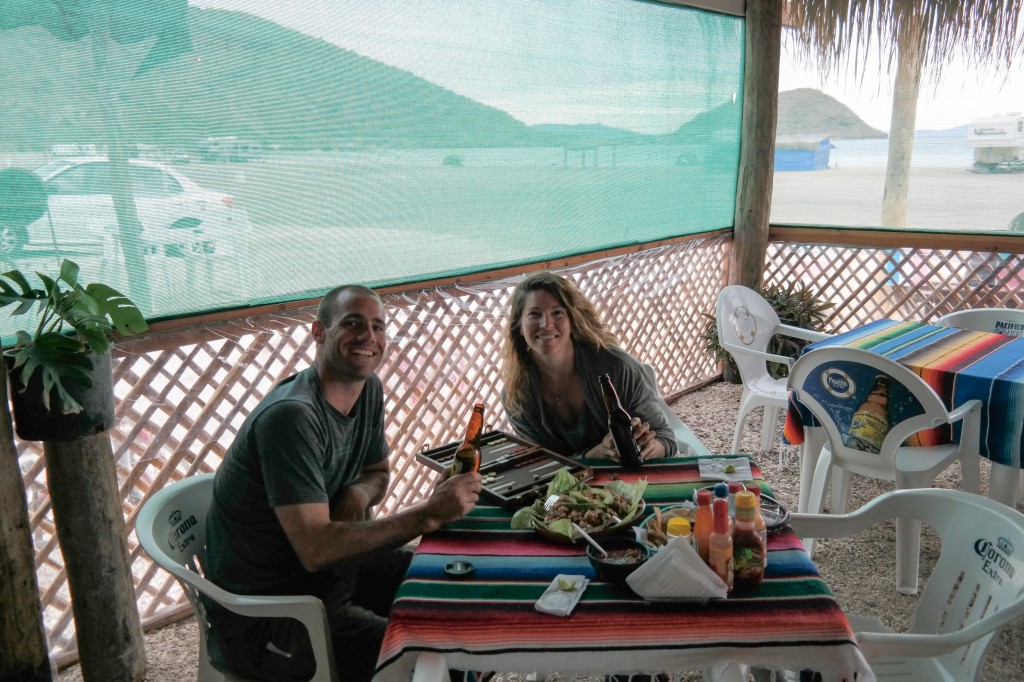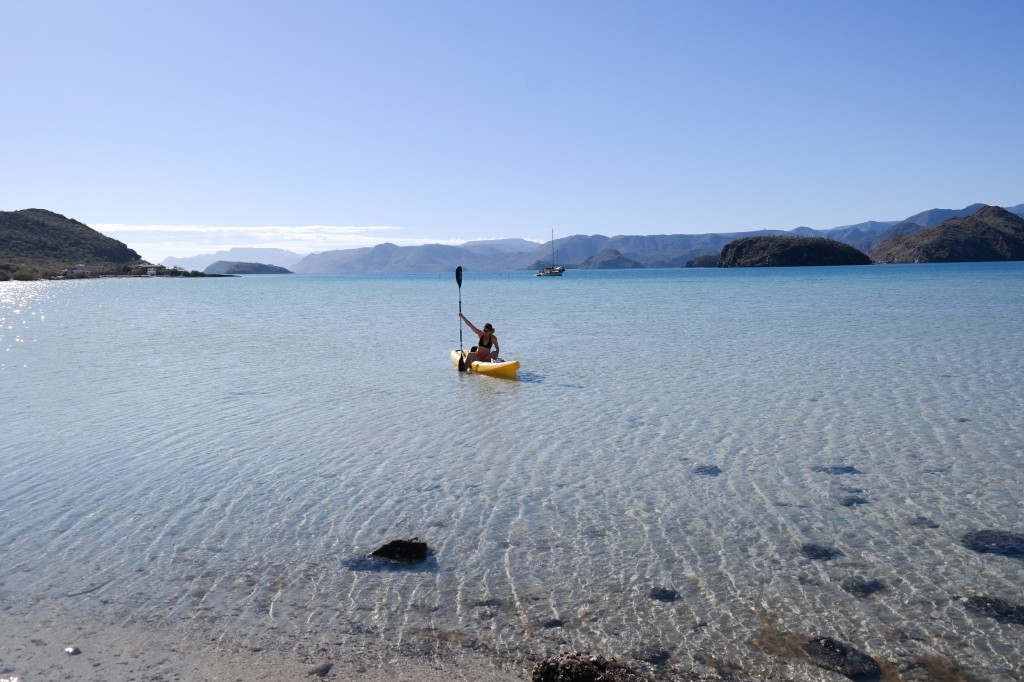 Now we're in Ciudad Constitucion in a cool little hotel's parking lot. They were nice enough to let us "park" overnight at no cost and use their wifi! Looking forward to heading for La Paz in the morning. More soon! Adios from the Baja.
(Views: 2182)