Ups – Epic Climbing, Awesome People, and Beautiful Country
We finally left San Gil after staying there for far longer than we had planned. We drove to Villa de Leyva, a beautiful little colonial town surrounded by mountains. The hostel we parked at was very nice and we stayed in the quaint little spot for an extra day because it was so mellow and relaxing.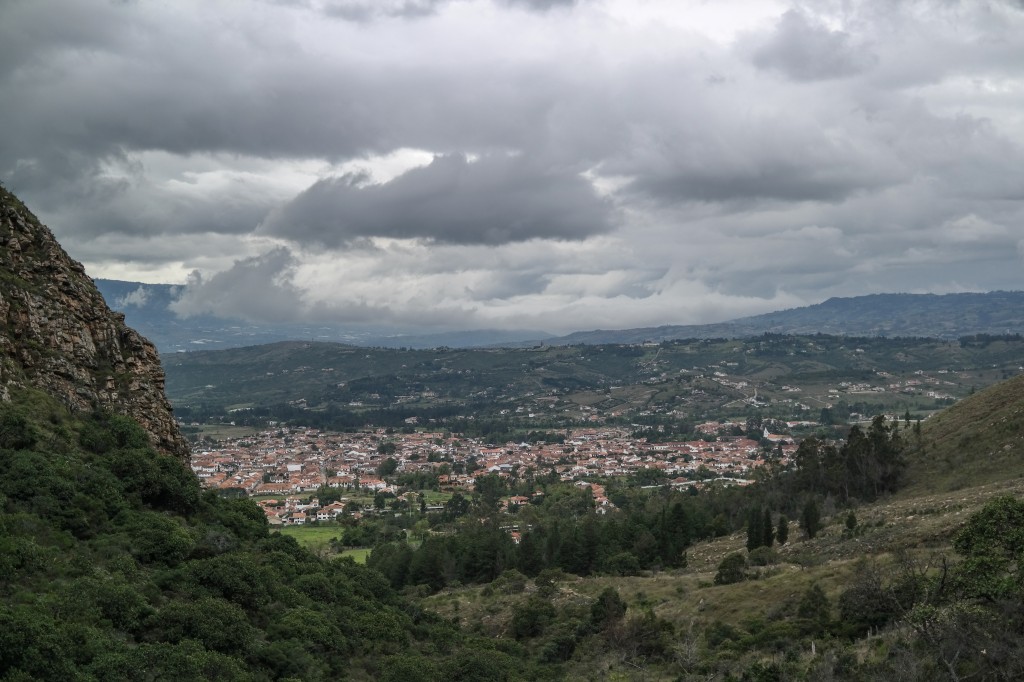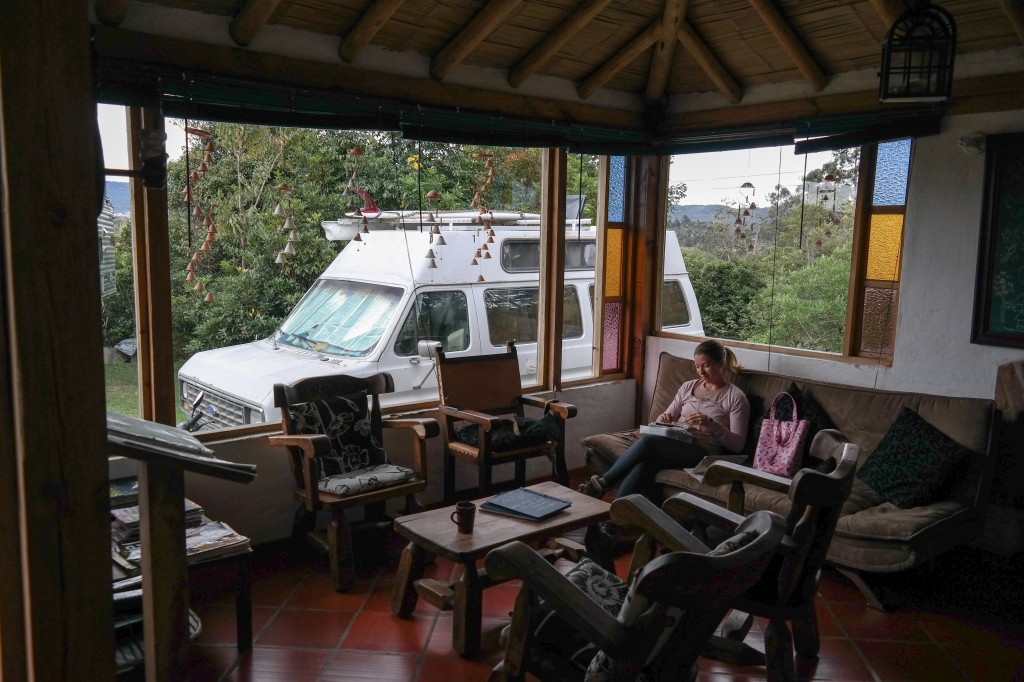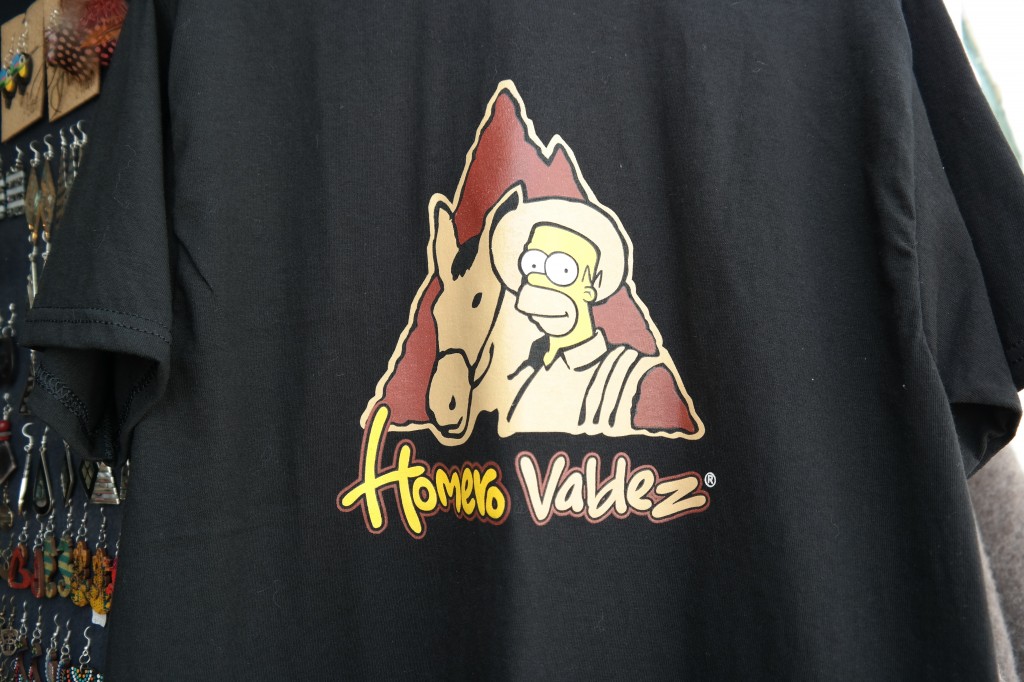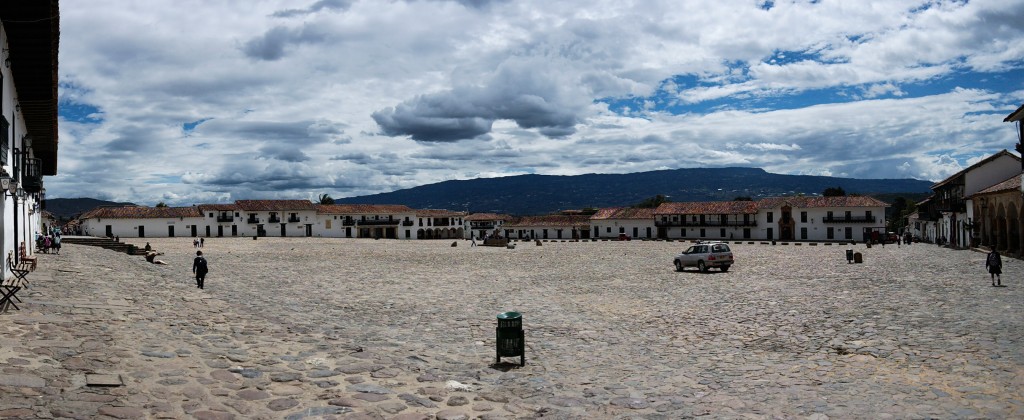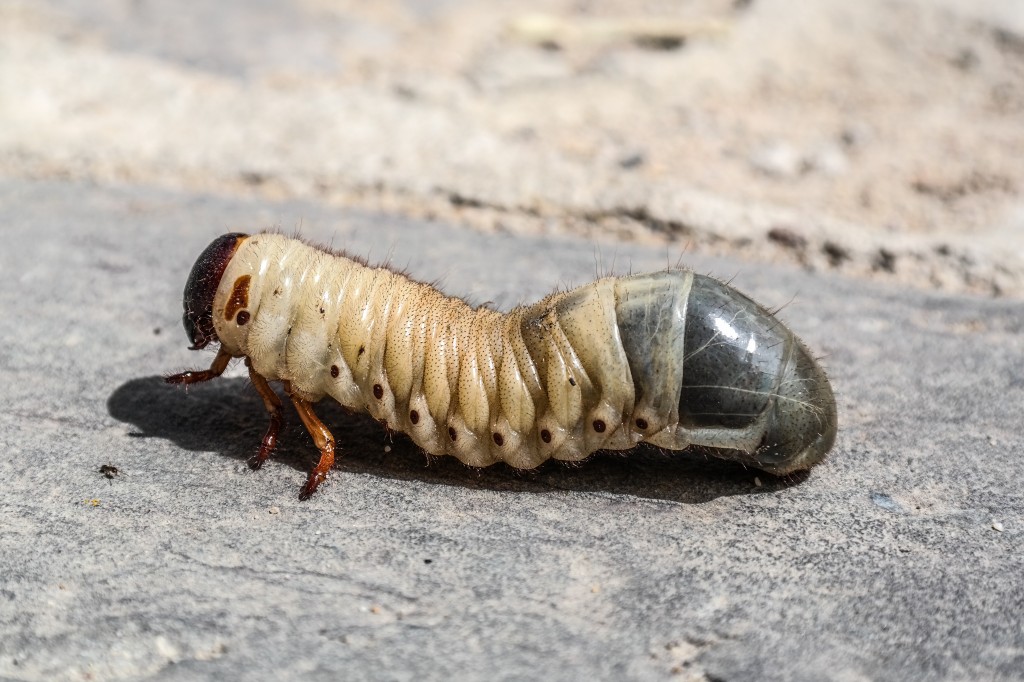 Eager to get back on the rock we headed to Suesca which we had been hearing about and looking forward to for quite a while. The drive took us through some very out-of-the-way beautiful scenery!

We got into Suesca on a thursday and it was completely dead! No shops open, no climbing info or guides to be purchased, even the hostels were closed! No matter, we found a decent place to park and headed out to the rock! We immediately met some other climbers and began accumulating information on routes to do. Suesca has an old school feel to it with stiff ratings, mostly traditional climbing, and very spaced bolts when you do happen to see some.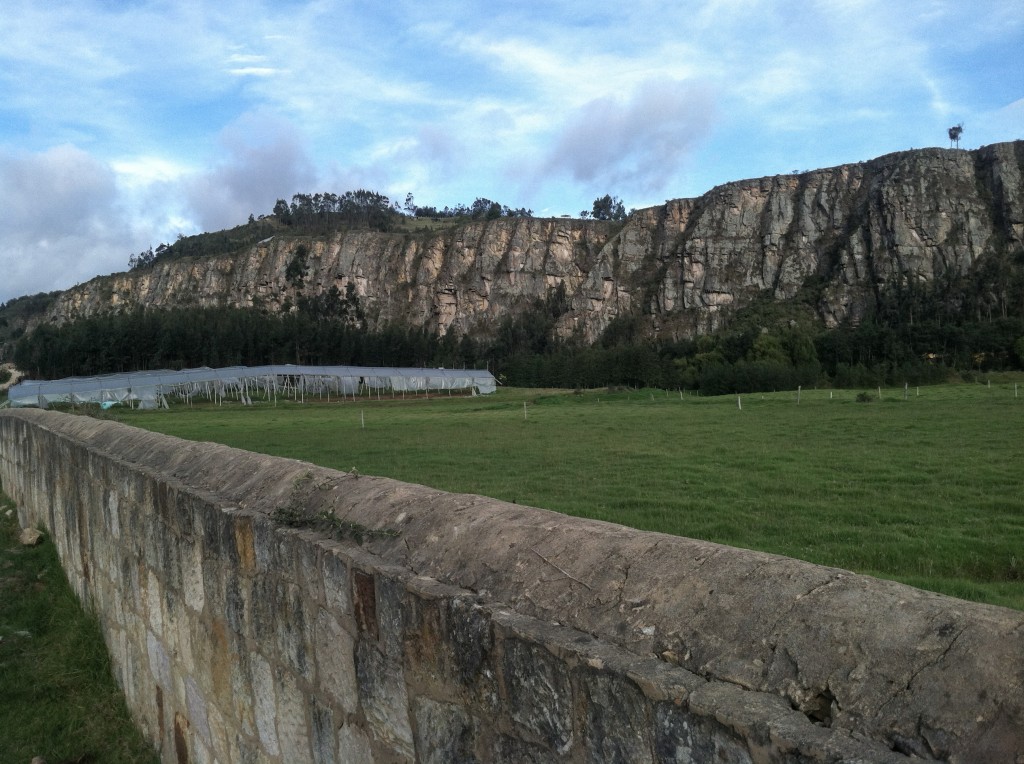 When the weekend arrived the little town opened up quickly and our parking situation required us to move. We decided to see if we could locate a hostel we had heard about near the cliff. We started down the small dirt road when a girl came running up to our car asking for help. Apparently a young guy had fallen off an embankment near the road and badly dislocated his elbow. It was pretty nasty. We stopped to help, of course, and after we had him wrapped up and on his way (in another car that had arrived) another person helping out asks us if we are from Colorado in English! Turns out he has traveled extensively and even lived in Colorado and has some land right next to the cliff that he invited us to park on for the remainder of our stay!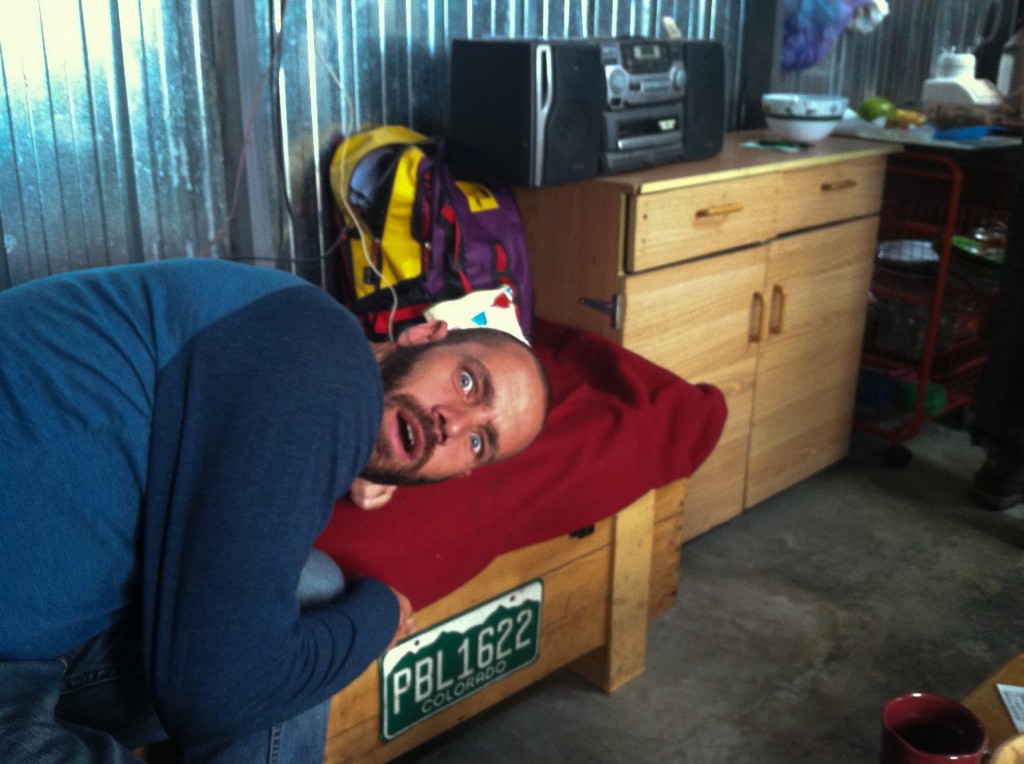 What follows has to be one of the nicest experiences we've had on the road. Great climbing, beautiful scenery, and a really amazing group of climbers who had all gone in on the land together. Matteo, who invited us to stay, had the most awesome propane powered hot shower we've had since we left home, as well as chickens which meant incredibly fresh eggs!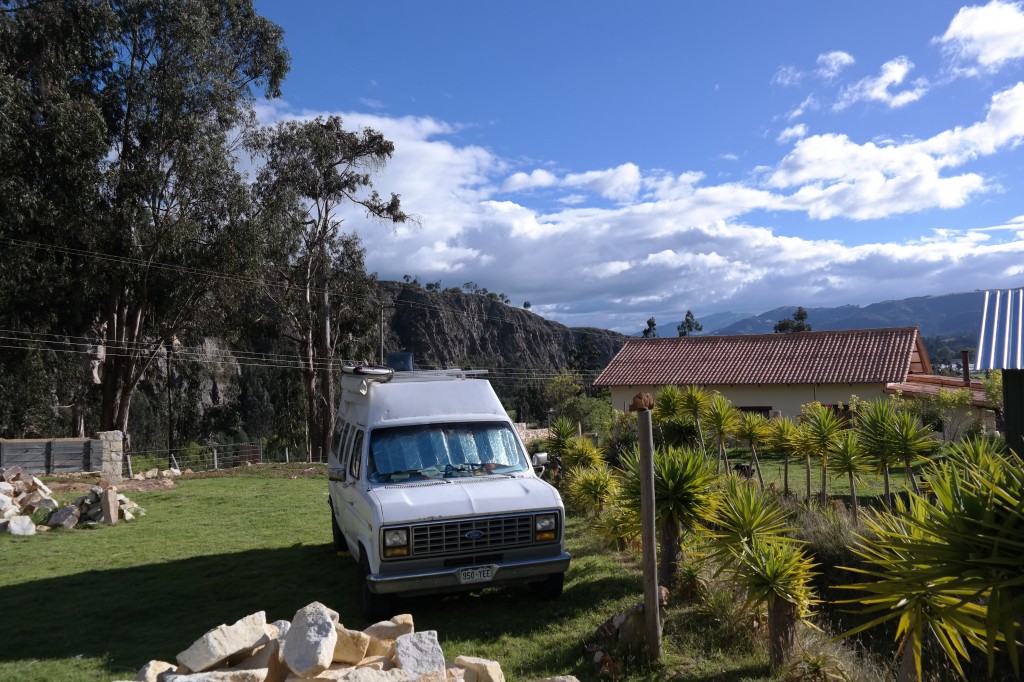 What can I say. We stayed quite a bit longer than we had planned. The climbing was excellent and very engaging. Awesome, unique, bullet-hard sandstone. The company, hospitality, and scenery just added to the awesomeness. What a great bunch of people. And what a sweet spot they have carved out for themselves in this world. Amazing.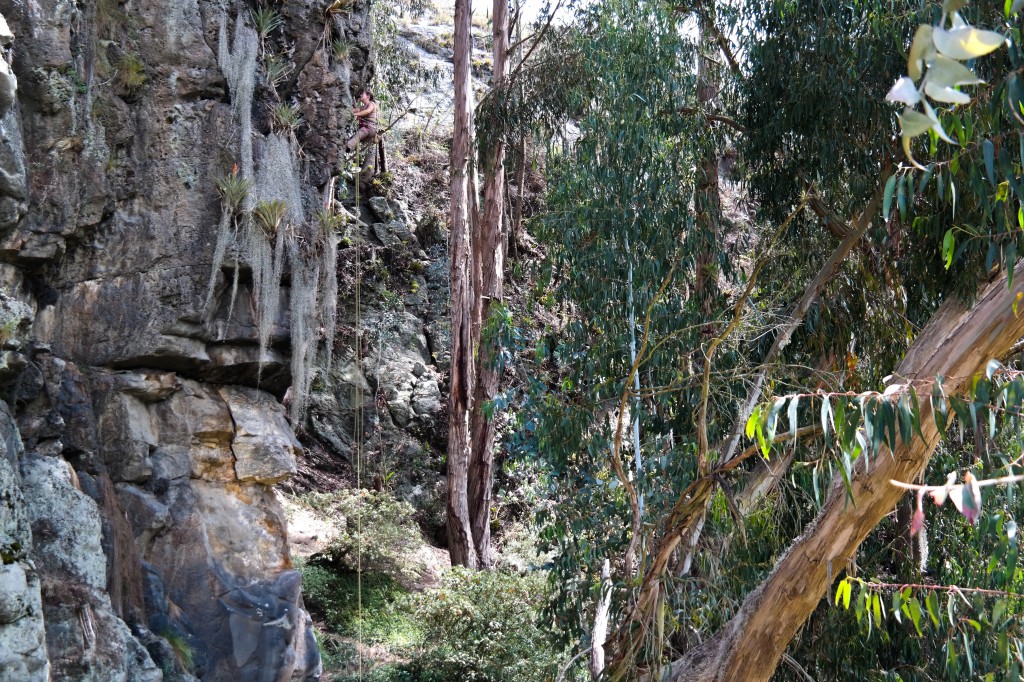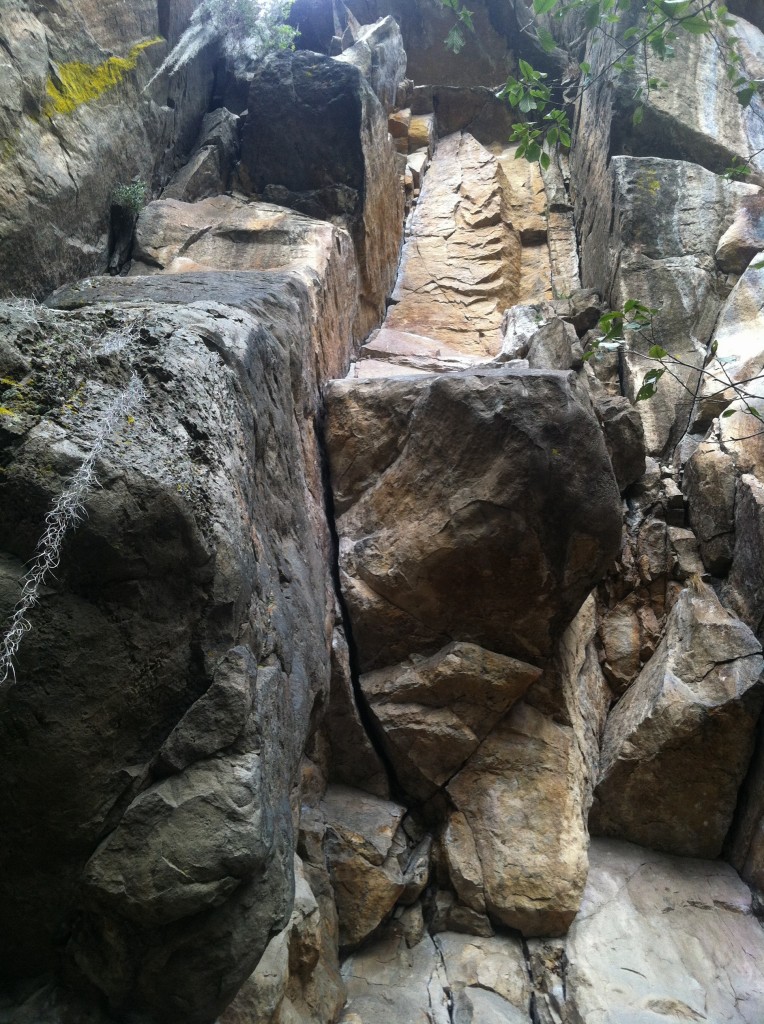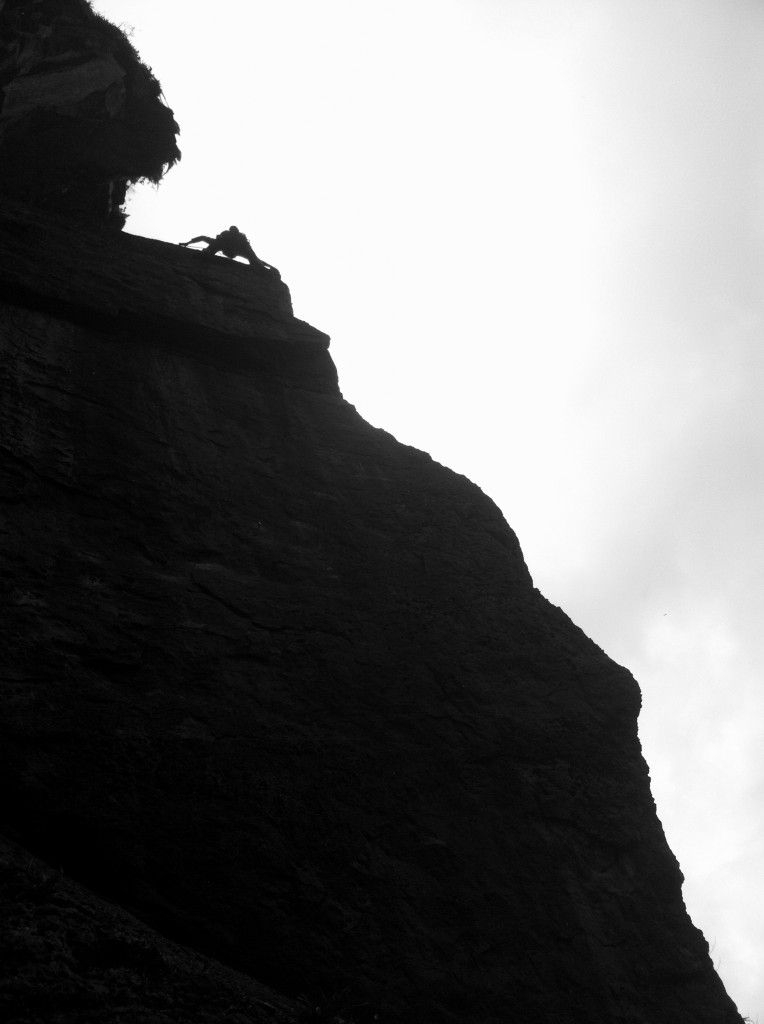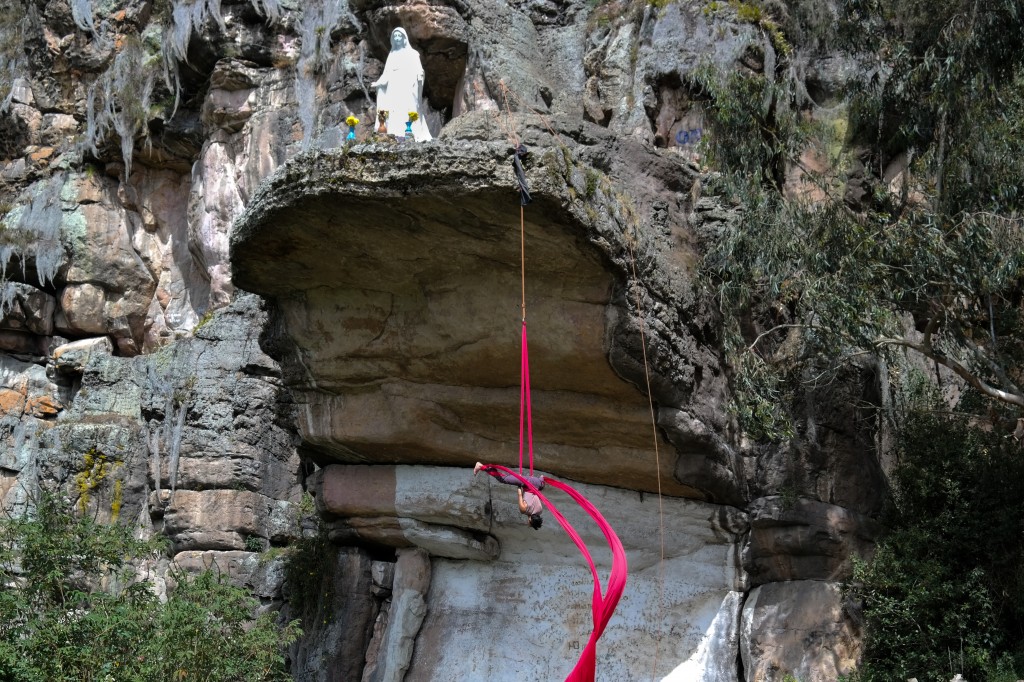 I snuck off for a hike on a rest day and just couldn't believe how beautiful the area was. I shot a lot of pics and got an epic view of the cliff line after wandering through a gorgeous, steep valley littered with more great cliffs.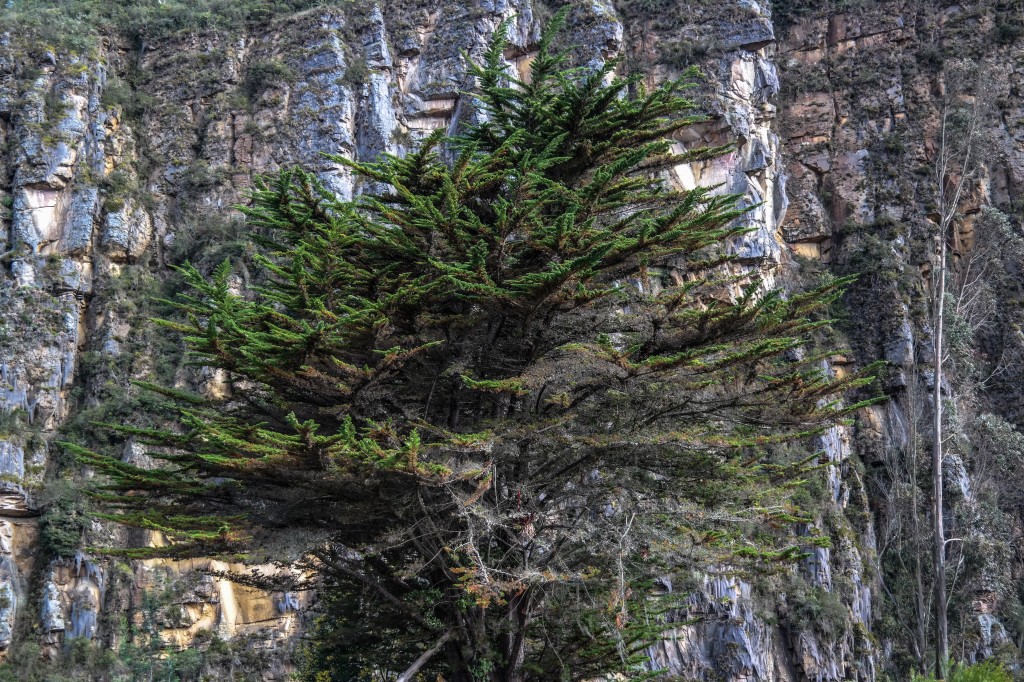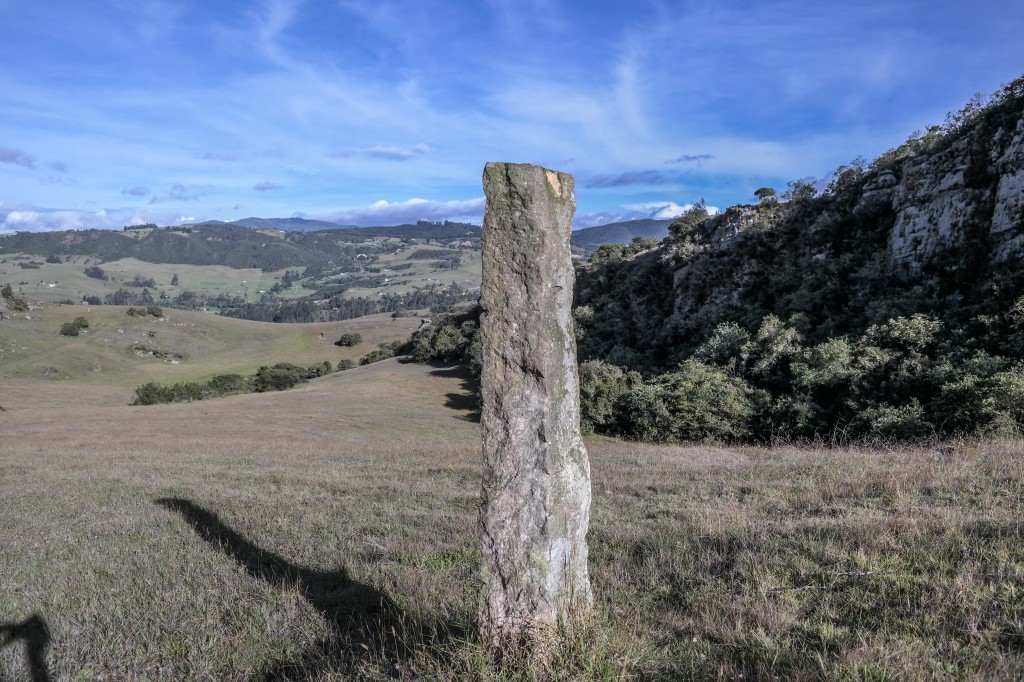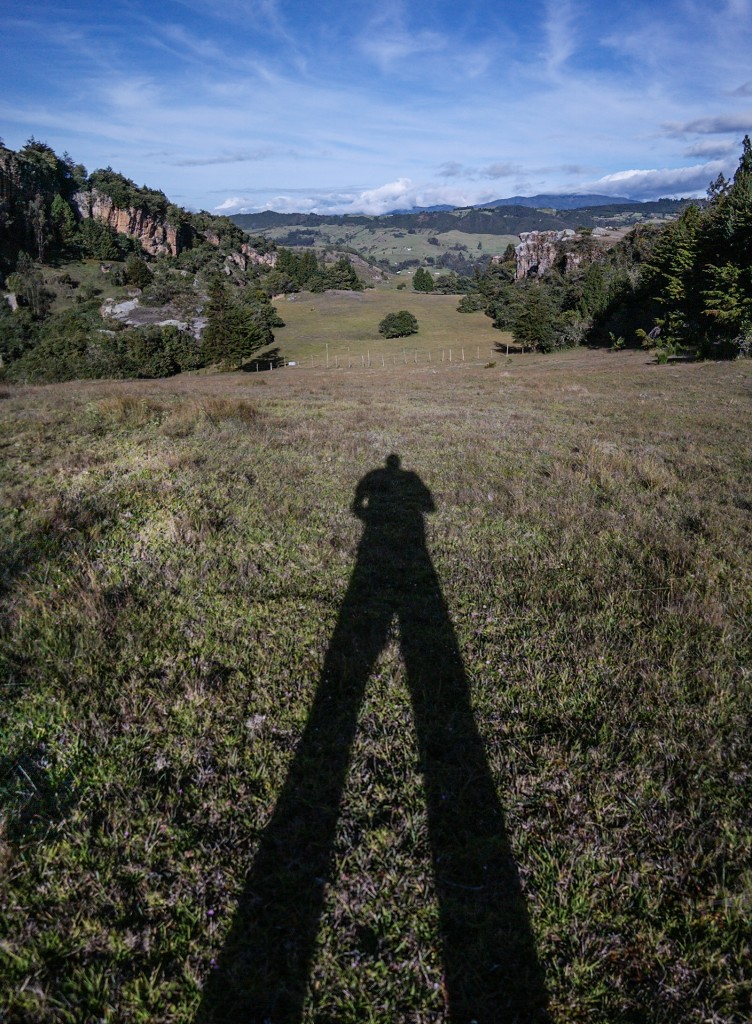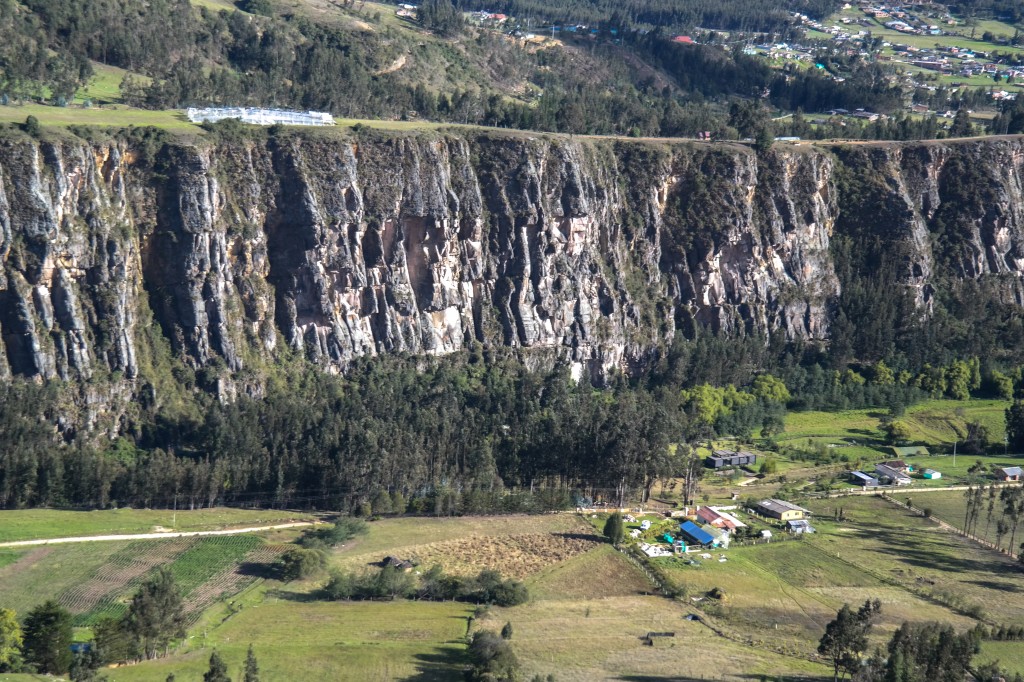 It was one of those places where I felt like if we didn't leave, we might never leave. So amazing. Meeting such nice people who have also travelled extensively is a nice treat. We were looking forward to Bogota though, having heard lots of good things. So we motored off to the massive metropolis with big smiles and no idea of the disaster that lay in store for us…
Downs – Getting Robbed at Gunpoint on my Birthday
I wish I could say traveling like we do is always awesome, or that we make the best decisions all of the time. But in that space between the epic blog posts, the amazing sites, and stunning pics, there are  very literally some bumps in the road – some bigger than others. You plan for them the best you can and you understand that with all of the fun comes an inherent risk. Well, nearly 7 months into the trip we hit a pretty major bump.
First off, we're just fine. We're 100% healthy, alive, and kicking. This shitty story starts off in Candelaria. It's definitely one of the shadier parts of the city, but not surprisingly, that's where all of the hostals are. It's also one of the few cities where we couldn't find a reasonably safe place to park and sleep in the van. So after spending an afternoon surveying parqueaderos we made our choice, abandoned our home yet again, and became temporary backpackers in a hostal up the street. We celebrated after a long city day with a (drum roll please)… DRAFT IPA!!! Or at least I did, Niccole had a porter.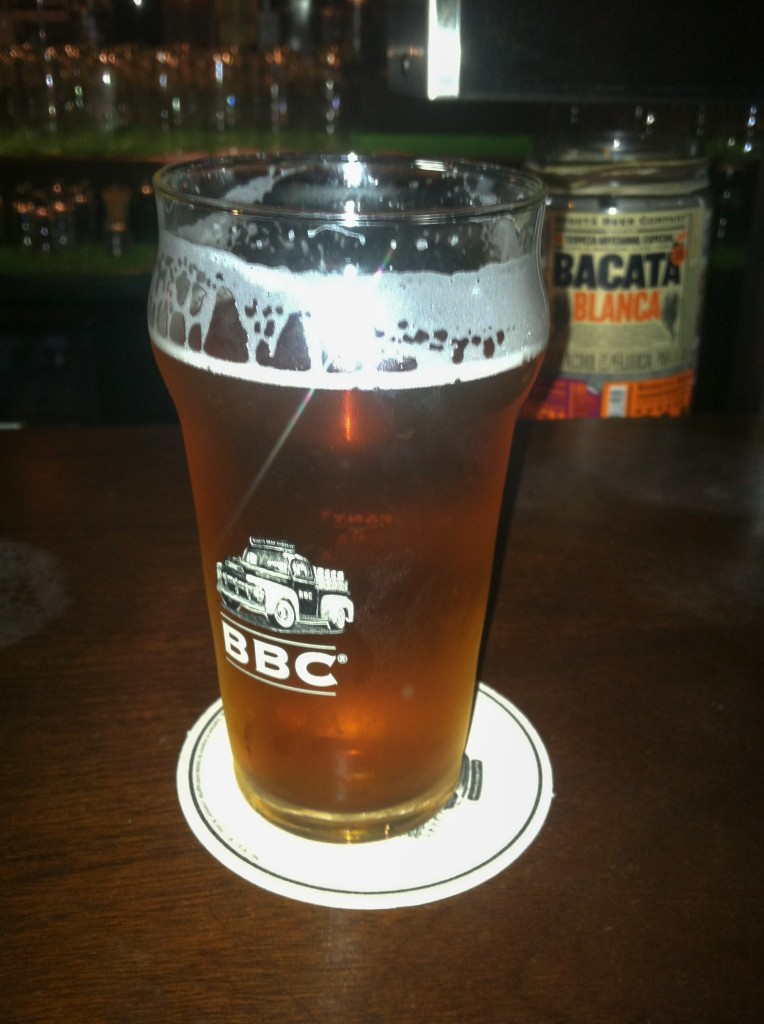 The next morning we decided to check El cerro de Monserrate. It's about a 500 meter, 2 mile ascent. The summits sees hundreds daily. I thought it would be a great way to offset the beer calories that we planned to consume later that day in celebration of a b-day that turned out to be infinitely less than stellar. I'll write a bit about what we did and didn't do wrong after I tell you what happened.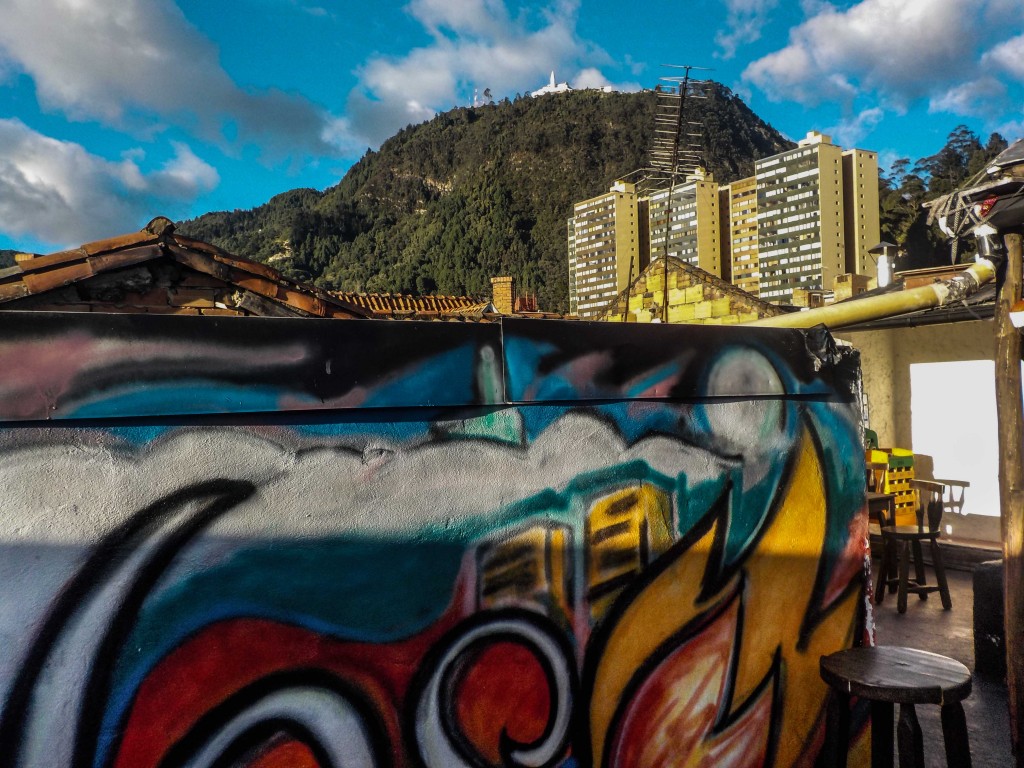 We had read in a guidebook that robberies had occurred in the past at this place. We decided to walk over, take a look, and decide from there. We certainly weren't going to walk up some desolate path on the outskirts of the city, but upon arriving, despite it being a weekday, there were tourist police everywhere and tons and tons of people making the ascent. You couldn't walk around a corner on the long, 15,000 step, cobblestone path without seeing not one, but a pair of policia. In our experience, that means good odds – actually, the best odds. And so we hiked it in a little under an hour. The top was gorgeous and I shot tons of photos. The mountain overlooks the entire sprawl of Bogota and the panoramas of the city surrounded by mountains and clouds was spectacular. Satisfied that I had the pictures I wanted, I mentioned to Niccole that the trail was closing in 10 minutes and that we should get going. Walking down 15,000 steps when you have bad knees is stupid. Kicking myself for not opting for the easy gondola ride down.
We began walking down. I didn't notice initially that the first set of police we should have passed were no longer there. We hit the first curve in the trail where the steps begin and descend endlessly to the bottom. We were chatting, a jogger was just ahead of us, I noticed some guys out of the corner of my eye but it was already too late. Three younger guys jump out from behind the trees wearing masks and the leader of the pack points a revolver directly in my face. The other two have knives and immediately begin taking us for everything we have. Suffice it to say that if staring down the barrel of a gun isn't enough, imagine the horror in being helpless to protect your wife, travel partner, and best friend in the world. I'm not going to go into anymore detail.
So they get done stealing everything we have on us and just disappear back into the woods. We collect ourselves and get the hell out of there. We're nearly halfway down the mountain before we see one, single police officer. What follows is a bunch of walking around and waiting, in the pouring rain (without our stolen rain jackets), all so that they can finally tell us that we need to come back on Monday morning (it's a Friday) to file a report because the one guy that can do it is not around. We never went back.
The biggest thing that we did wrong was to have more stuff on us than we usually do. We never, ever have more than one device on us to take photos – and if we go somewhere shady, I never bring the nice camera. Maybe it was staying at the hostal and not being in our van. It creates a disarray in our ordinary life style. Or perhaps we've gotten complacent. Traveling after seven months on the road becomes more of a lifestyle than the crazy thing you set out to do. Not to mention that seven months of success through Mexico, Central America, and Colombia (up till now) does a lot to inspire confidence. Regardless of the cause, we had both of our old cell phones on us. Mine had smashed glass. It still took photos though, and while it might still for someone else, it no longer does for me, and I miss it. We also lost our rain jackets, a backpack, two pairs of sunglasses and worst of all, my really nice camera. We had very little money on us and we never carry our passports on us, thank god. But the damage was still done. That's a lot to lose when you live in a van and travel on a budget.
I suppose if we ever see a trail closing we'll think twice, but really, we could never have guessed that the police would all leave early, whether they were in on it or whether the banditos just knew that to be the case. The policia definitely provided a sense of security where in fact there was little. I've learned my share of hard lessons in life, and this one definitely stung. Fortunately, we have some AMAZING friends and family that generously took some of the sting out of it. We feel very lucky to have people in our lives that care so much about us as well as what we're doing.
We spent the remainder of our time in Bogota trying to replace the important things we lost, mainly our rain jackets and camera. You can't do the kind of sports and activities we do without real rain jackets, and the camera that makes the pictures on our blog possible is also capturing an untold number of images and memories we will revisit for the rest of our lives. We left Bogota today having successfully replaced the essentials. We are back online so-to-speak, and fortunate that the worst of the damage was to our property and not to ourselves.
And with a renewed weariness, both good and bad, we hit the road. We were delayed a bit in Bogota and decided we couldn't risk trying to pull through to Armenia and laid up near Ibague. Just as we were contemplating locating a hostal we drove smack into the Hostal Oasis. It turned out to be unbelievably great. Pool, private garage (though the van doesn't fit in it), large bed, private bath, TV… it's hard to describe how much better this is than a typical hostal… and all of this for $15!!! Hopefully things are looking up.

You don't embark on a trip like this without knowing the risks. We made it through a bad time and are feeling more and more up to tackling the road ahead of us as we put time and space behind Bogota.
Thanks again to those who lessened the blow, you know who you are and we owe you beers and more good pics at a minimum – hopefully this one is a good start 🙂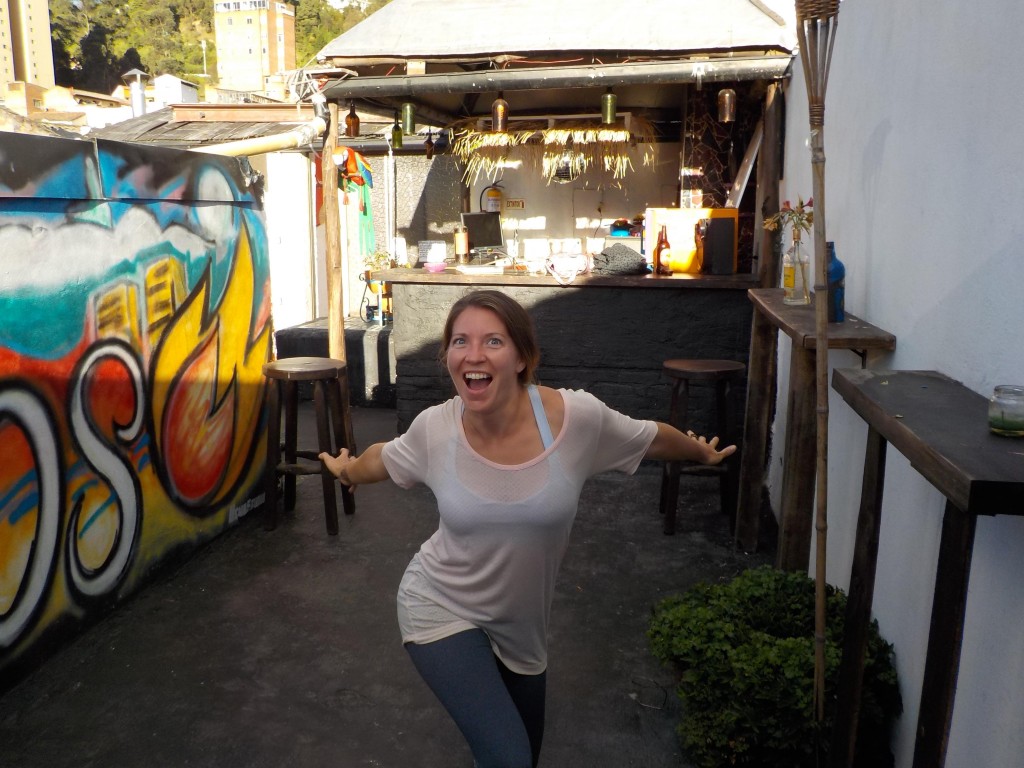 (Views: 4616)