The Salkantay Trek
Having met up with our most excellent amigos Clayton and Jenny in Cusco, we set about organizing our Machu Picchu experience. The famous and mysterious Incan ruins are fairly remote with no road access whatsoever which makes getting to them a bit trickier than most destinations this popular. Now it probably goes without saying, but we're not exactly into the whole planning and booking months in advance thing, so the Inca Trail was quickly crossed of the list. We could just take a train there and back, but that seemed a bit boring. We do love the mountains though, and with that idea in mind we decided to tackle the Salkantay Trail. Further, we decided rather than schlepping our tents and food over the 15,331 foot pass for 40 miles over 4 days to Machu Picchu we'd do something none of us had ever done before in our various adventures in the back country – use hired support!
The Salkantay Trek is twice as long as the Inca trail, less crowded, and wanders through much more diverse environments ranging from its highest point in the Andes at over 15,000 feet all the way down to the jungly cloud forest deep in the remote canyons surrounding the mystical Machu Picchu. (For more tips and planning advice see our Salkantay & Machu Picchu section under country info and tips for Peru)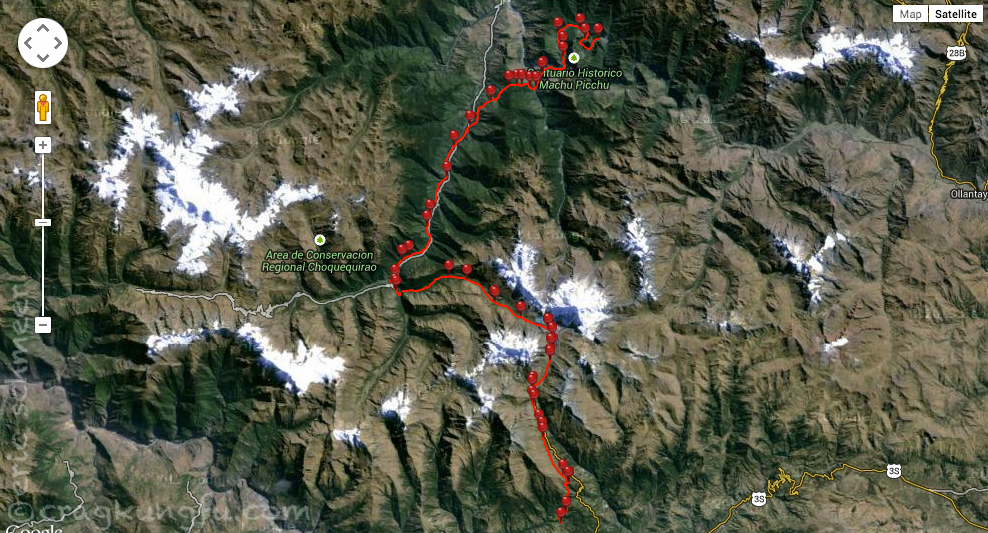 Besides not needing to carry a tent and food, the service we booked also included transport from Cusco to Mollepata and from the Playa to Santa Teresa as well as a private room with bath and shower in Aguas Calientes on the final night. While we could definitely have done this trip self supported, the package seemed like it packed a lot of bang for its buck and to be honest, I marveled over the site of seeing my tent pitched for me while I sipped a beer – what a strange and luxurious experience!
So now that the scene has been set, let's get to the photos… which there are a lot of. Surprised?
Day 1: Mollepata to Soraypampa
Distance: 8 mi
Starting: 11,023 ft
Finish: 12,867 ft
Gain: 1,844 ft
Loss: —
Total change: 1,844 ft
We began with breakfast in Mollepata. This is where we all learned that a mixto omelet on this trek is actually just some eggs with a chopped up hot dog in it. Yummy. On the wall there was a pretty decent map showing our route through the Andes and various remote villages on the way to Machu Picchu.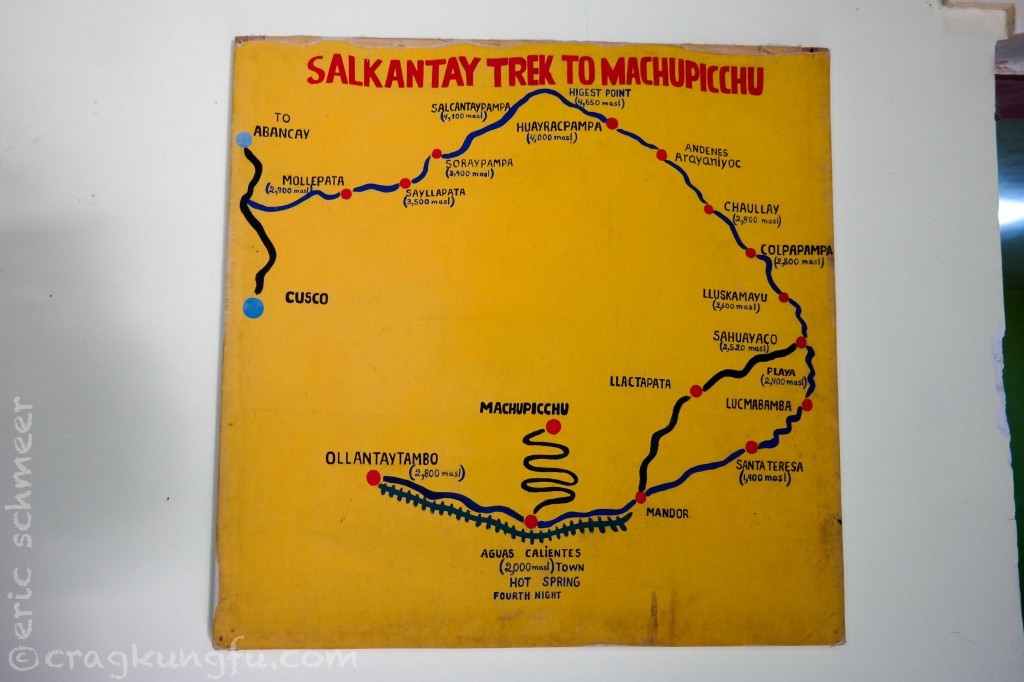 After breakfast we hiked through terrain we were pretty used to seeing in Peru. We also quickly learned that our guides were likely used to a very different kind of client. They would stop every 5 or 10 minutes to rest. We quickly put an end to this hoping our guides would catch on and could keep up.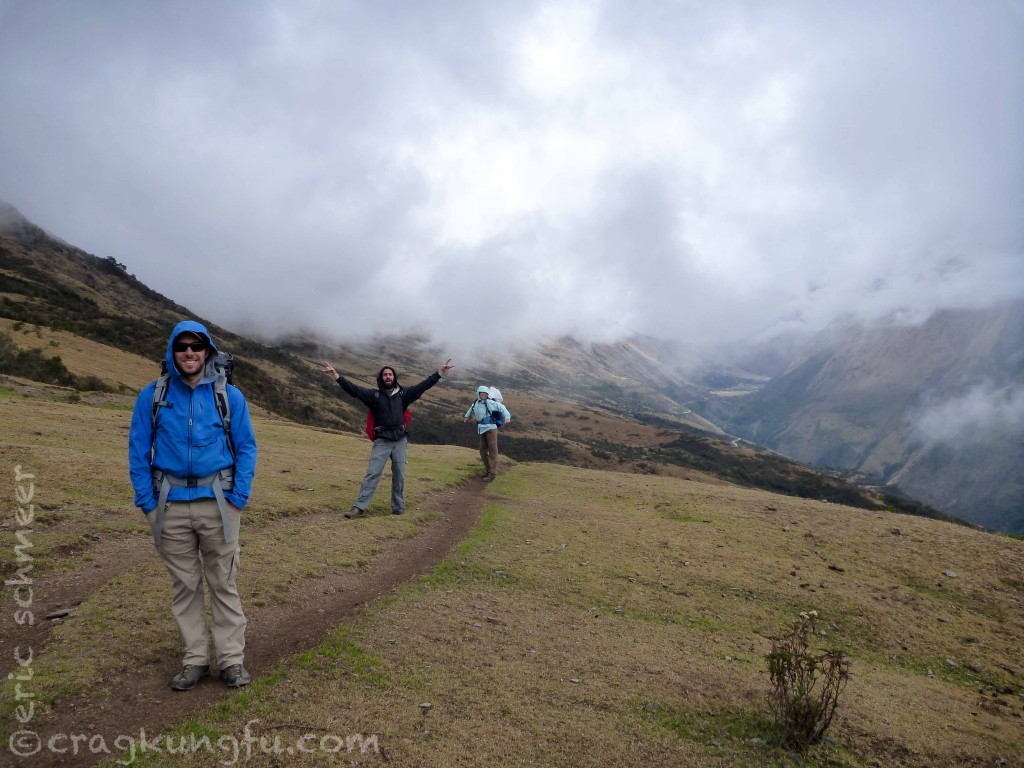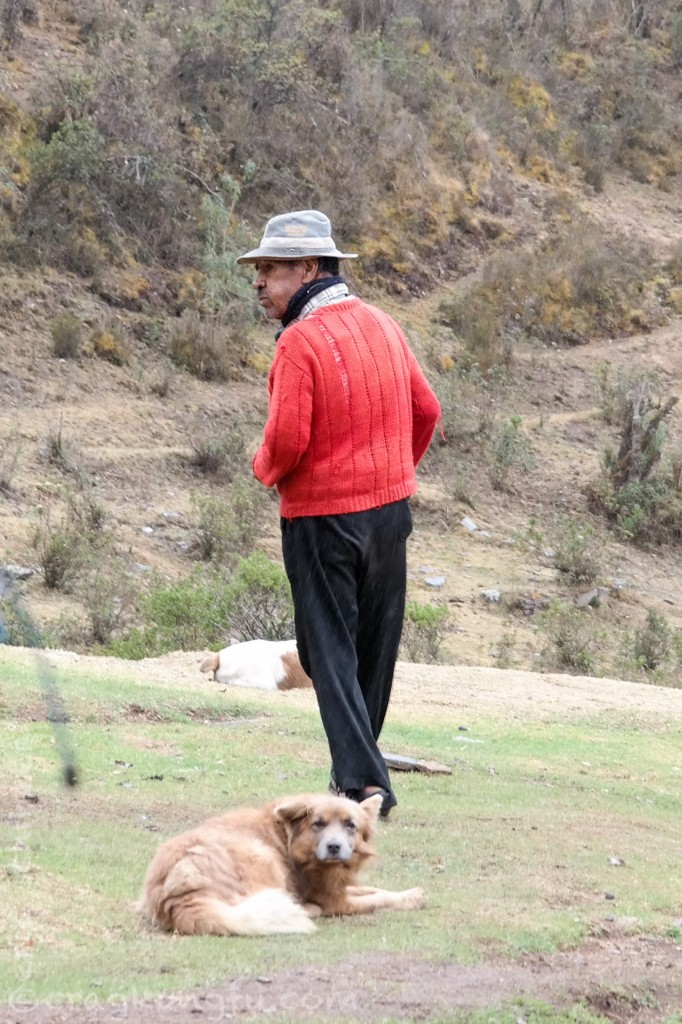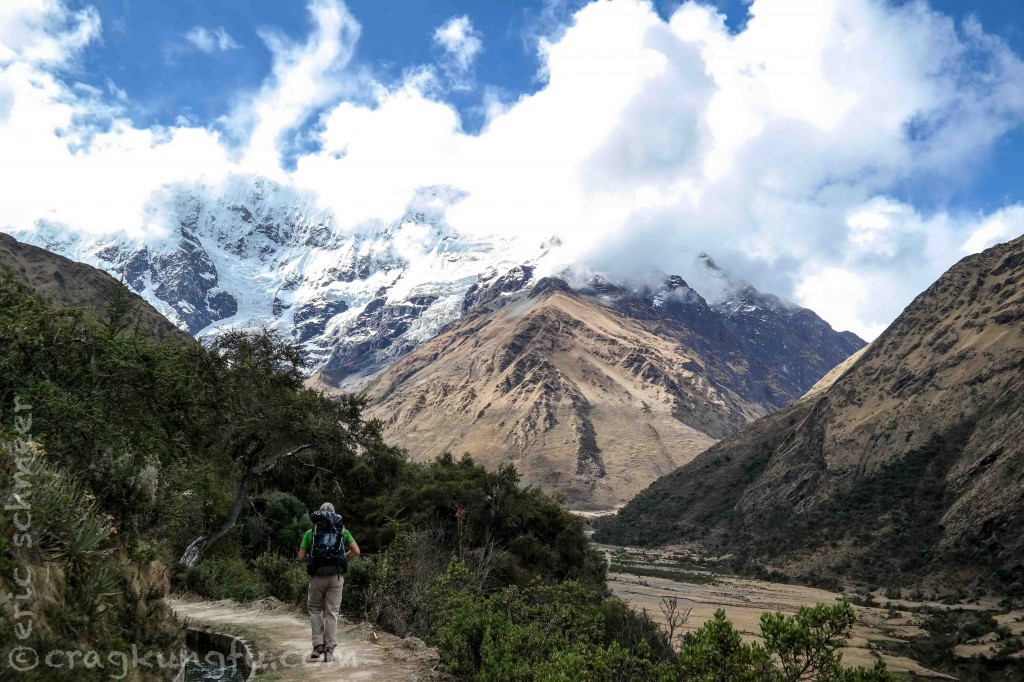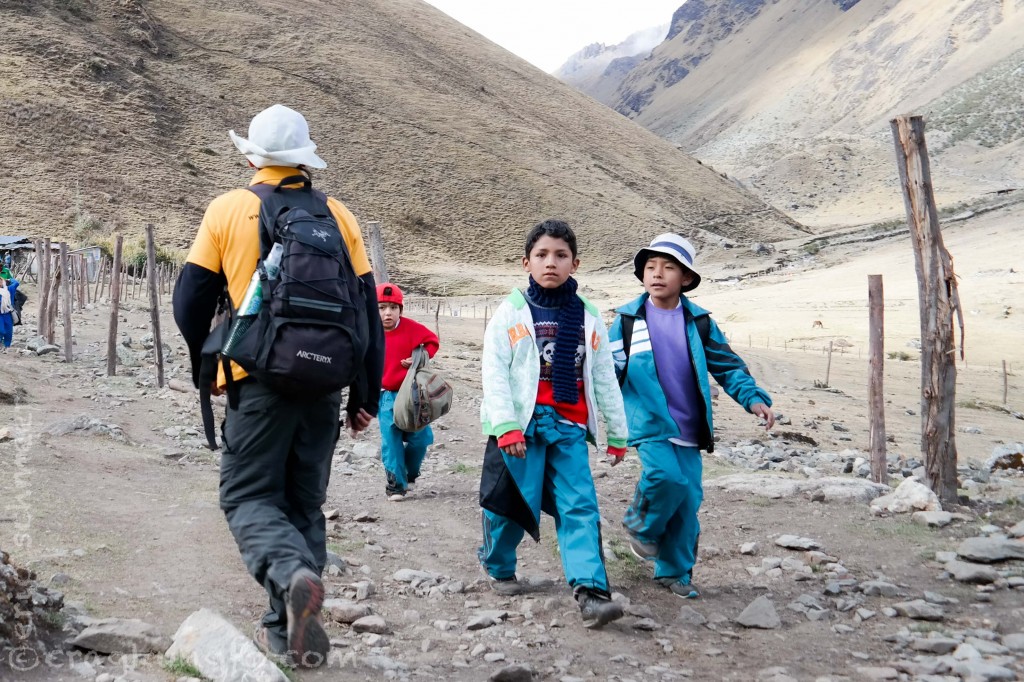 After about 8 miles we arrived at Soraypampa with excellent views of Salkantay and Humantay. Our tents were pitched inside a shelter and dinner was hearty and full of carbs. Good stuff!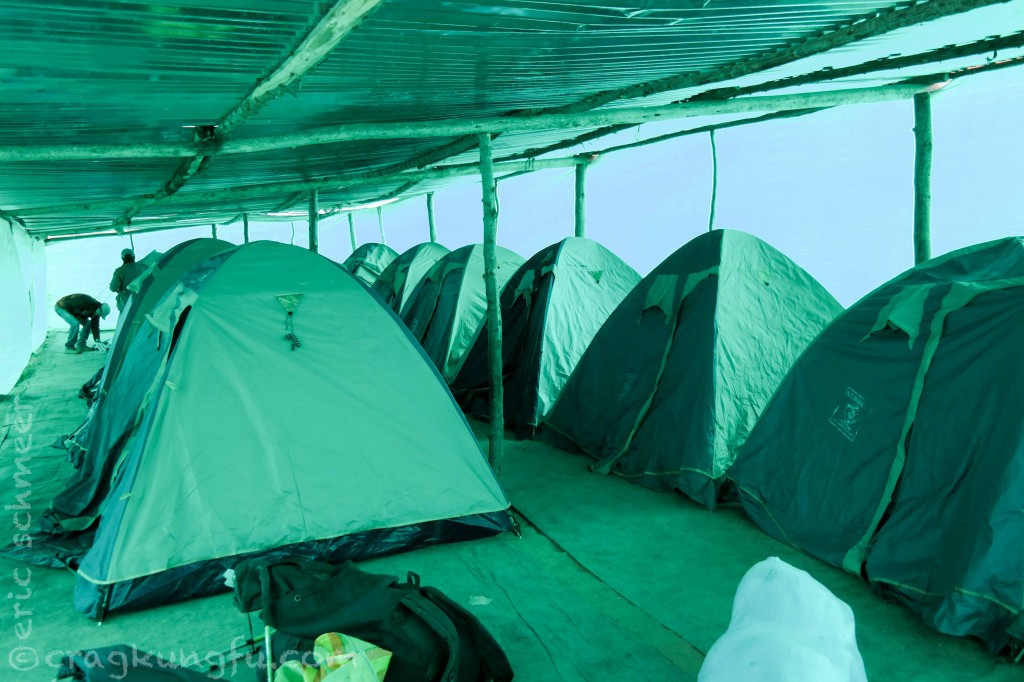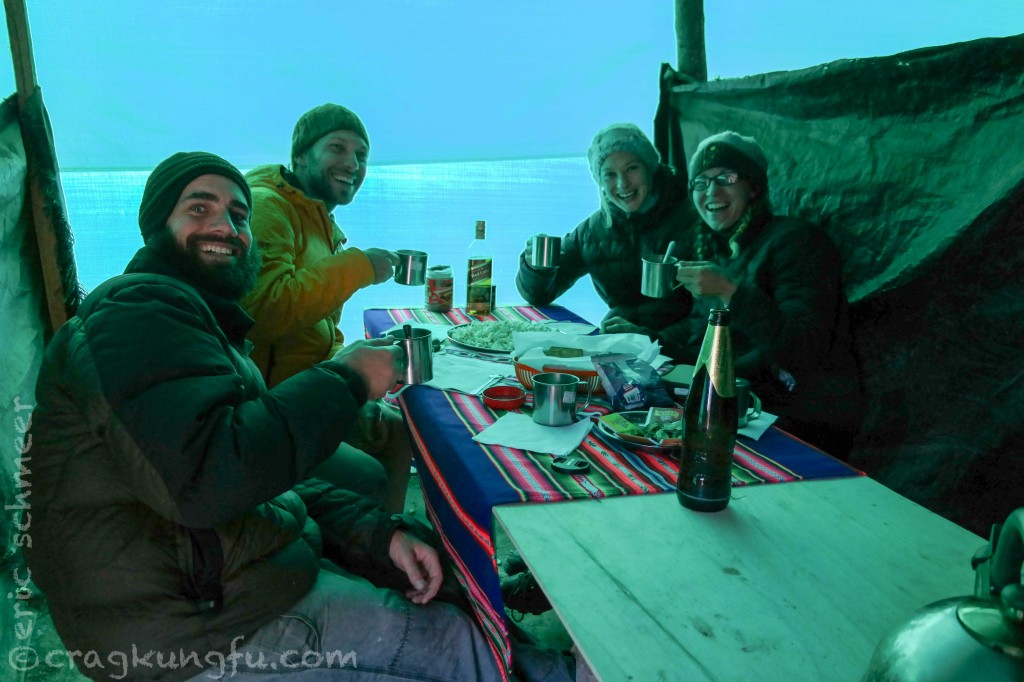 Having gotten up at 3am that morning we didn't waste much time hitting the sleeping bags to rest for the biggest hike on the trek the following day. I did make a little time for some night shots though. I was surprised my camera was able to peer so far into the galaxy!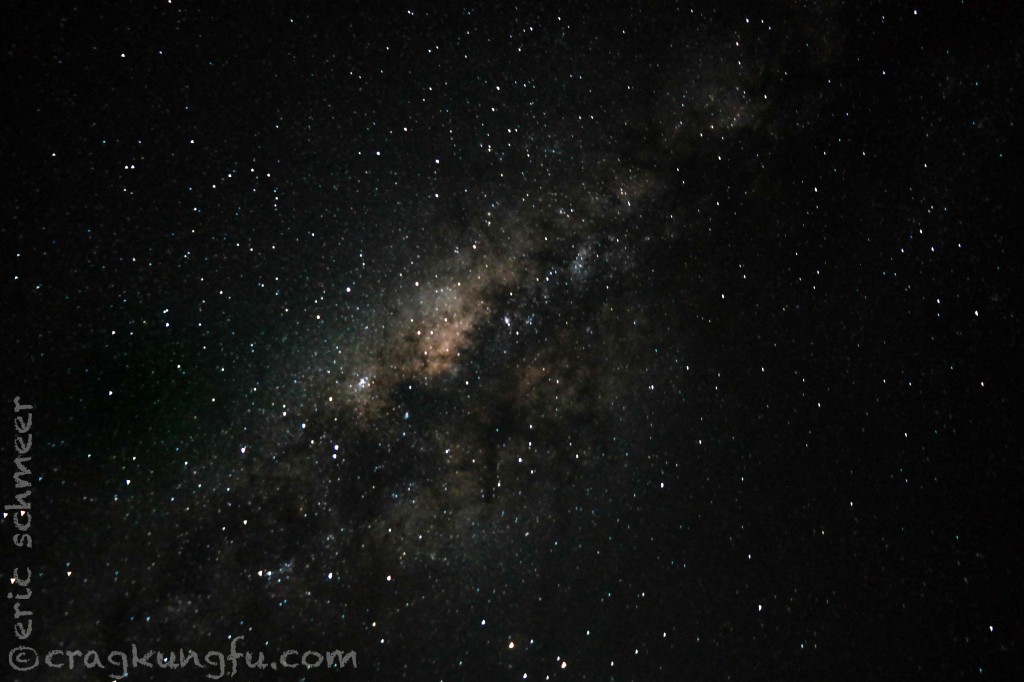 Day 2: Soraypampa to Chaullay
Distance: 13 mi
Starting: 12,867 ft
Highpoint: 15,331 ft
Finish: 9,389 ft
Gain: 2,464 ft
Loss: 5,942 ft
Total change: 8,406 ft
Day two was the biggest day on the trip. Everyone was well rested and well fed. We crushed up the pass and were all pleasantly surprised to breath quite easily thanks to an abundance of acclimatization time in Cusco. I wish we had had a free day at Soraypampa so that we could have climbed the 17,000 ft mountain beside camp.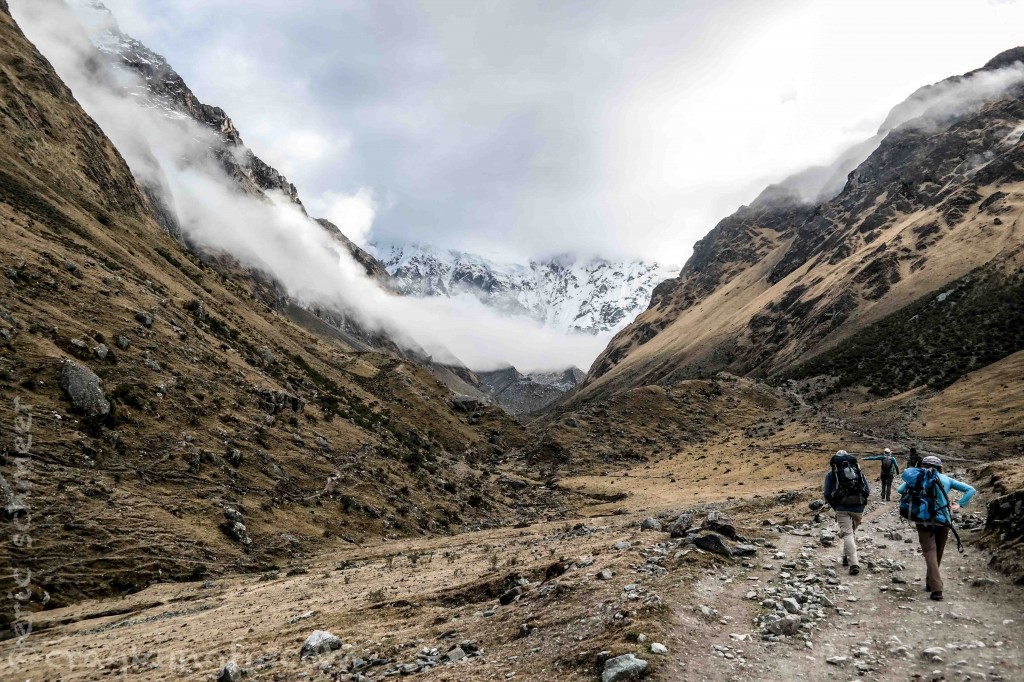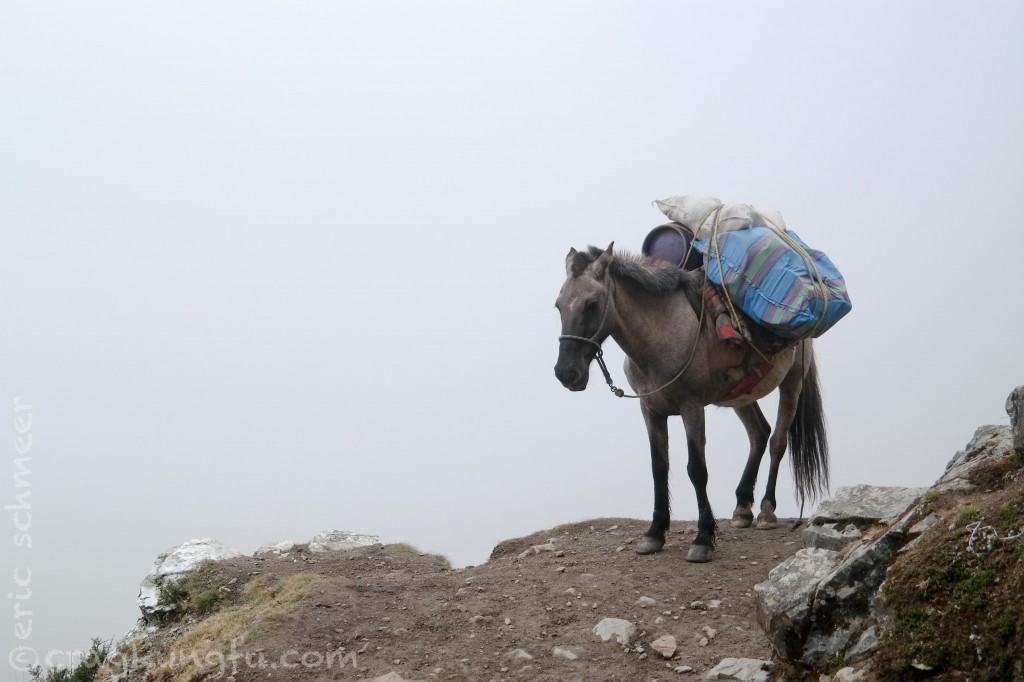 The clouds moved in and we summited in grayness. After our guides caught up and we took some summit shots it started sleeting. It is customary to carry a rock from the beginning and add it to a cairn on the summit for luck.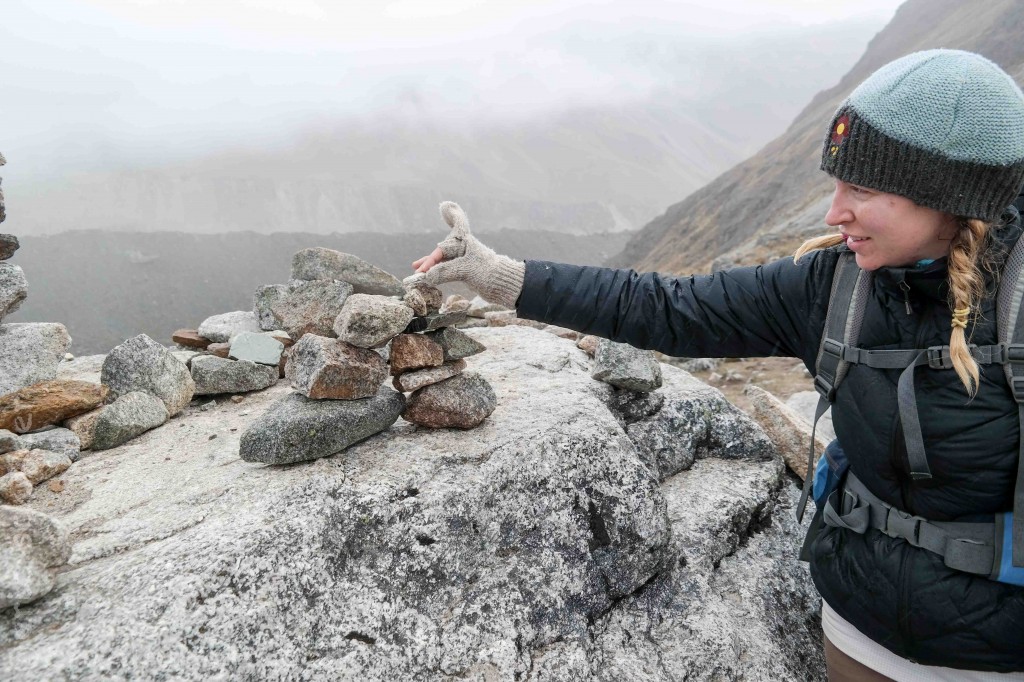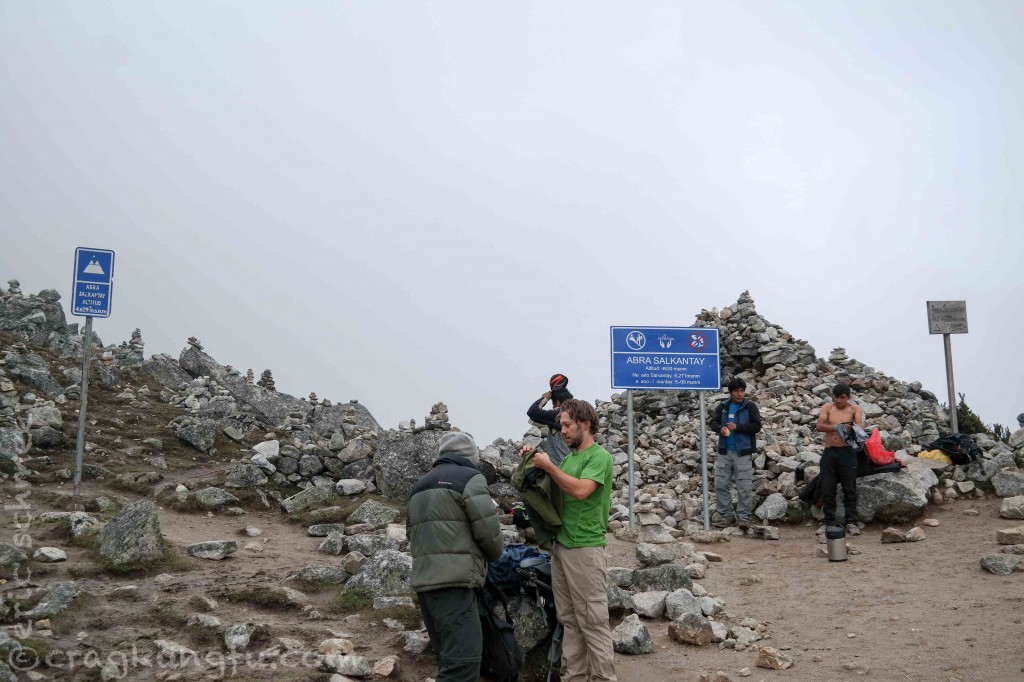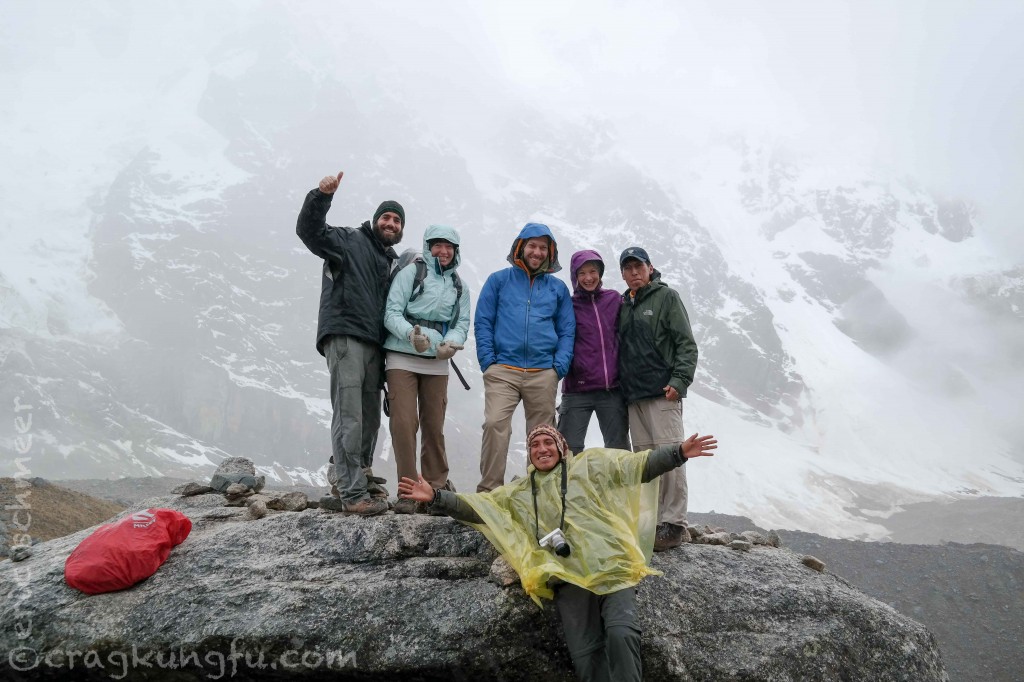 Our guides thought it would be a good idea to hangout at that elevation in the rain/snow and hold a religious ceremony which we were to participate in. Other than this I was really pleased with them over the course of the trip. Typically I find this sort of thing innocuous, but standing in the elements watching everyone get soaked and cold over this antiquated practice was absurd and irritating. Bad form in the alpine. We really turned on the heat hiking down the other side to escape the elements on the pass and warm back up. Eventually we dried out and made it to the lunch spot – a collection of huts in a small establishment accessible only by horse or hiking.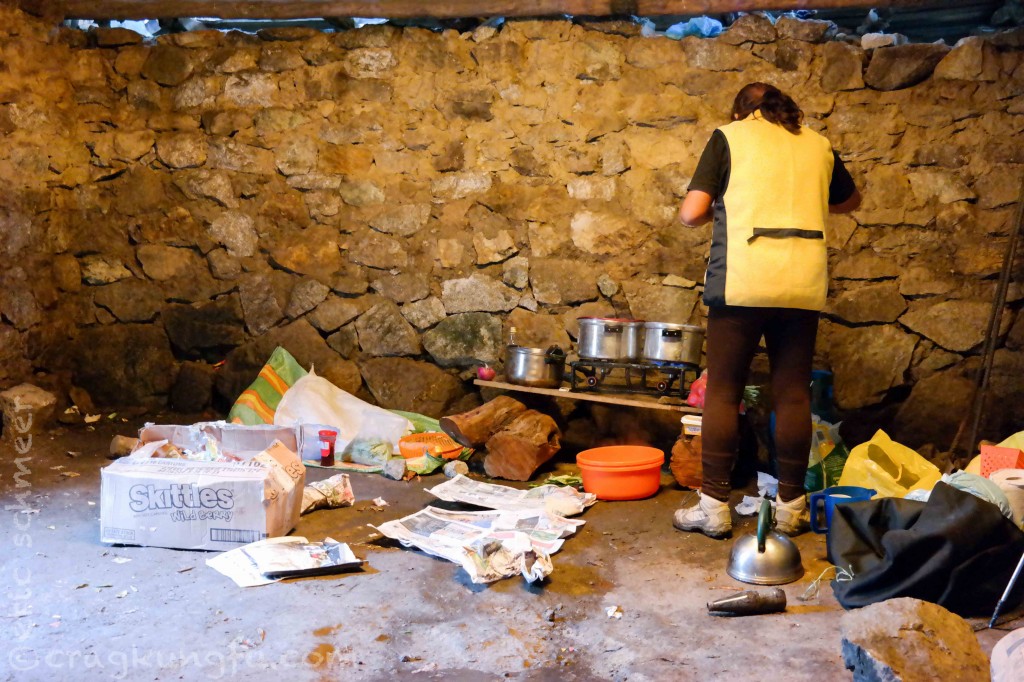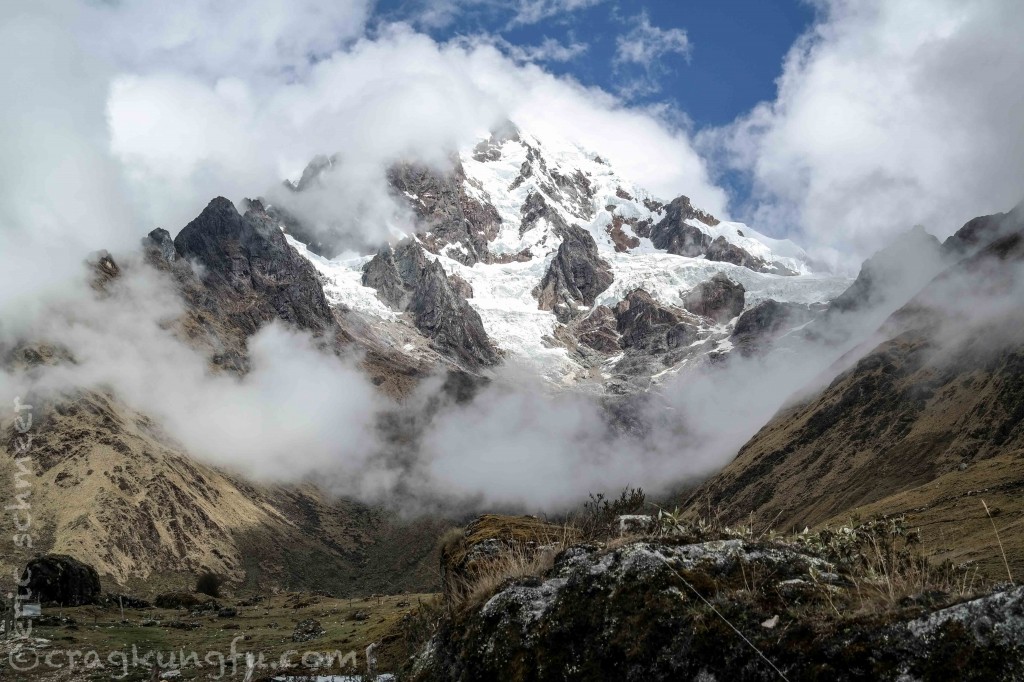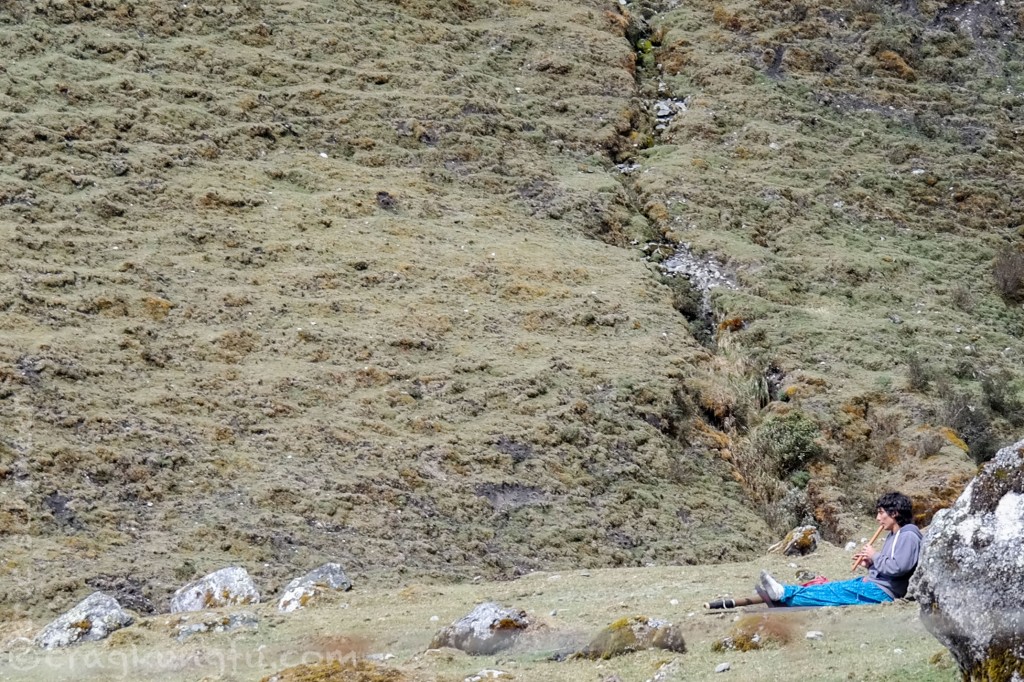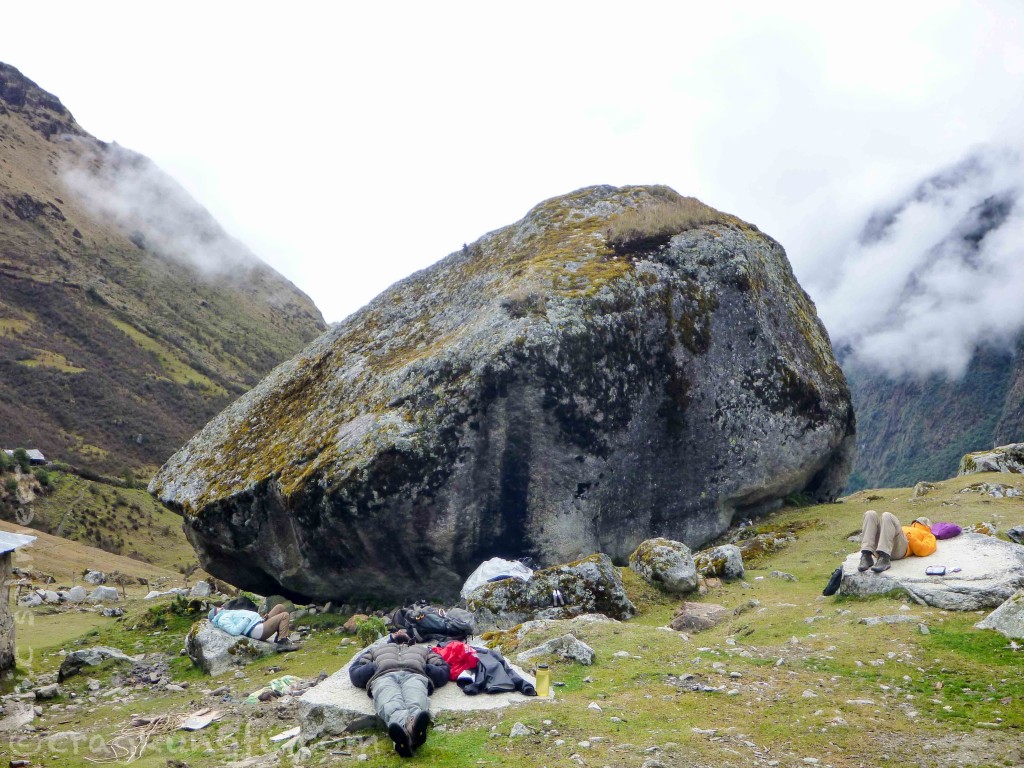 This would mark the last time we would see the alpine and in only a few short miles we had descended into the cloud forest. It was astonishing how quickly the environment changed.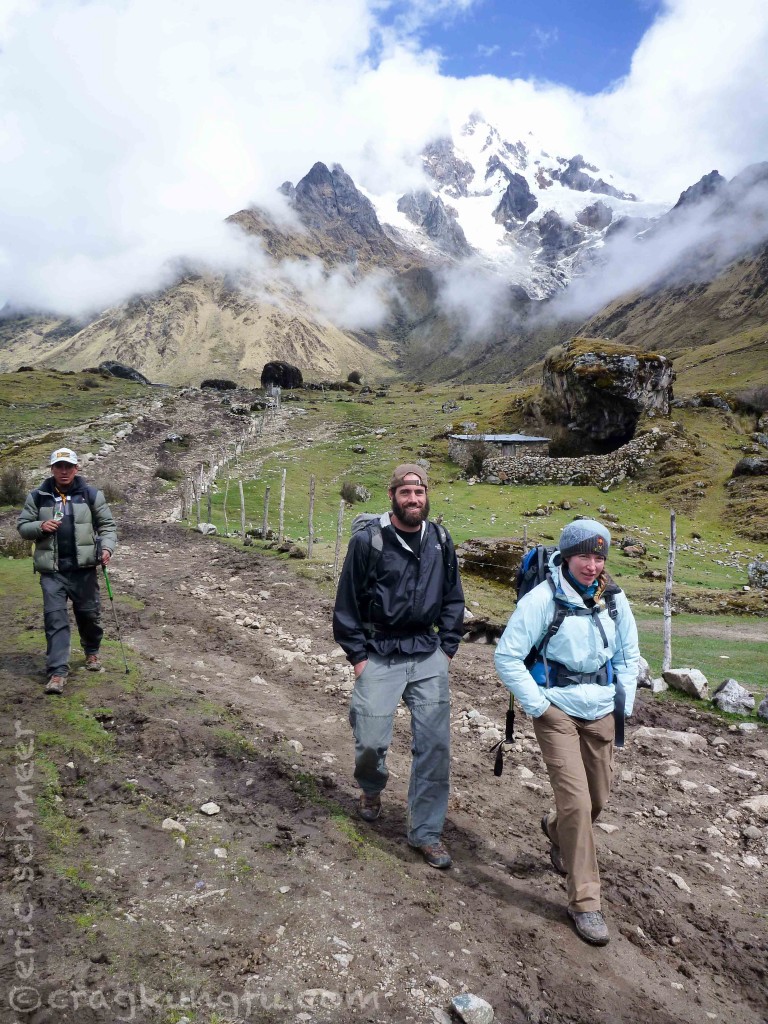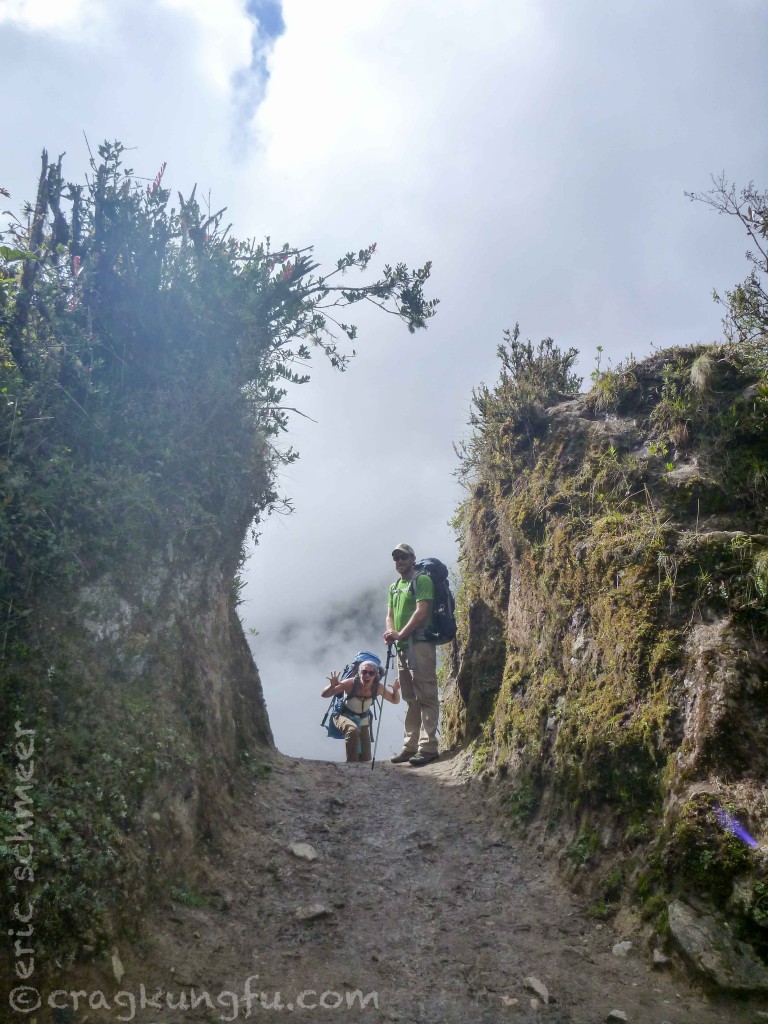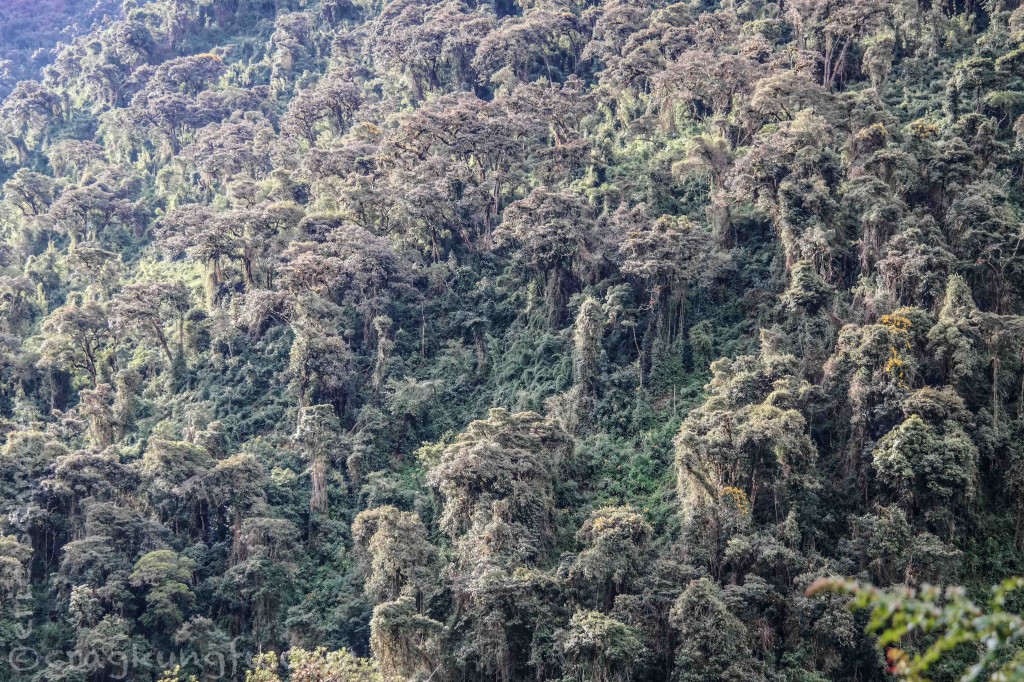 The hike dragged on and the big mileage and lengthy descent for the day made itself felt for the remaining miles. Eventually we came upon our tent camp for the night. Another big dinner and a few drinks deposited us soundly to sleep on the cushy grass tent pads.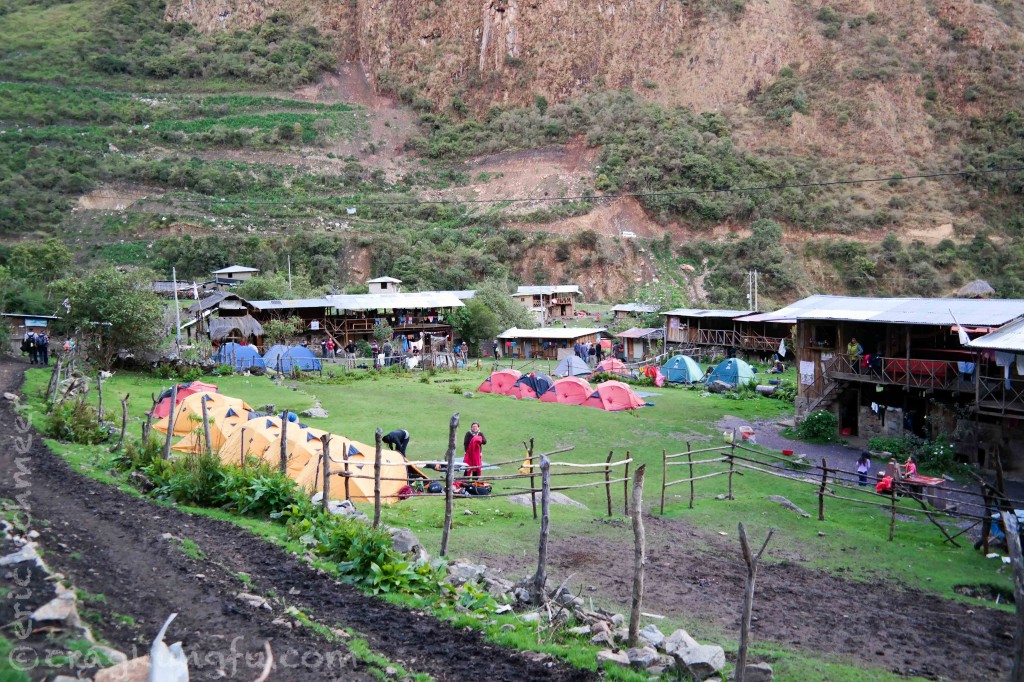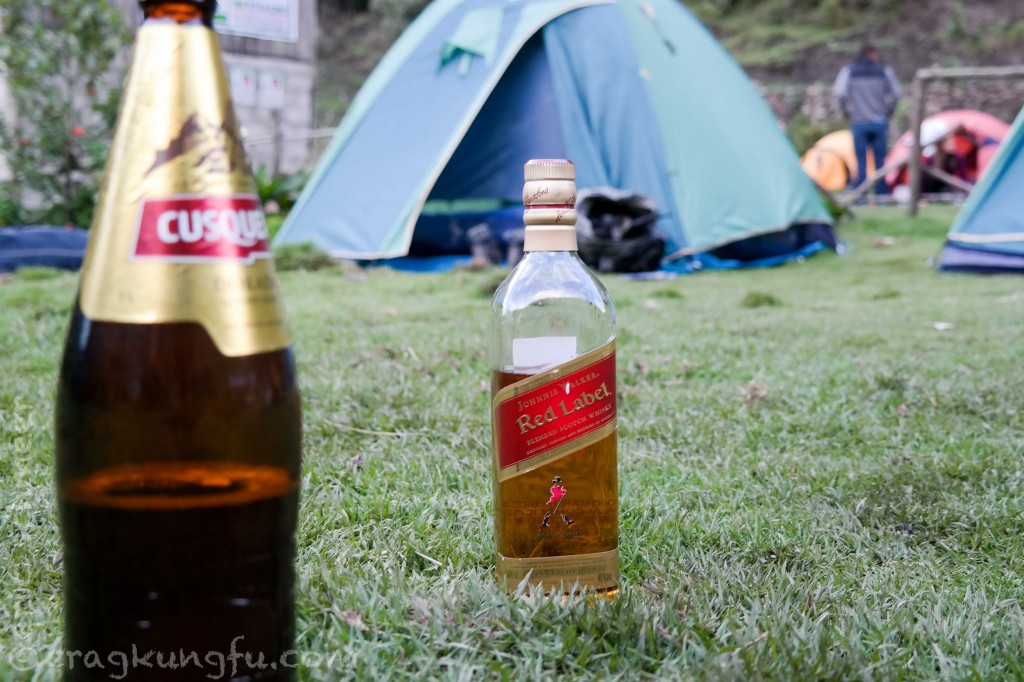 Day 3: Chaullay to Playa Sahuayaco
Distance: 8.6 mi
Starting: 9,389 ft
Finish: 6,824 ft
Gain: —
Loss: 2,565 ft
Total change: 2,565 ft
We awoke to find one of our crew in bad shape. What had started as a cold for Clayton had morphed into something much meaner after such a huge day of hiking at altitude. Fortunately, unlike the previous day, there was an access road which allowed him to take a transport to the next camp and hopefully recover in time to enjoy Machu Picchu. The rest of us hiked on noticing some sore feet and tired legs. This was the easiest section of the trip consisting of a half-day, gradually declining, 8 miler through a beautiful, densely vegetated canyon.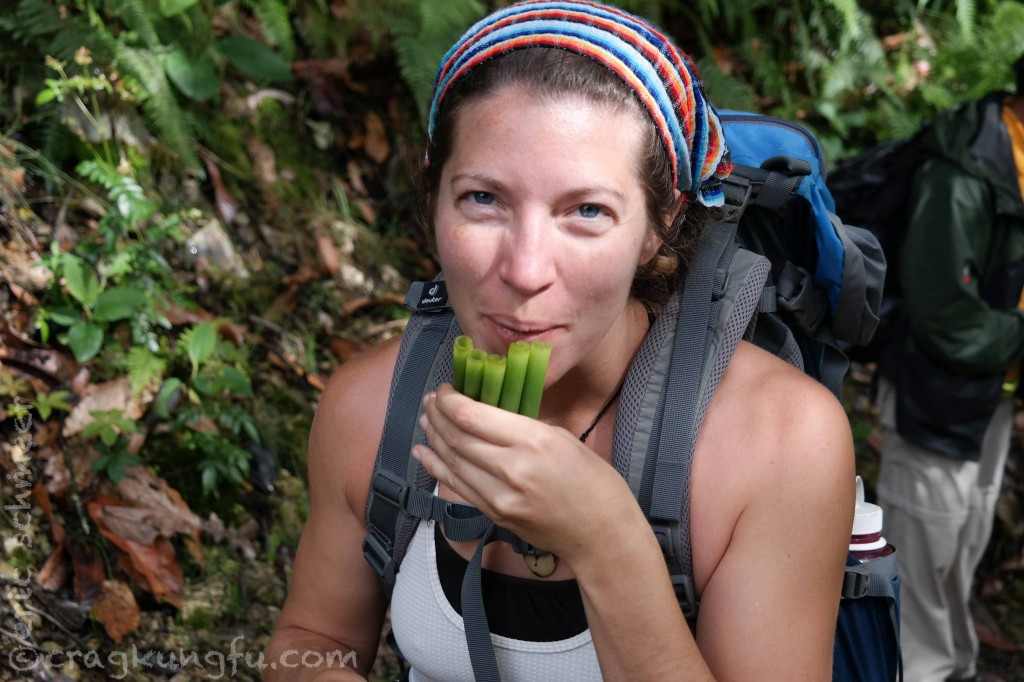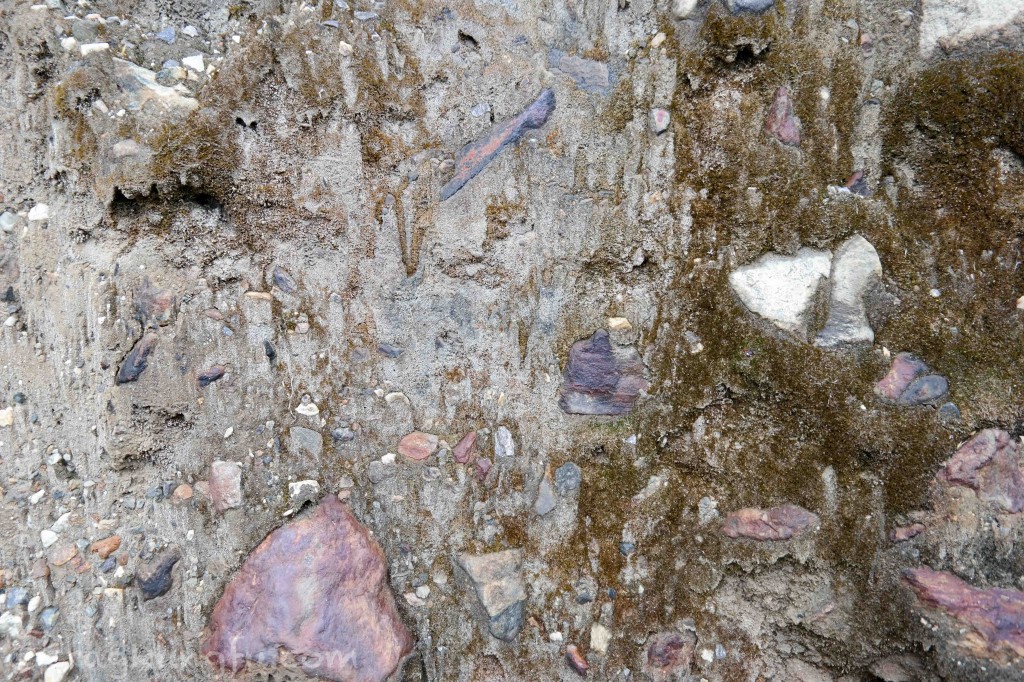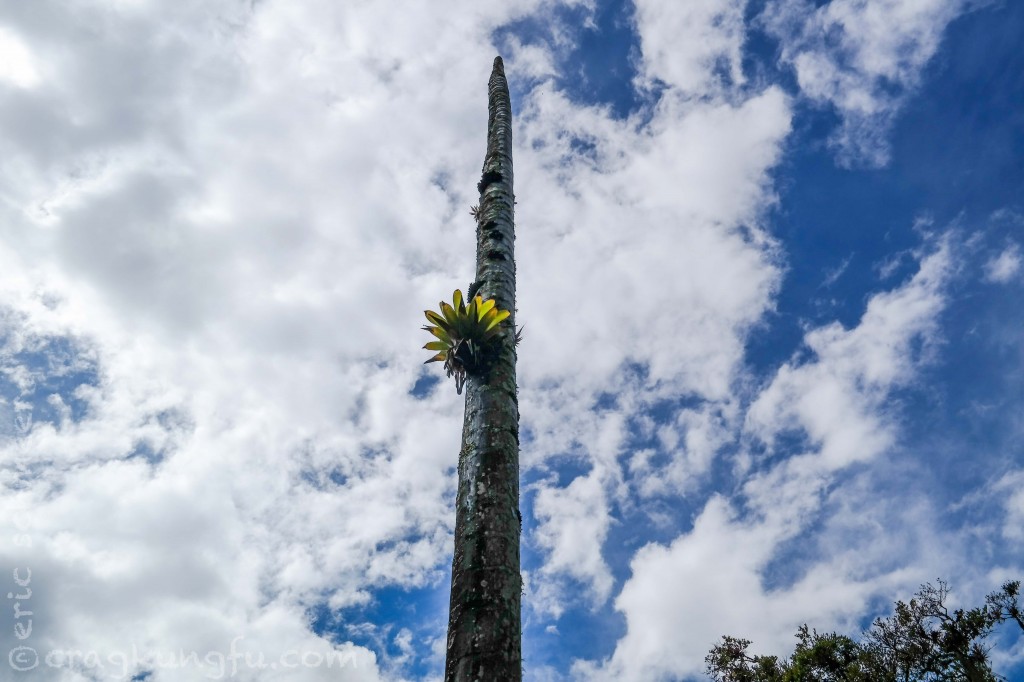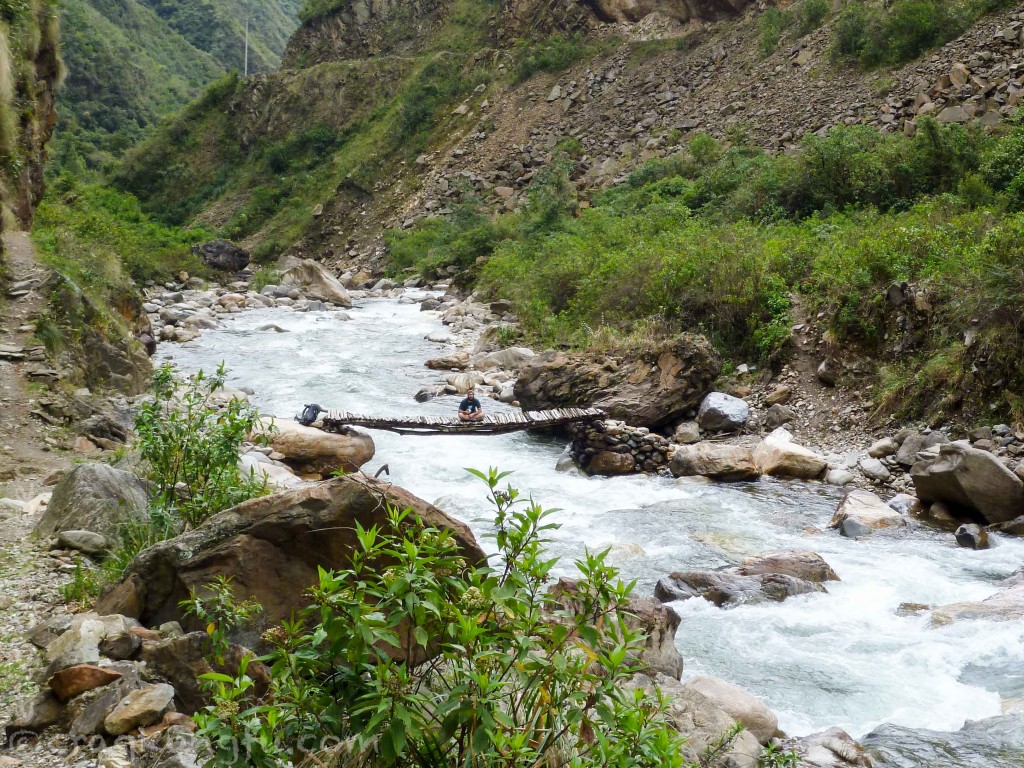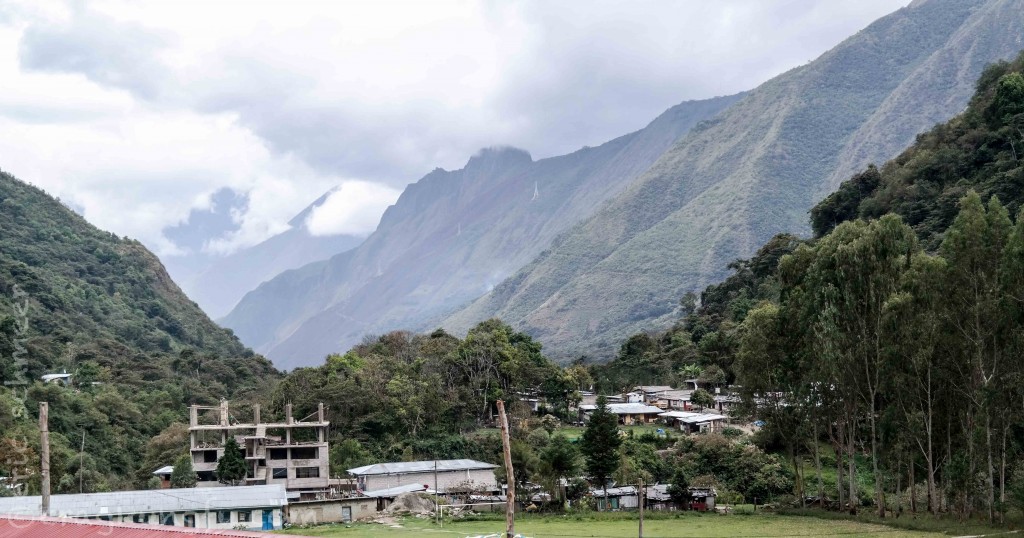 After the hike we located our sick buddy who finally caught a little sleep. From there we took a transport to Santa Teresa. Here we made camp and motored down to the hot springs for a little soak and some fun with a water proof cam. Definitely an awesome spot and fully worth the 5 soles!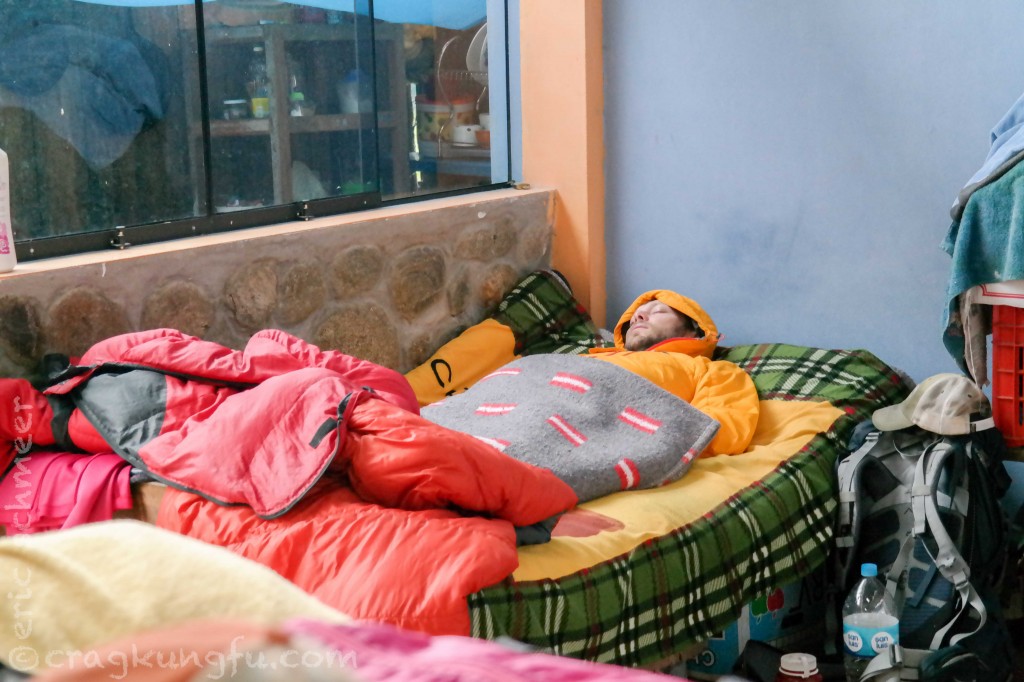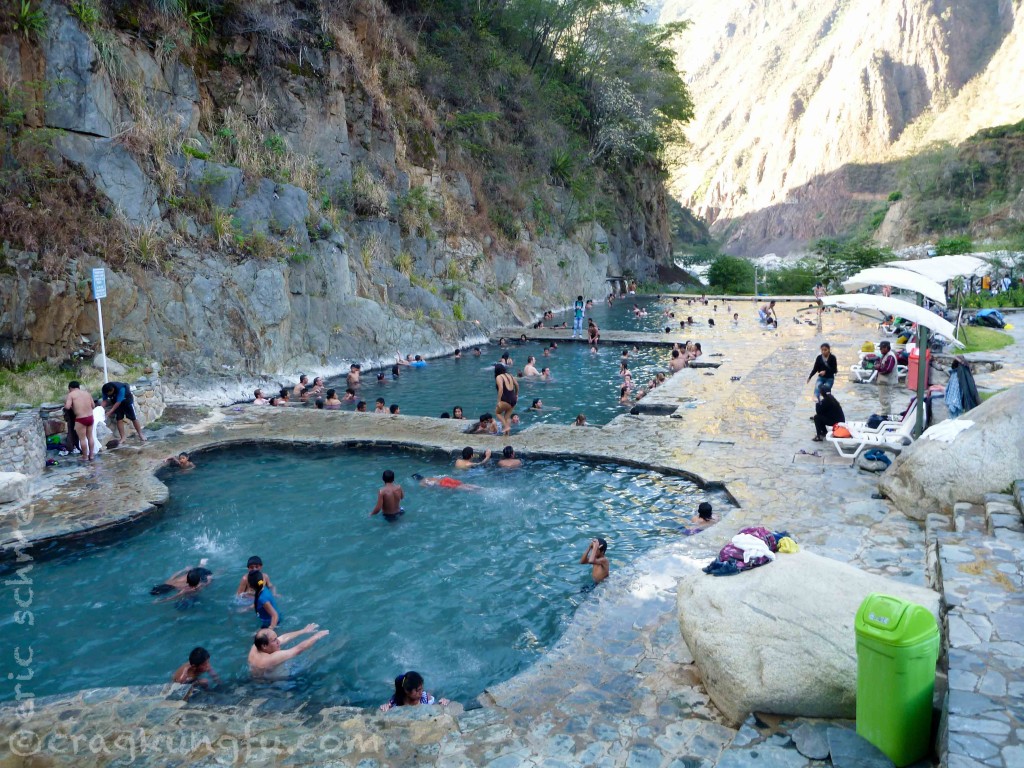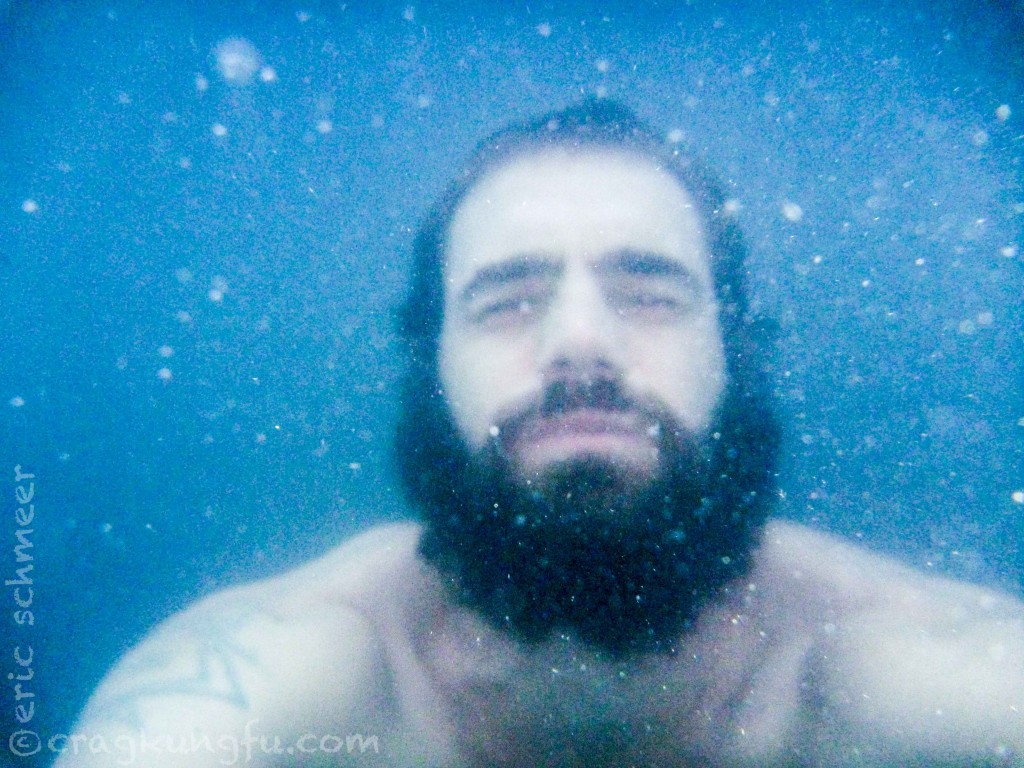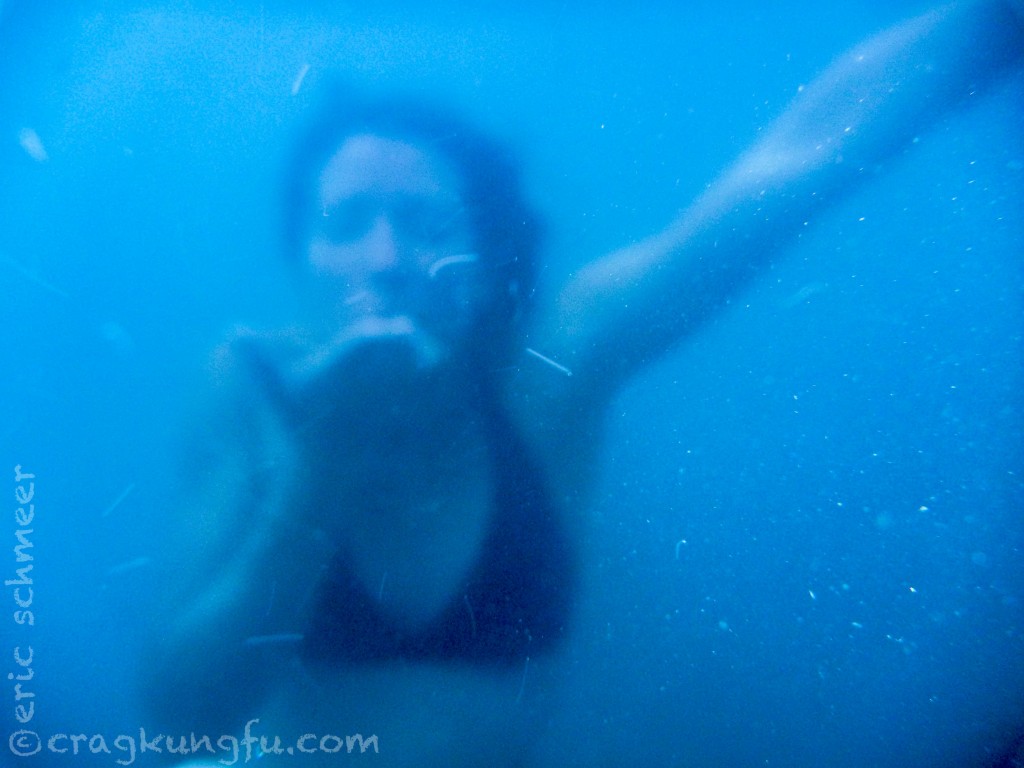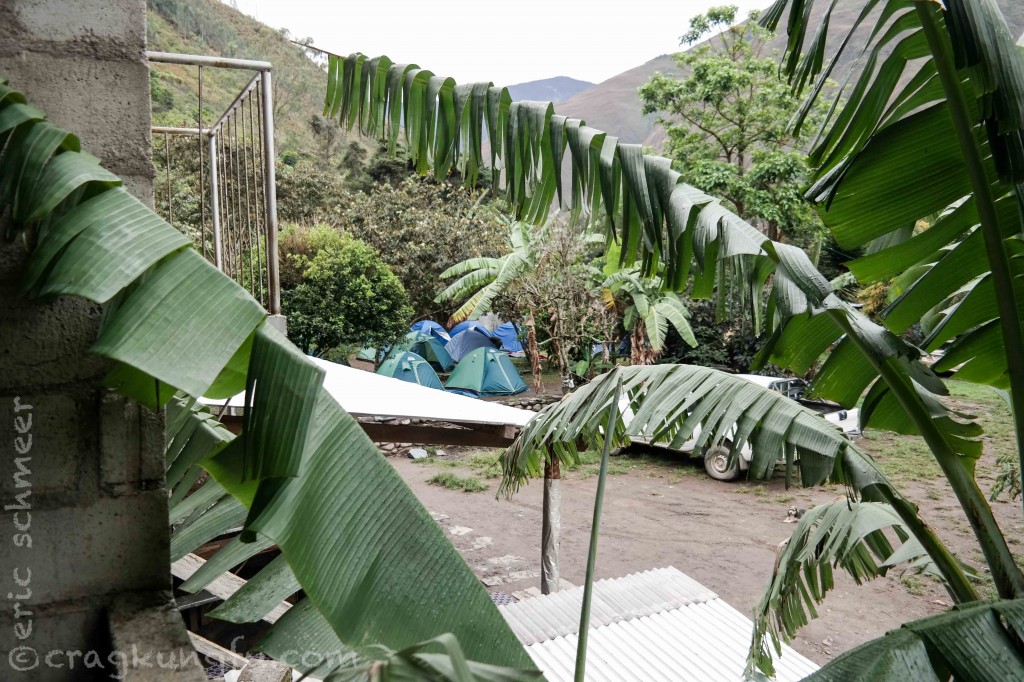 Day 4: Santa Teresa to Aguas Calientes
Distance: 8.9
Starting: 5,085 ft
Finish: 6,693 ft
Gain: 1,608 ft
Loss: —
Total change: 1,608 ft
After a heavy night of rain we awoke and headed to breakfast in preparation for our final day of hiking the Salkantay. Clayton woke up feeling much, much better and promptly joined us at the breakfast spot – many buildings in this climate are just a collection of cinder blocks with metal on top for rain cover.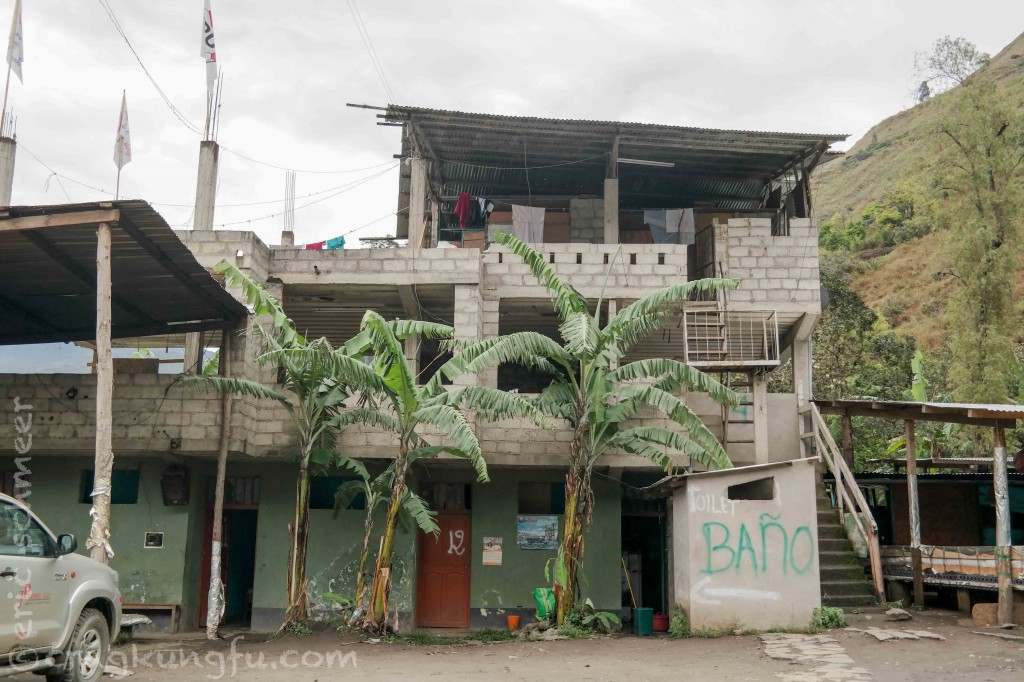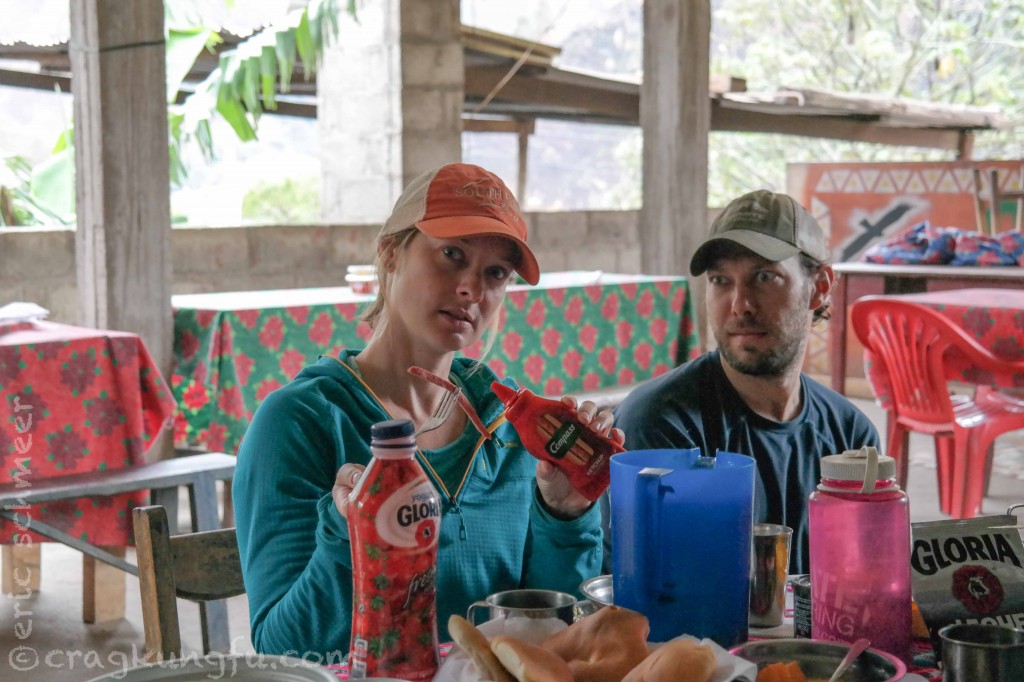 We made our way through Santa Teresa before finding the trail. It had that quaint village feel with mostly friendly locals. We also managed to acquire a new friend who followed us from camp who we named Max Rumble! More on him in a moment.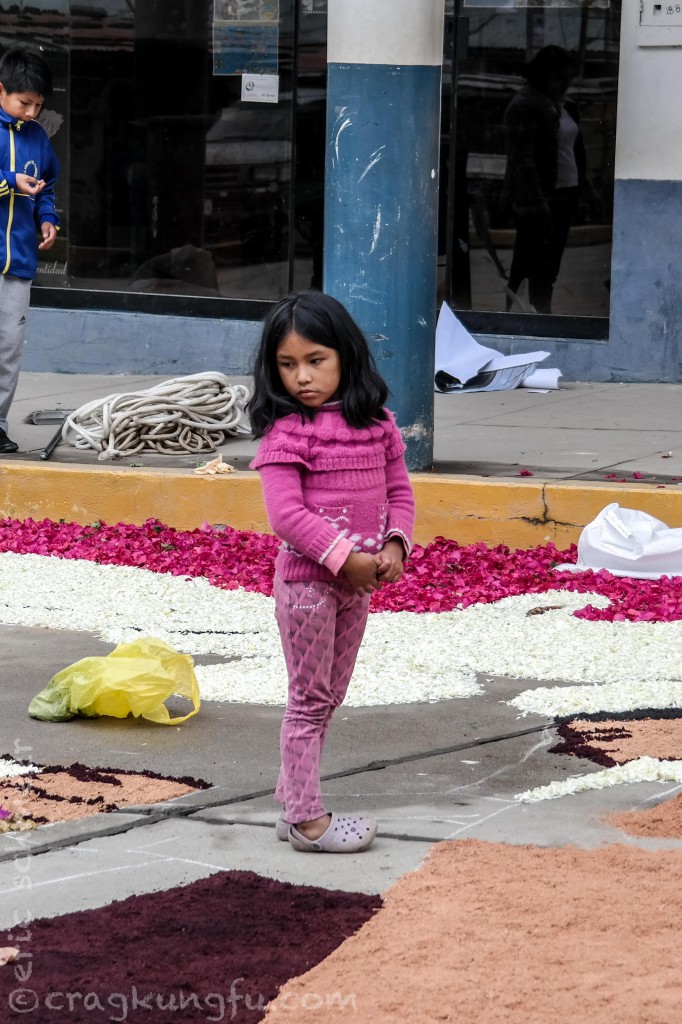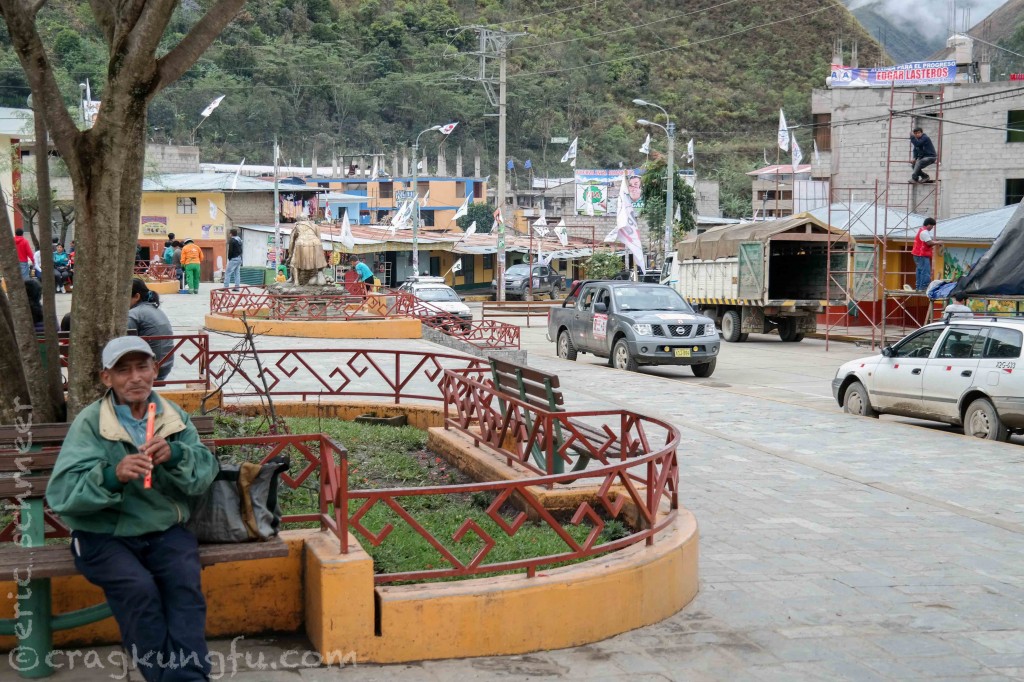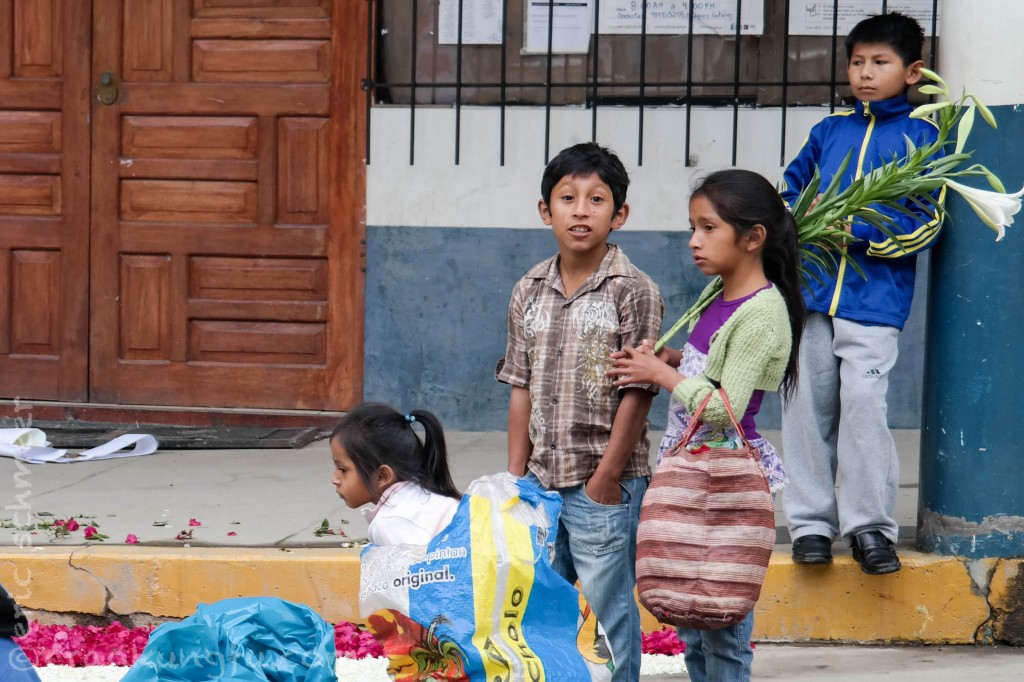 Santa Teresa has a horribly sad recent history. We were actually staying in the new Santa Teresa. The old city, previously located directly on both sides of the river was completely destroyed by a land slide only 16 years ago. It happened at night when everyone was asleep destroying everything and killing everyone. The only thing left was a pillar from the bridge joining each side of the town over the river. In the pic below you can see the rubble surrounding the river and the rebuilt town to the left on higher ground.

Incredibly sad and a reminder of the constant danger presented by the treacherous, soggy terrain. Having gotten to the lowest altitude of the trip at 1,500 meters (roughly the equivalent of Denver) we began hiking upwards towards Hydroelectrica and Aguas Calientes. Our new friend Max Rumble decided he needed a change of scenery and having apparently abandoned his home, hiked many miles with us. He clearly had no intention of turning around. Having seen many dogs in our travels we recognized this one as being very well cared for. As much as he wanted to see Machu Picchu we felt it was in his best interests to trick him into a collectivo and send him back home. It was a sad goodbye, especially for Niccole who Max seemed to be especially fond of. We'll miss you Max Rumble!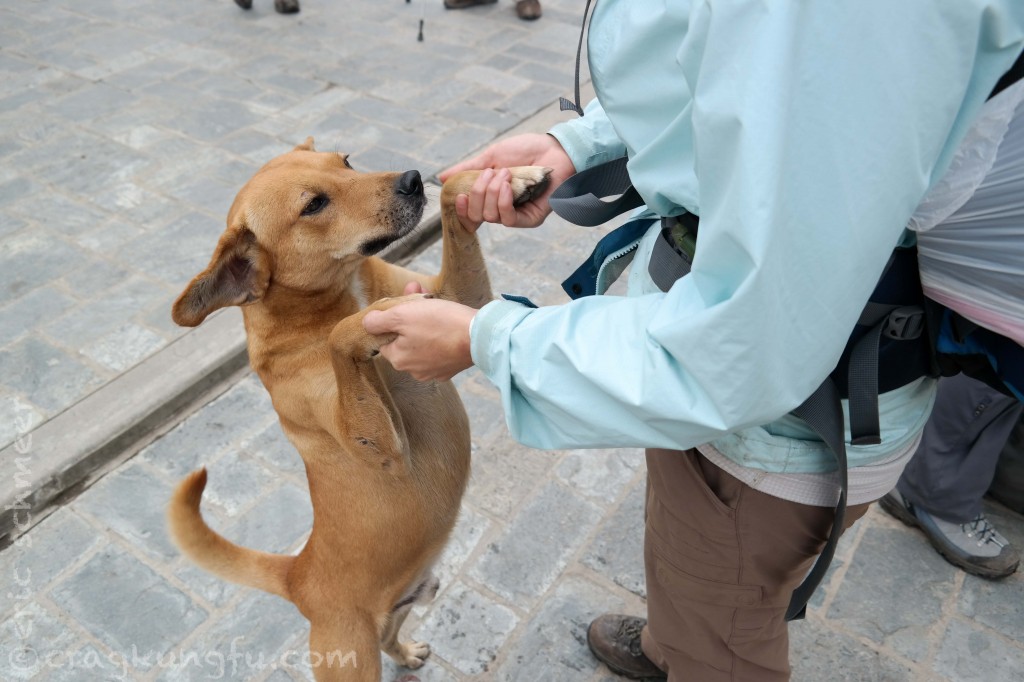 The hike was gorgeous with completely different scenery than the prior days. Eventually we came across a huge cliff that looked very much like the Daimond back home in RMNP. It turned out this was the back side of Machu Picchu Mountain and that the green ledge stretching across it would turn out to be the Inca Bridge!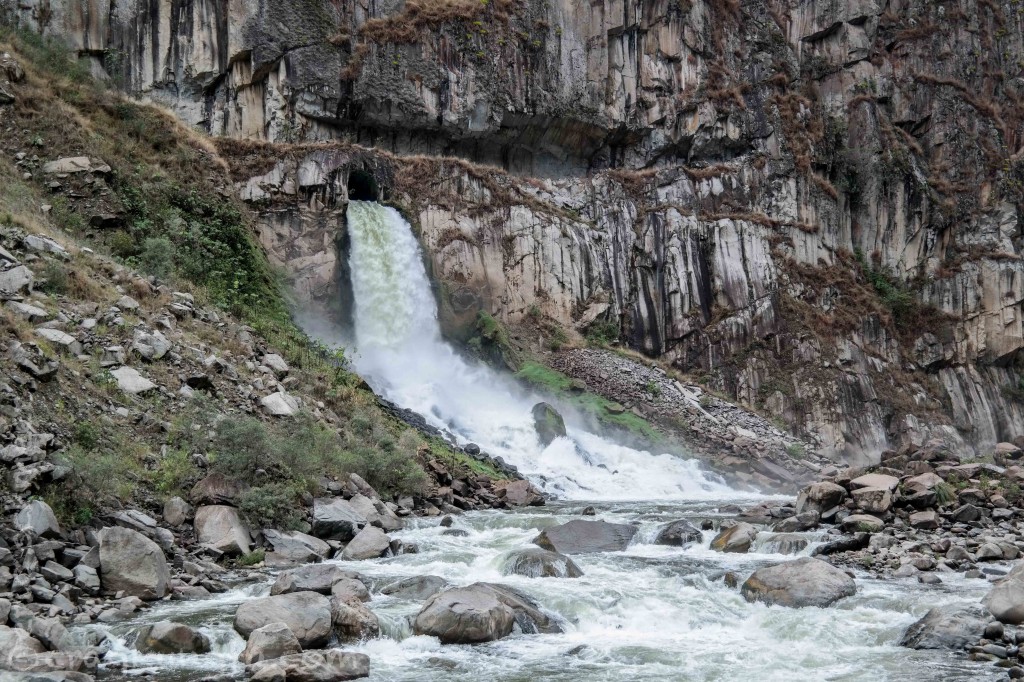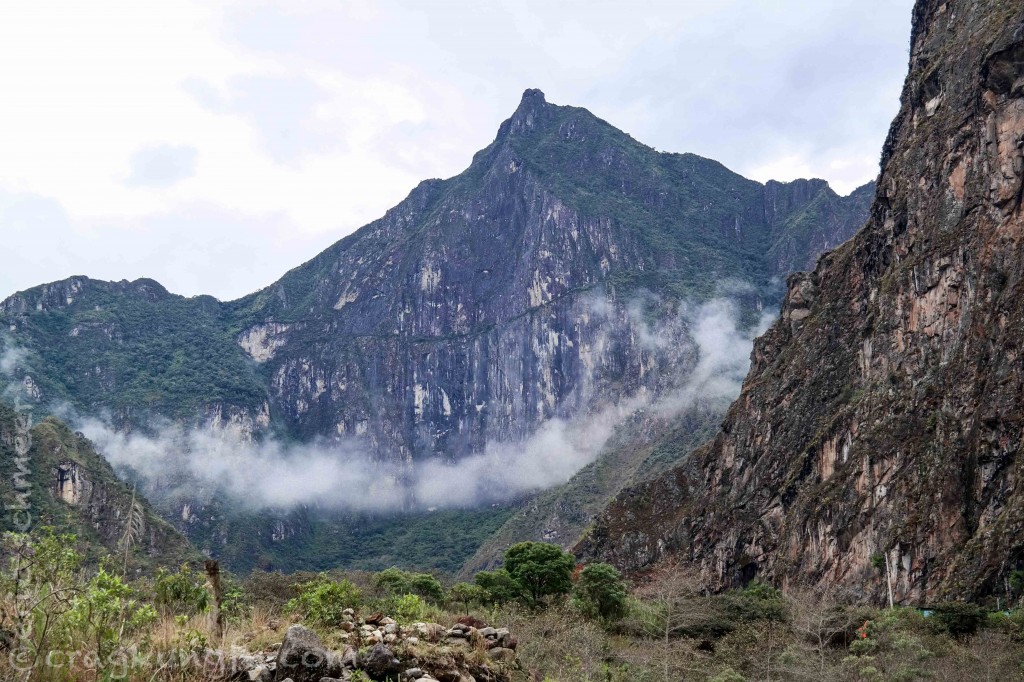 We arrived at Hydroelectrica and despite some fatigue we were all excited to be so near Machu Picchu. From here we hiked the final leg on the train tracks into Aguas Calientes.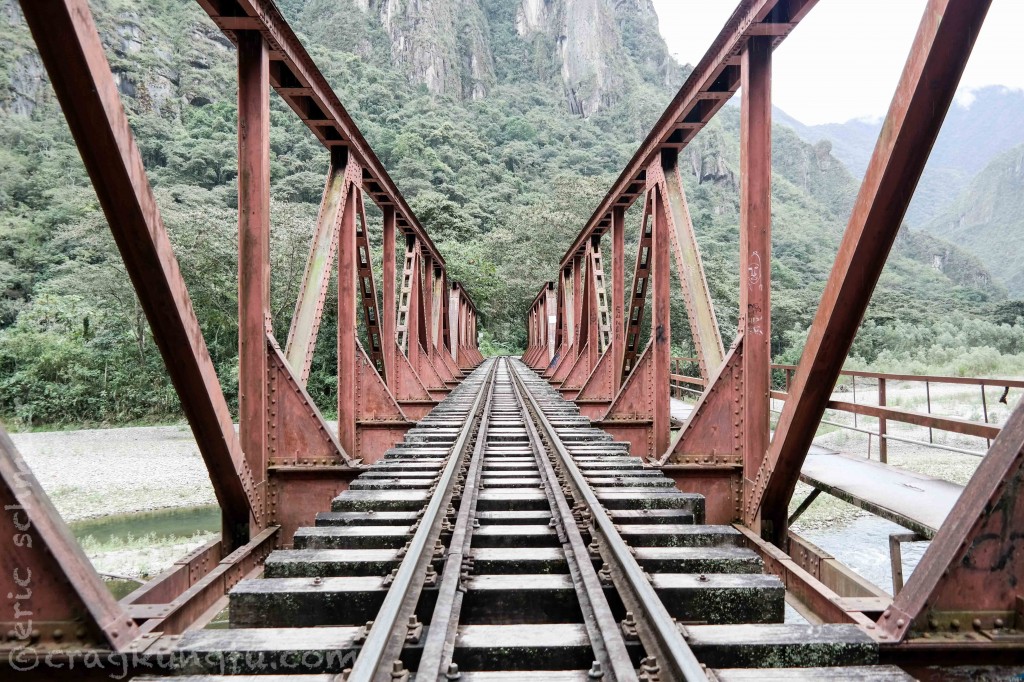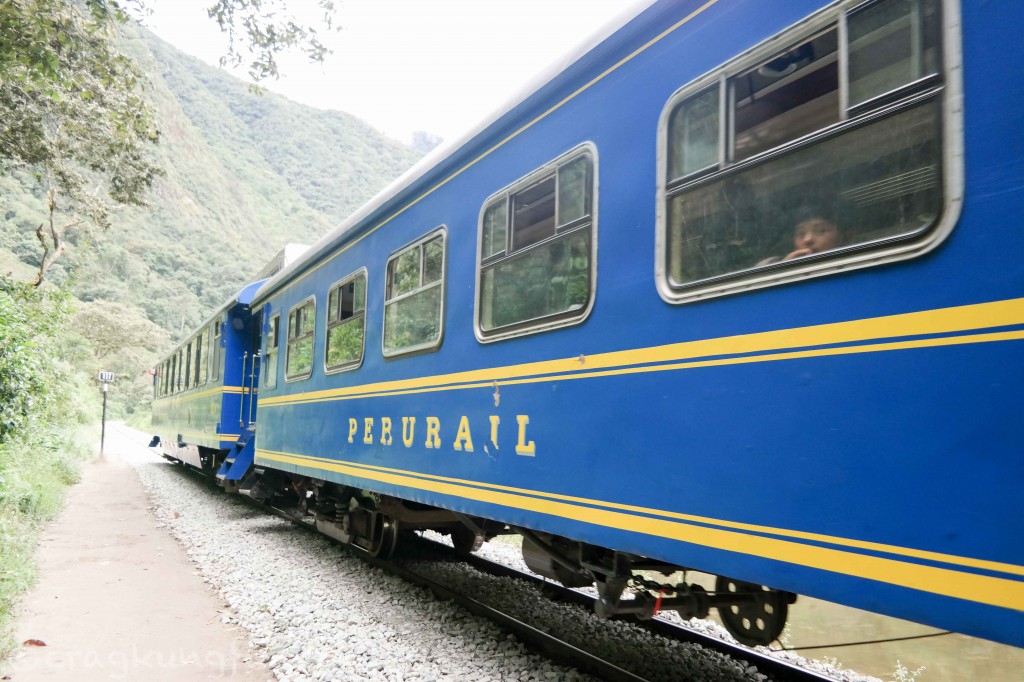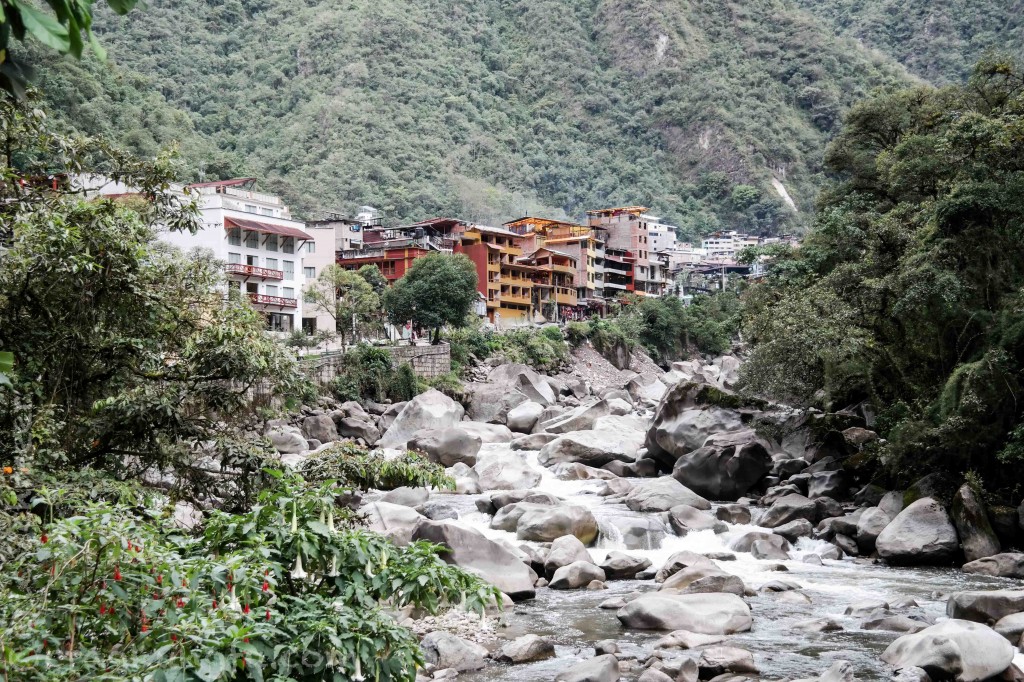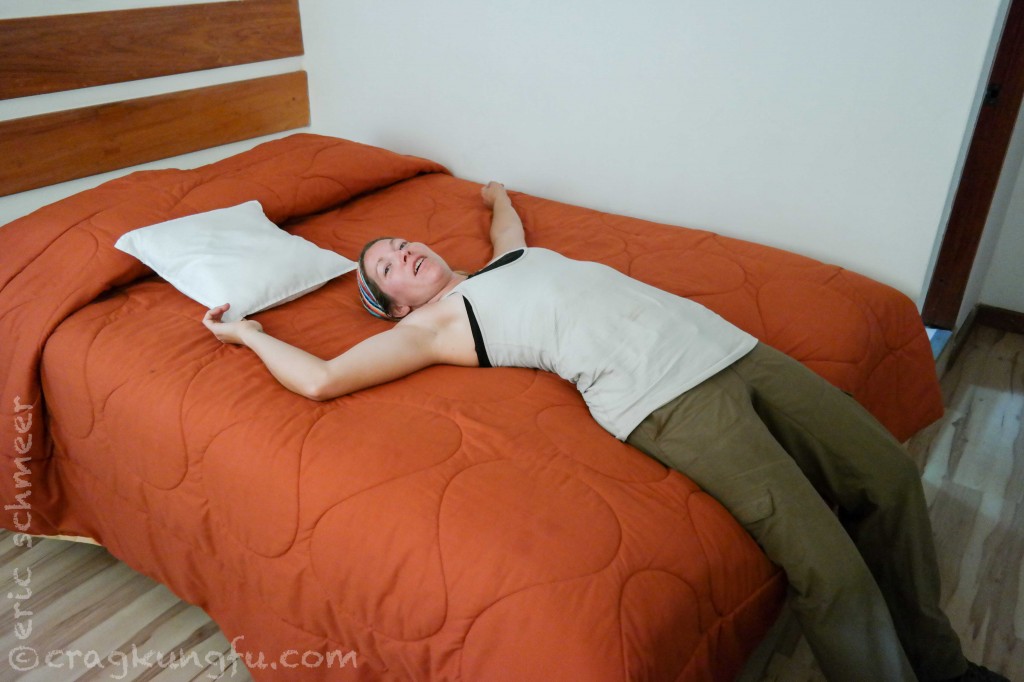 Hot showers, a big dinner, and flip flops – ohhh yeahh! We said goodbye to the crew and hung around the bustling, cool town.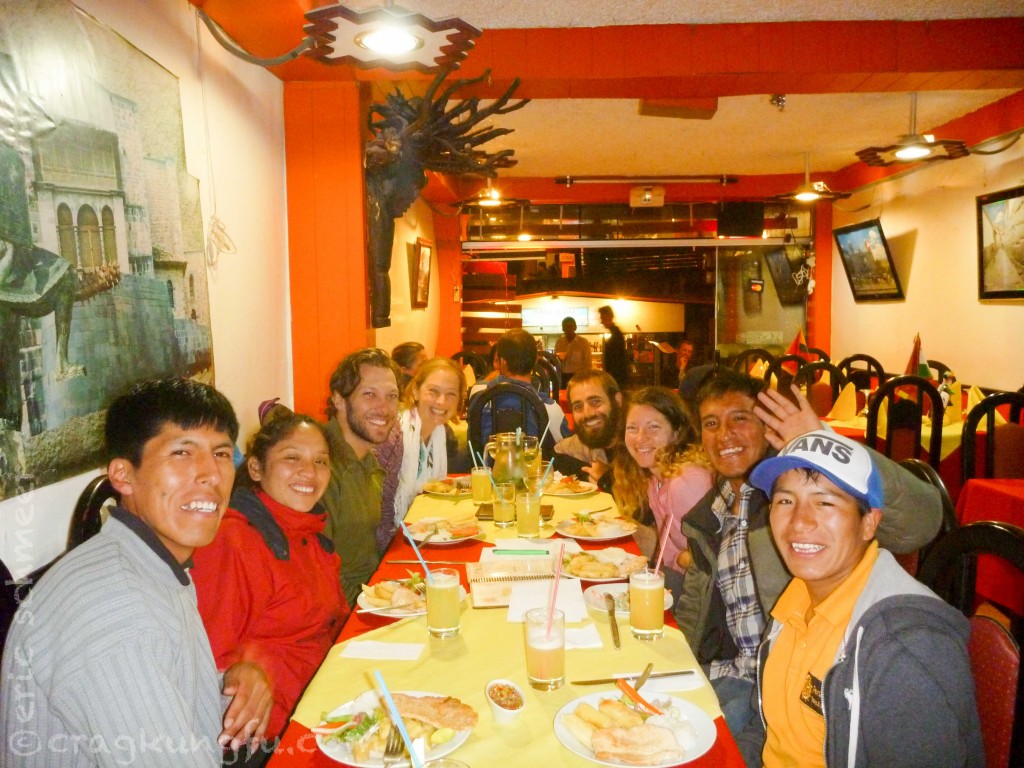 Salkantay Trek Total
Distance: 38.5 mi
Highest Point: 15,331 ft
Lowest Point: 5,085 ft
Gain: 5,916 ft
Loss: 8,507 ft
Change: 14,423 ft
So there you go, our journey to Aguas Calientes is complete! Great company, excellent views, and a challenging hike – the whole experience was excellent!!
In part two of this posting we'll finally get to see what these mysterious Inca's were up to and what one of the 7 new wonders of the world looks like!
(Views: 1043)