Holy shit living in Cusco for a month was fantastic!!! Besides getting out of the van for a bit and the city being so cool, it was an absolute pleasure sharing an apartment with such good friends. Apartment life with our amigos was everything you would expect of living in crazy, bustling Peru. Sometimes the water would turn off at night, we had to Honnold our way down the street to avoid getting clipped by buses, and as always, not getting electrocuted in the shower takes some care.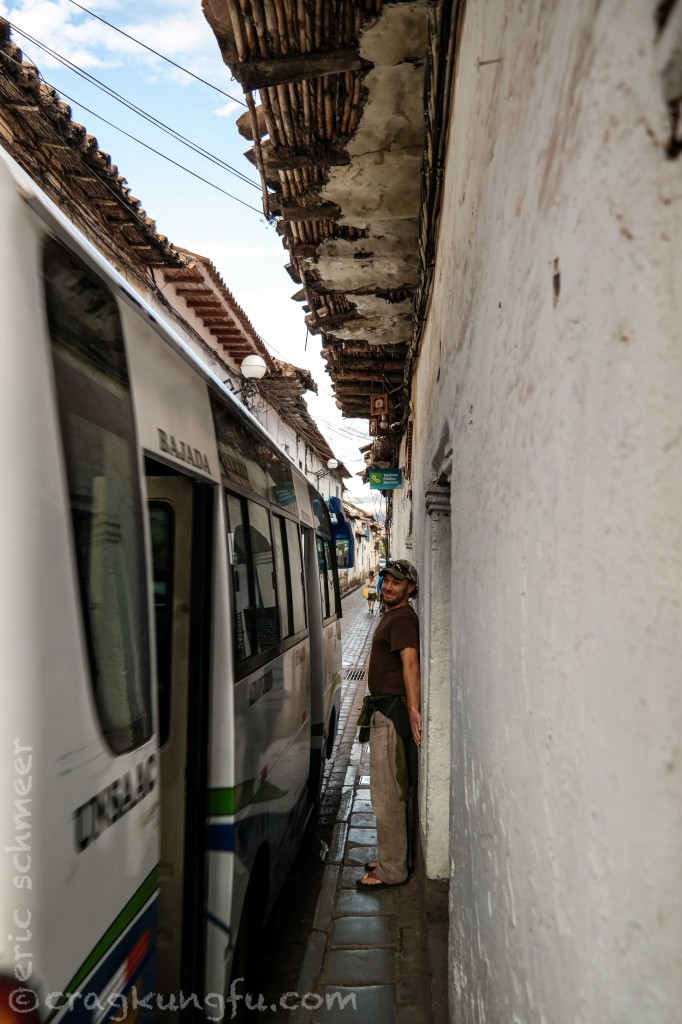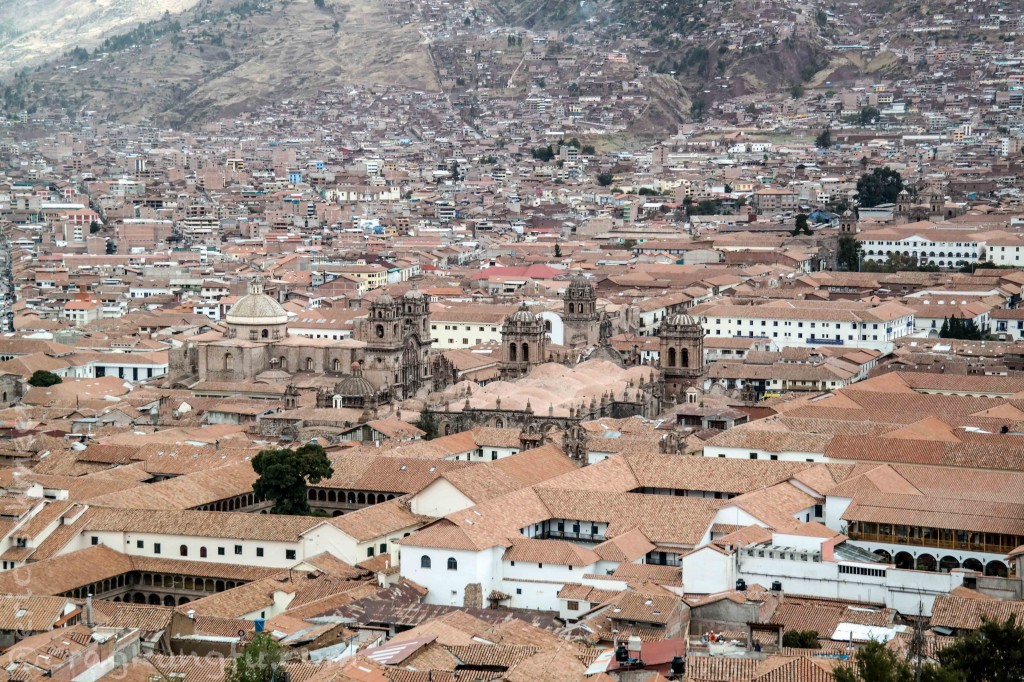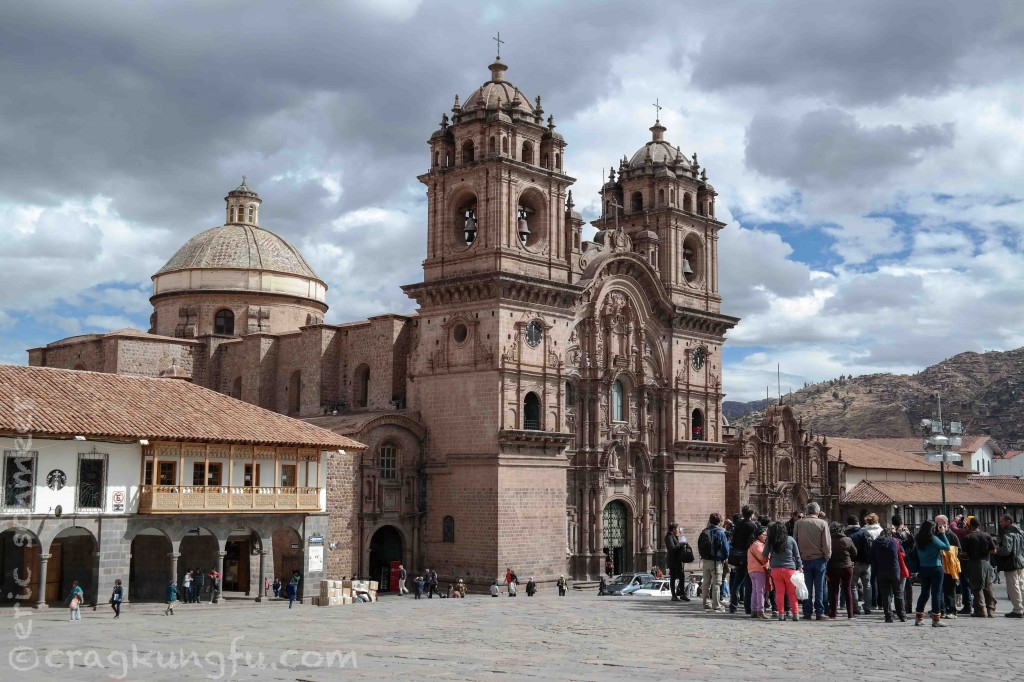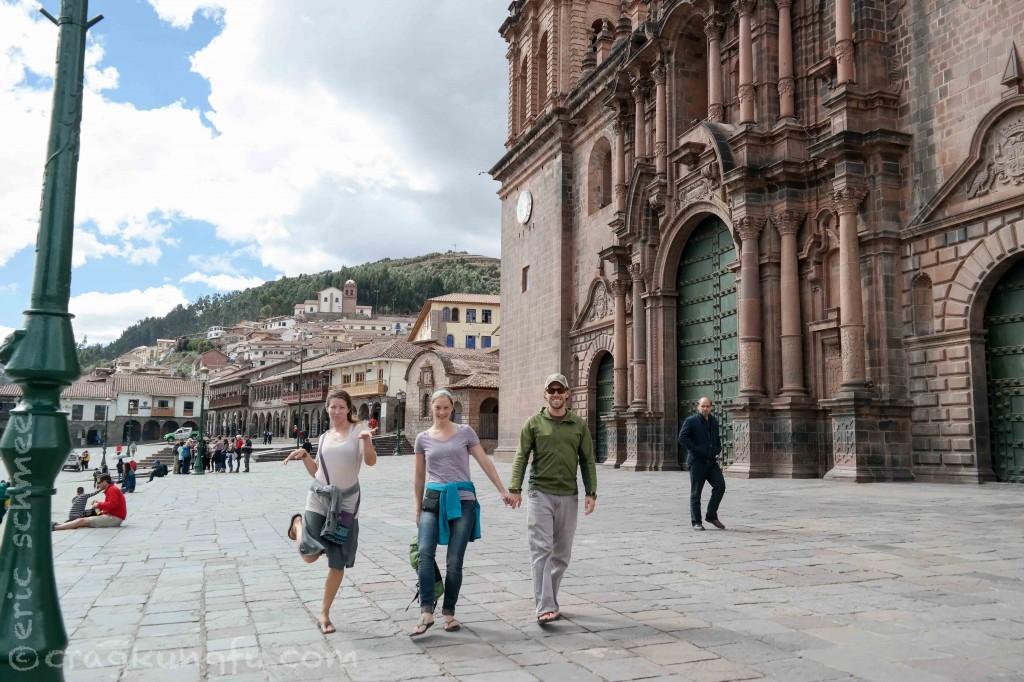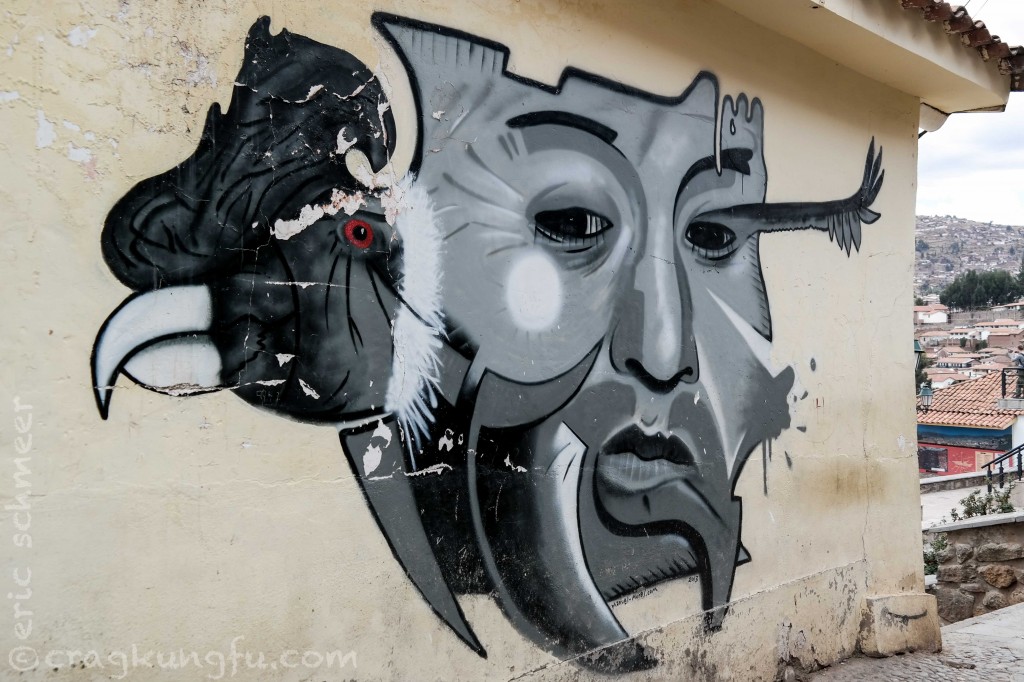 In between climbing, the Salkantay, and Machu Picchu we had some great nights on the town and some excellent game nights playing Farkle and Mexican Train. Good times!


Getting out of the van for a month was huge and a much needed break from the long Peruvian drives that got us to Cusco. But with our amigos jumping a plane for Lima it was time for us to head back to life on the road. That and the fact that our 3 month visas for Peru were nearly expired! So we hit the pavement and wouldn't you know it, we were right back in the mix! I mean, what could happen in the short 600k to the Bolivian border? Glad you asked…
After about 400k a wrong turn deposits us smack in the middle of Juliaca which we had meant to skirt. You can always tell when you're somewhere you don't belong. The guidebook mentions the city only so much as to remind the reader that broad daylight muggings are its specialty. As it's getting dark and we're directly in the center of the city suddenly we hear a grinding sound coming from the Craggin' Wagon. Perfect. This is one of the moments where you hate to make a decision. Do you risk stopping or continue and risk damaging your sole means of continuing on…
We put the pedal to the medal and hightailed it out of there. We had heard about a spot where there was some camping at some nearby ruins. Fully driving in darkness (something we try not to do), we arrive to find the entire area gated and closed. Wonderful… what now? Next thing you know a little 8 year old girl appears from nowhere. She proceeds to direct me into a little puebla and says we can camp in a grassy patch in the middle of their little town. What the hell, porque no?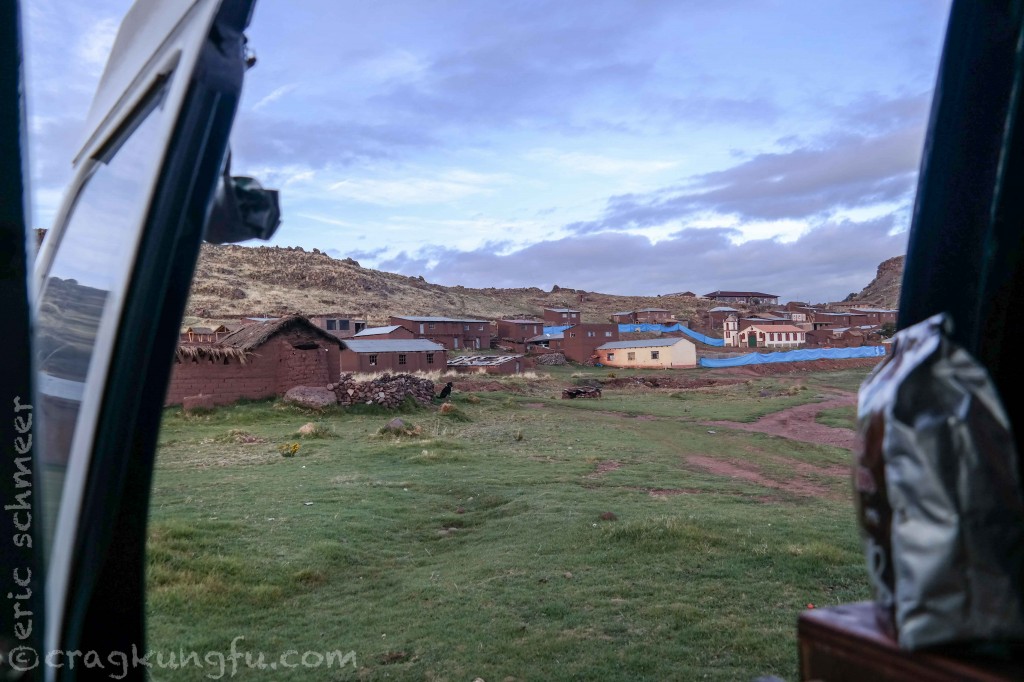 The next morning we hit it early to avoid any complications that might have arisen over the 8 year old's ability to speak on behalf of the town. We only have to make it about 20k and we'll be in Puno where hopefully we can get our wheel fixed. Oh, we determined it was the wheel when it began wobbling a few kilometers from our destination. We limp into Puno and one quick look at the shops reminds us immediately that it's Sunday!!! Of course it is. Every time we have a mechanical issue it's a Sunday. No mechanic in the entirety of Latin America is ever, for any reason, open on a Sunday. We ease the van into a dirt spot by the malecon on Lake Titicaca. I get the tools out to figure out what's wrong when a lady herding her sheep strolls by. Even at times like this I love Peru!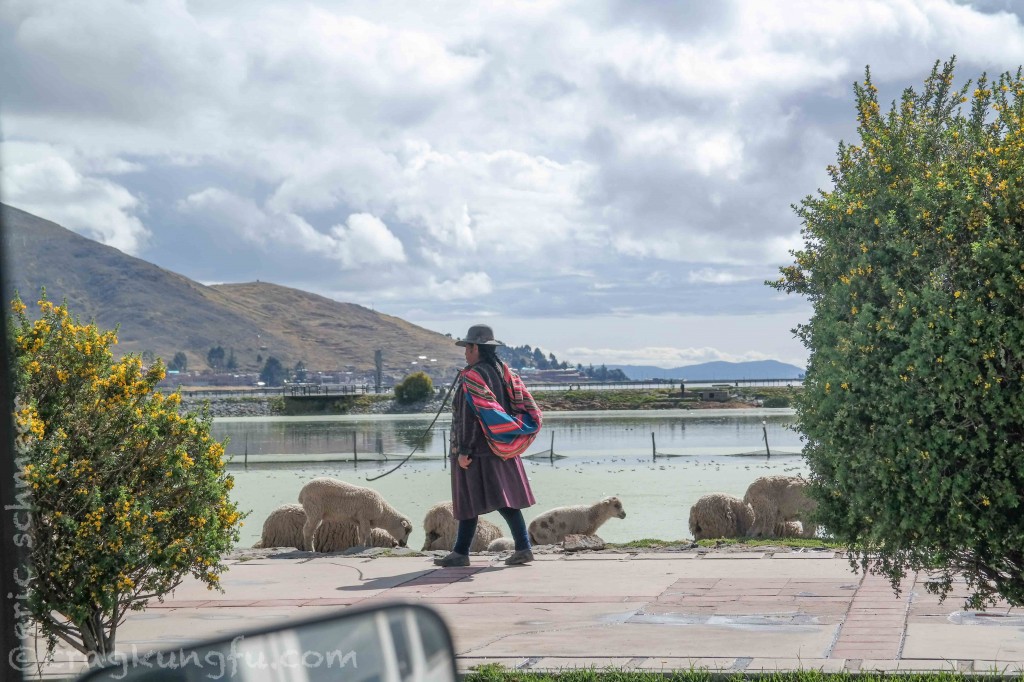 So with the entire day ahead of us and the van stubbornly refusing to let us continue with our (until now) perfect record of Sunday border crossings we set out to see Uros – a collection of handmade, floating reed islands a few miles out in Lake Titicaca! This involves getting in a boat that runs off an old, modified car engine. I couldn't help but chuckle as I watched a splash of gas get poured into the carbeurator after about 10 minutes of wrestling to get it started.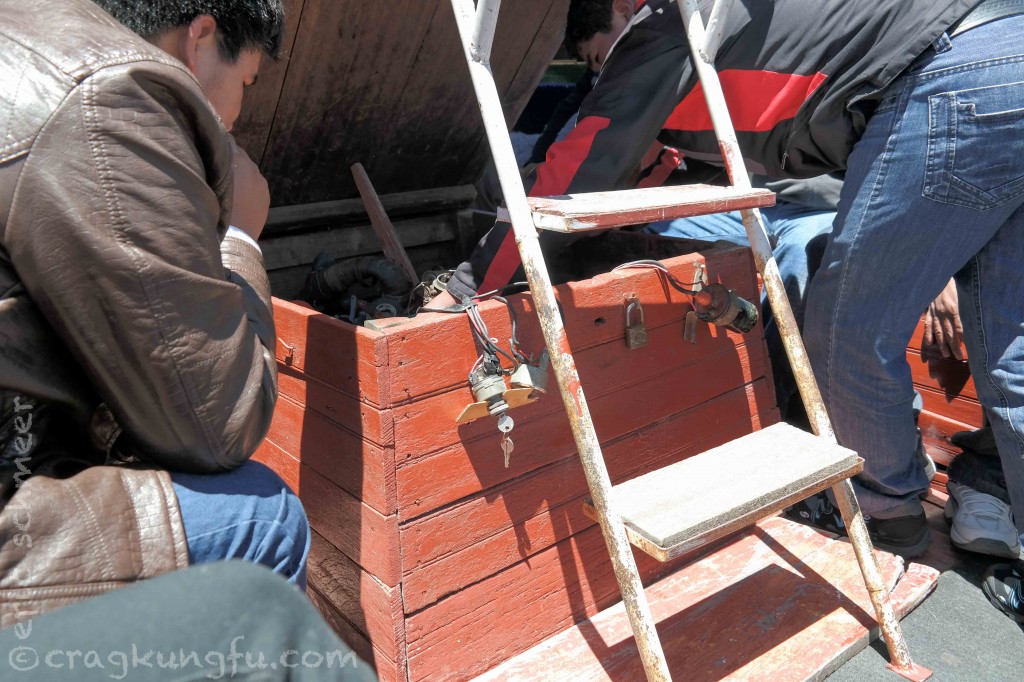 It kicked on of course and we puttered our way out to Uros. It turned out to be quite impressive. As we got closer we could see little houses and huts stretching across the entire horizon of the lake!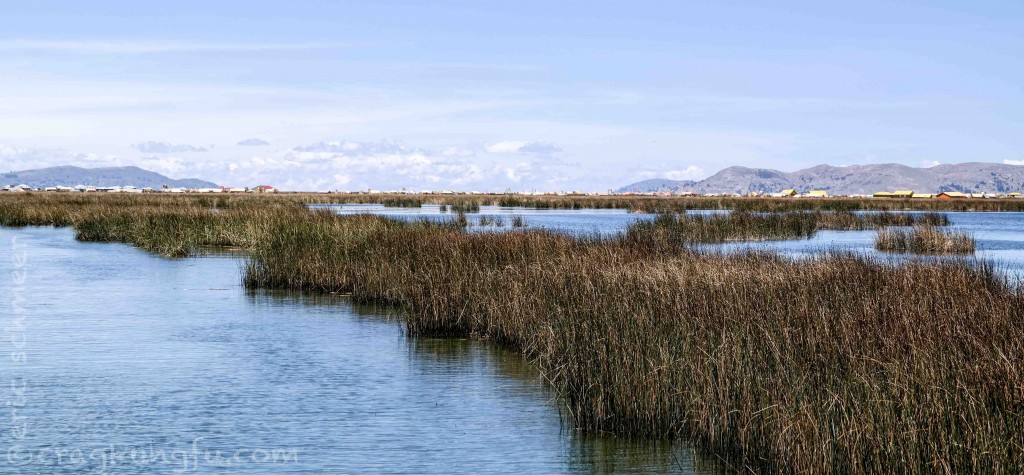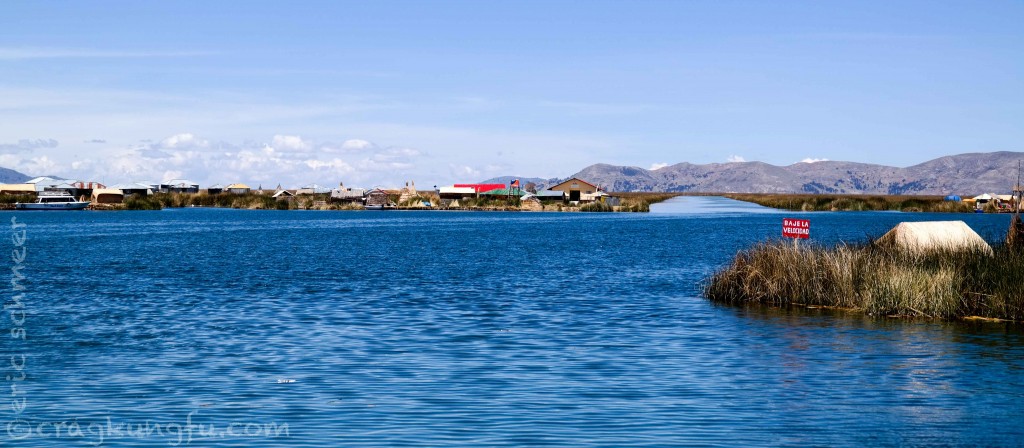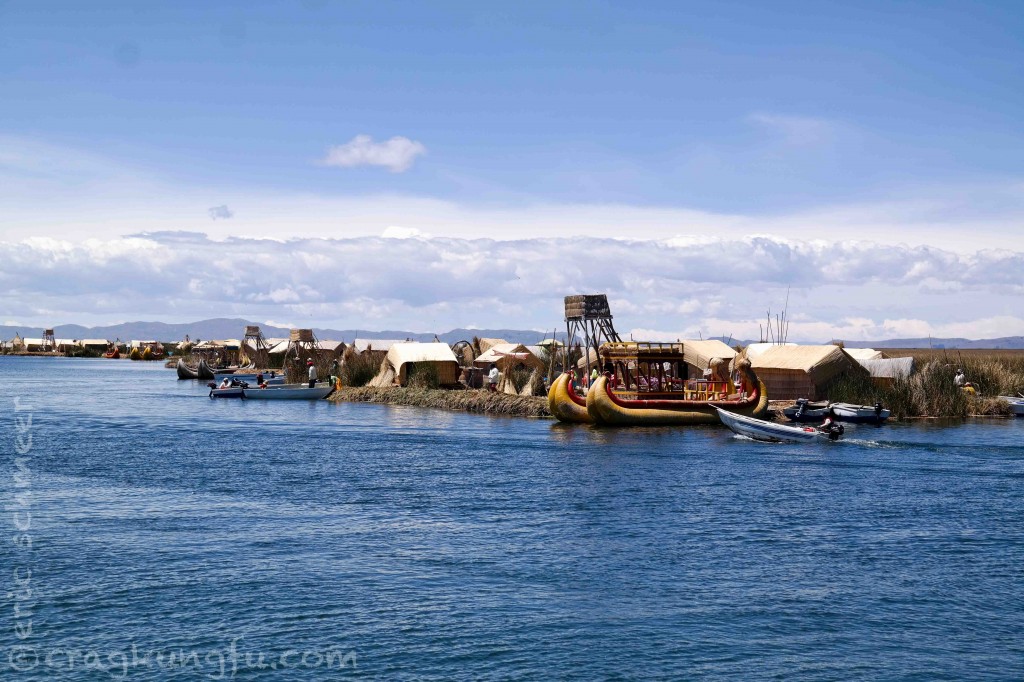 For defensive reasons, the people of Uros took to the lake long ago. Upon our arrival a local girl explained to us all the process by which the islands are continuously constructed. Basically, a new layer of reeds is added to the top as the bottom layers decay and fall away. By removing a series of stakes each island can be relocated which aided in retreat and defense. About 500 people still live on the islands. It's wild to walk around them, reeds squishing under each foot step.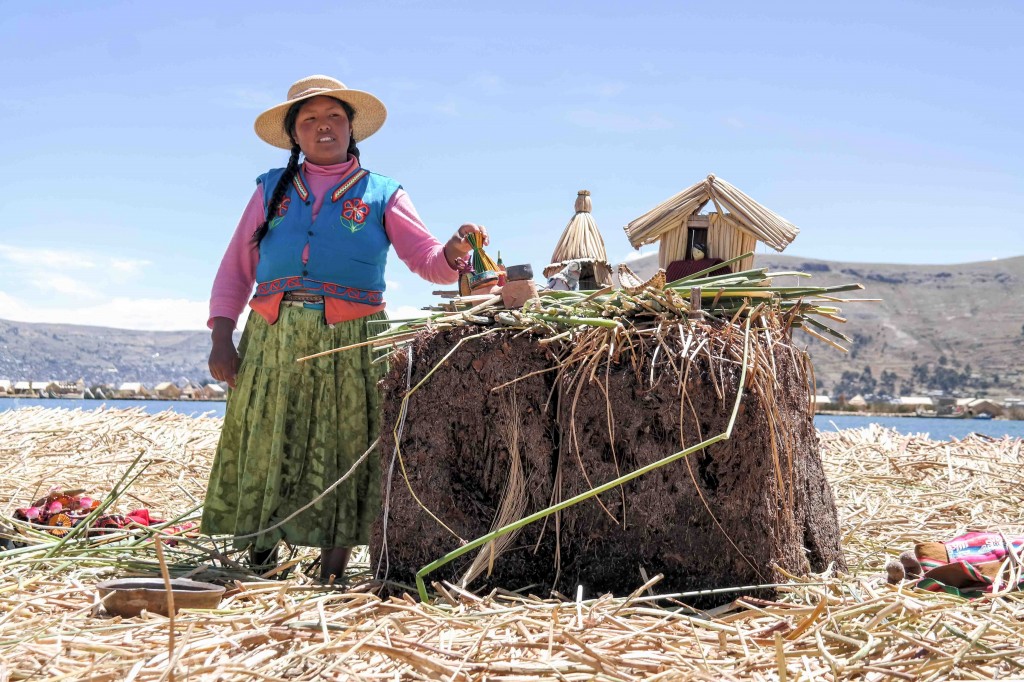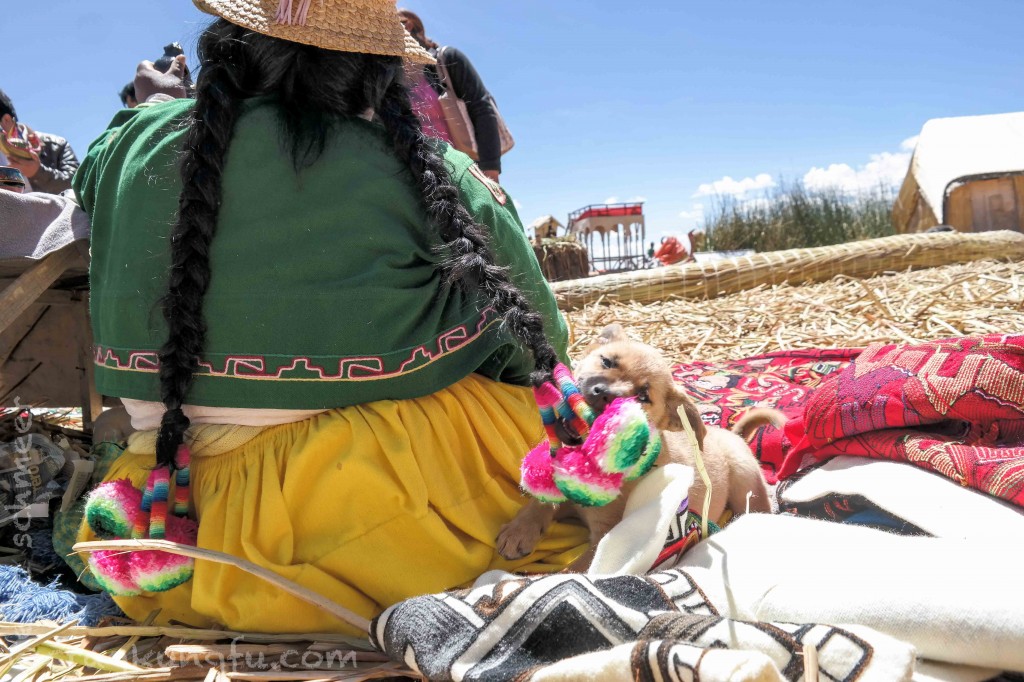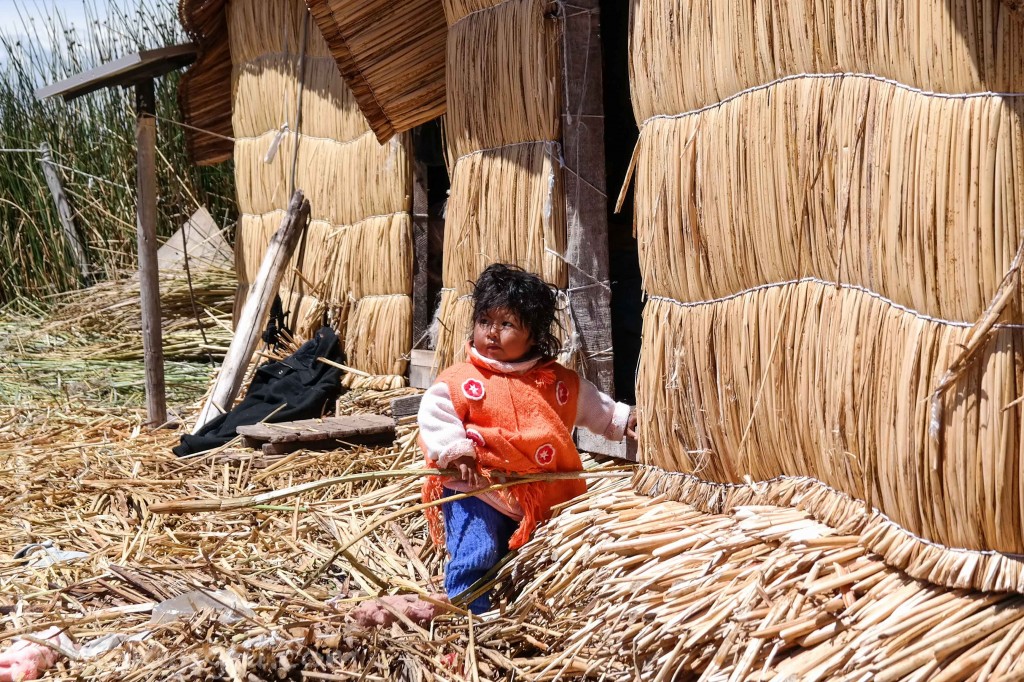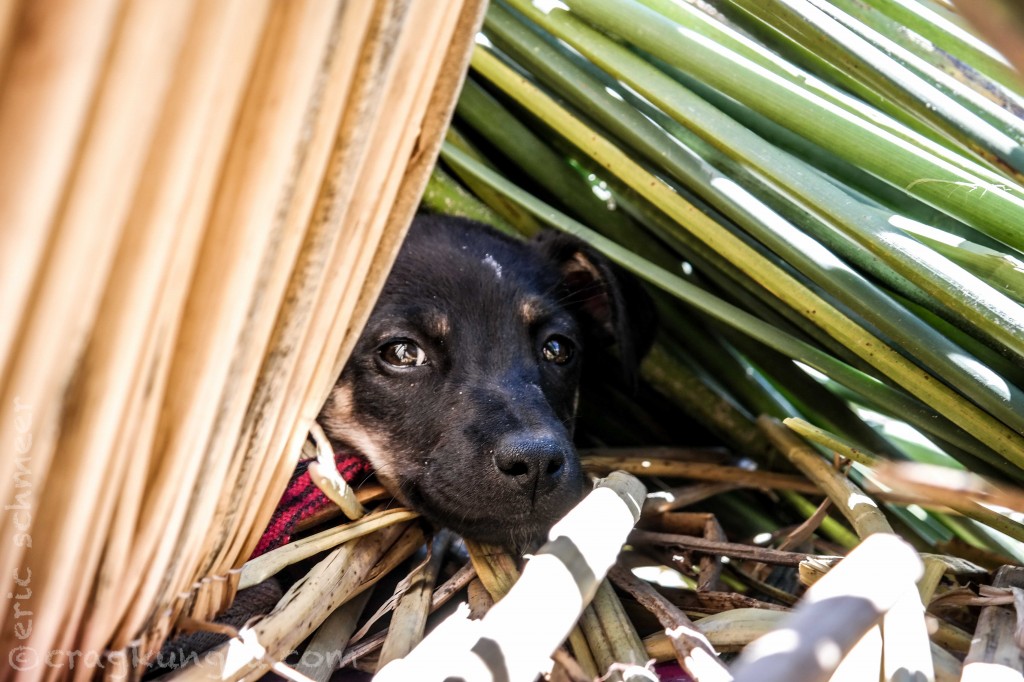 We stealth camped where we were parked that night not wanting to move the van, awoke early, and went searching for a mechanic. Searching for a mechanic can be tricky sometimes as anyone with a wrench in South America will tell you they are a mechanic. I found what appeared to be a competent mechanico and immediately started working my magic in spanish – it was pretty funny but I've come a long way. Fortunately, wheel bearings are common and we were able to get the correct parts for it even in Puno with the exception of a little seal. They had one that was close so, as is typical, the guy fired up his grinder and modified it! Problem solved. I took advantage of the downtime and his shop to change the spark plugs out as well. We even found a bad cable coming from the alternator that was likely responsible for a small timing issue we had been noticing. Bam, the Craggin' Wagon's purring like a overweight kitten again!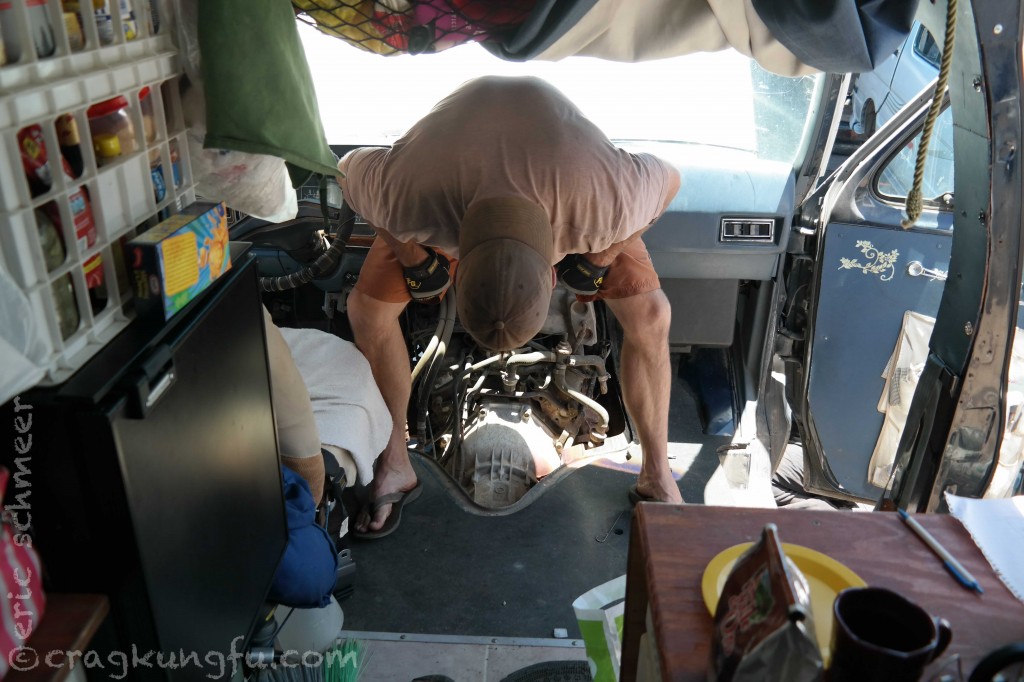 And with that, we motored off to the Bolivian border. Though expensive (US citizens must pay a reciprocity visa fee of $135 p/person), this would turn out to be our fastest border ever. We were completely finished with both sides and into Bolivia in under 30 minutes! The guys at the Bolivian border didn't even stop us or look at our paperwork… Bolivia is a very poor country and has some serious problems. We also learned (by attempting to change it for Bolivianos) that we had some counterfeit Peruvian money! Fortunately it was only 5 Soles and will make for a humorous souvenir at least. Still on the coast of the gigantic Lake Titicaca, we pulled into Copacabana just in time for a beautiful sunset.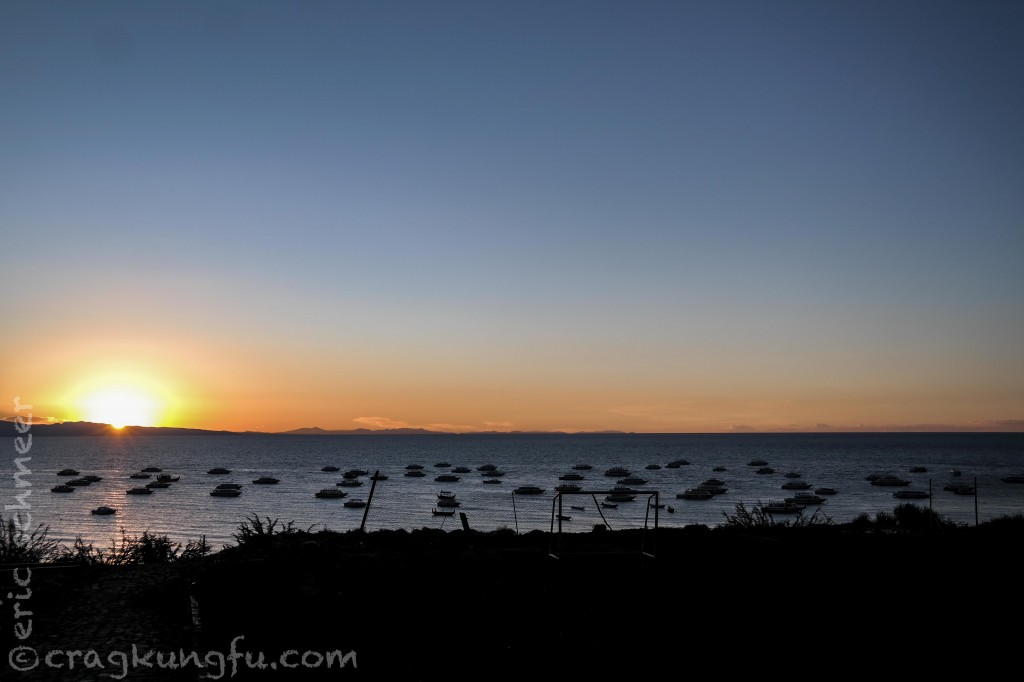 Lake Titicaca is freaking huge! Lake Ontario is about twice the size, but consider that Lake Titicaca is at 12,500 feet! That's enormous for an alpine lake. In fact, it is the highest navigable lake in the world and the largest lake in South America. The altiplano is also a unique environment to be in. The air is thin, the sun is bright, and the UV reflects constantly off such a massive body of water. Hat, sunglasses, and sunscreen are mandatory to simply step out of the van without getting nuked! We jumped a boat (one with an actual boat motor in it, though not much faster or more reliable looking) and cruised over to Isla de Sol for a day. We hiked the length of the island, about 8 kilometers, and enjoyed the mega views of the lake and the Cordillera Real off in the distance.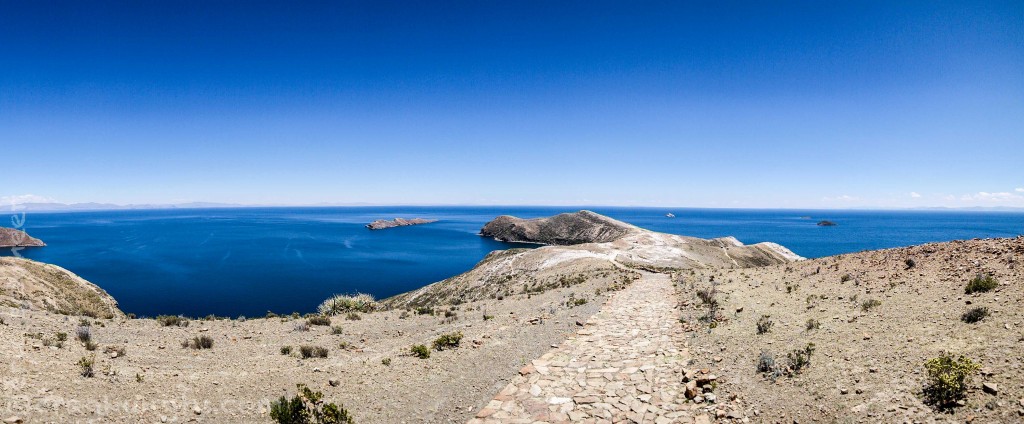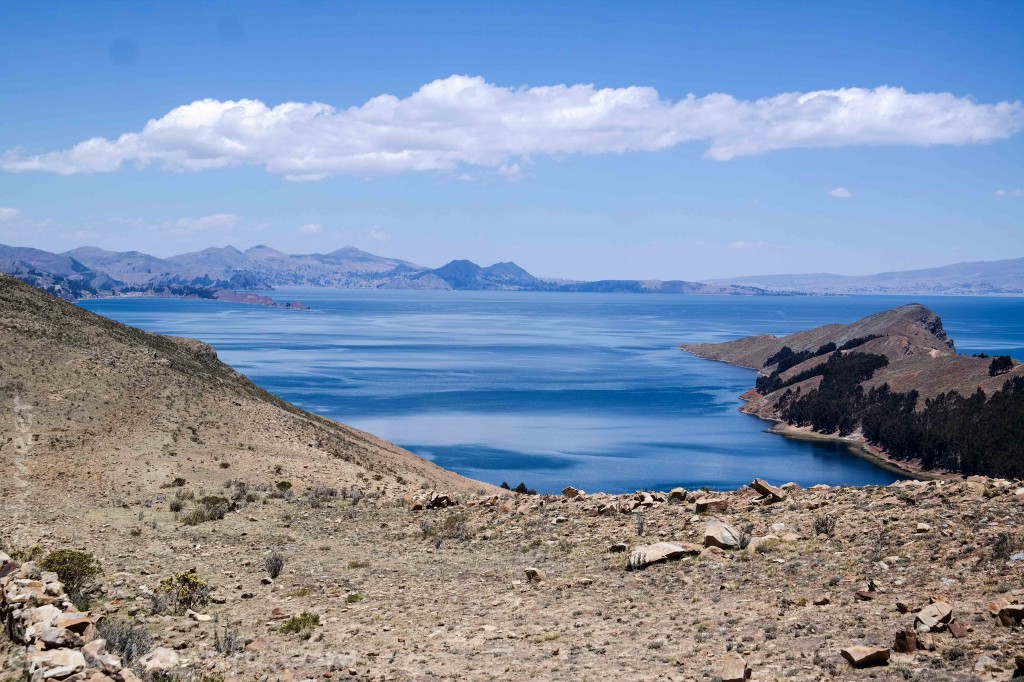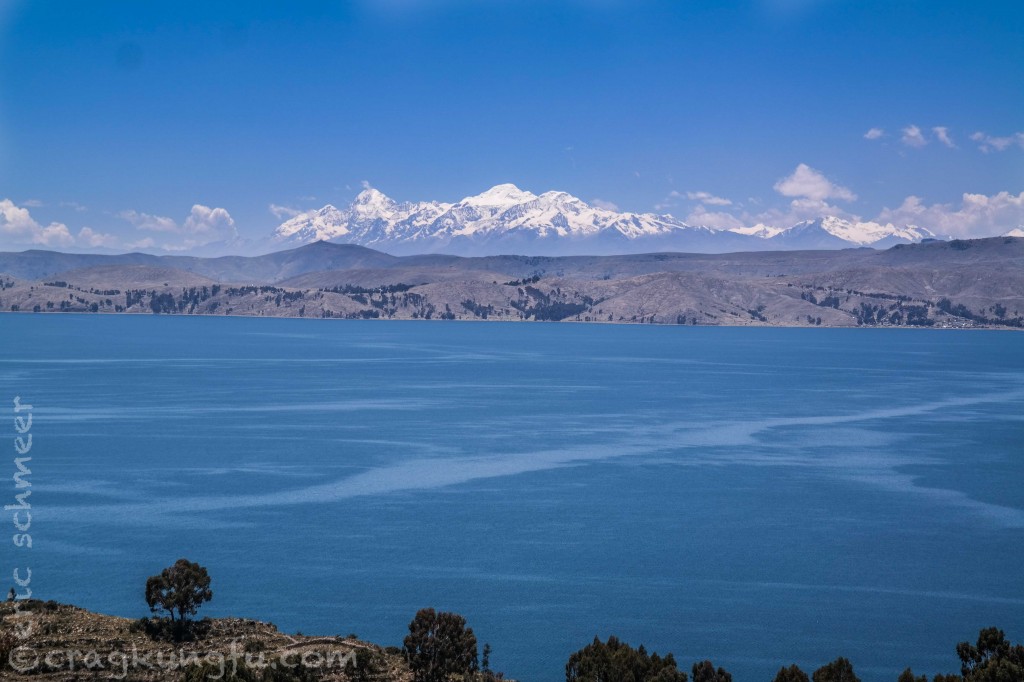 While Copacabana is nice, it's a little touristy. We hit the road for La Paz and after another amusing "boat" experience we had ferried across Titicaca without sinking. Awesome. After a few hours we rolled into La Paz and were immediately pulled over in a speed trap of sorts. The cop tried to confiscate my driver's license and it became clear very quickly that all of our problems would go away for a price. I wouldn't even talk about money with the guy until my license was back in my hand. From there the asking price was $200 B. HA! Fat chance. Now in the beginning of our trip I would have sat there looking dumb and (honestly) not understanding a word. After a while the cop would probably have given up and let us go. But we're seasoned overlanders now, and I understand a great deal of spanish as well. A perfect example of opportunity cost: argue with the guy and sit there forever, or just offer him 20 B and be on our way? Well, after offering 20 B and explaining that he could take it or leave it, we were indeed on our way. That's less than $3 US. Welcome to Bolivia!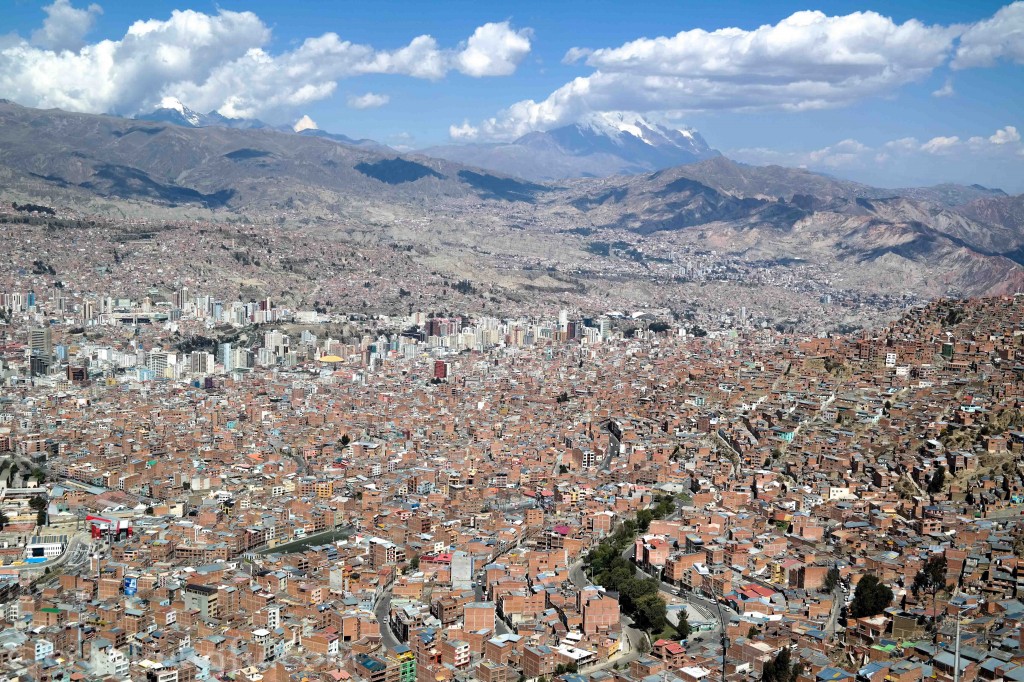 Now we're camped at a killer spot just south of the main city eating Llama steaks! Should be a nice place to relax for a bit, absorb what will likely be the last good internet connection we'll have for the remainder of the country, and explore the dangerous and gritty Bolivian capital. For only having been on the road again for a week, I'd say it's been pretty wild!
Up next we'll be checking out the largest salt flat in the world and attempting one of the craziest, most remote drives yet out of Bolivia into Chile – stay tuned! BOOM!
(Views: 457)