The meat sweats. A joyous, sometimes unintentional consequence of awesomeness? A higher state of protein infused enlightenment? A rare and prestigious achievement of compulsive hyper consumption? In my eyes the meat sweats encompass all of that and more. One thing is for certain, the meat sweats have been a plentiful occurrence in Mendoza. But first, just how did we get to Argentina – this wine soaked mystical steak heaven? Well, it's an oil burning, wallet busting story, but it's a story worth telling nonetheless. I mean, how often does one get to drive a campfire van named Bertha over the Chilean Andes?!
It was along the coast of Chile that the Craggin' Wagon first hinted at heart disease, and it was in Valparaiso that the first open heart surgery was recommended. The problem, of course, is that like the countries prior to Chile, no one has parts for ginormous, old, Ford engines just laying around. And so it went that we would rely on the safety net of American excess to limp on a mere 7 cylinders over the Andes and into Argentina – a virtual South American cache of well maintained antique cars from around the world.
When a piston doesn't form a perfect seal within the cylinder a couple of "interesting" things happen. First, you lose some power. When the explosion that occurs within the cylinder has more than one avenue in which it can escape, the laws of classic physics become obvious as well as annoying. Secondly, that same newly formed path not only allows for an impromptu exit of things within, but also provides a handy entrance for things on the outs to enter – namely, oil. Oh sweet, sweet dino residue; the protein shake of modern civilization… how you burn when you stomp on someone else's turf.
And it was those "interesting" things that make metaphors like "driving a campfire" come to life. See, in a van as old as ours, you don't really have what you could call an isolated interior environment. Normally this isn't an issue whatsoever, but once you light a campfire de oil outside of the normal paths to the exhaust (or in espanol: tubo de escapo), well, you might as well have Cheech and Chong riding shotgun minus the happy ending.
To avoid stress and any unnecessary further damage to the engine, we drove the remaining 200km over the Andes to Mendoza in slow, shorts legs. With the exception of the smoke and looming repair bill, it was a very beautiful, pleasant 5 day drive.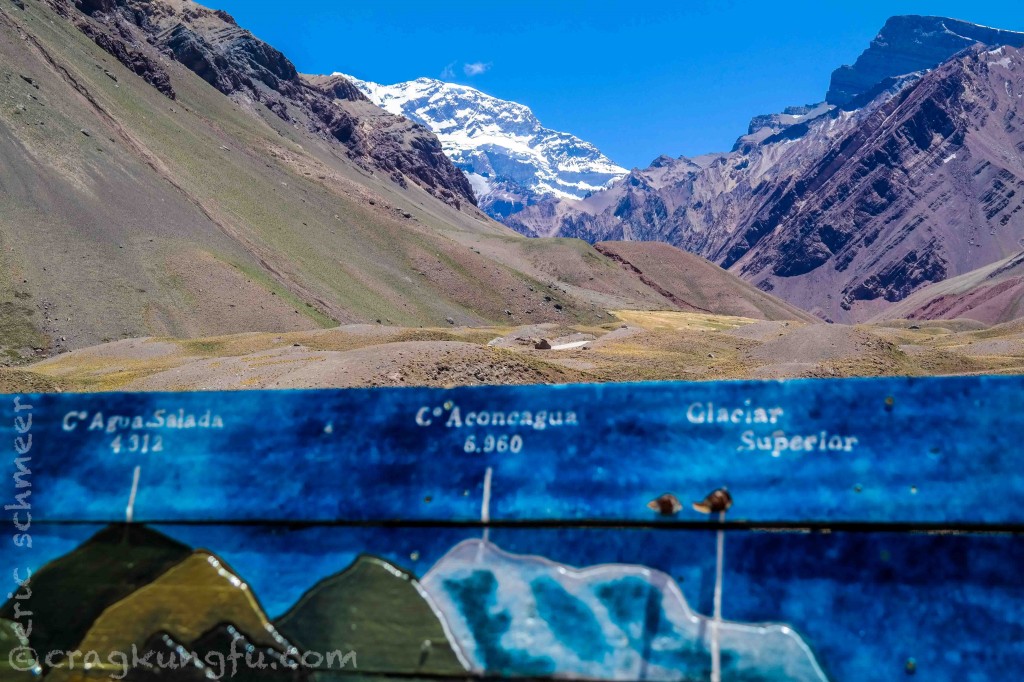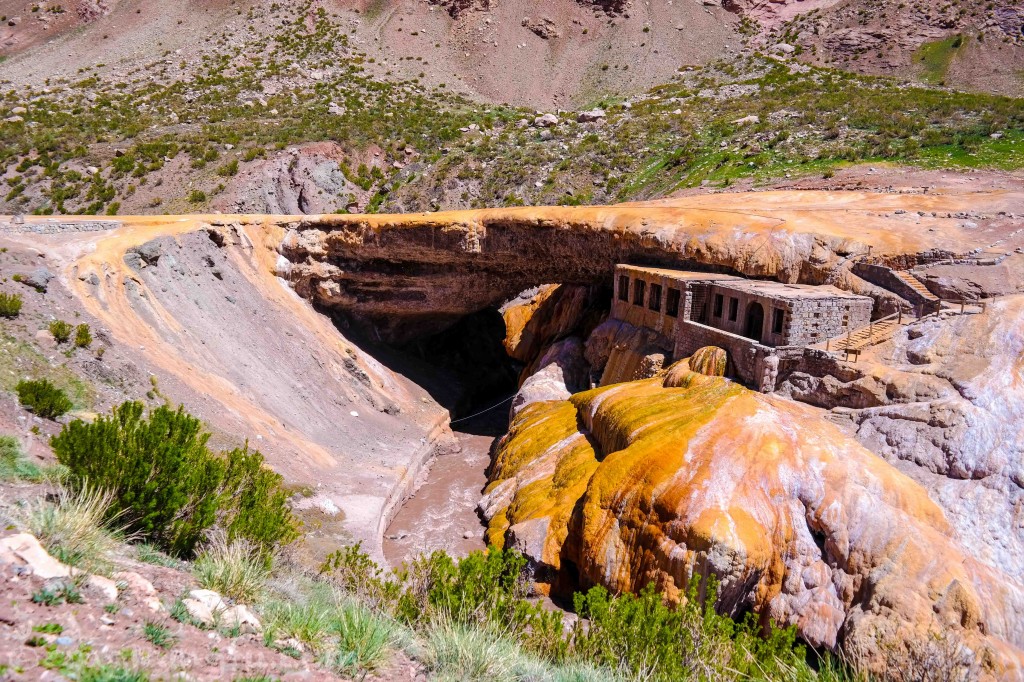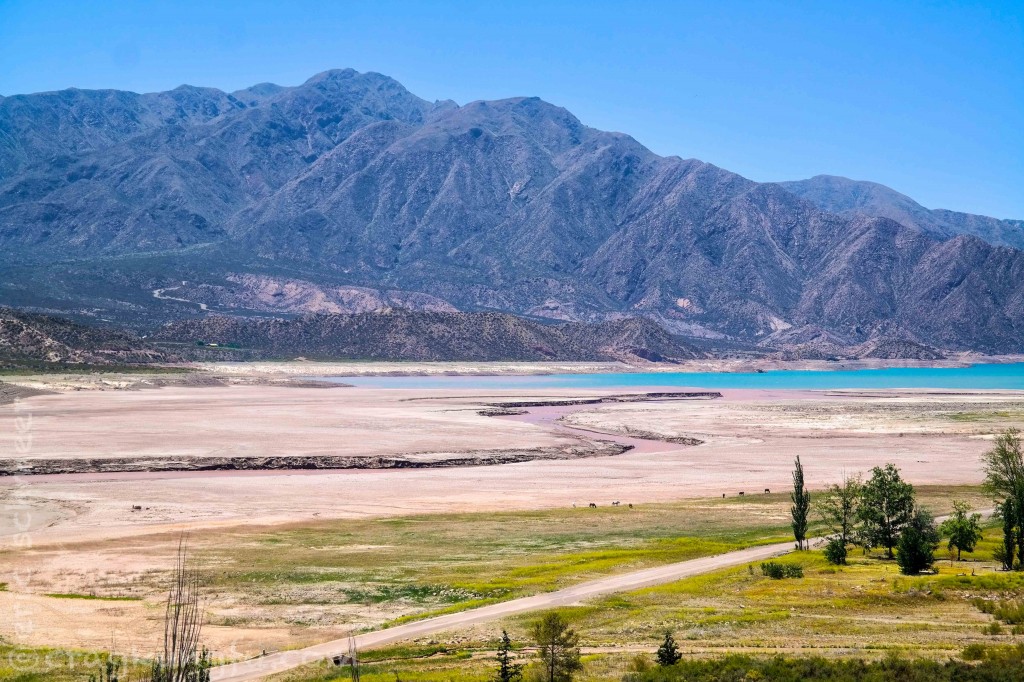 And wouldn't you know it, we rolled into the vino-flooded steakosphere that is Mendoza exactly one year to the day since departing from our beloved, distant Denver. A rendezvous with our excellent globe trotting amigos Clayton & Jenny promptly ensued, as did our introduction to incredible cheap vino, the infamous meat sweats, and a wildly entertaining culture… oh Argentina, your gesturing is top notch.
So you think you can fudge your way around with Spanish? Then let me introduce you to Argentinian Spanish. Good luck! It is very different than what we're used to. Tons of slang, different sounds for certain letters, and gestures… oh the gestures. I can speak better Argentinian Spanish with my hands than I can my mouth. This video will be a lot funnier if you've ever been here or speak Spanish – it's really not too far off the mark and this Dustin guy is a riot.
I can only describe the next couple weeks as a hodgepodge of mechanic wrangling, rock climbing, black market money exchanges, and vino fueled carne delirium. At times I feel as if there is an unstoppable force propelling us towards an inescapable future. Despite stumbling here and there, the ducks continue to line up; our inevitable destination seems like it is creeping towards us rather than vice versa.
After numerous phone calls, internet searches, and random appearances at various mechanic and machine shops I was directed to Pablo's shop. Pablo, it turns out, is a mechanic with skill and honesty of such a caliber that you'd be lucky to find him in a lifetime of car repairs… at home where you speak the language let alone in the middle of Argentina. Score for us!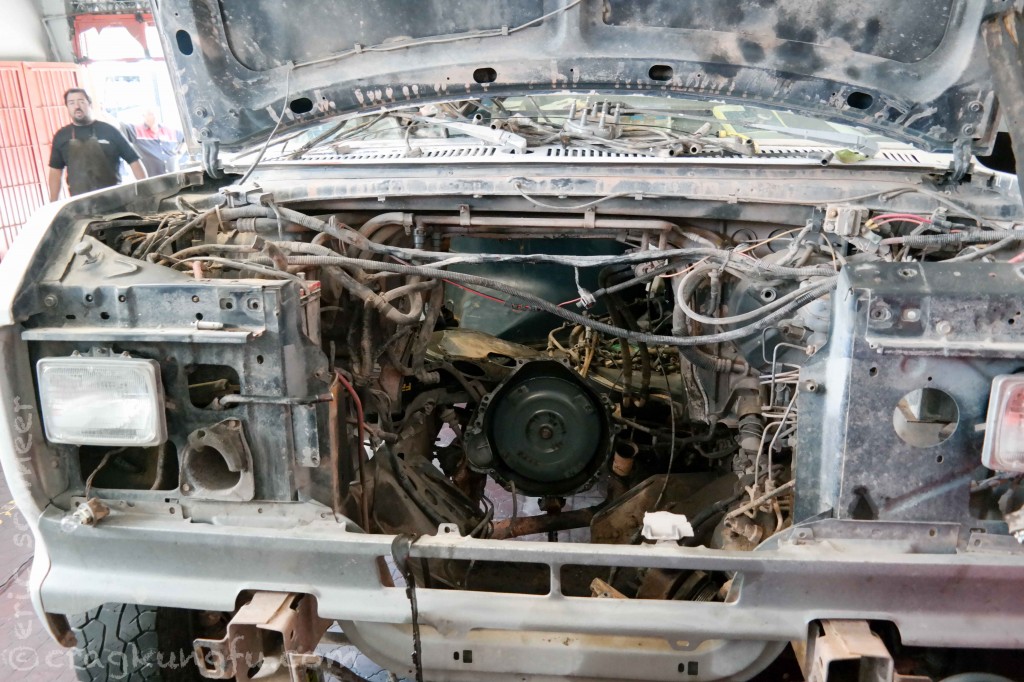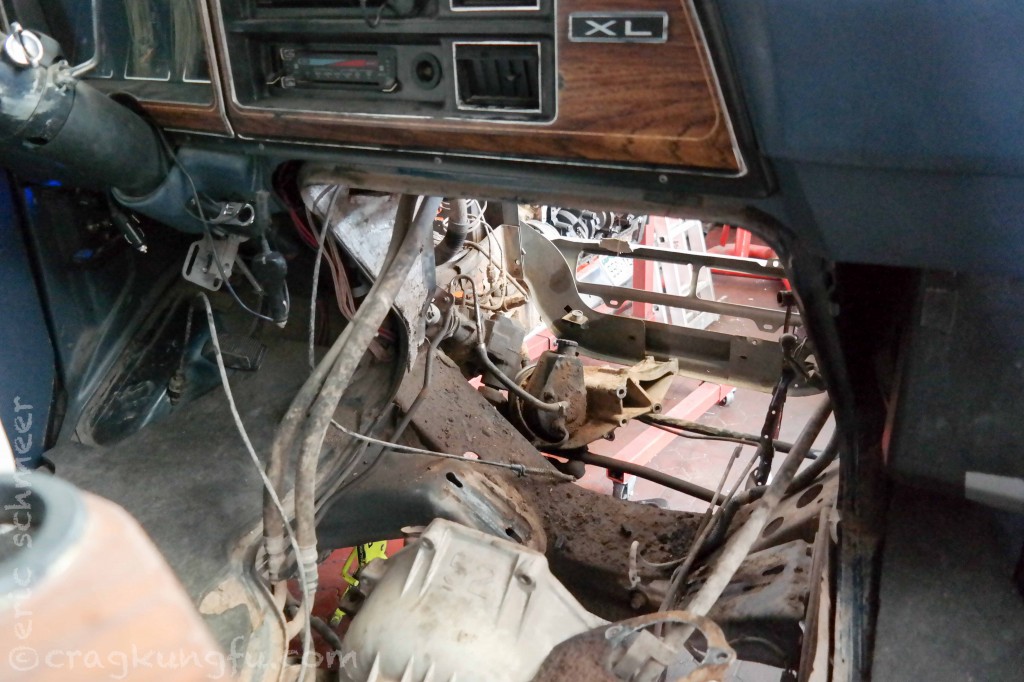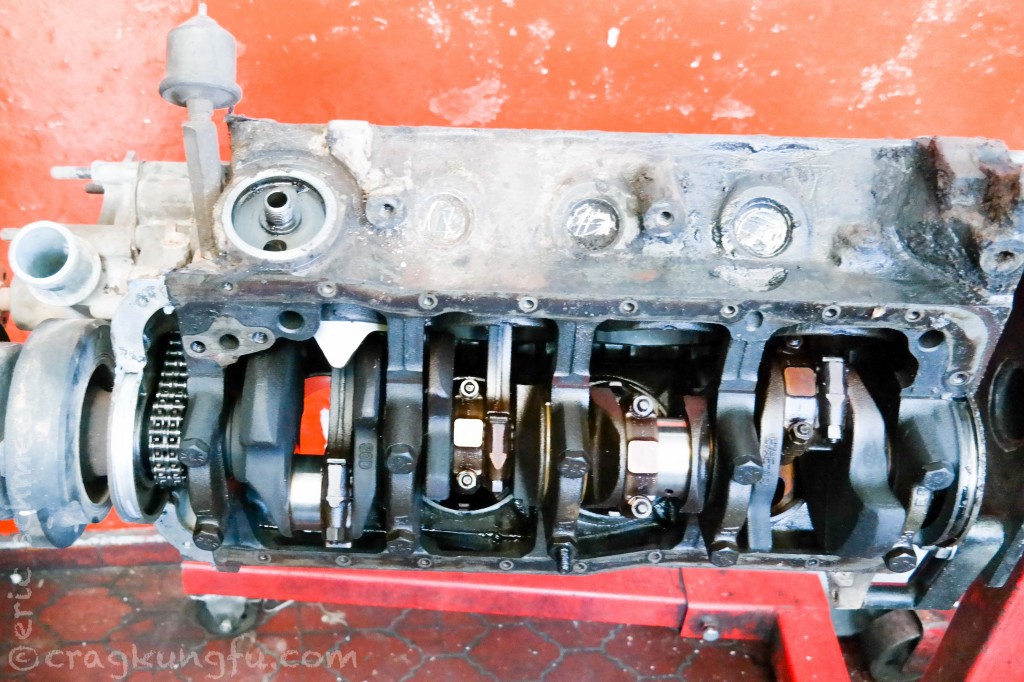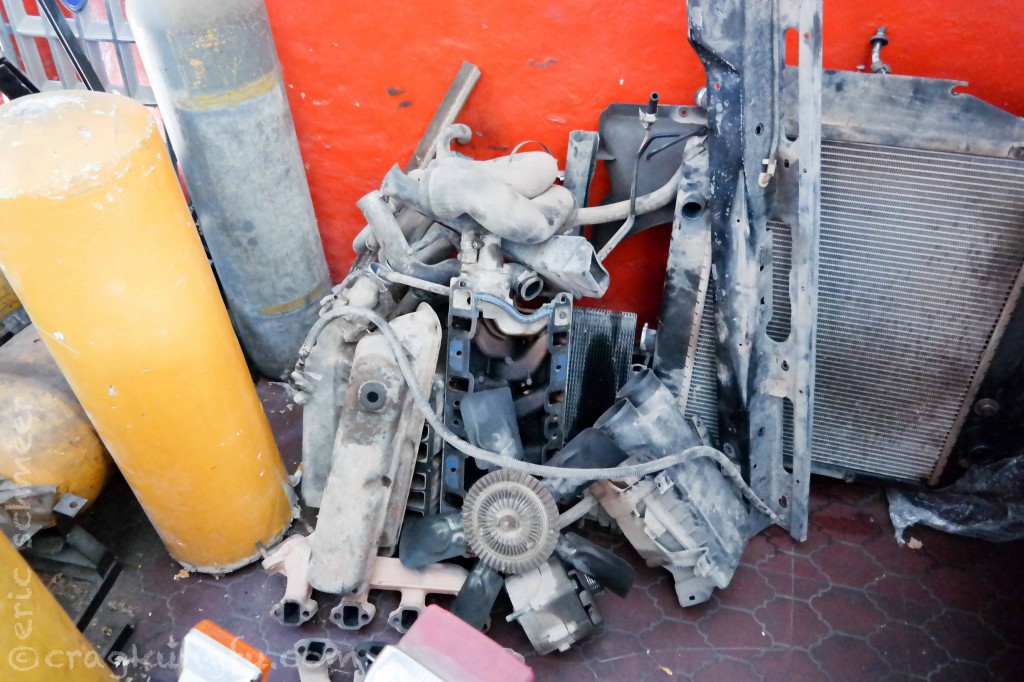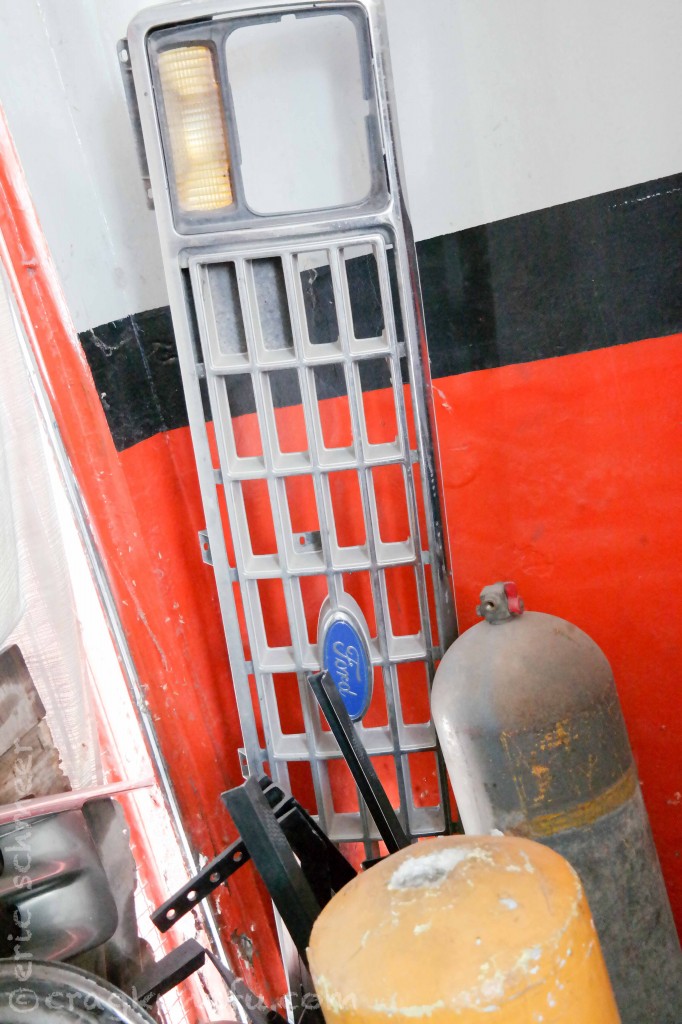 So with the van in safe and competent hands the Coloradans set out to sample the local geology – and boy, we were not disappointed! Jenny, Niccole, and I climbed a 700 foot 9+ on our first day in Arenales while Clayton teamed up with Guilermo, a new local friend, to climb something as ridiculously hard as it was heinously awesome. Here's a few pics from day 1 on the rock.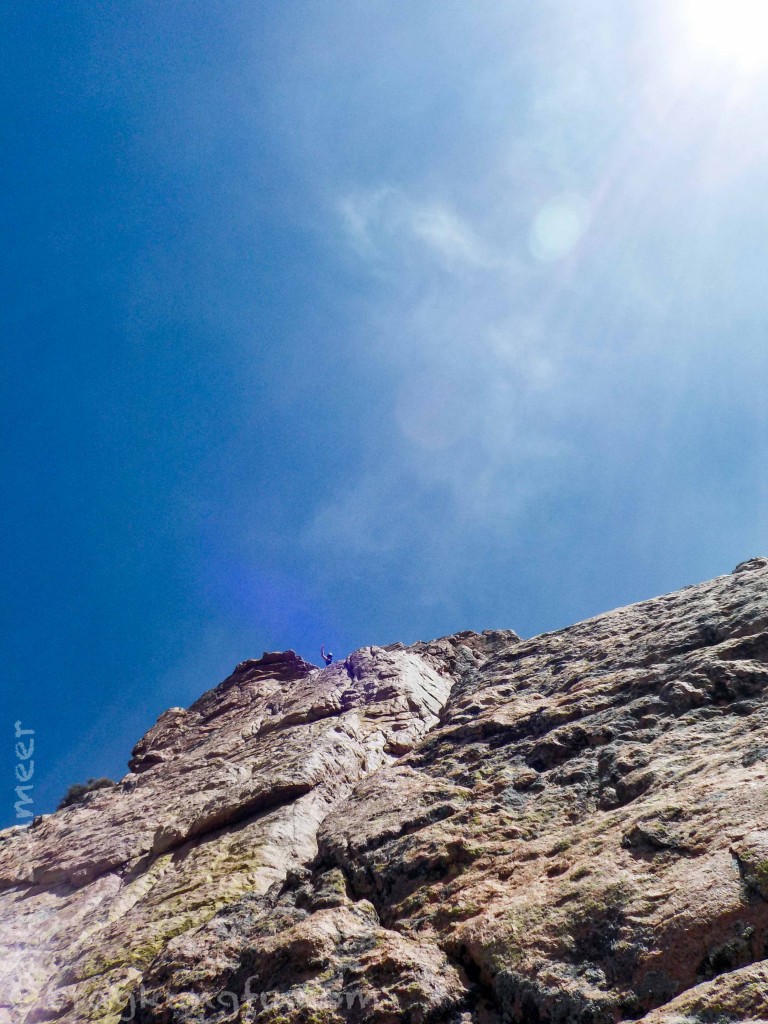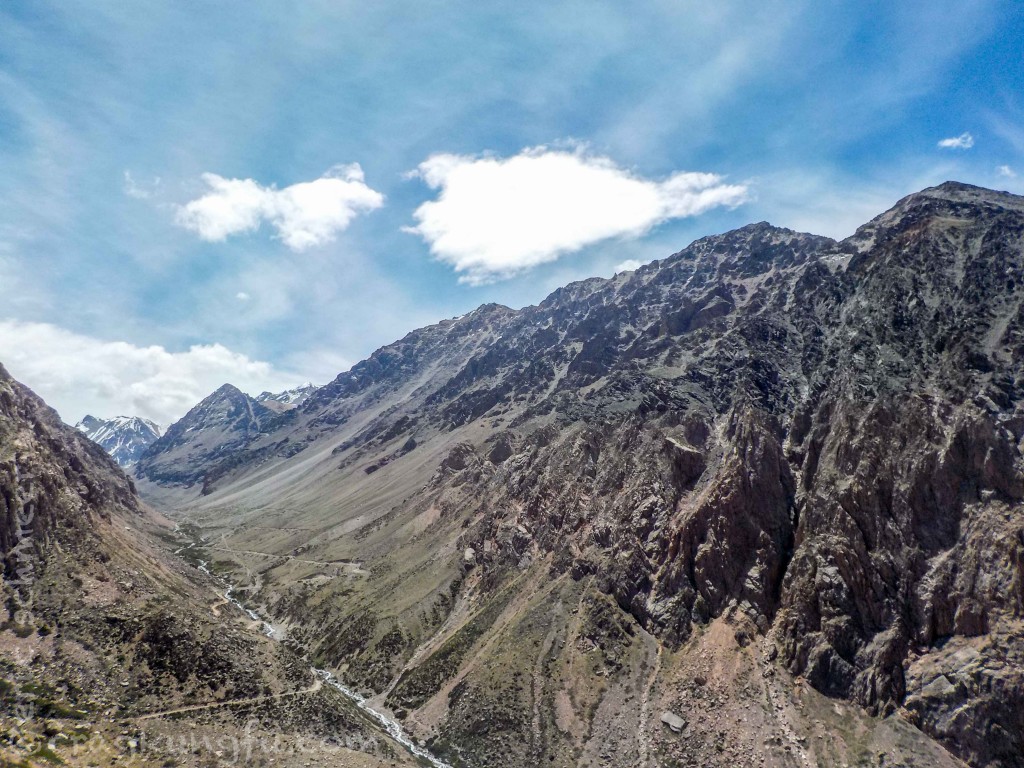 Clayton and I also teamed up on Thanksgiving day to run up Cohete. It was big, long, and a touch harder than I would typically venture onto without such an awesome partner. It was a pleasure roping up for a long day and the climb was everything you would expect from a big alpine route. Mejor No Hablar de Ciertas Cosas (Better Not to Speak of Certain Things) goes at 10+ and is 1,600 feet tall ticking in at around 16 pitches. Happy Thanksgiving people!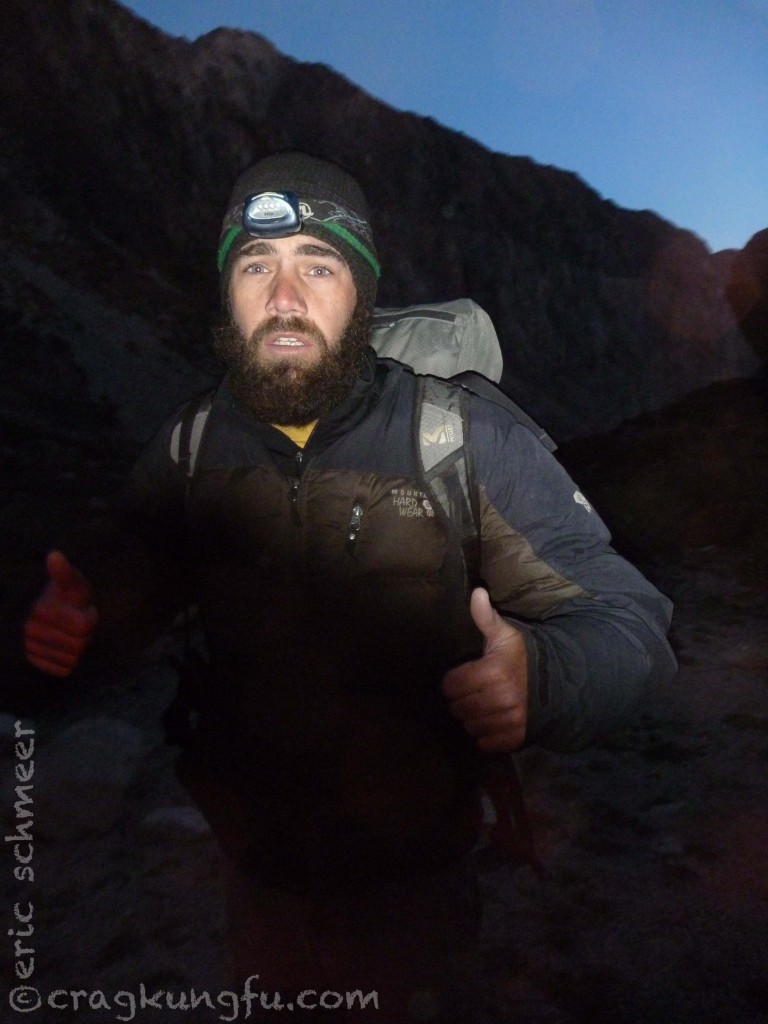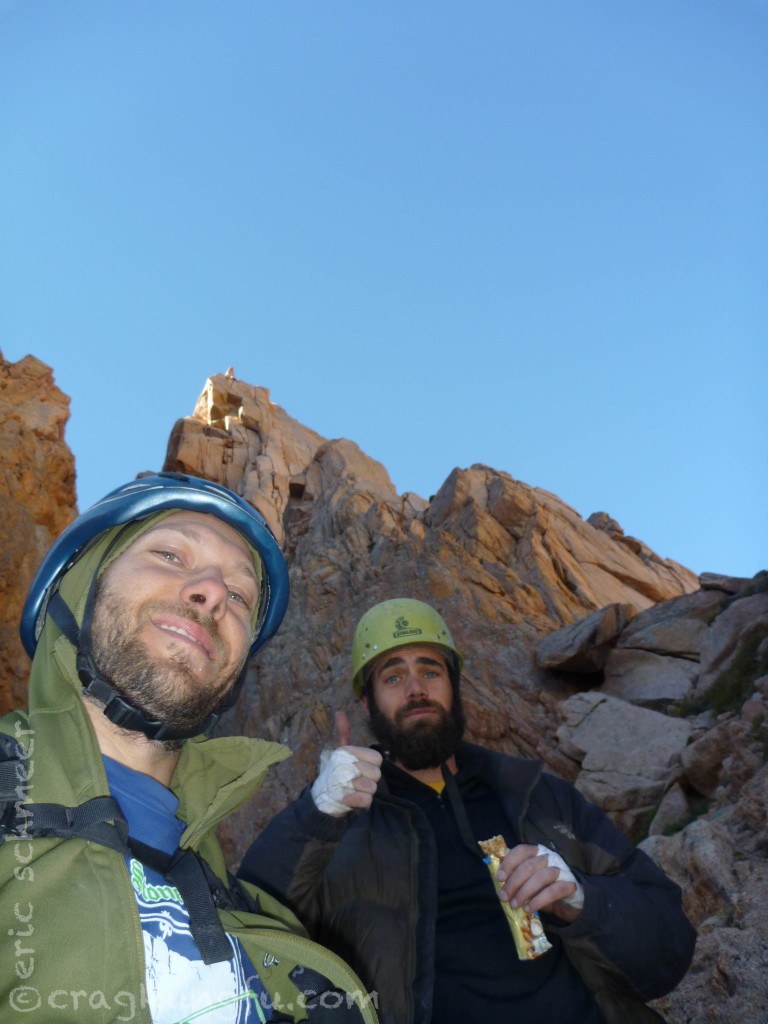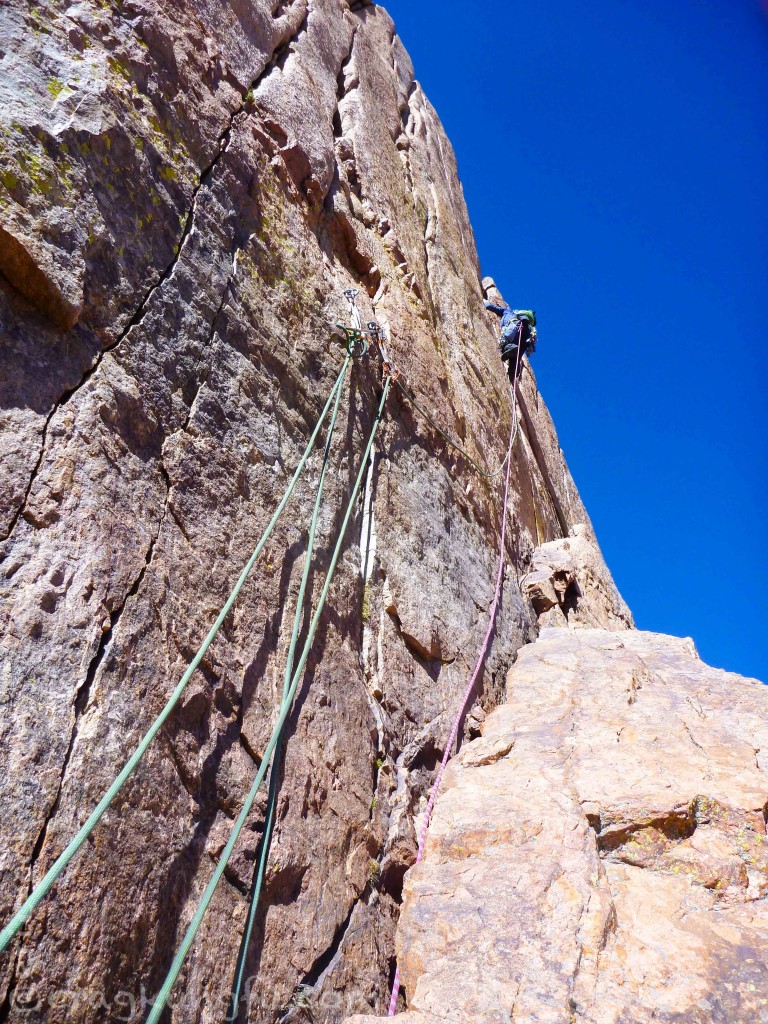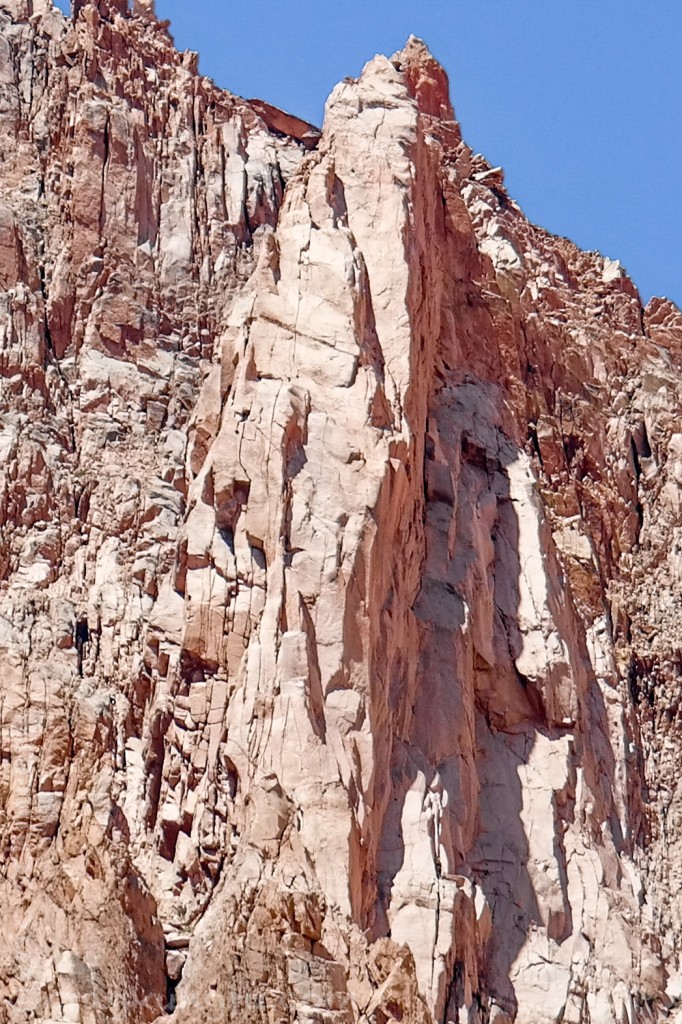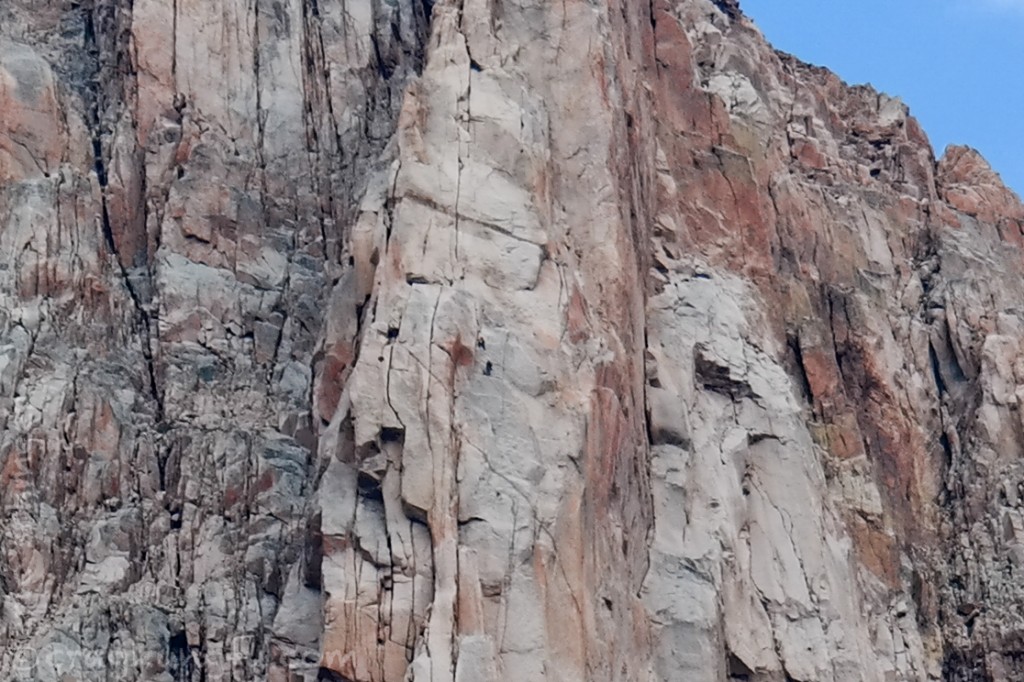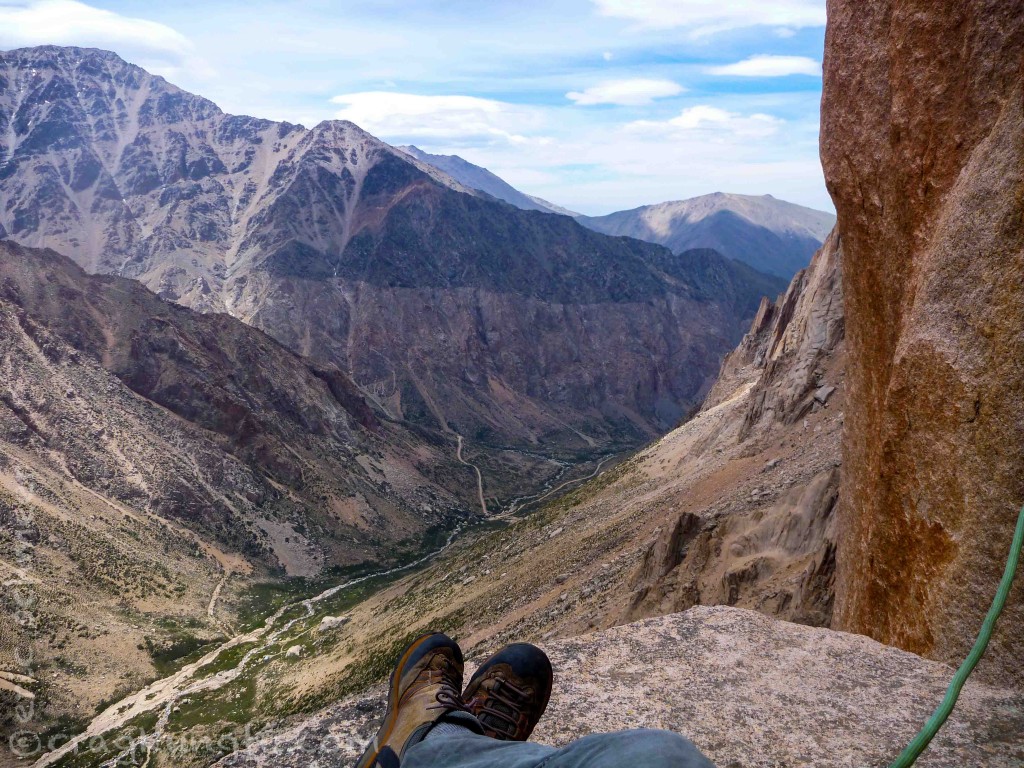 The camping experience at the climbers refugio was top notch as well. Despite weather moving in and forcing an early return to Mendoza, it was a epic place to hangout and play with the local fox!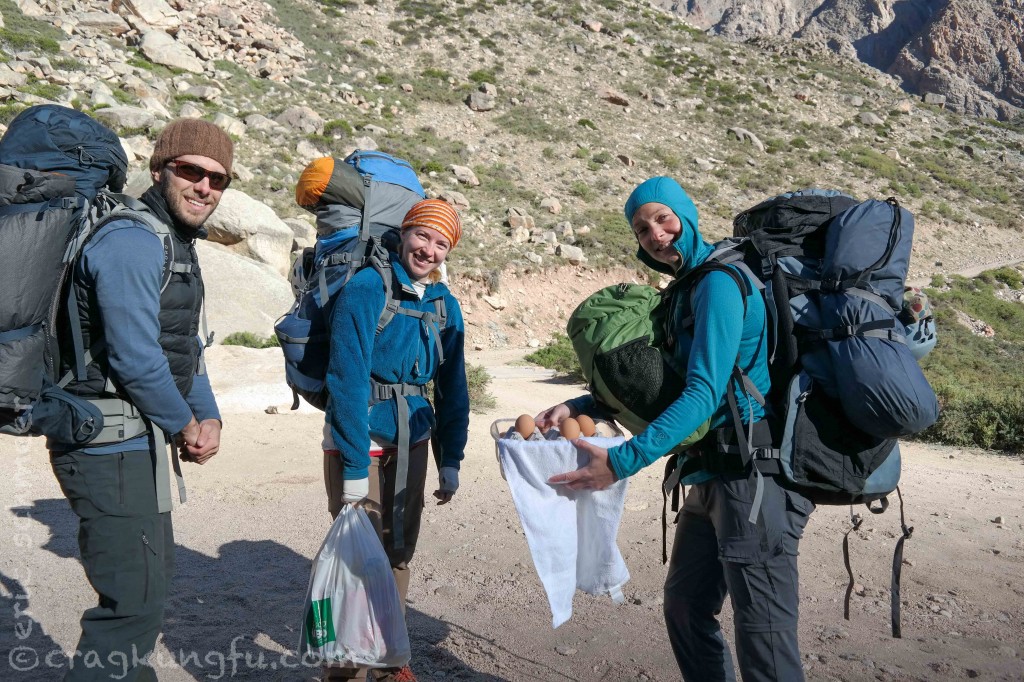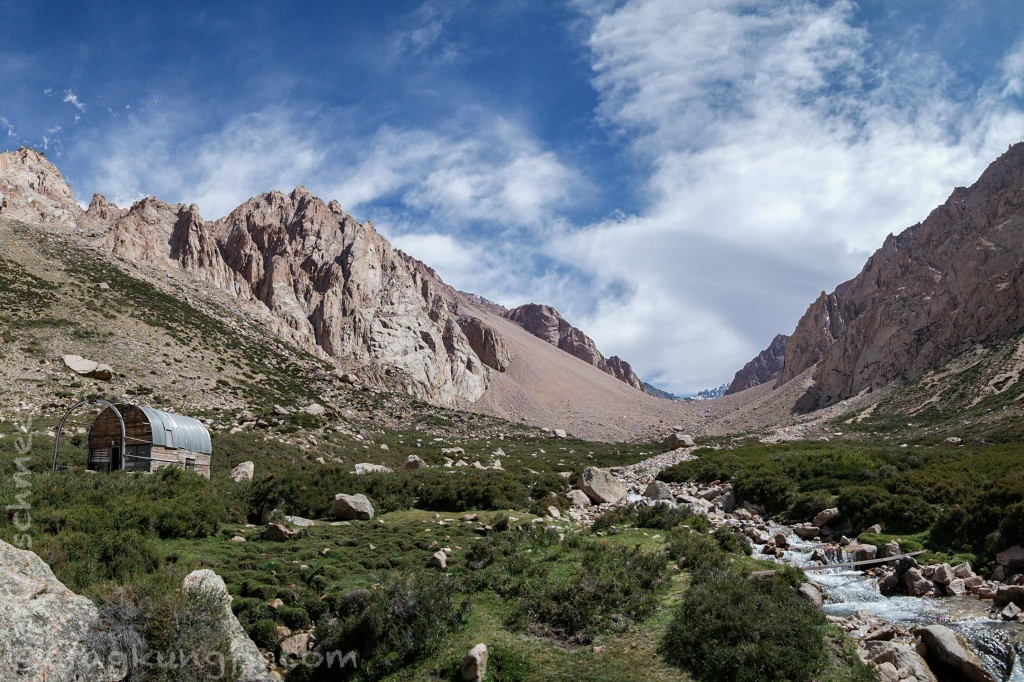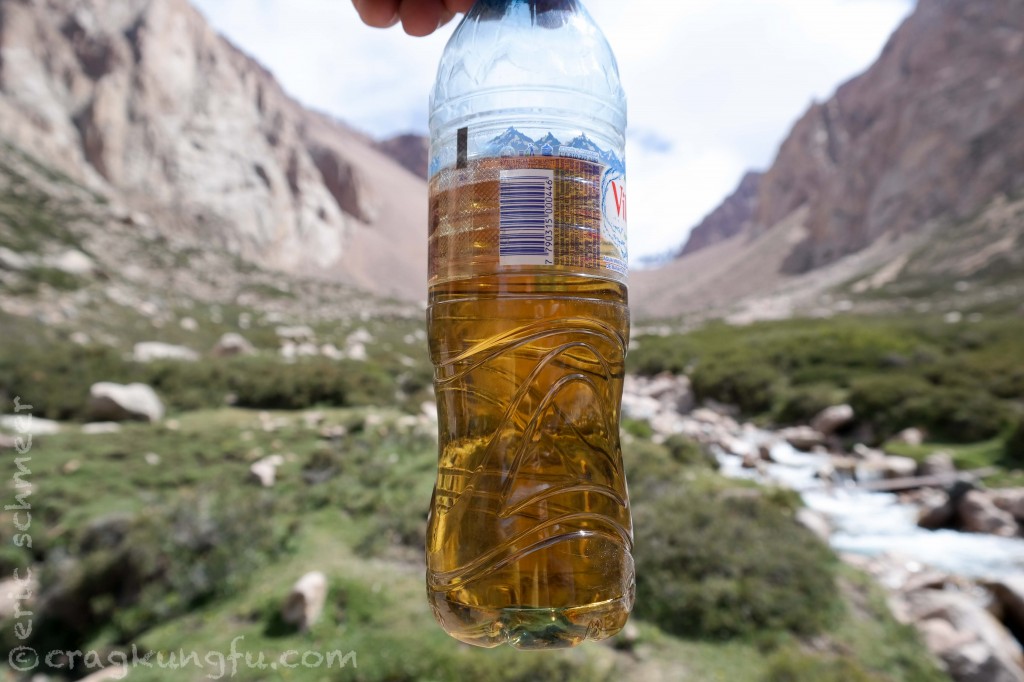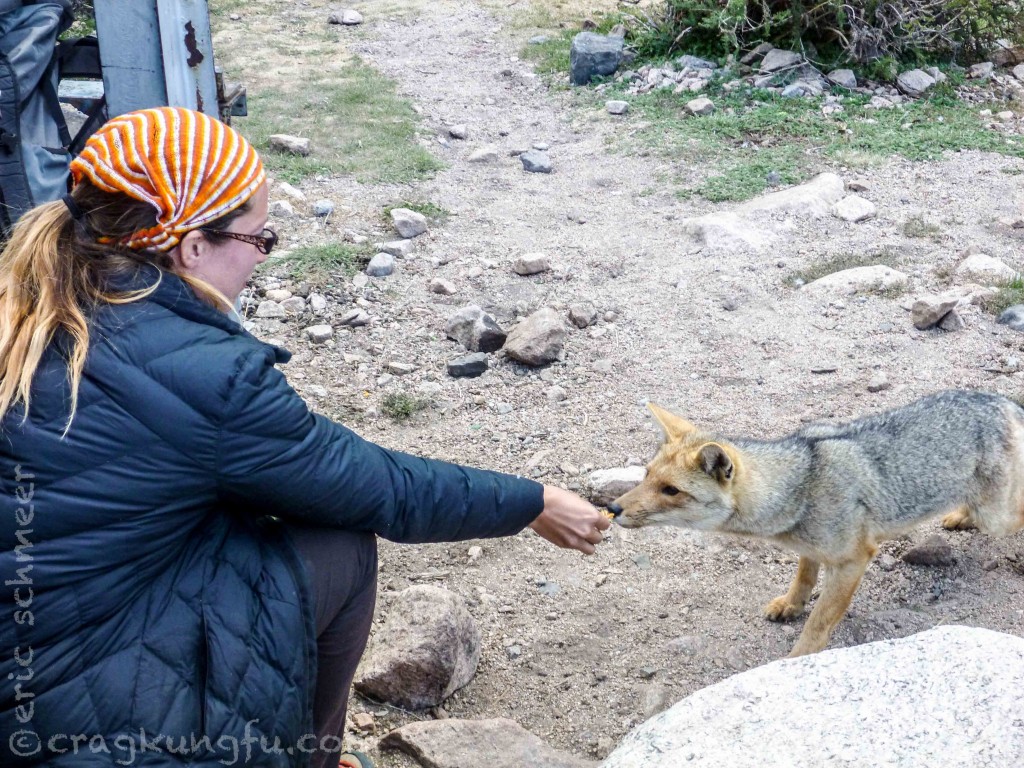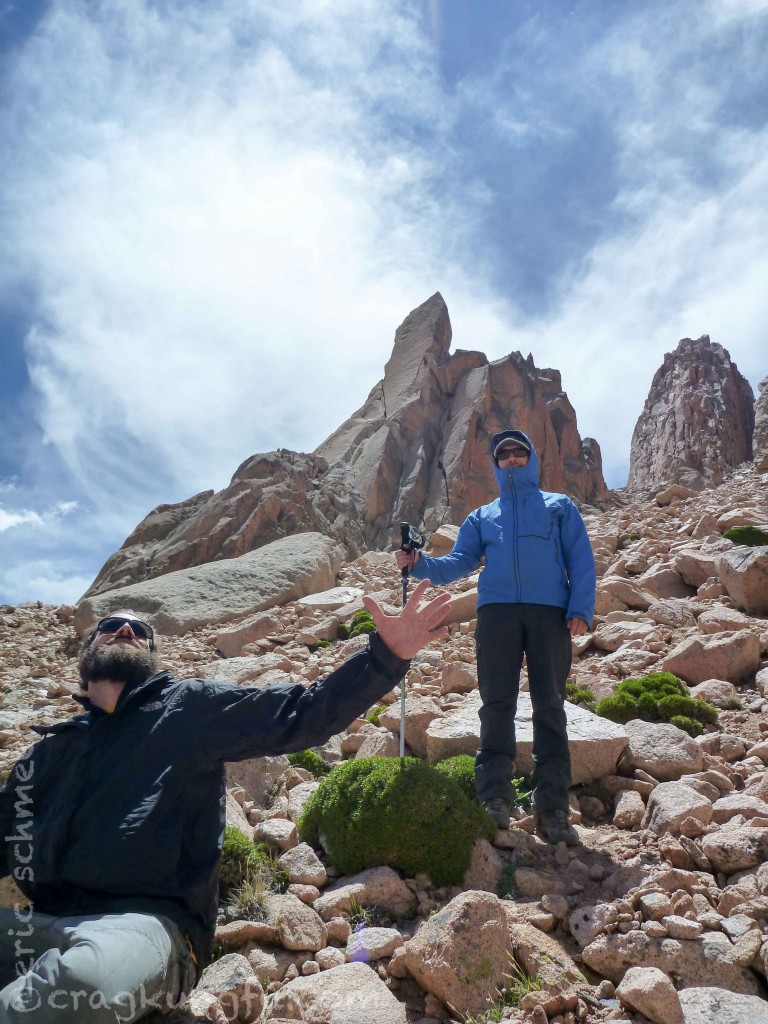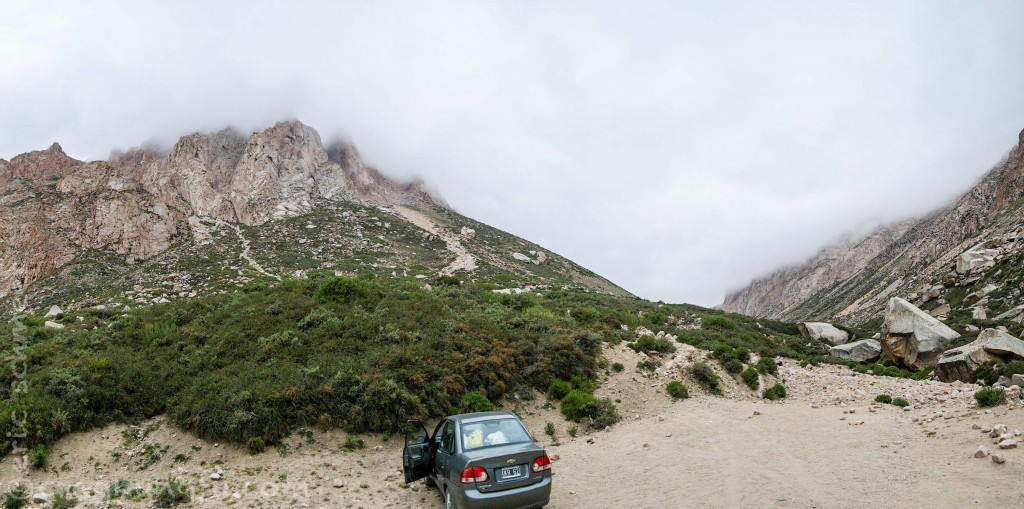 More climbing, more wine, more meat, and more good times was the theme. We truly had our way with Mendoza. Oh, and did I mention the currency dealings? While a true bummer for the Argentinians, the money dilemma here makes the American dollar go a lot, lot further. With a government apparently composed of crooks and nitwits (sound familiar?), the peso here is subject to skyrocketing inflation and constant instability. Because of the peso's imminent doom, the dollar has become the medium of choice for storing futures. The official exchange rate, currently, is around 8.5 pesos to the dollar. In reality, if you have crispy, new 100s with you from The States, you simply hit the blue market with them and receive a whopping ~13 to the dollar instead. Depending on the day and how the deal went, you're looking at a minimum of 40% return. That's a lot of extra money to spend while you're here. And facing a mechanic bill I don't even want to speak about, we took full advantage including a back office, backpack filling excursion equipped with money counting machines and multi-account wire transfers no less! Boom, playing the game: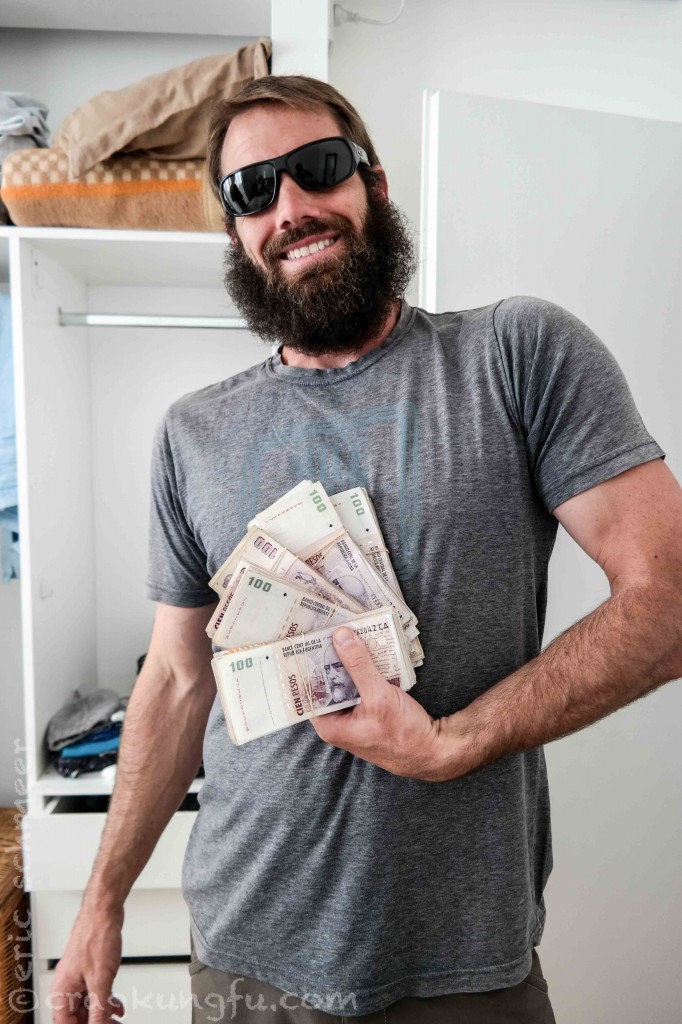 Before getting the van back we would eat countless steaks, burgers, and other meaty delicacies. A fillet mignon can cost as little as $5 (in a restaurant!!!) and a bottle of quality wine will clock in around $3 US at any corner store. Hence the all new meat and wine diet – it simply exudes awesomeness… and of course occasionally leads to a case of the infamous meat sweats.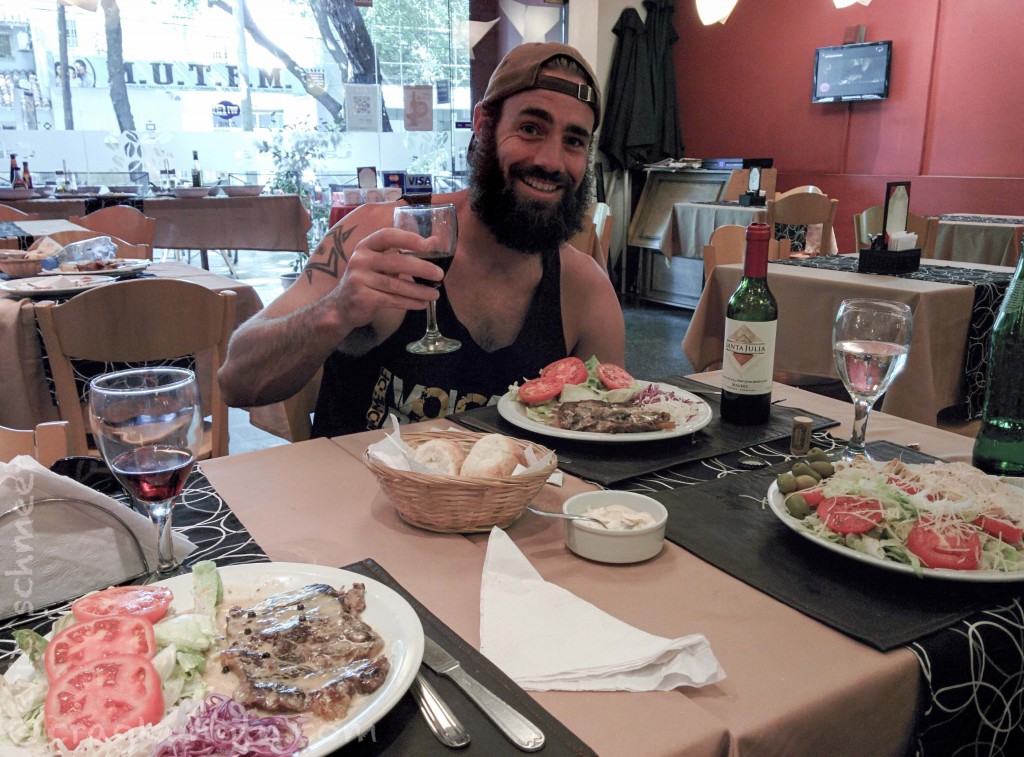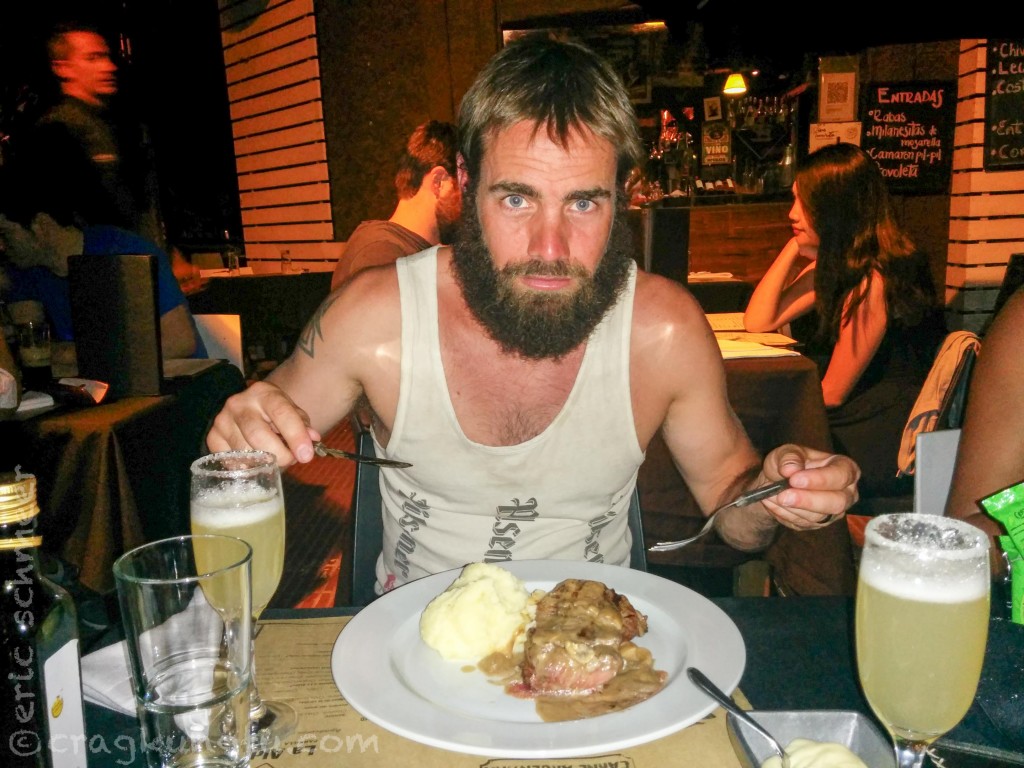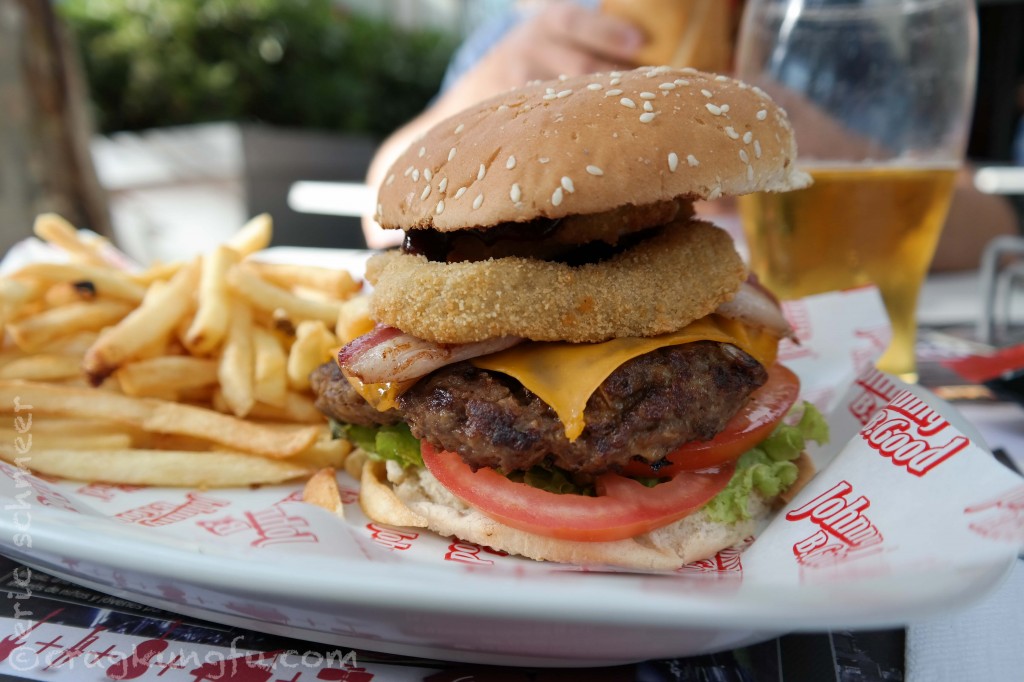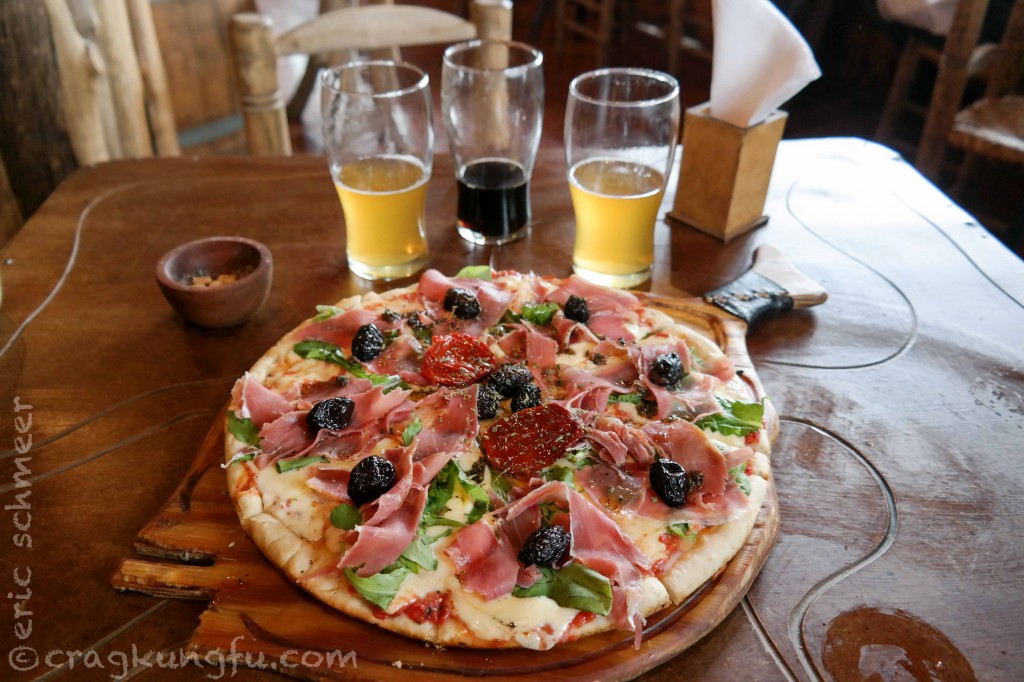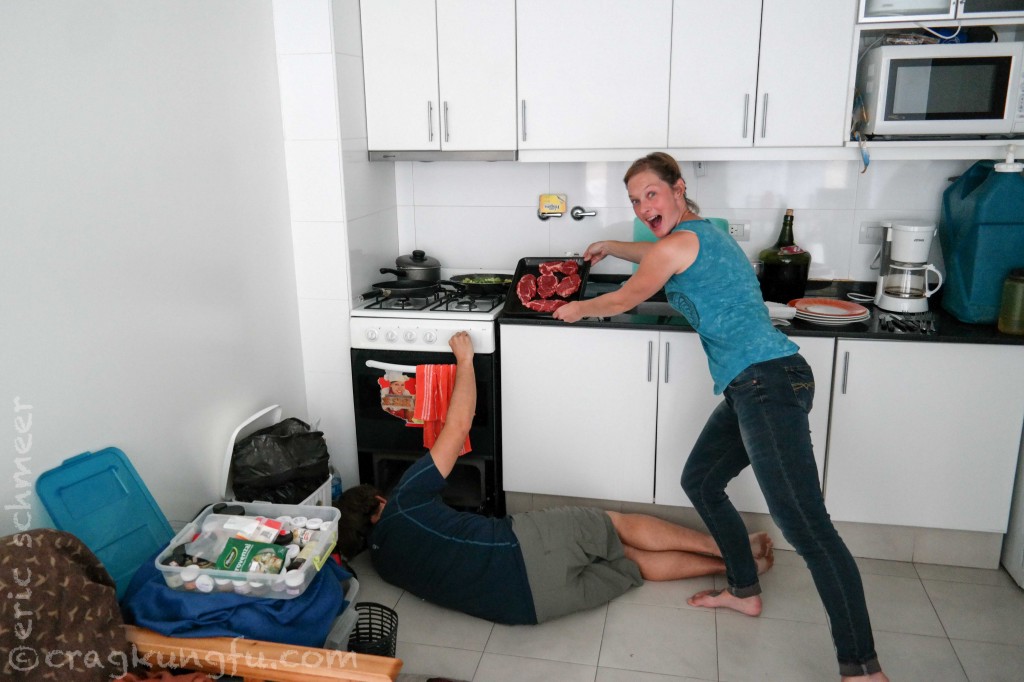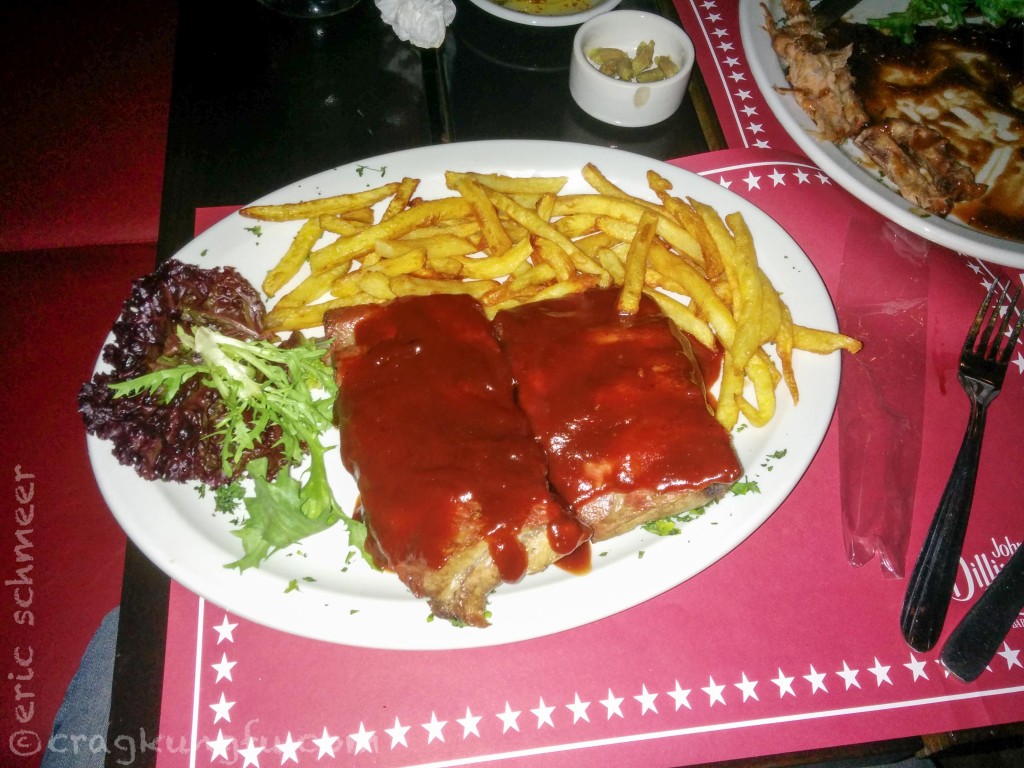 Besides aiding in mechanic shenanigans and countless fun adventures, Clayton and Jenny shared their killer apartment with us during our temporary homelessness. Right across from a massive central park, we went for a lot of runs and worked out frequently to offset the negative effects of the most awesome diet we've enjoyed since Mexico. Add to that wine tours, movies in theaters so loud your ears will actually bleed if not plugged, and … well… Mendoza keeps on giving and we keep on laughing our way through it!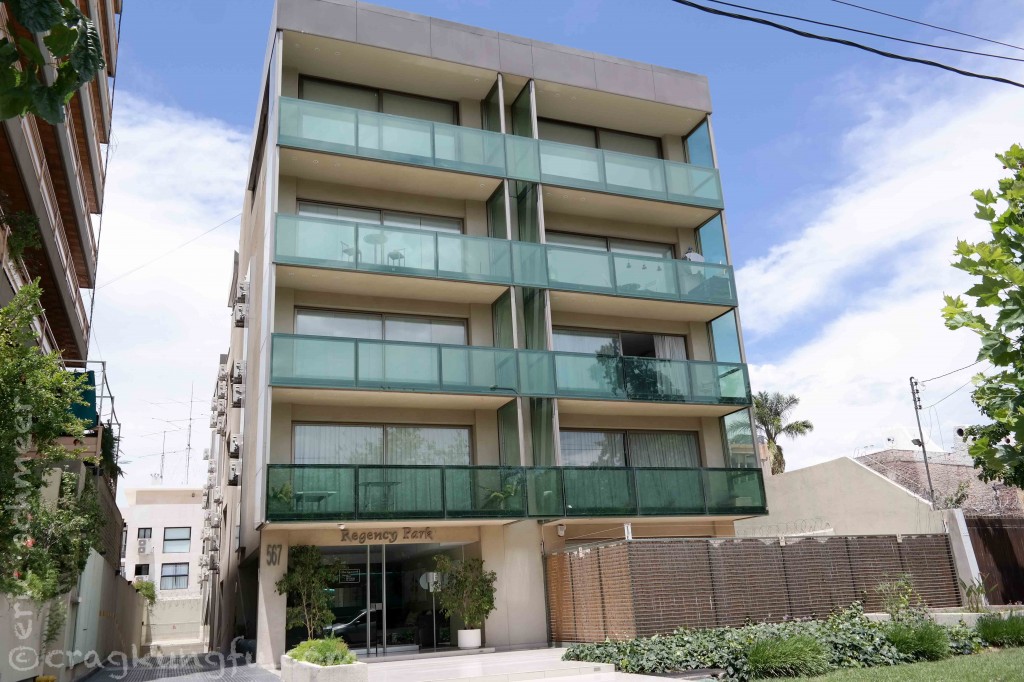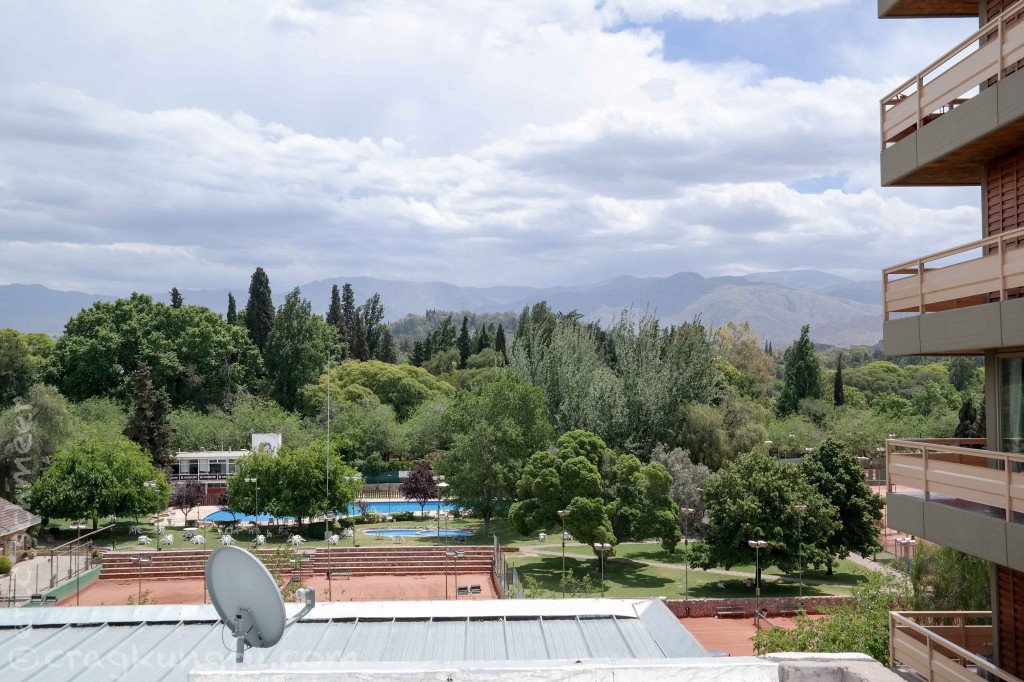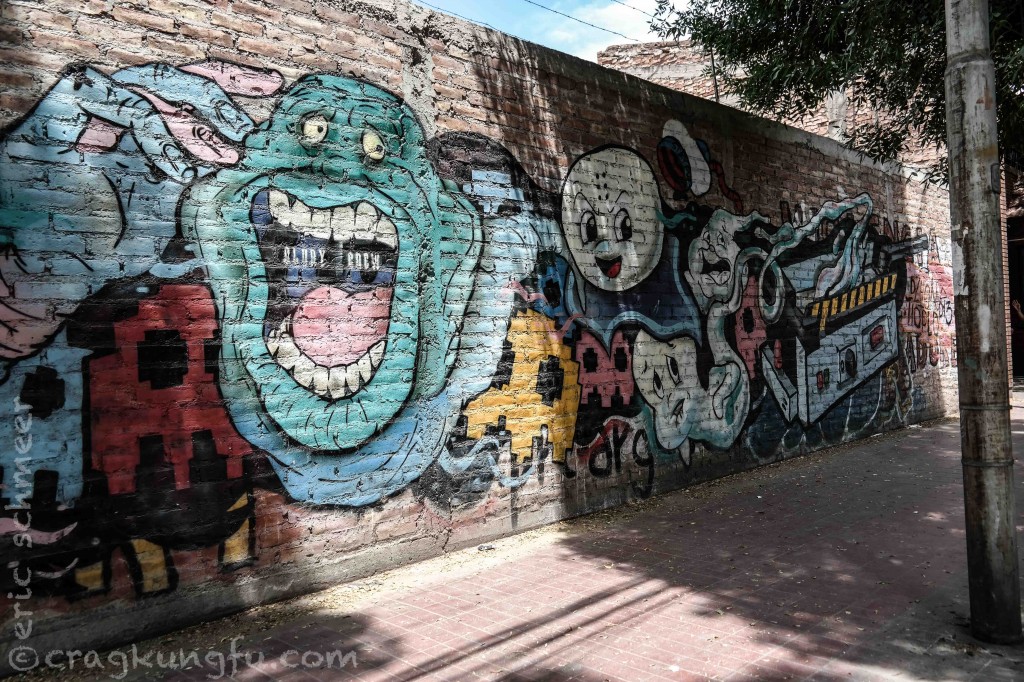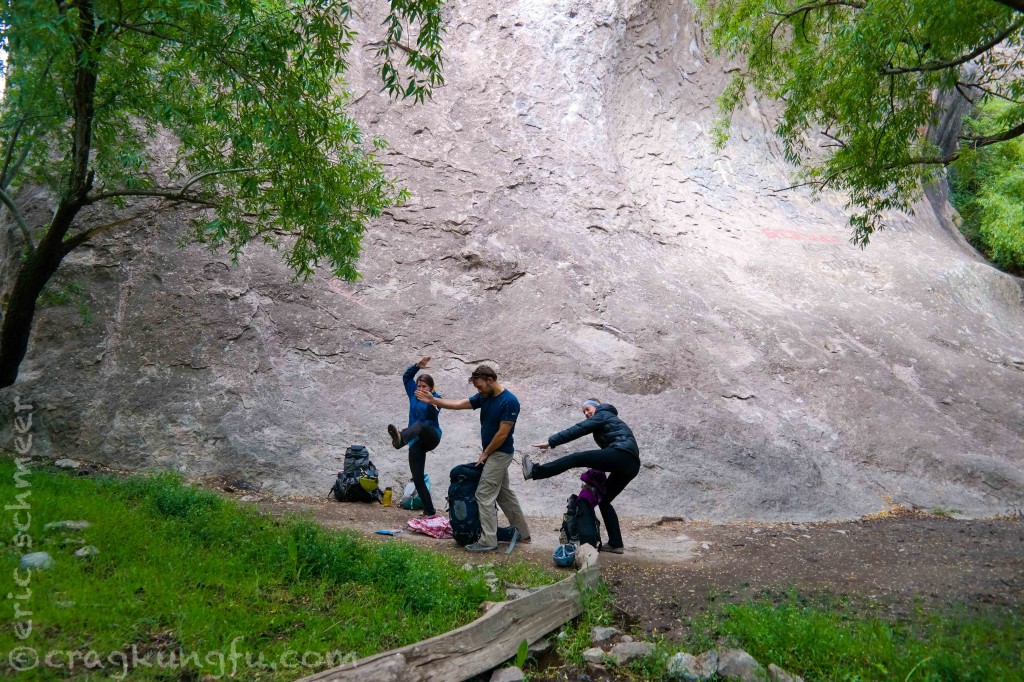 My babe also celebrated her SECOND birthday on the road! Happy B-day my lovely, ridiculous-beard-putting-up-with, van-dwelling wife!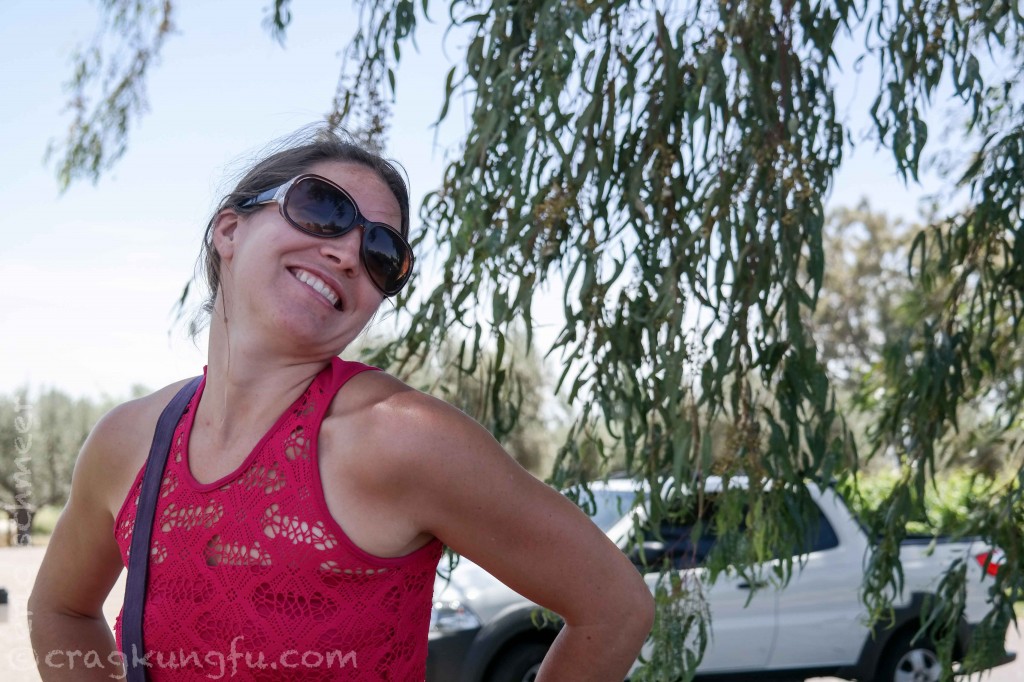 We celebrated by spending a day riding bikes around to different vineyards and breweries. We toured the famous Trapiche and had a blast trying not to get hit by cars out in the heat.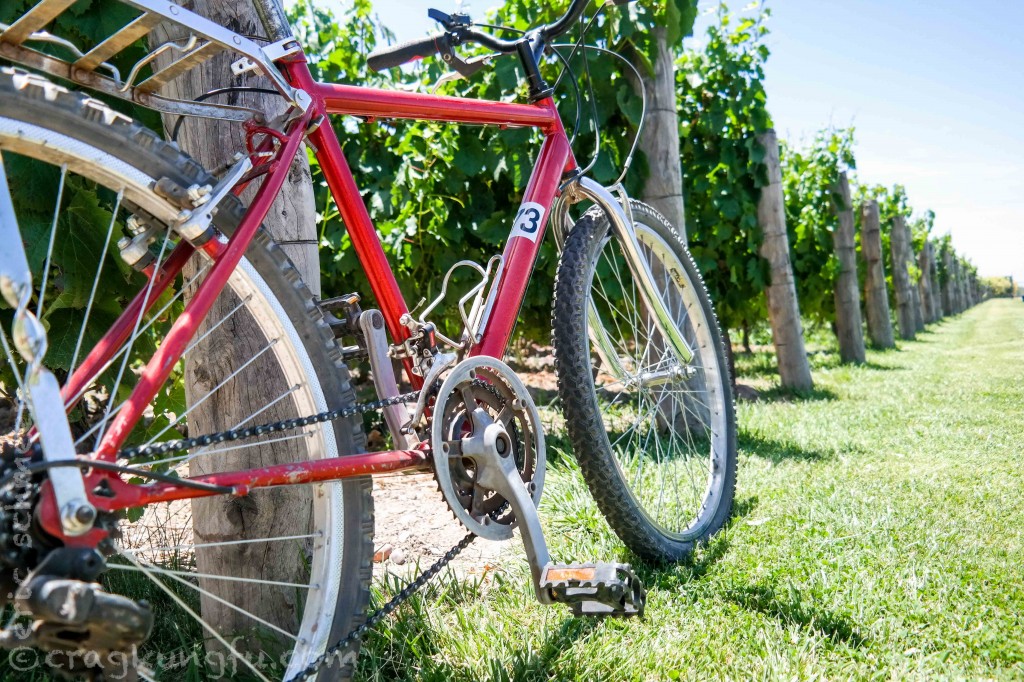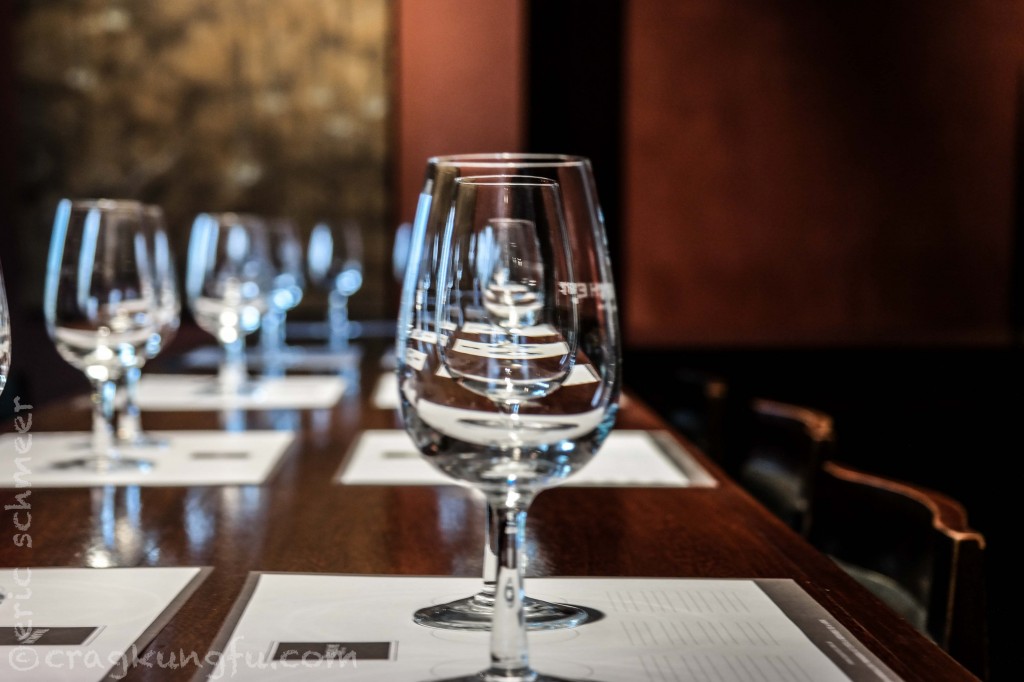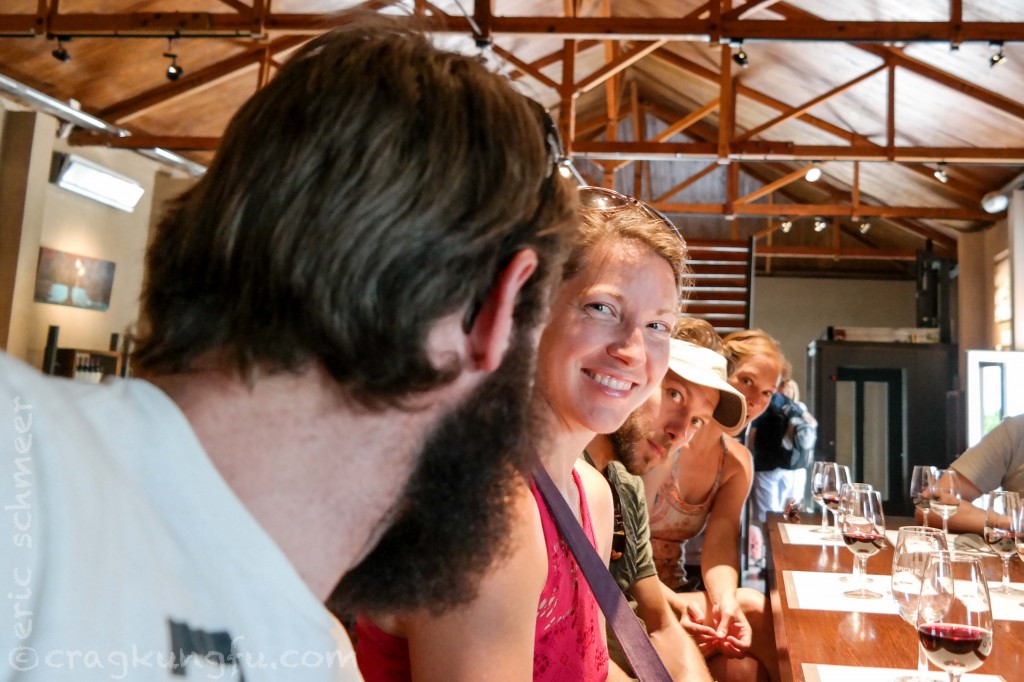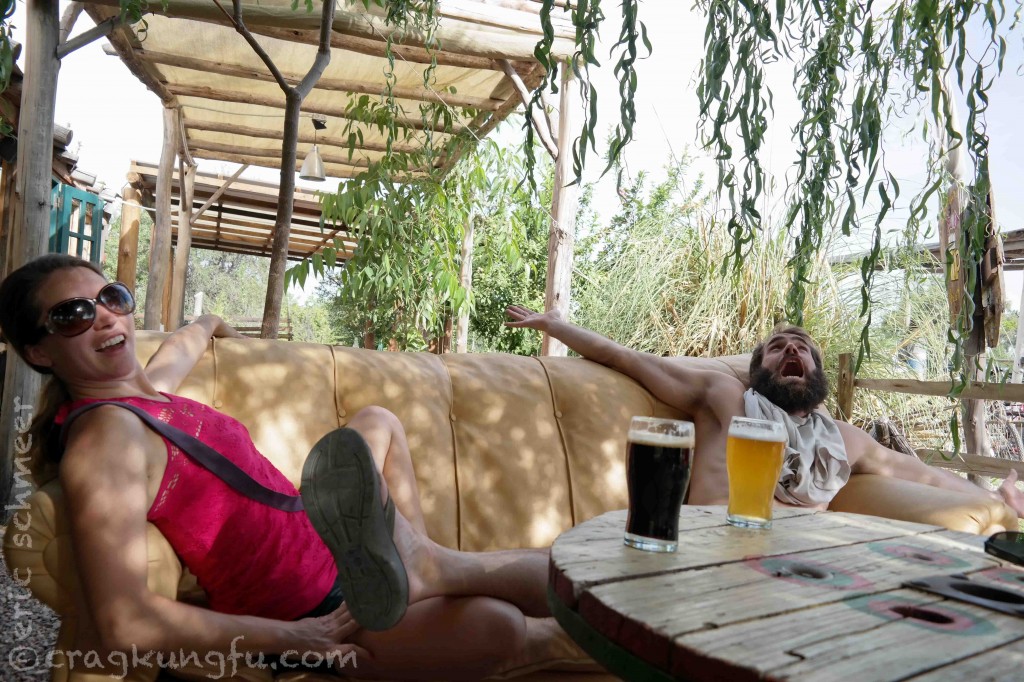 And now we depart on the final leg of our mission. Van in perfect working order, as promised, for our German friend to take over at the end of the freaking world! Glaciers, trekking, climbing, penguins, microbreweries, and the last square inch of a 20,000 mile journey are all that stand in our way. After nearly 400 days on the road I can only advise you to stay tuned. Camera willing, I think the homestretch should prove amazing beyond our wildest dreams.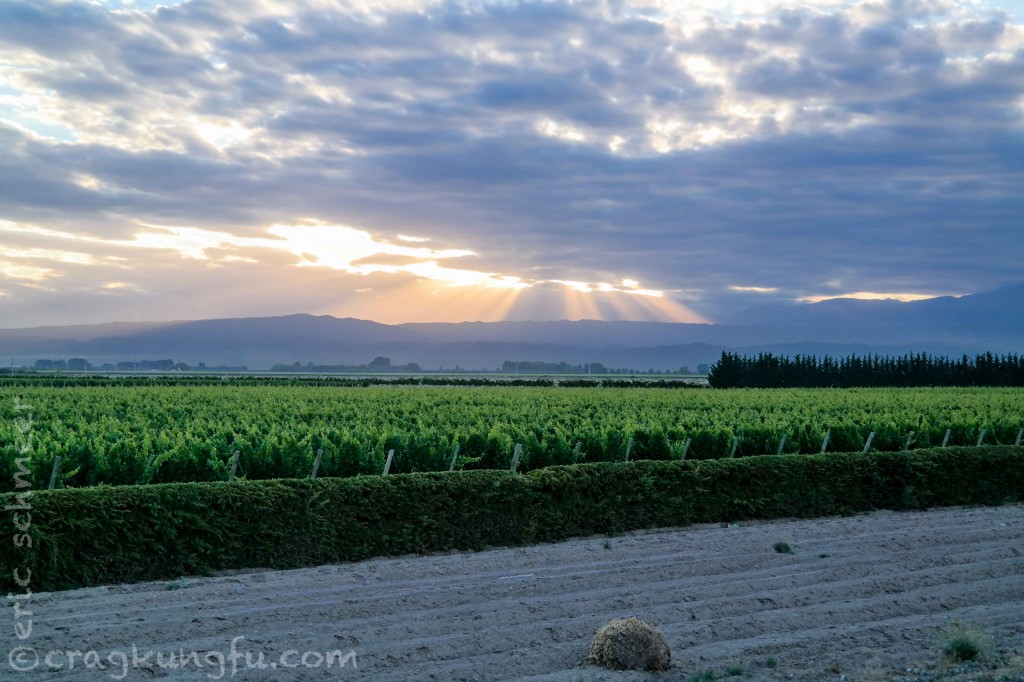 Where there's a will there's a way. All things fixable. Cheers everyone, and thanks for reading and following our adventures for so long now!
E&N
(Views: 1044)